Virginia: Mangalorean Catholic Association of Washington DC/Maryland/Virginia celebrates Monti Fest
By James Dante

Bellevision Media Network


Virginia/USA, 23 Sep: Mangalorean Catholic Association of Washington DC/Maryland/Virginia celebrated Monti Fest at the complex of Holy Spirit Church, Annandale, Virginia on Saturday, September 14, 2019 from 3.00pm to 11.00pm.
Families with children came early to line up for the Flower Showers to honor Infant Mary with a variety of beautiful flowers in singing traditional hymn, 'Sakkad Sangatha Meliyan, Sakkad Laggin Saryan' and 'Moriyek Hogolsiyan,' joined by everyone present.
Festal Eucharistic Celebration was held in the Church in English with several Konkani hymns sang by their choir group who coordinated excellently with liturgical team to perfection.
The festal Mass was celebrated by Fr Christie and Fr Benoy, who accommodated their request to be the celebrants amidst their very busy schedules and stayed till the end of the event. It has been an honor for them to have Fr Christie and Fr Benoy on this auspicious occasion.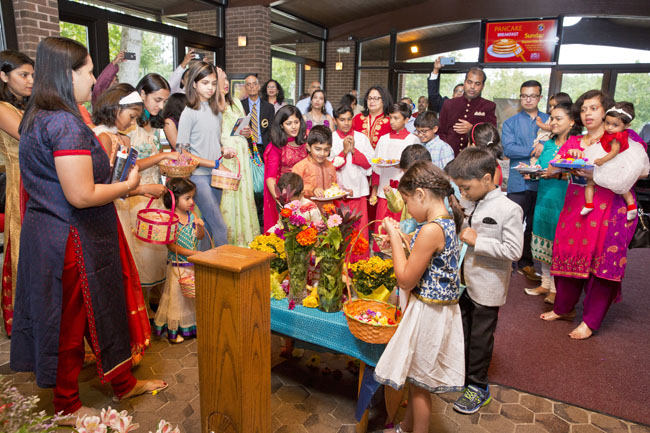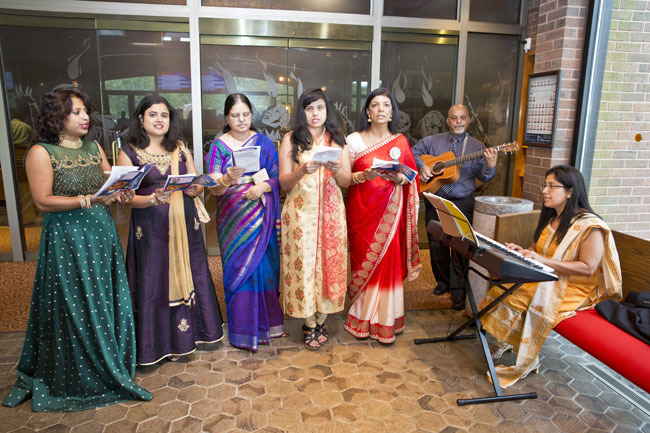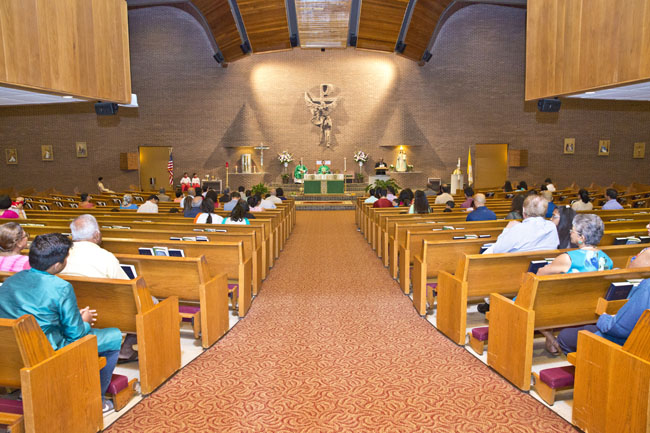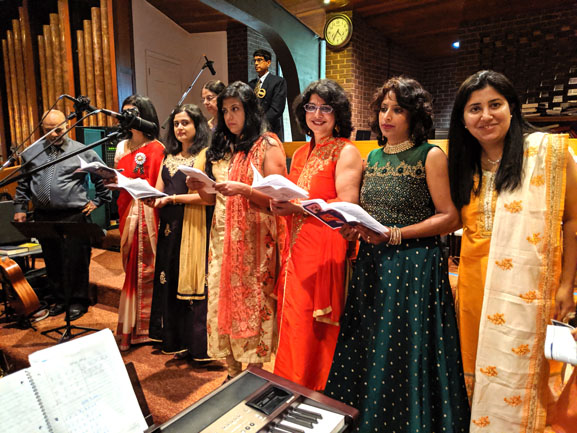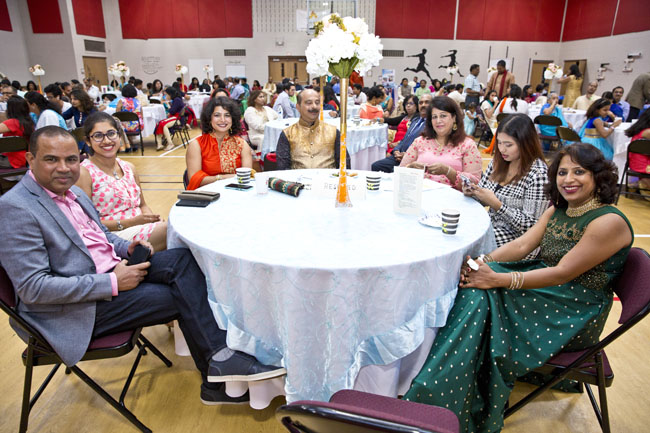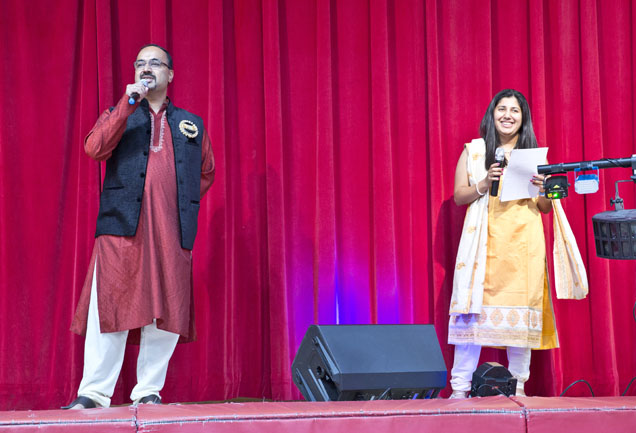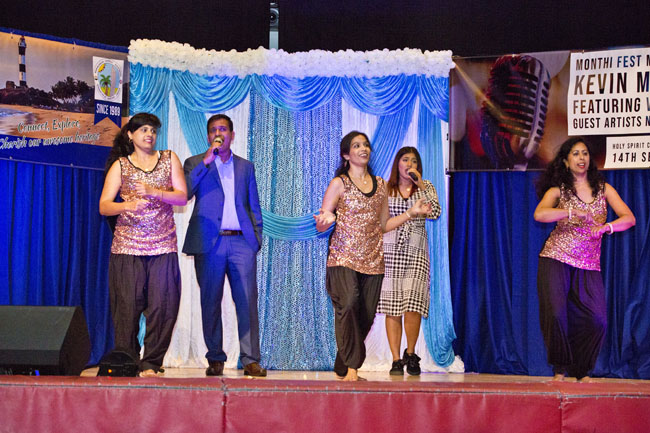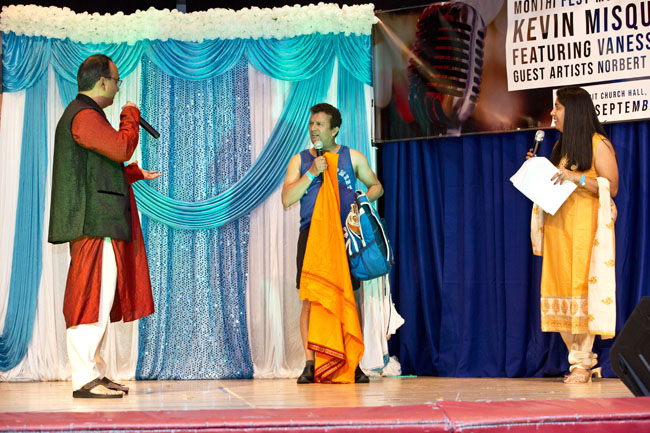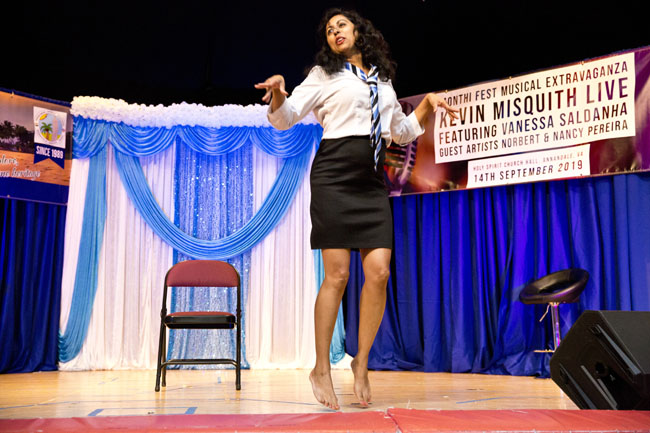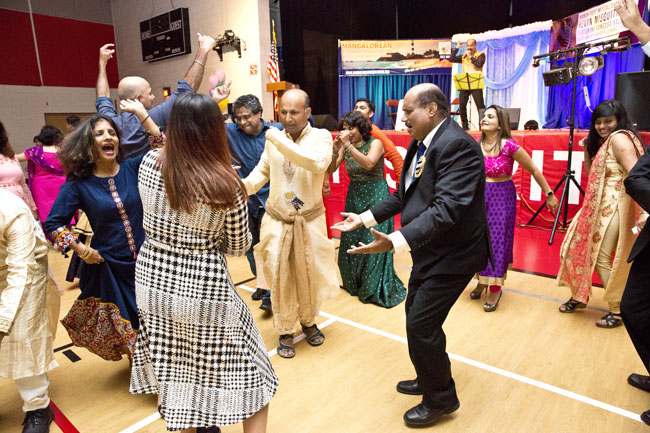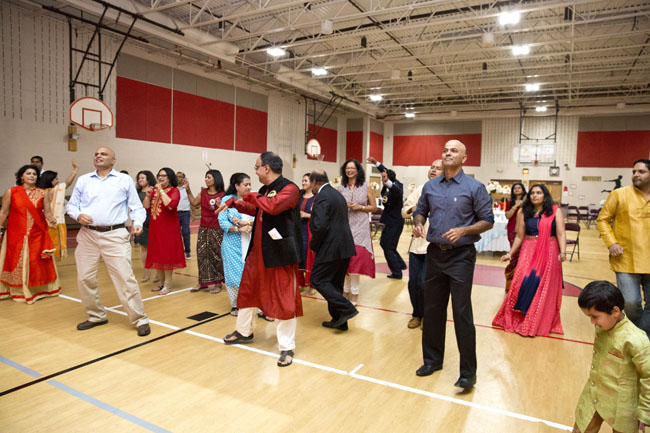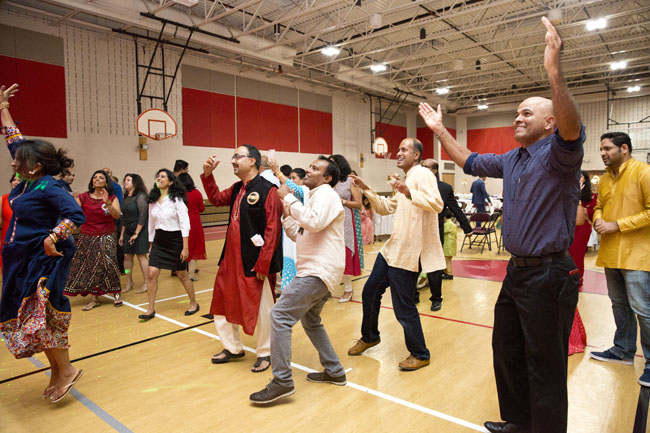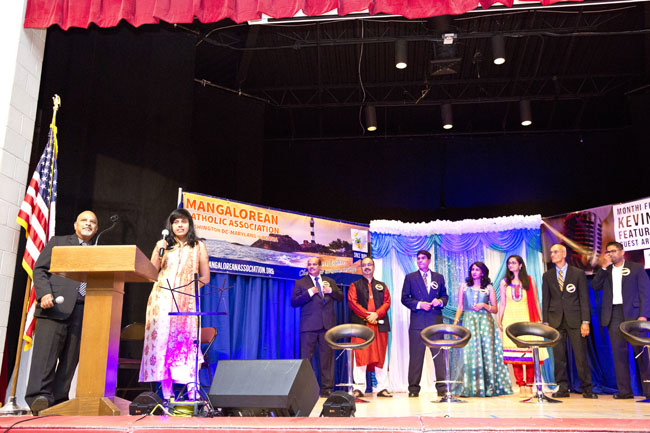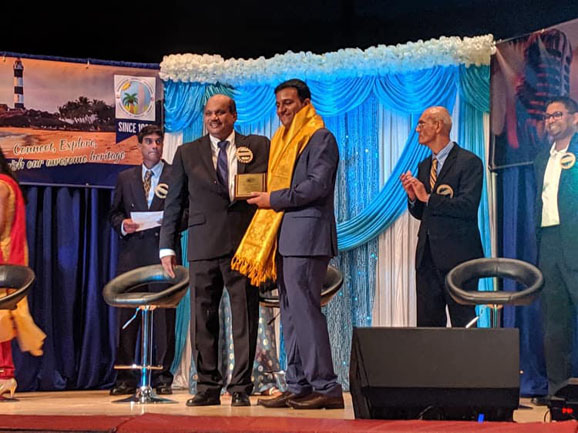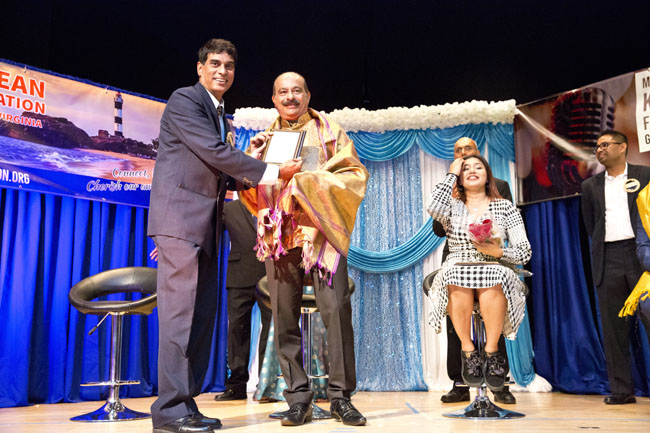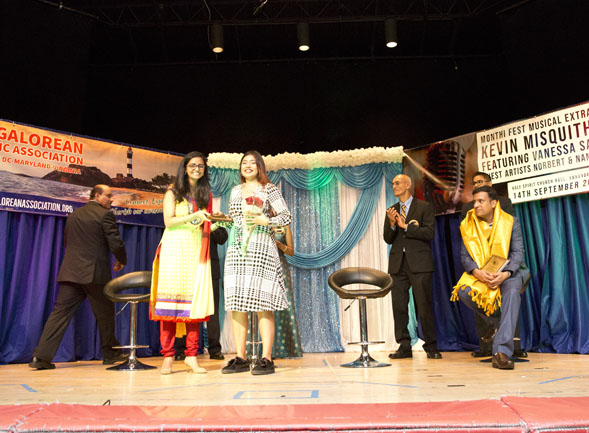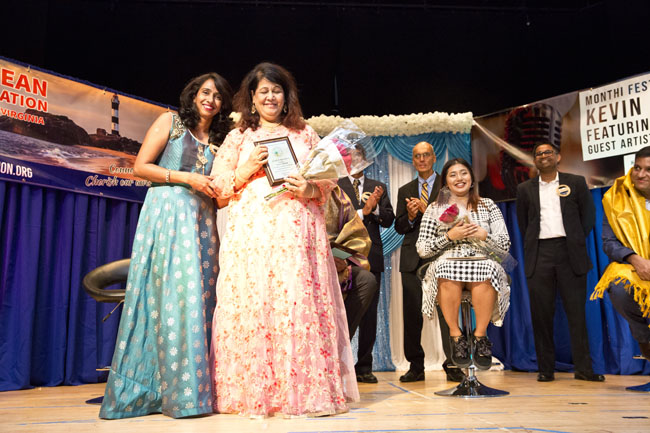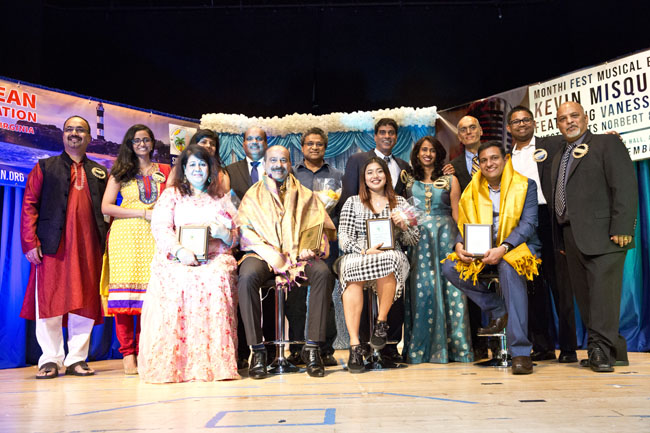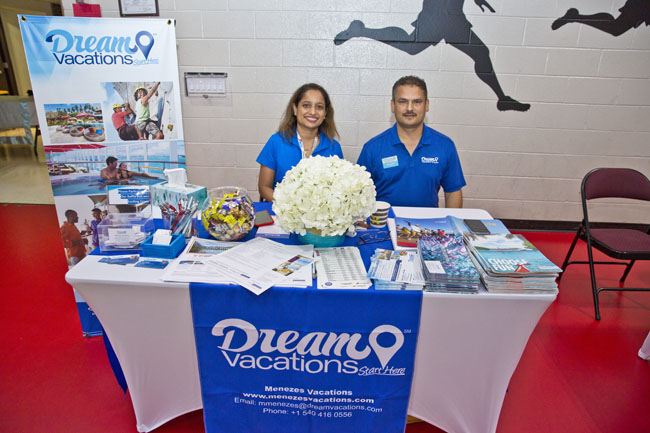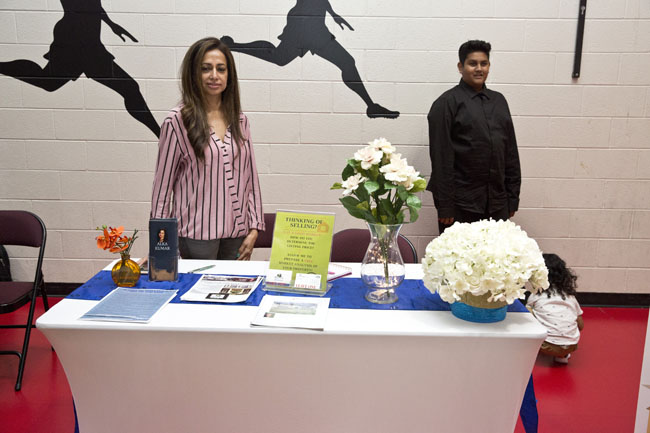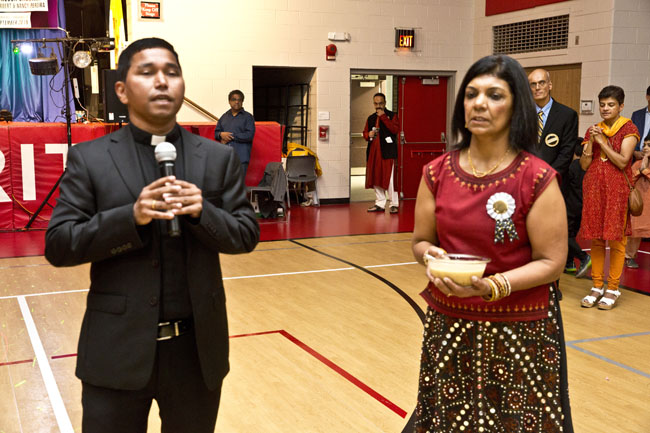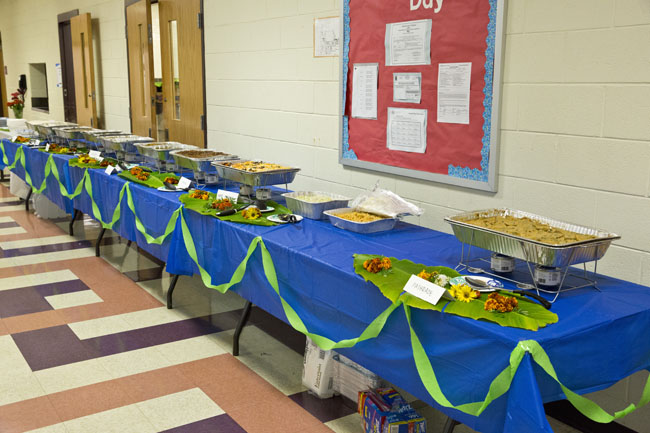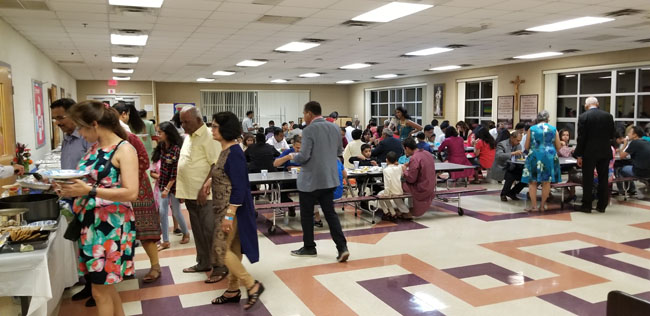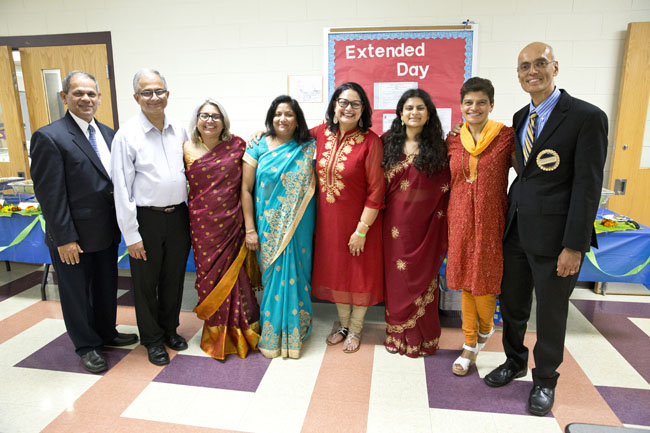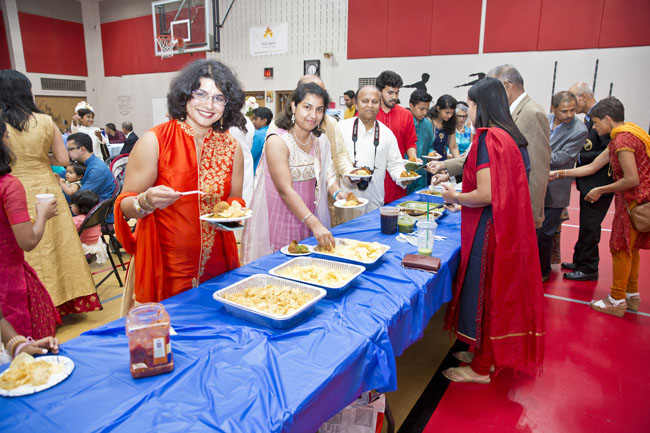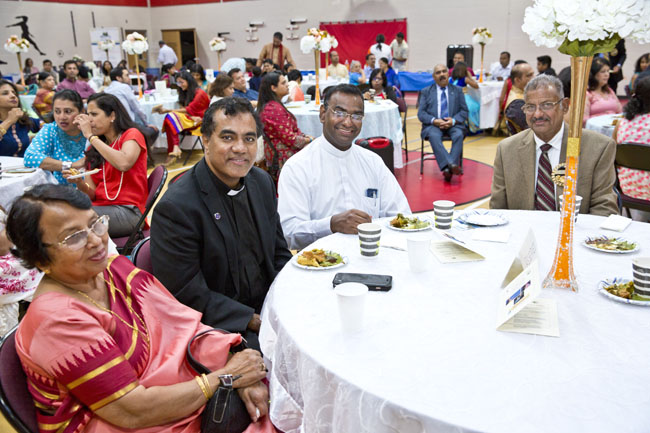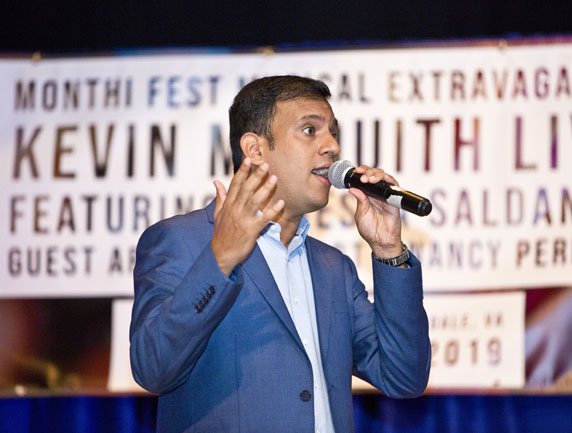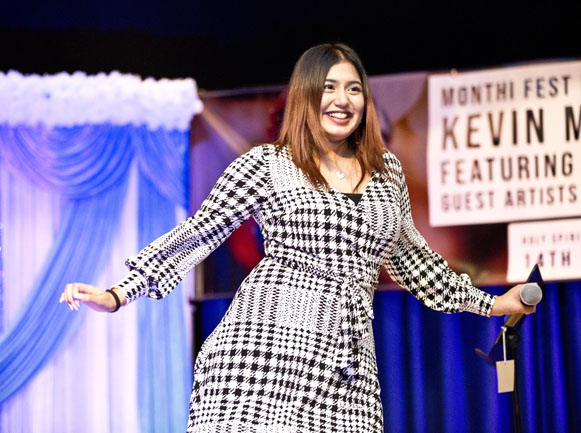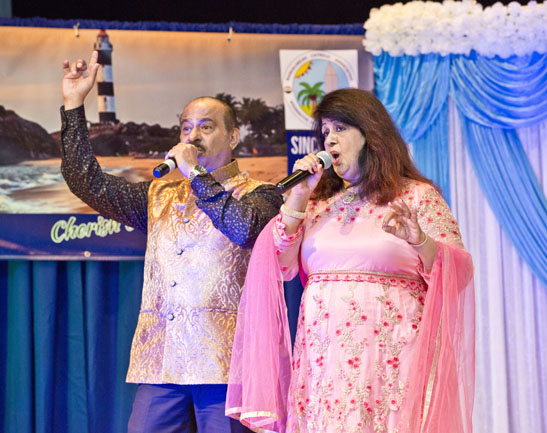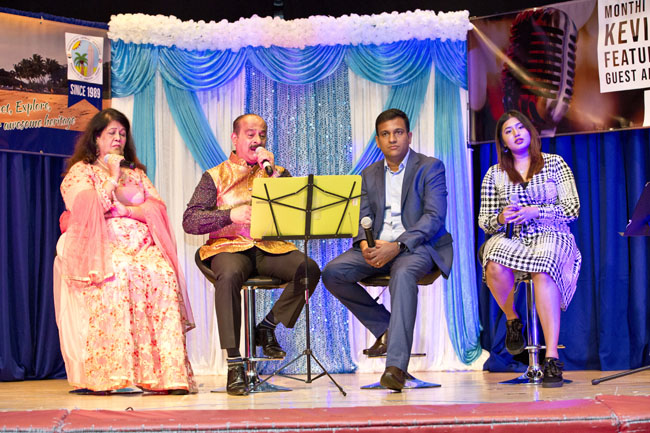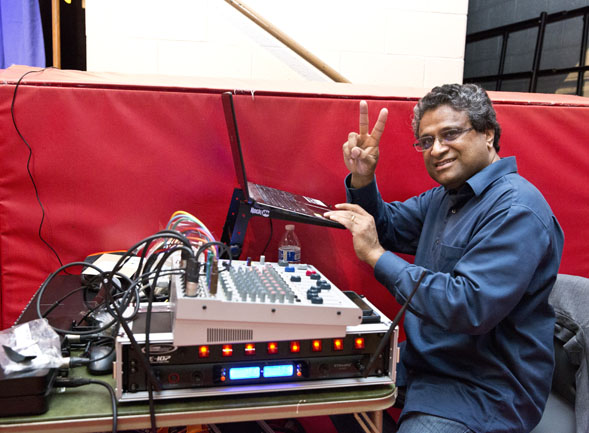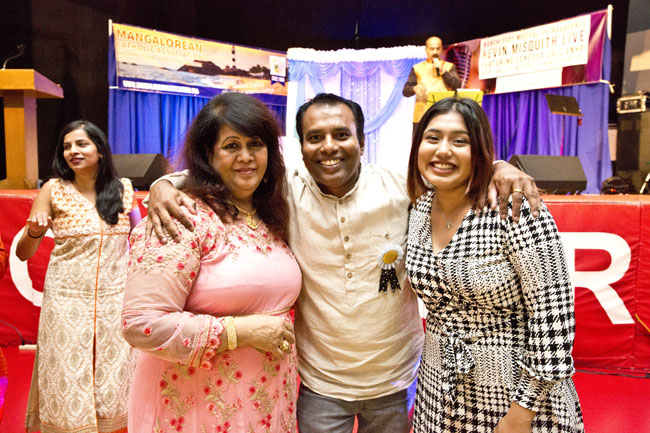 After the festal Mass, everyone proceeded to the School Gymnasium hall right across the church to have hot snacks and refreshments before beginning the Musical Nite programme.
The Musical Nite had the event hall with packed audience who filled the registered tables/chairs and they had to keep adding more and more chairs to accommodate the last-minute crowd. The programme began and ended as planned and while many continued to dance to 'baila' music, rest of them moved to the Cafeteria where the Food committee members have done excellent arrangement of line up of delicious homemade traditional dishes for everyone to enjoy.
First and foremost, as you all know that a program of this scale can only be a success with complete support from an audience they had at the event. They had a packed crowd of over 175 people at the event hall that consisted of their community members, dignitaries, and their guests from MCA-EC.
This show could not have been a success without the stars of the evening, Kevin Misquith, Vanessa Saldana, Norbert Pereira and Nancy Pereira who truly rocked the stage with the audience participation in full. Once the programme started, it kept on climbing up the scale and catching up more participation and applause from the audience until it concluded.
Mangalorean Catholic Association of DC/Maryland and Virginia were thanked for all the stars in giving eir wonderful performance. Vanessa was truly the wonder girl of the night making the young and the old get up from their seats to dance for their hearts content.
With the homegrown experts MCs, Pravin D'Souza and Malin Mendonca on stage, people did not even realize how the time was spent from begin to end with the lineup of songs from musicians, the entertainment programs from the community and all the rest that happened. I want to thank them for doing a brilliant and tough job of ensuring that the audience was fully engaged and there was never even a dull moment from start to finish.
Everyone has enjoyed the show and I hope you will take back memories of this evening with you to cherish. Thanks to the community performers on stage, Philip Furtado& team, and our own stand-up comedian Savio Fernandes for making everyone laugh to their hearts content. Thanks to our adult dancer team of Merlyn Mathias, Doris Martis and Vanitha Furtado (NJ) who danced their shoes off to the duet song of 'Kalza Thar' of Kevin and Vanessa and then the solo Air Hostess dance by Vanitha Furtado with thumping applause from the audience. They truly proved that 'Mangaloreans got Talent'.
During the show, the committee felicitated the artists and the DJ with shawls, plaques and bouquets. They also recognized the sponsors with bouquets and thank you cards.
Any event of this scale needs great sponsors who come forward to give to the community. Dr Ajit Britto from Britto Orthodontics, Michael and Anitha Menezes from Menezes Vacations and Alka Kumar, Realtor of Alka Homes, who were the major sponsors for the event. There were also sponsors from neighborhood Indian Restaurants who provided hot tea and delicious refreshments after the Mass, Saravana Palace, Hotel Woodlands and Hotel Godavari.
As you know, the key to holding event like this is the Venue that includes the Church for mass, a nice big hall with a stage for the Musical Night show and a Cafeteria with kitchen for people to enjoy the traditional meal. These things have been made possible by several people belonging to Holy Spirit Church and School. All of them have been awesome and they are the reason for having such a grand event and I want to thank them from the bottom of our hearts.
The page of Special Thanks on the tabletop program calendar shows all the people who have made it possible to hold this event in a well-coordinated way. Thanks to the leads and members of all the sub-committees of Choir, Liturgy, Food, Performance, Felicitation Team, with special mention to Reynel Castellino who had successfully designed the new Indoor banners and the Event banners to make the stage look truly professional, and to Julia Dante, for coordinating with FantasyEH decorators to make stage and hall to look the best. The choir team and liturgy team really made us feel that we were attending a traditional mass in Mangalore. The felicitation team was at their best. The following is the list of all the leads and the members of the sub-committees.
Event Sub-Committees
Choir – Malin Mendonca (lead and pianist), Clint Almeida (Guitar), Merlyn Mathias, Savio Fernandes, Julia Dante
Liturgy & Other – Wilma Tauro (lead), Merlyn Mathias, Julia Dante, Juliet Vaz (Baby Statue/Noven), Anil D'Souza (Decor)
Food – Anil D'Souza (lead), Merlyn Mathias, Renita Fernandes, Reynel Castellino, Clint Almeida, Juliet Vaz
Performance– Savio Fernandes, Philip Furtado & team, Adult Dancers – Merlyn Mathias, Doris Martis, Vanitha Furtado (NJ)
Felicitation – Clint Almeida, Merlyn Mathias, committee
Event Banners with Digitized Logo - Reynel Castellino
Event Hall & Stage Decorations– Julia Dante, FantasyEH
Registration & eVite sign-ups– Renita Fernandes
Mass Brochure – Wilma Tauro
Program Schedule – V James Dante
Overall Coordination of the program – V James Dante

Thanks to all the volunteers to who came forward to help with food arrangements. Very special thanks goes to Anil and Priscilla for spending a great deal of their time ensuring that the food arrangement was meticulously managed, even though they had to forego part of the show in order to ensure that the kitchen and cafeteria was ready to serve the hot food to the crowd after the show. We are honored to have people like you in our community who are ready to do such sacrifices to help at the crucial moments in order to make the event a success. A big thank to all who stayed late after the show to help us clean up the place.
Fr Tony joined us later at the event venue and said the grace before meals.
For the dinner, we had traditional home made authentic Mangalorean dishes prepared and brought by our families and friends. There were mouth-watering Sambar, swadis tmoong curry, crunchy sone sukken, homegrown benda sukken, Special tendli ani moi sukken, backyard sango beans, fresh karammade from taushen grown in our gardens specially for the event, rice, pickle varieties, very special Pathrodes and Mangalore only special vorn for dessert. People also brought chicken and lamb biriyanis to provide more choices. The food was served in the Cafeteria and everyone came for multiple rounds of serving. The lineup of dishes and the special décor done by the food committee and our member volunteers truly looked and tasted the best.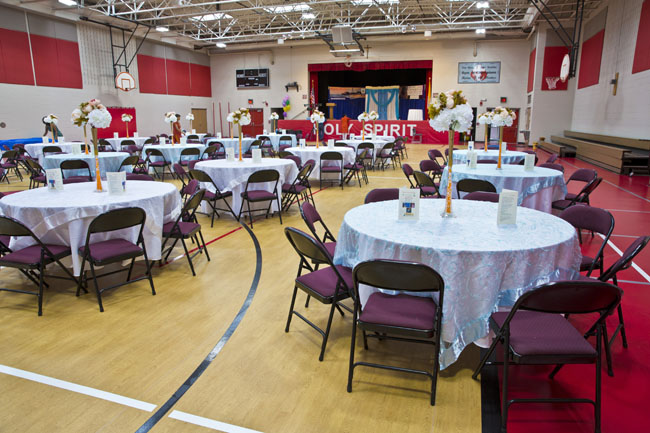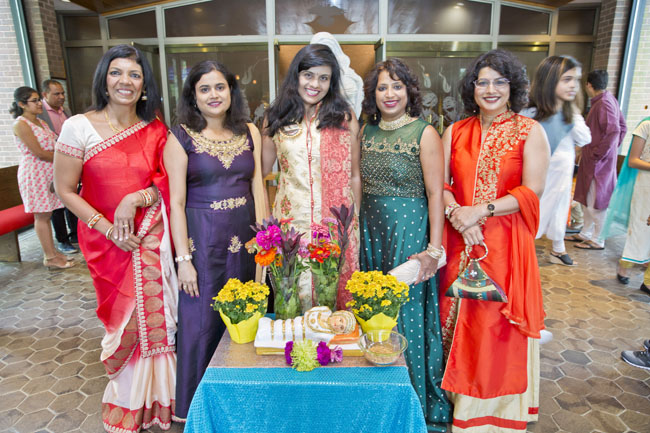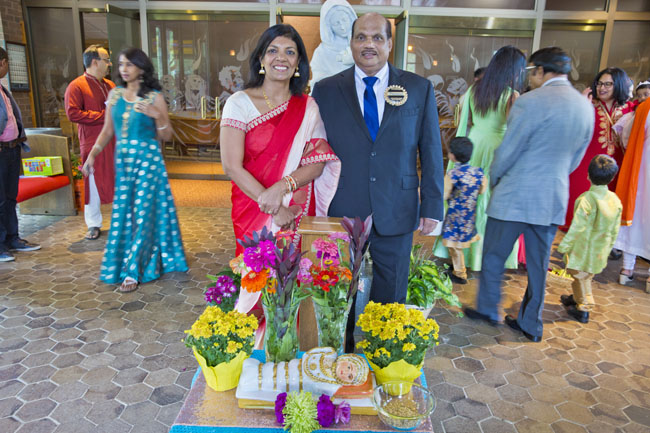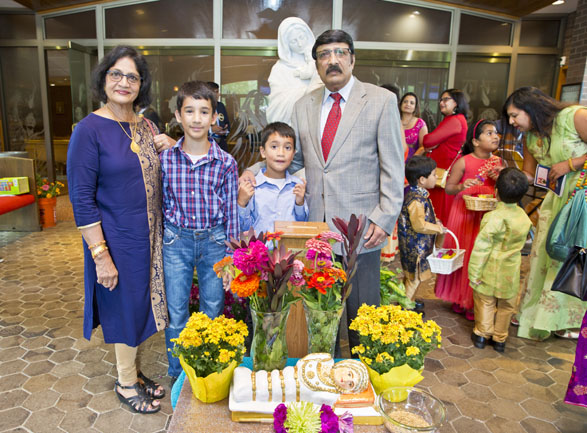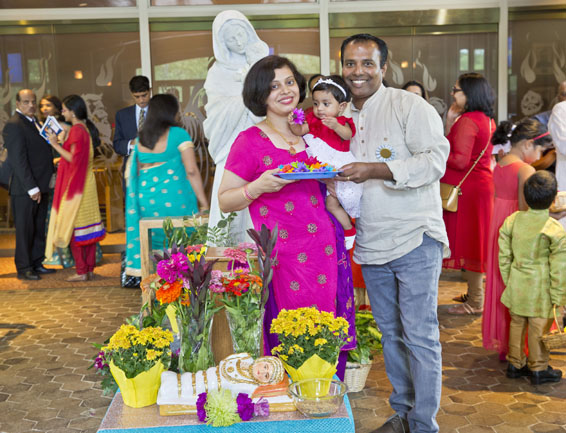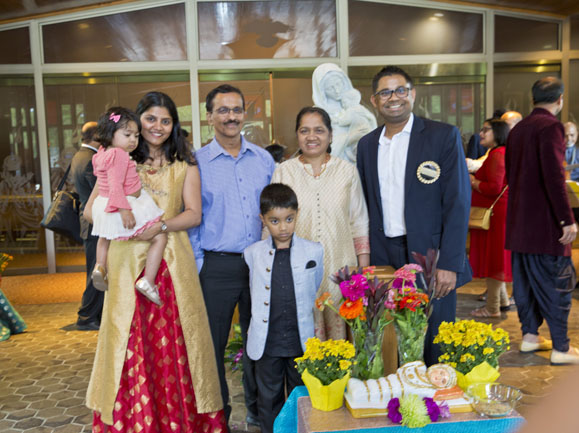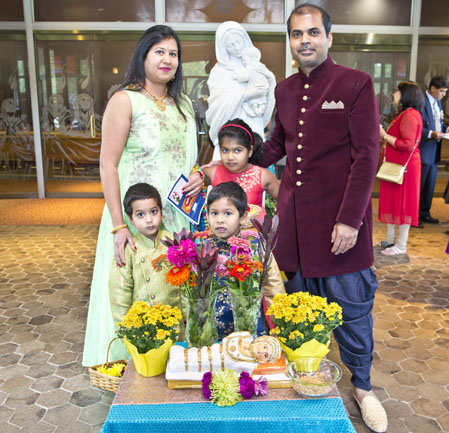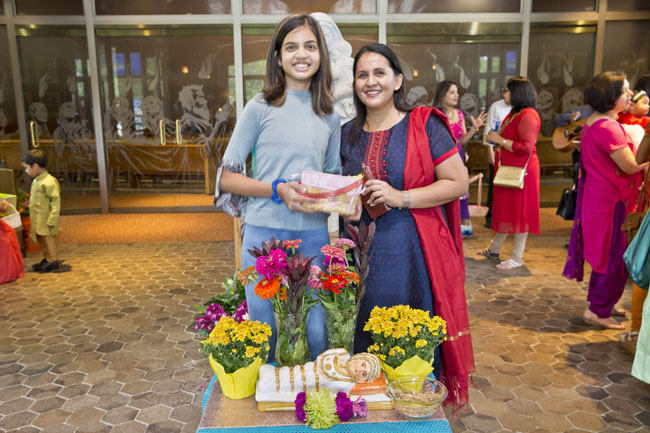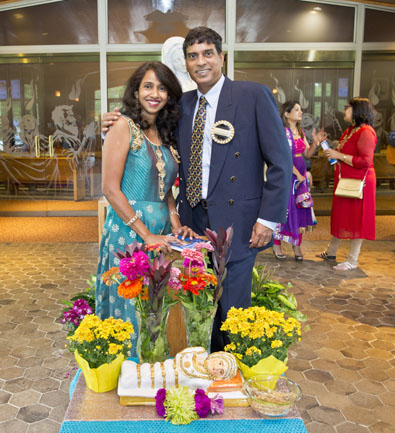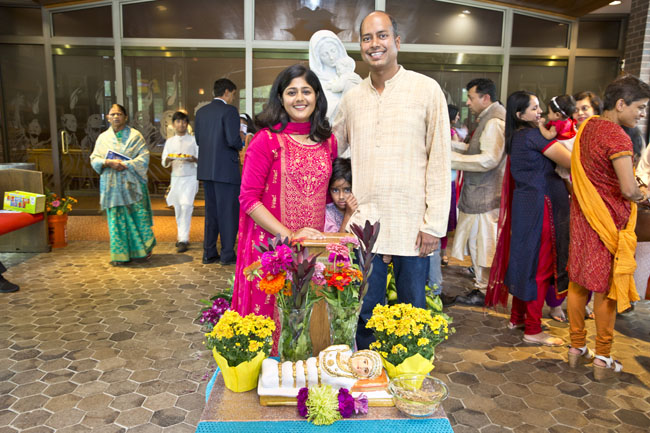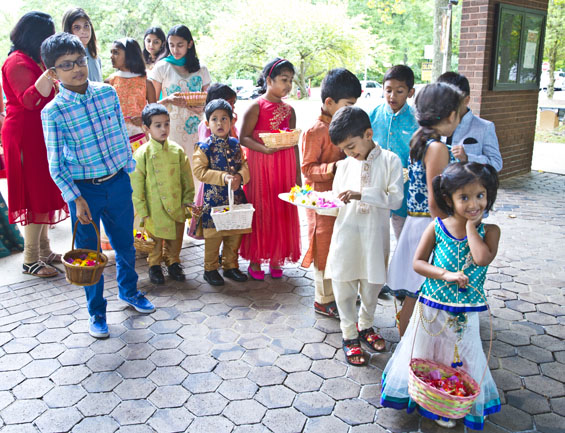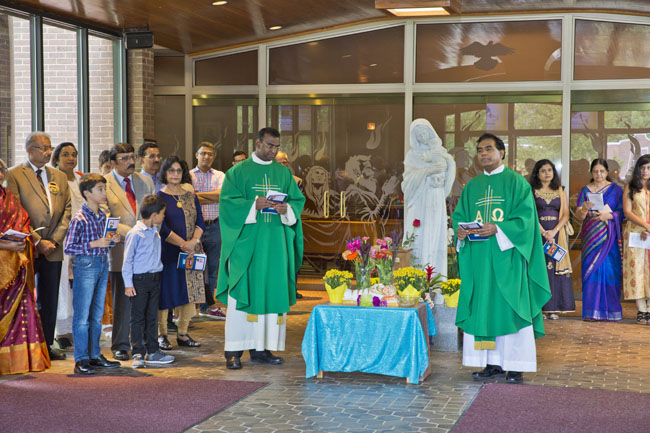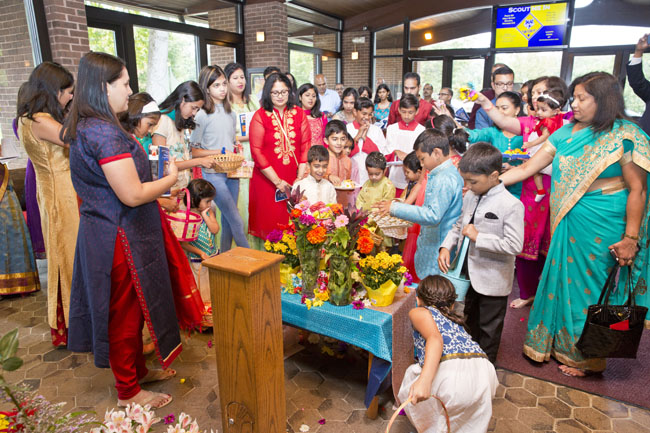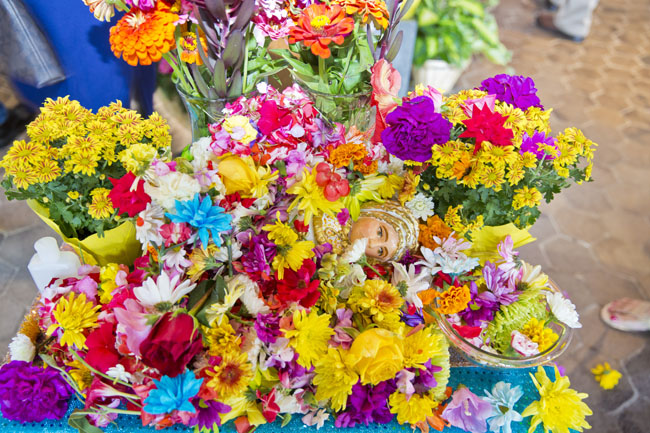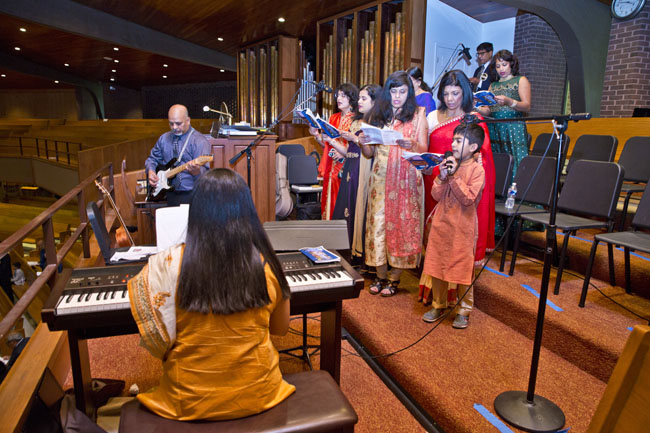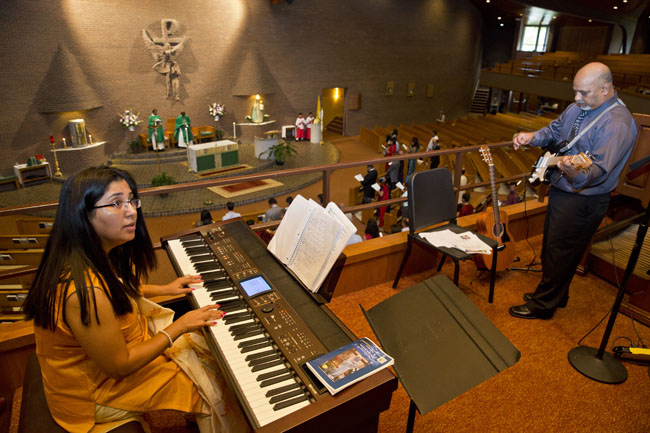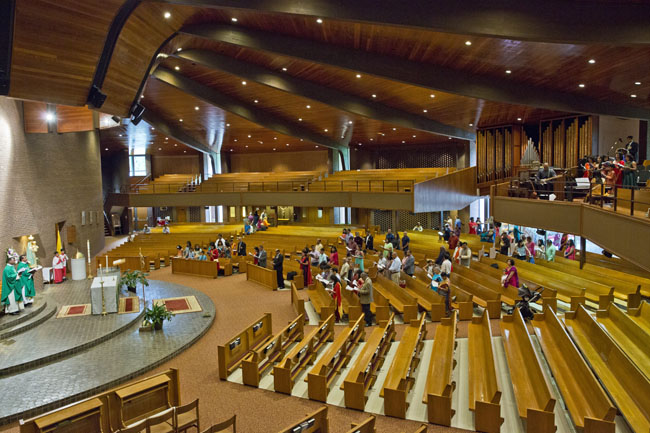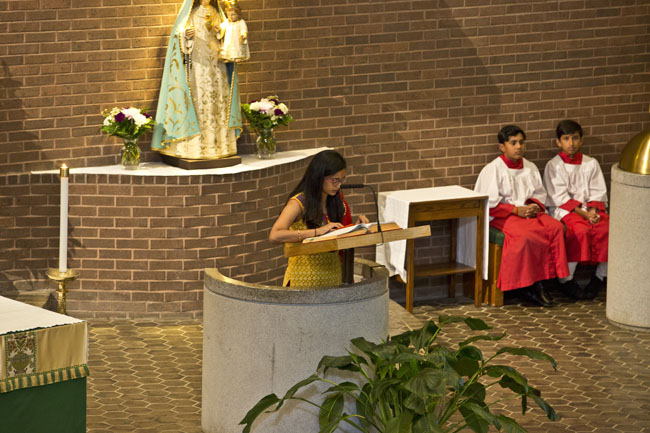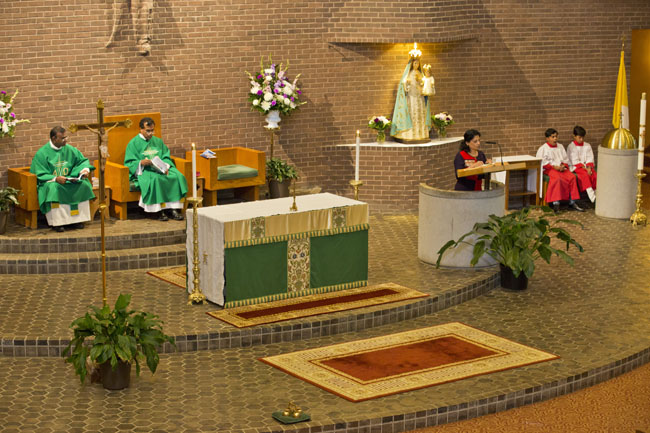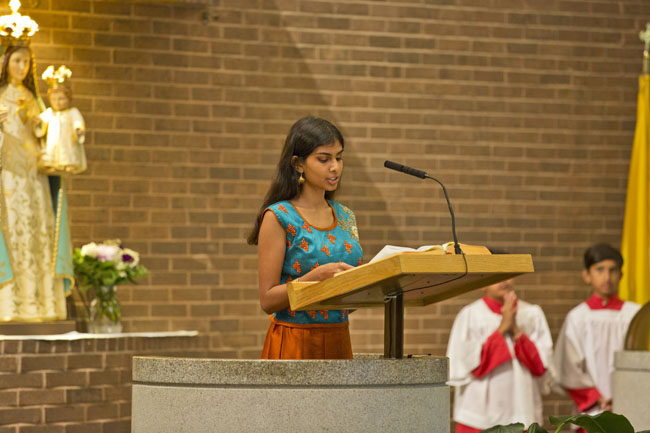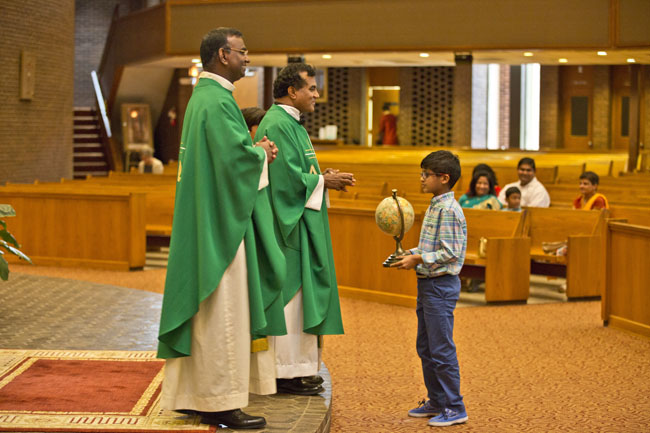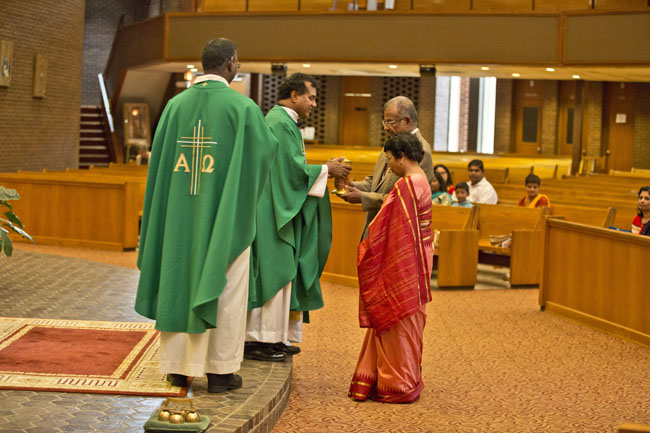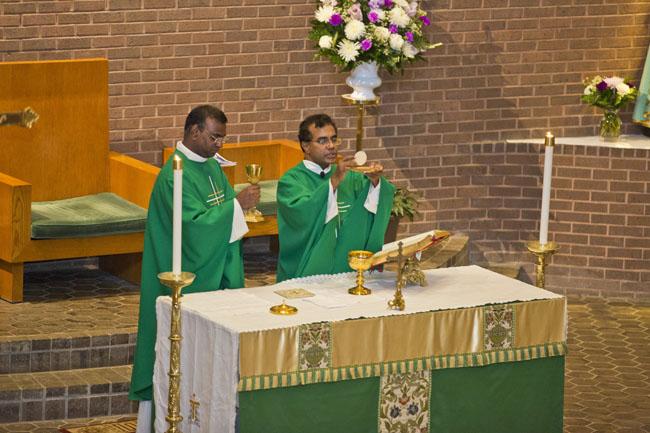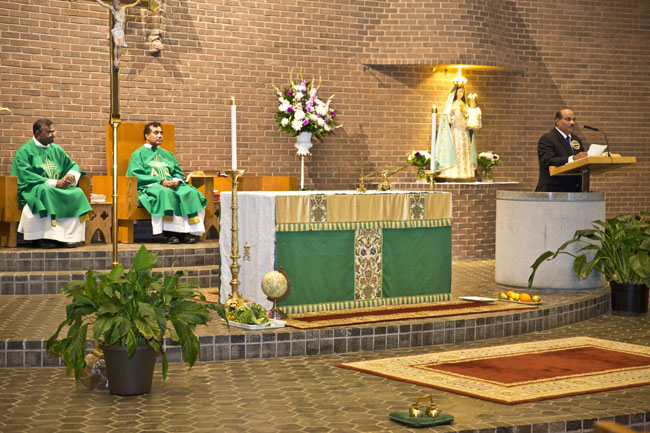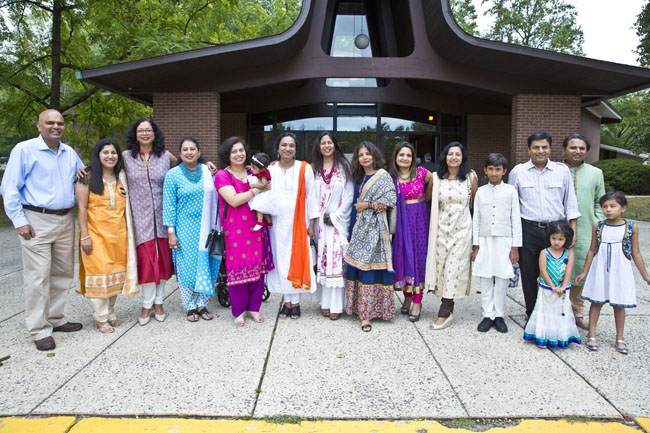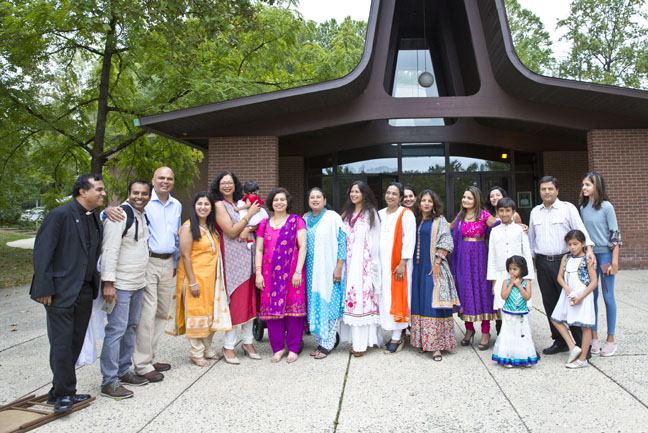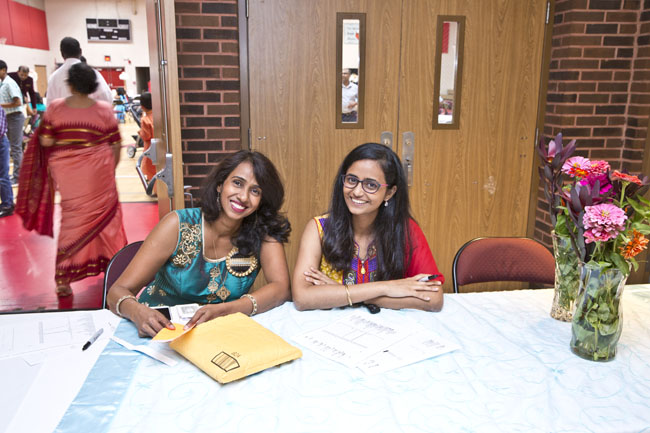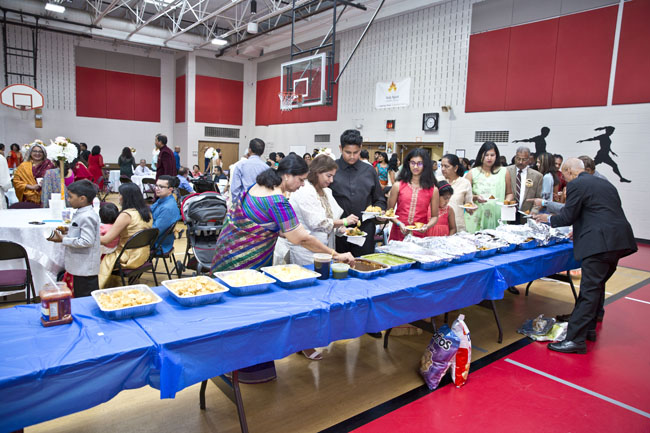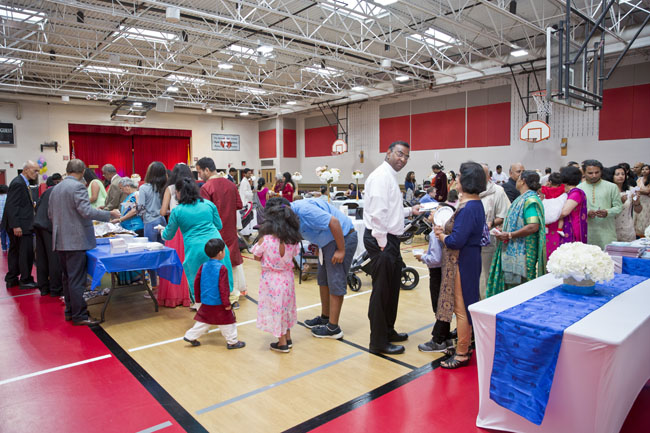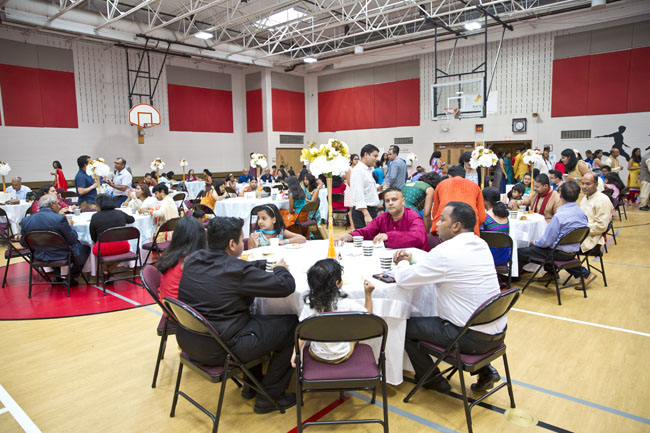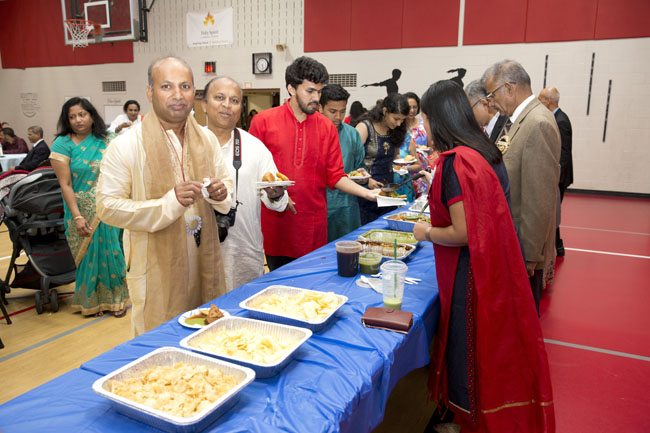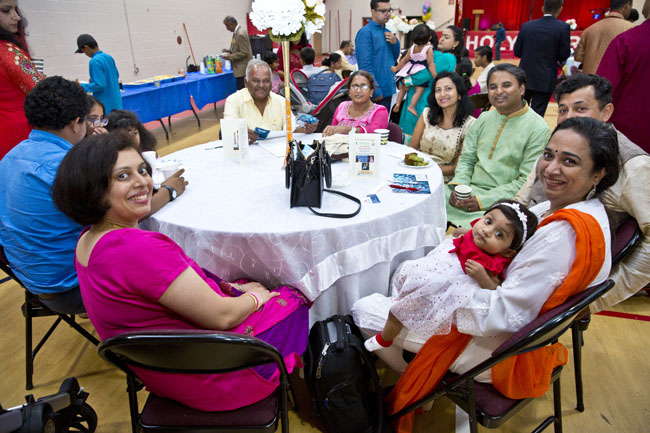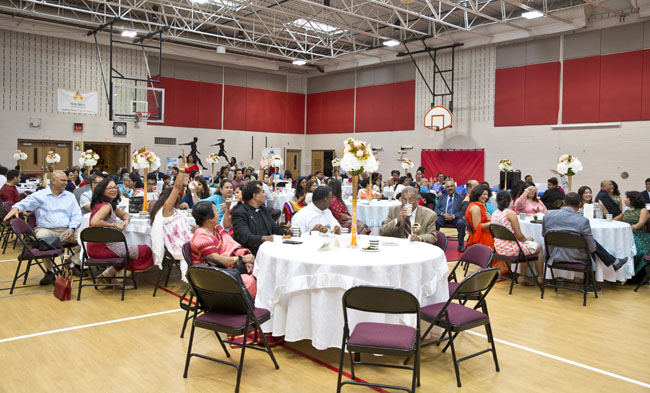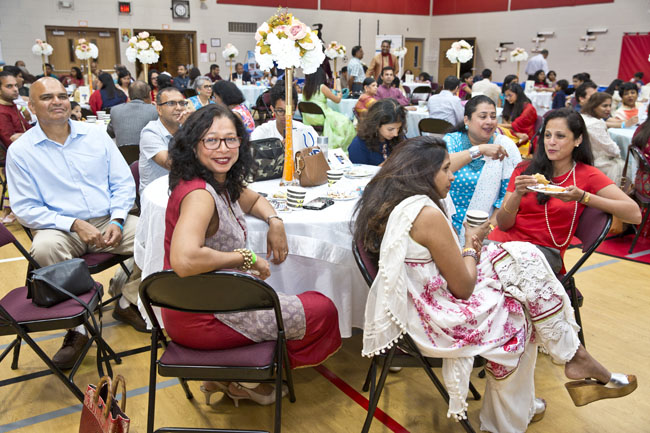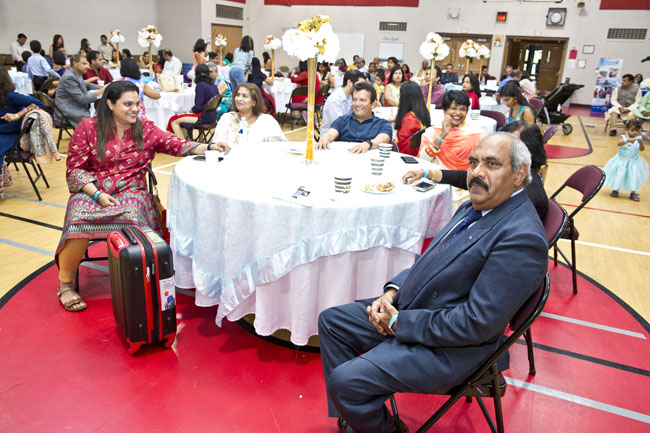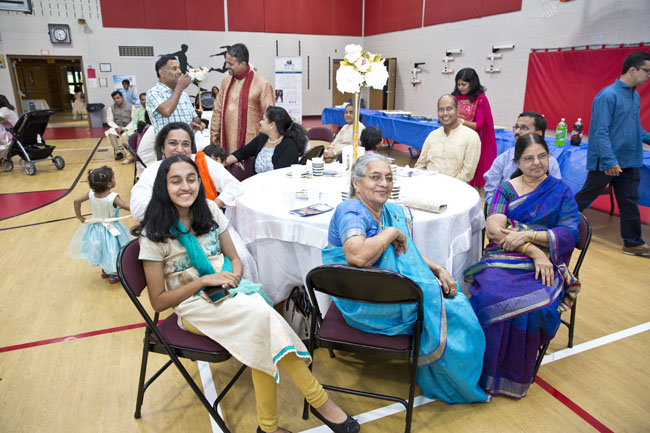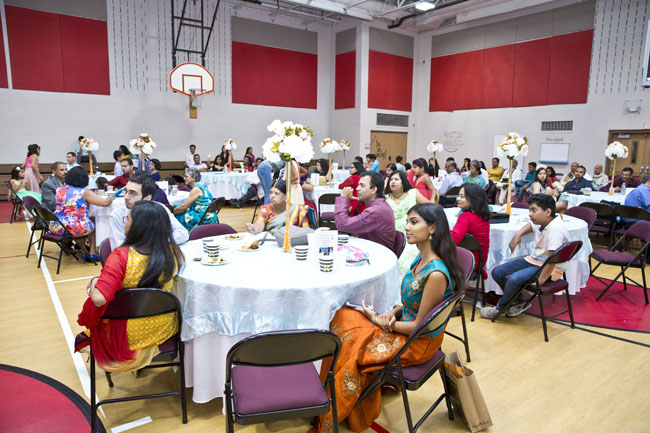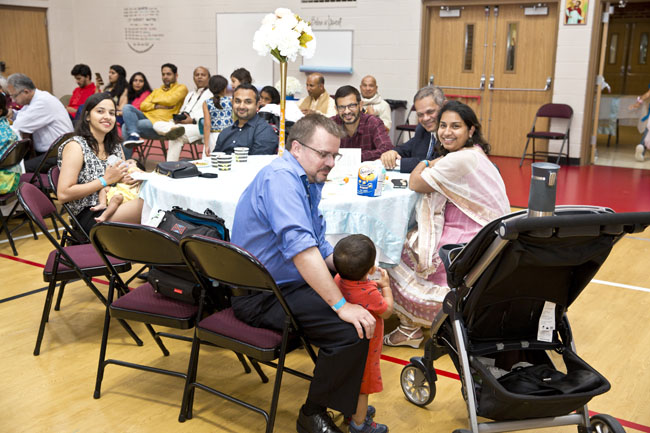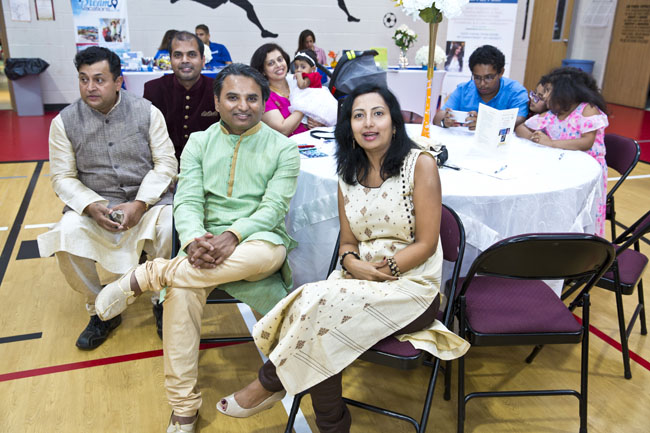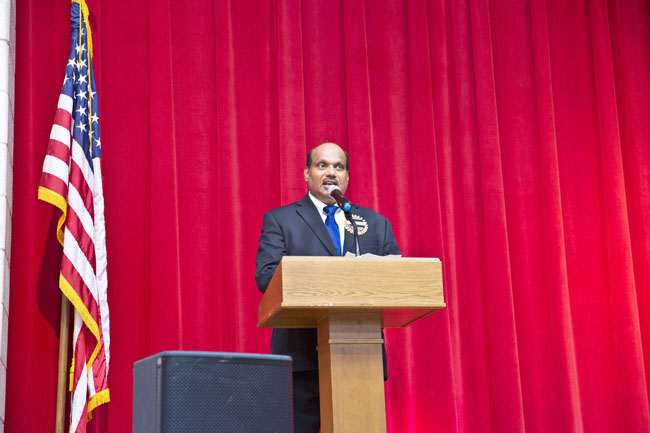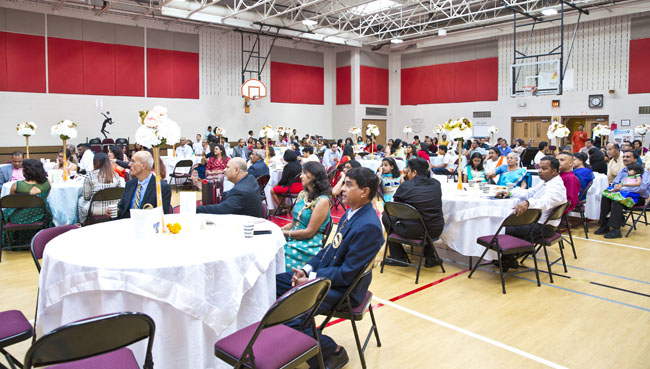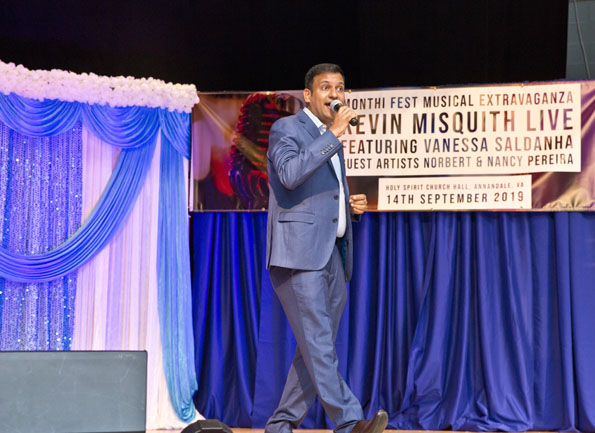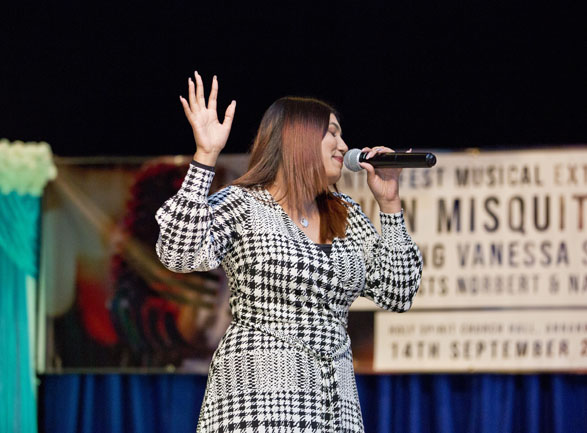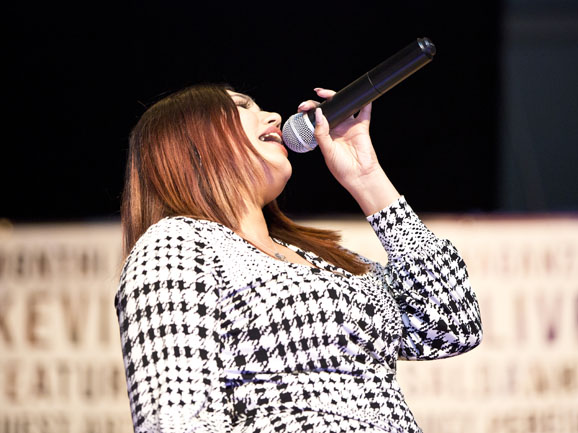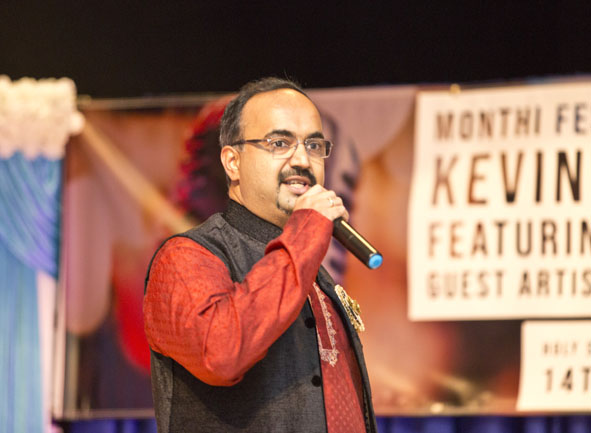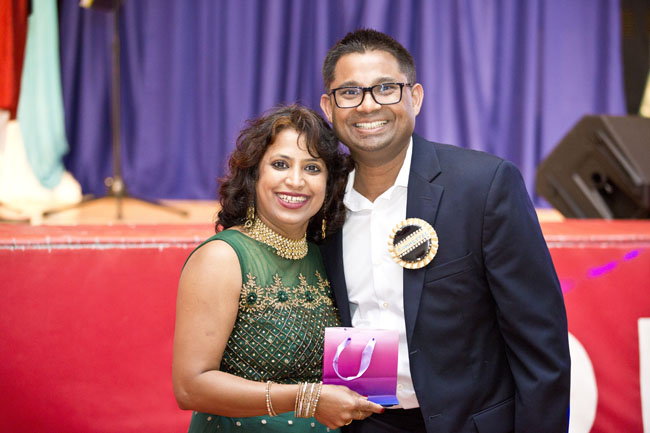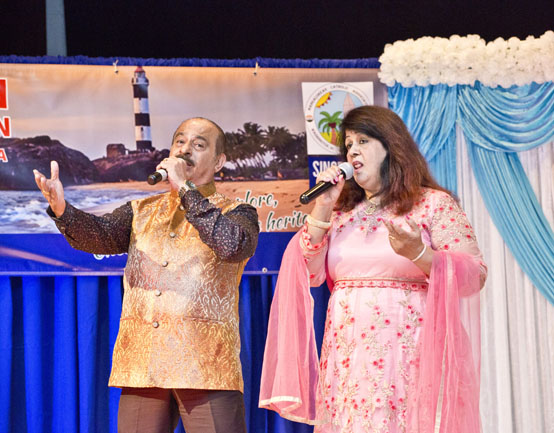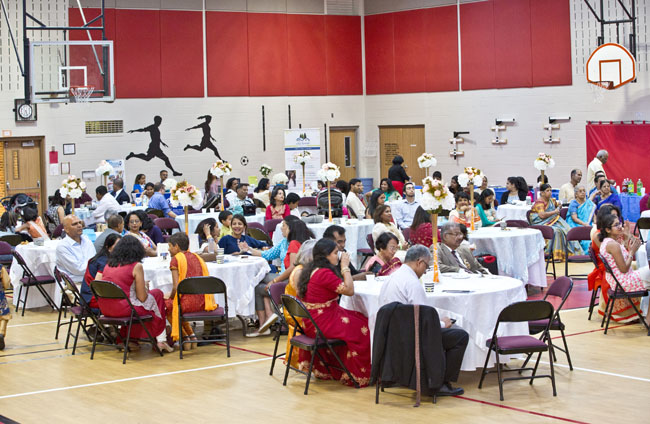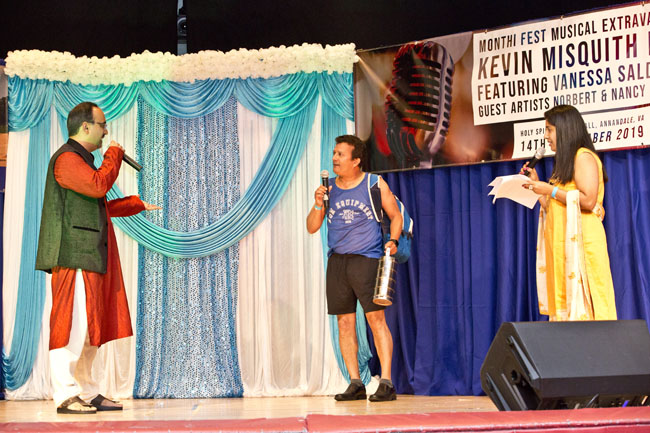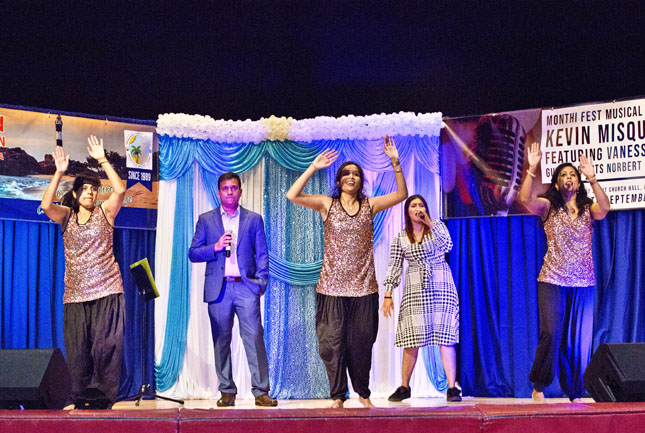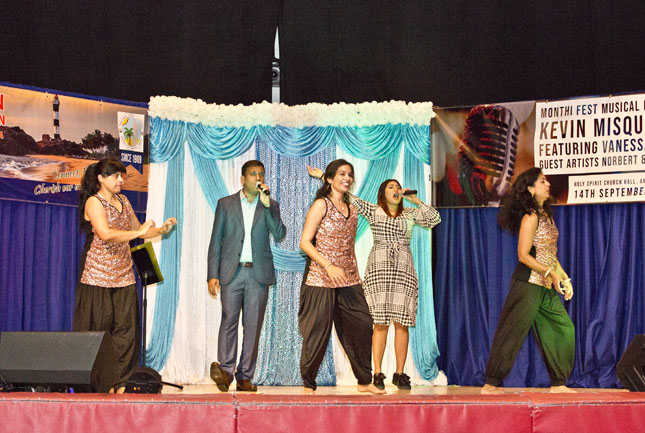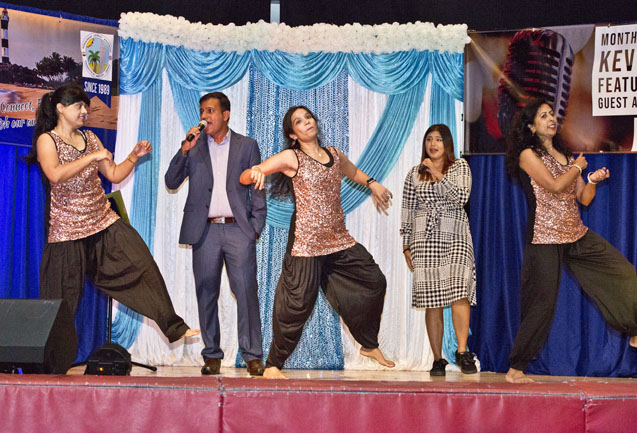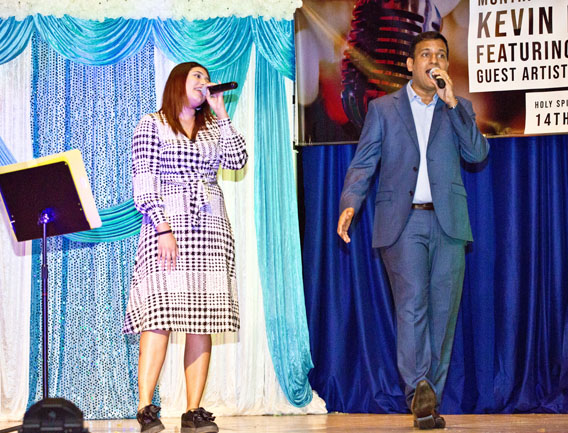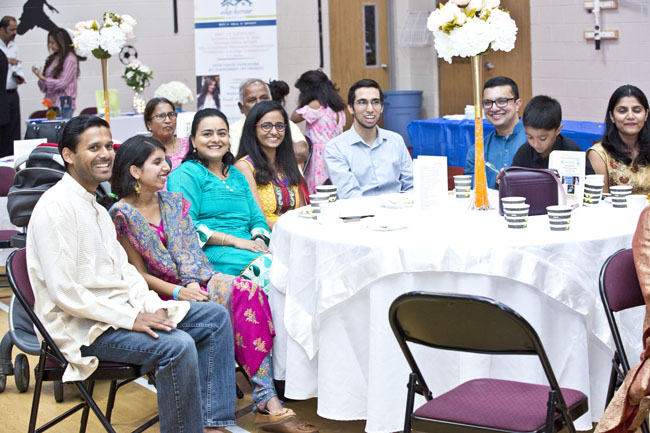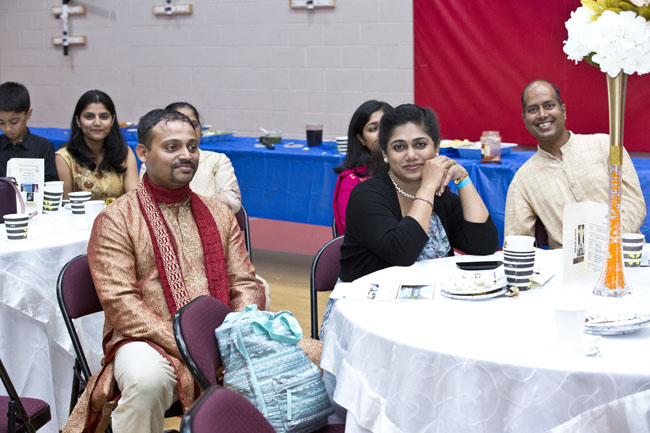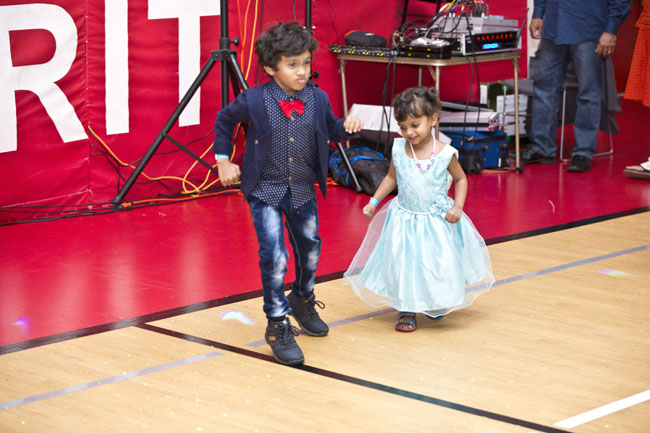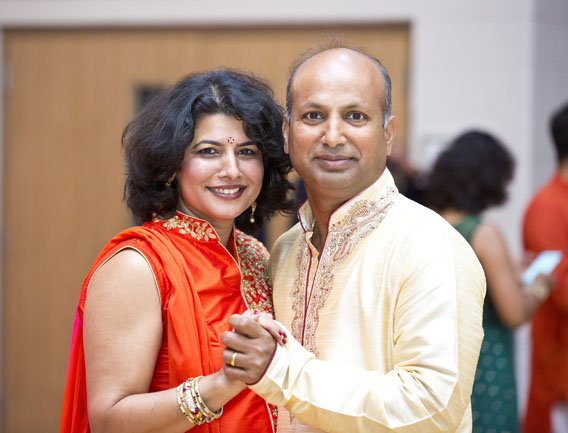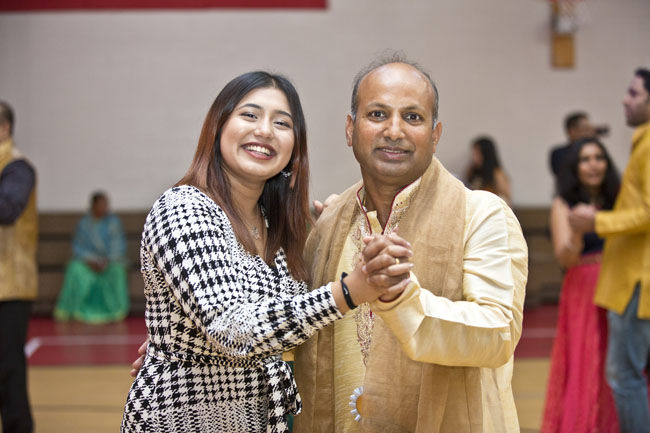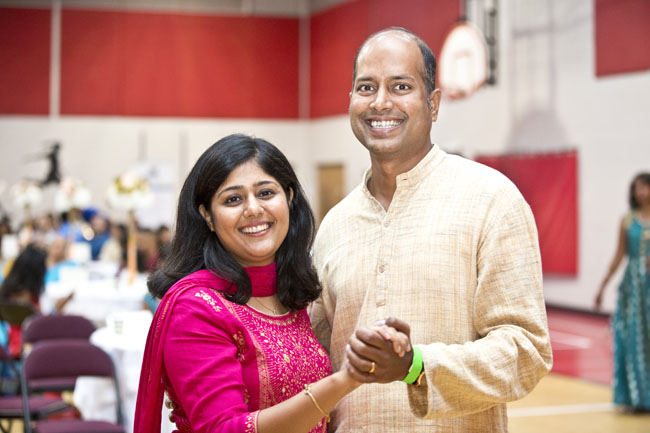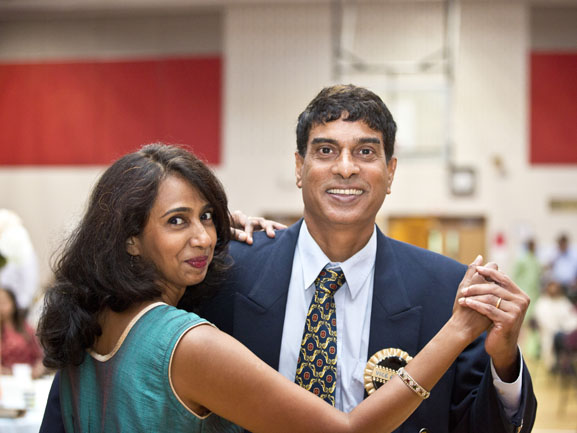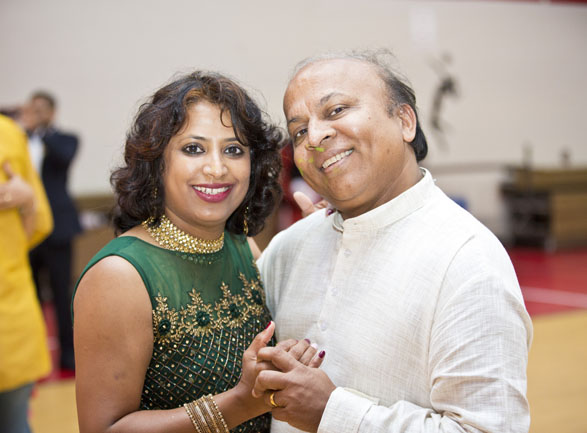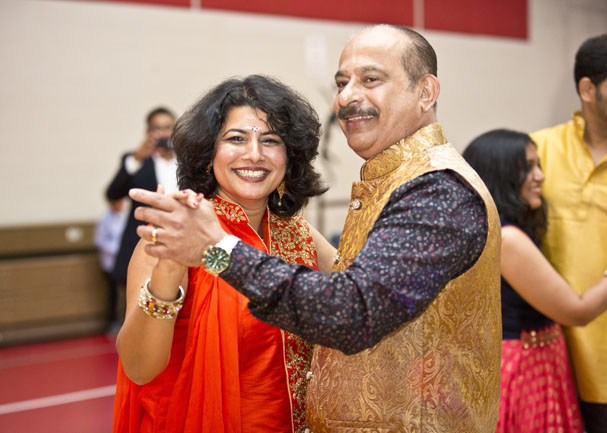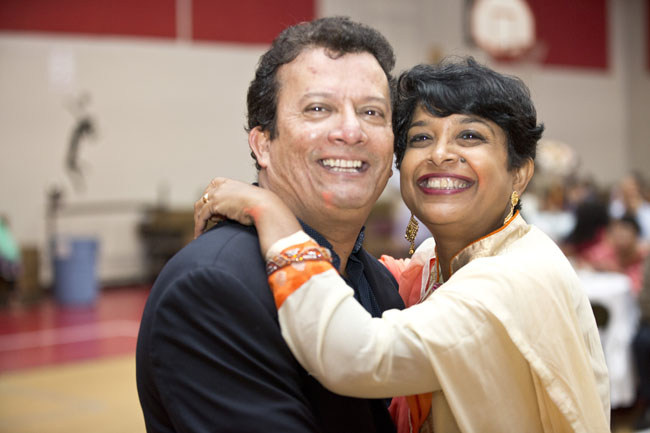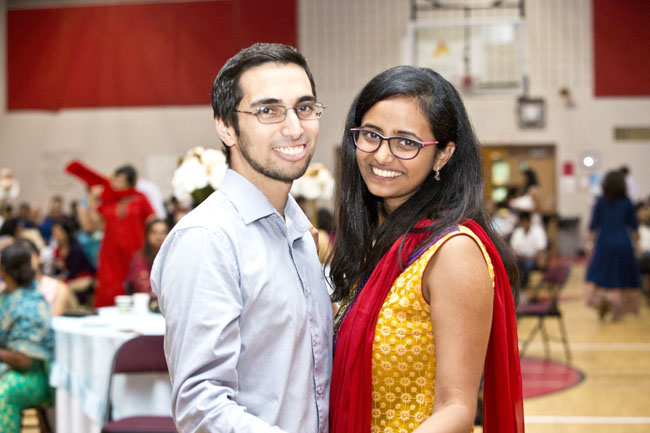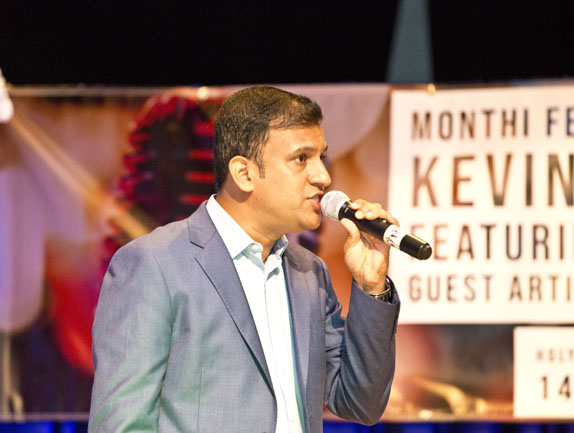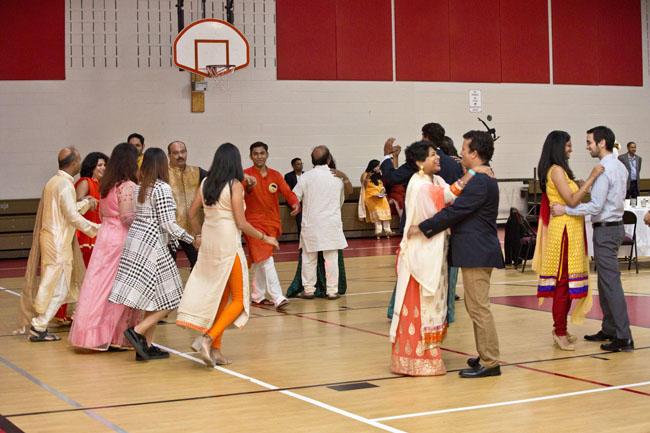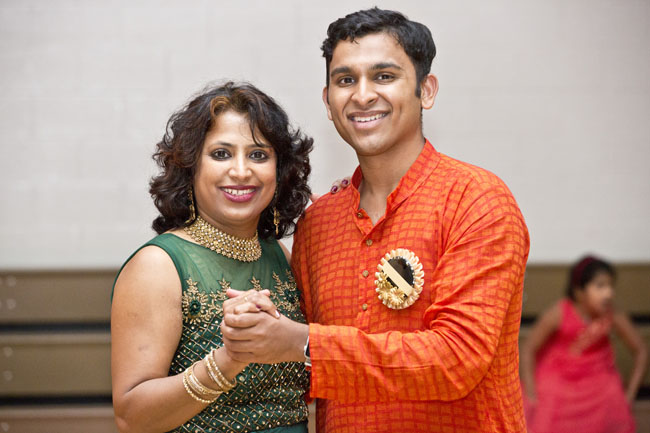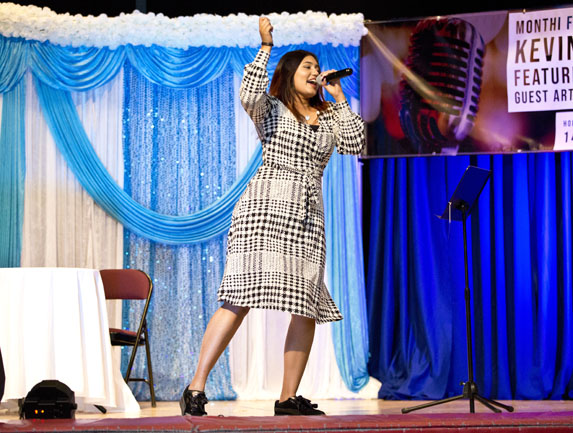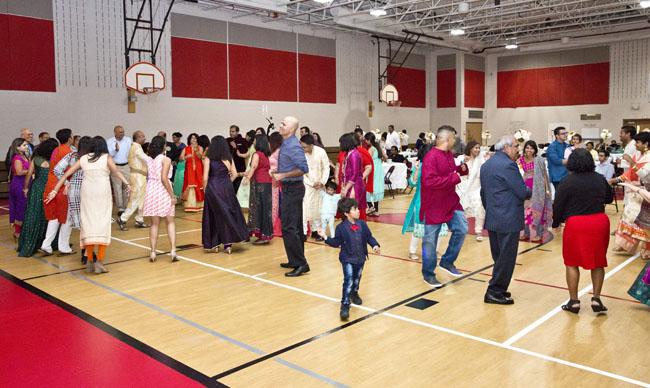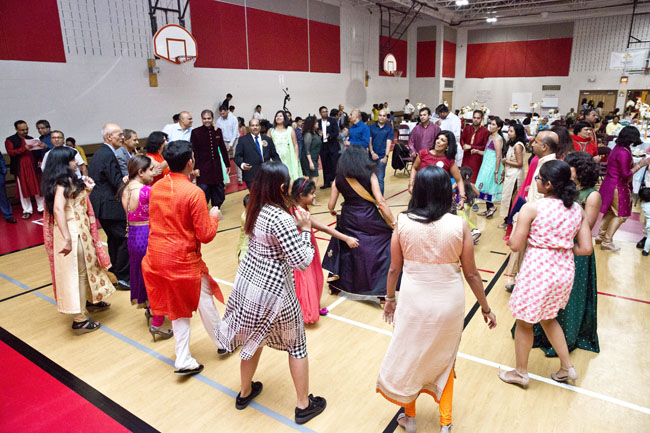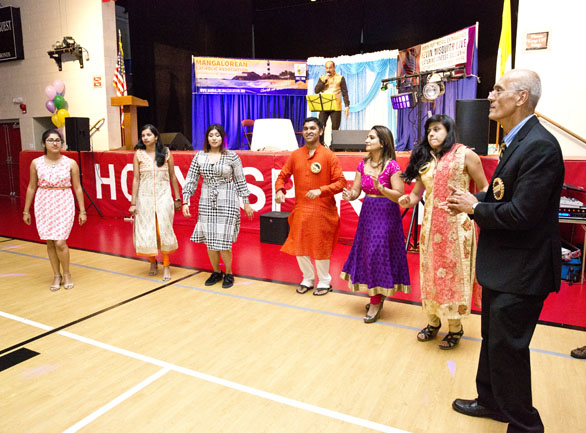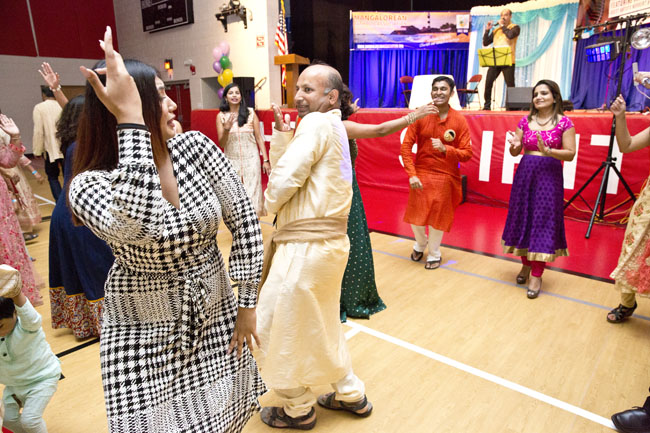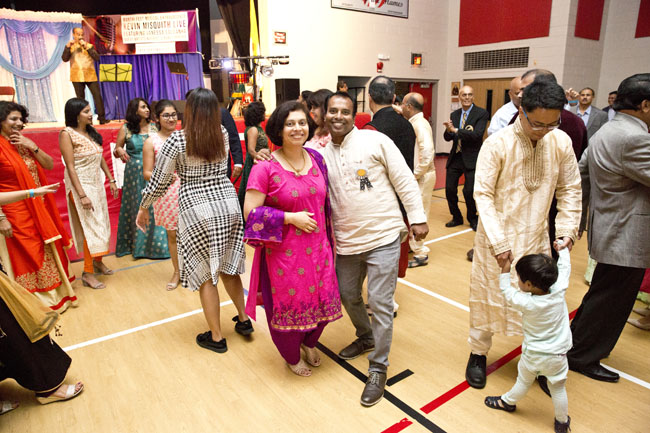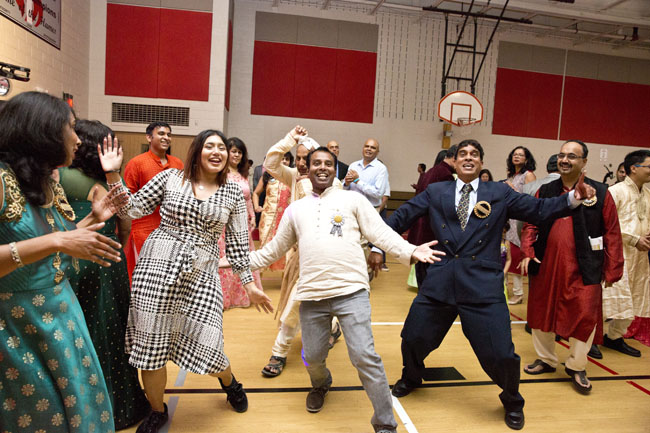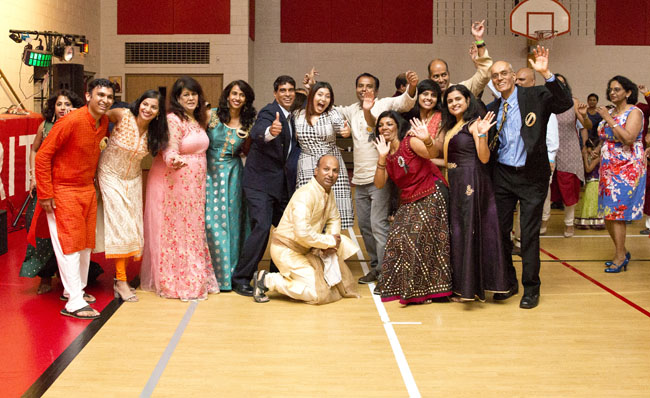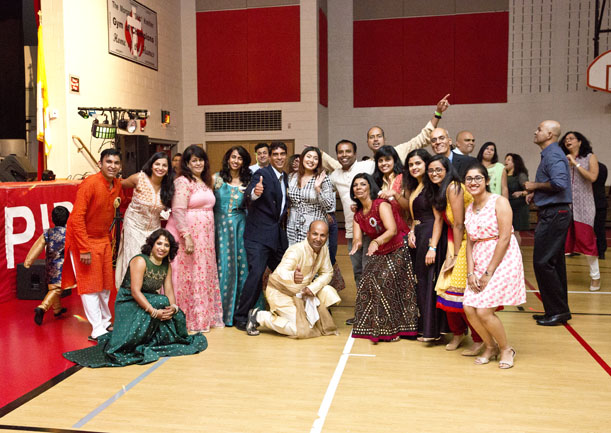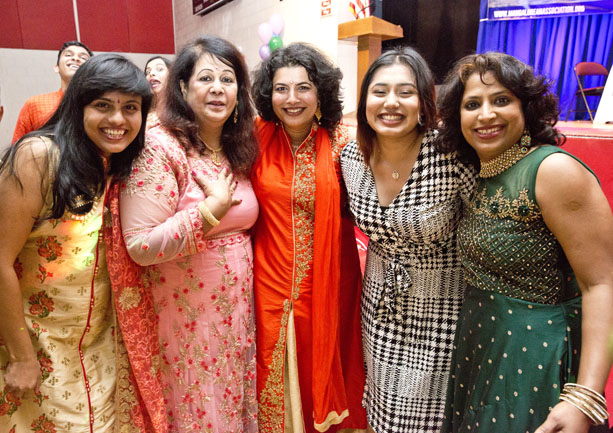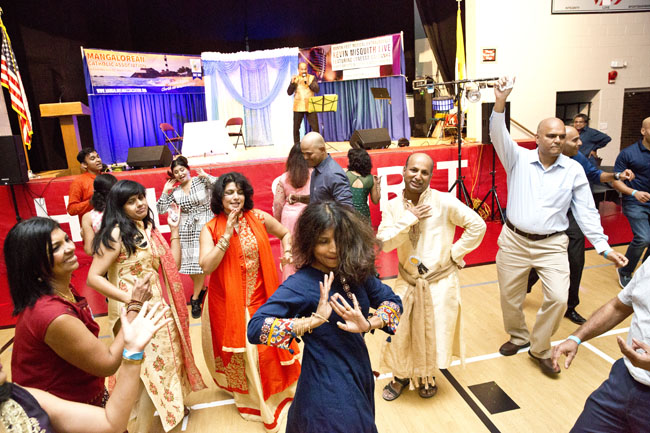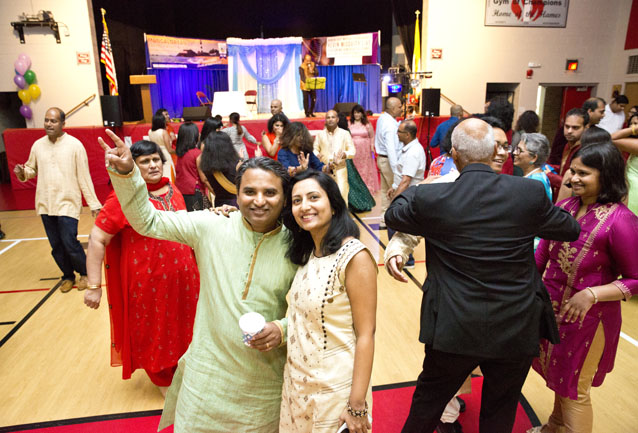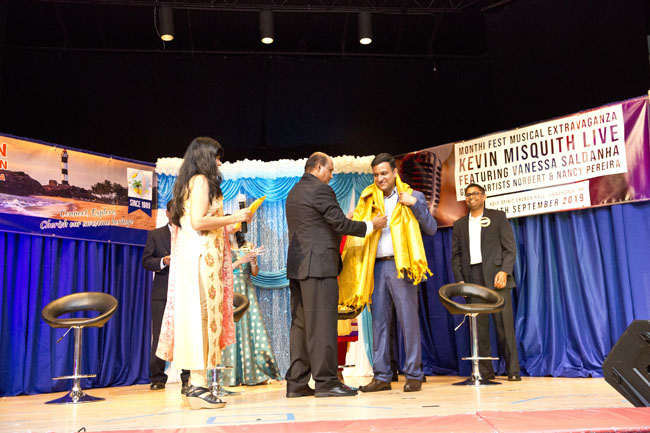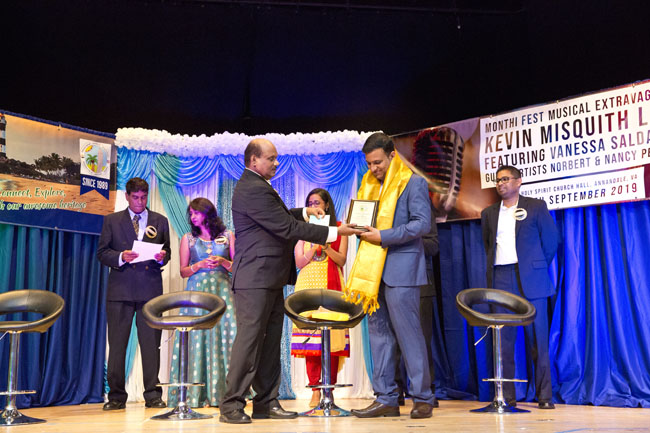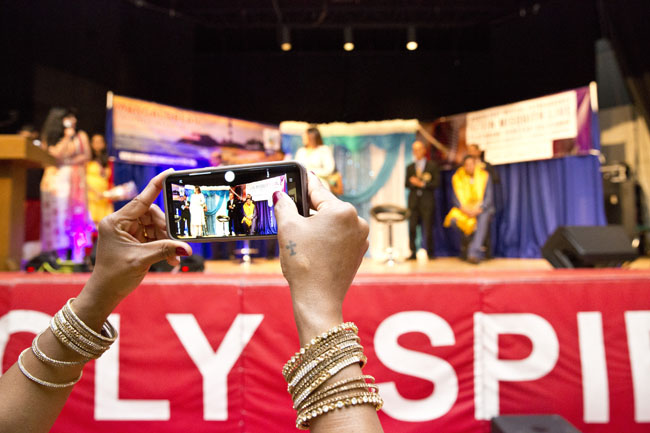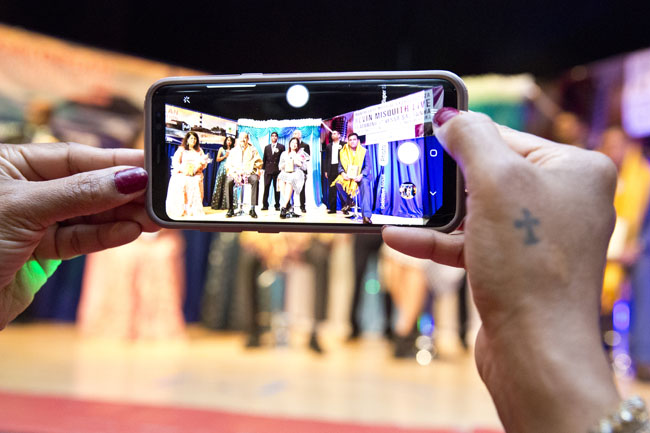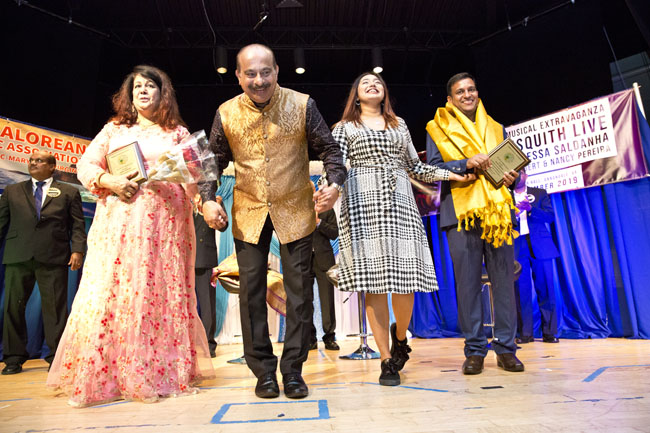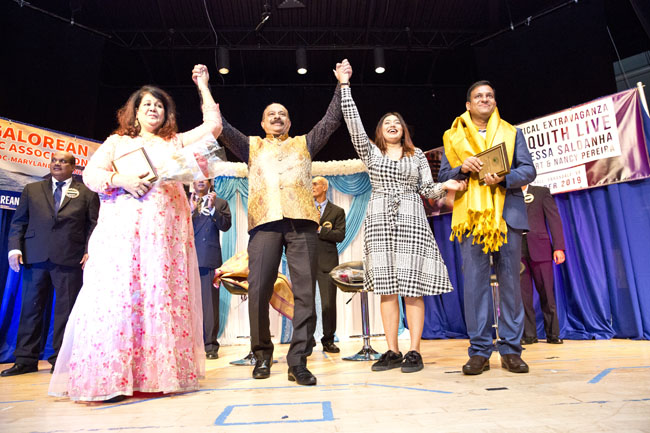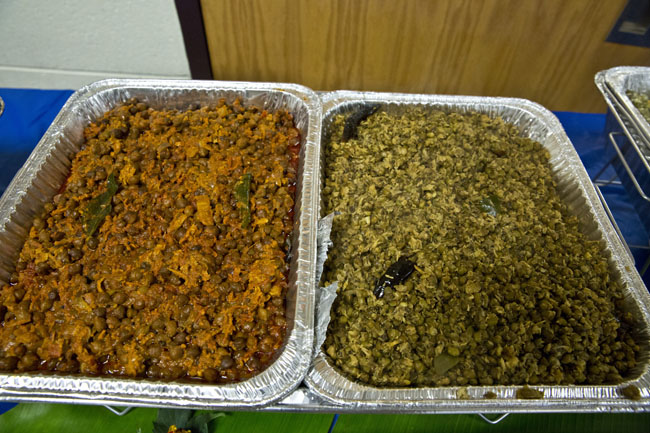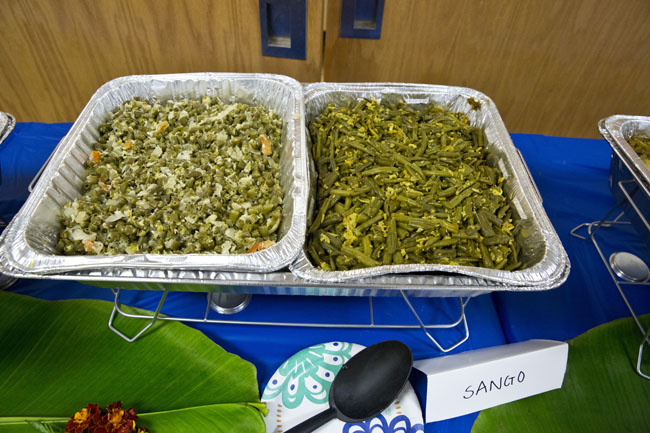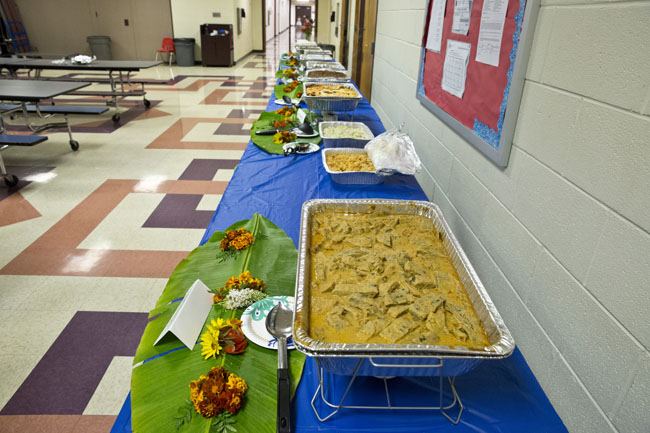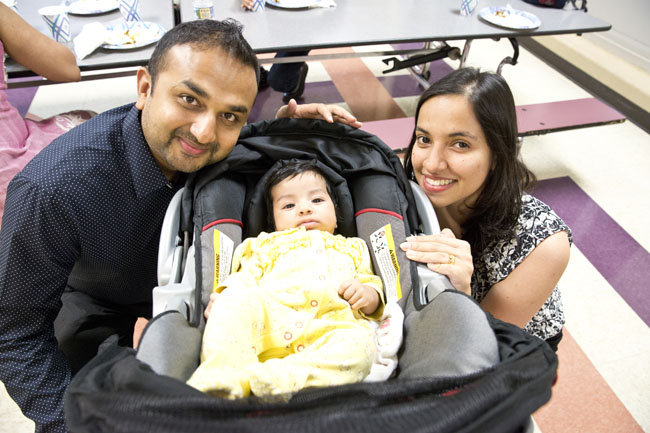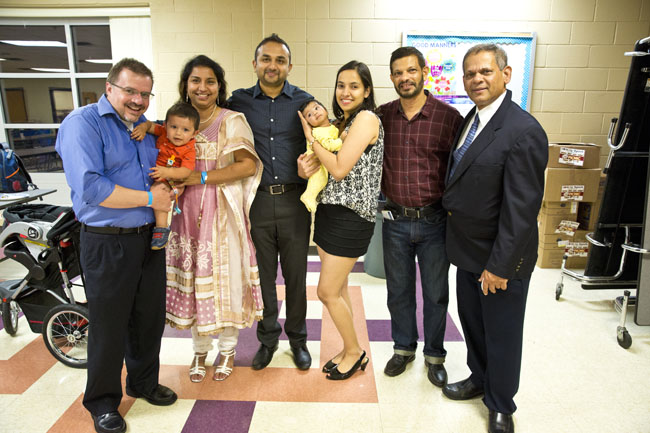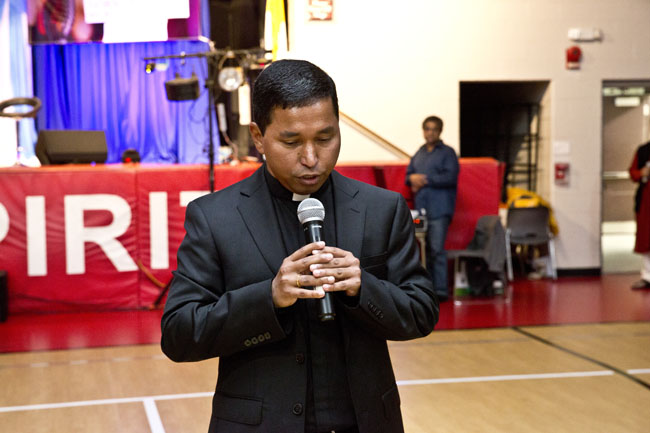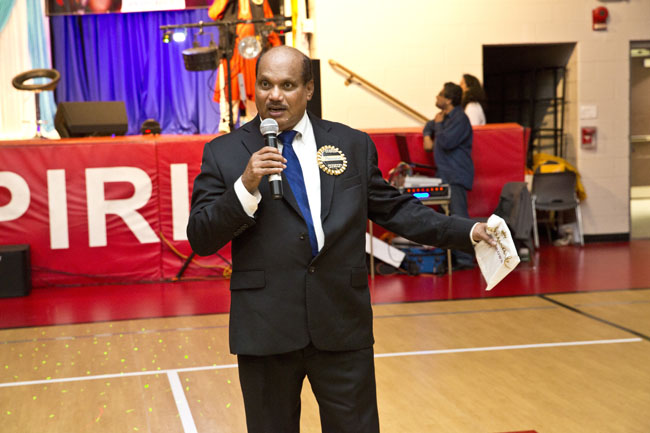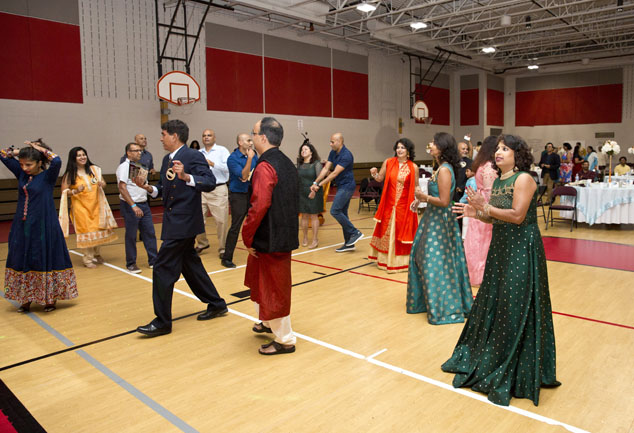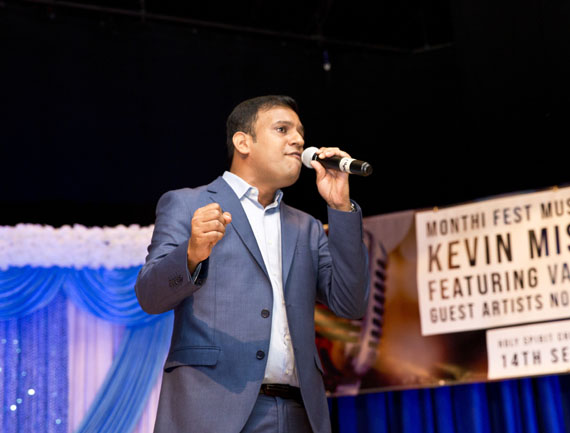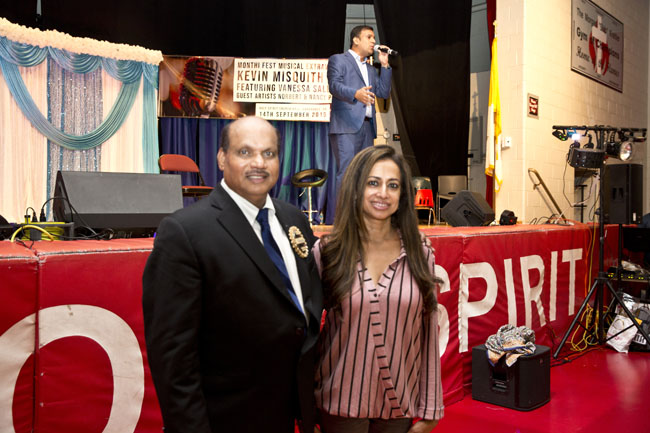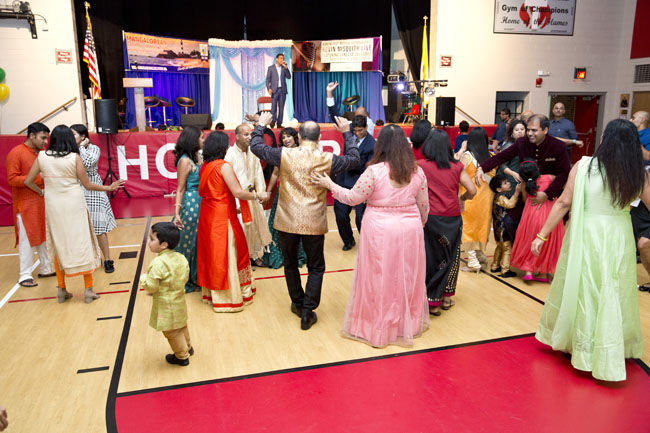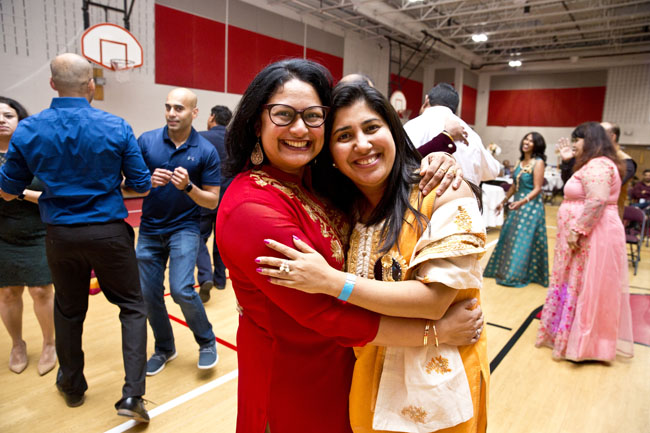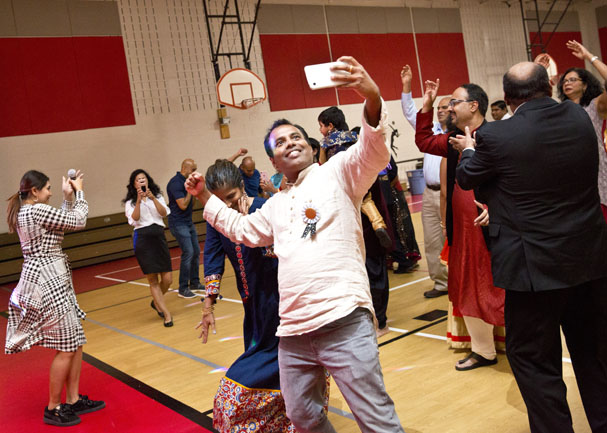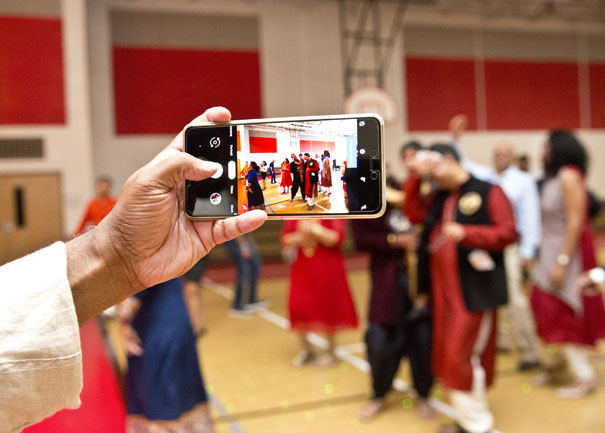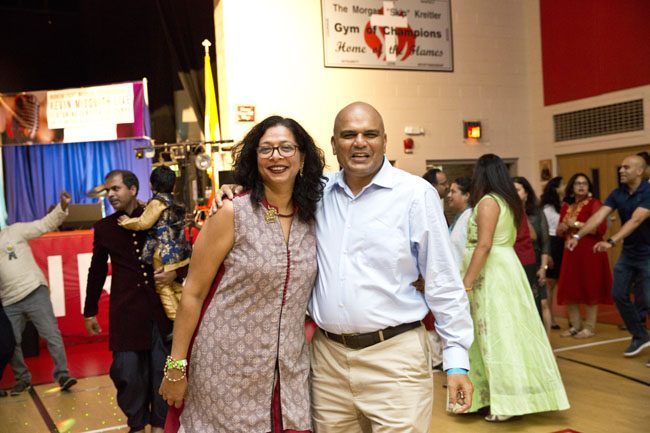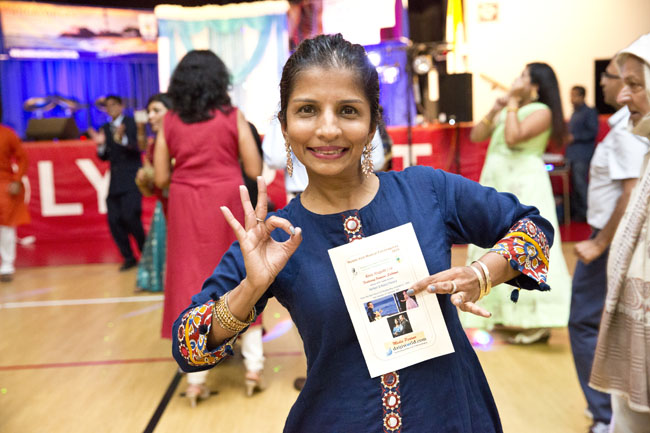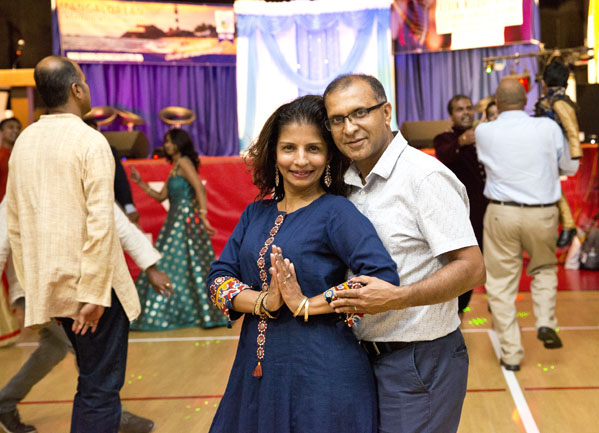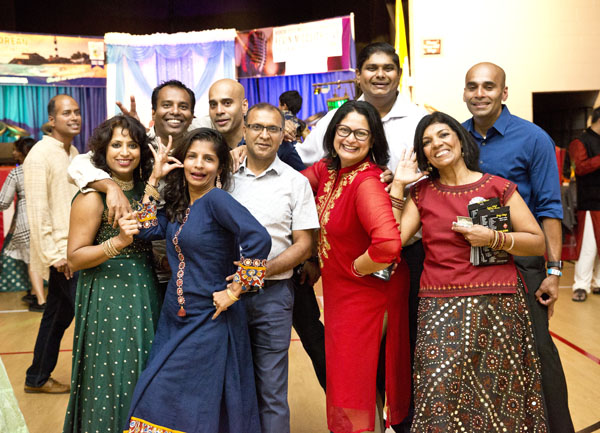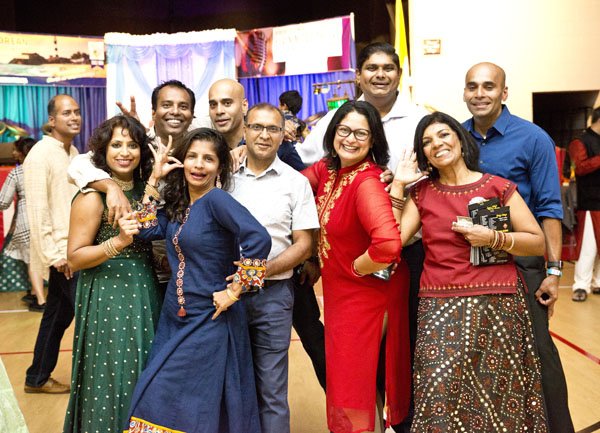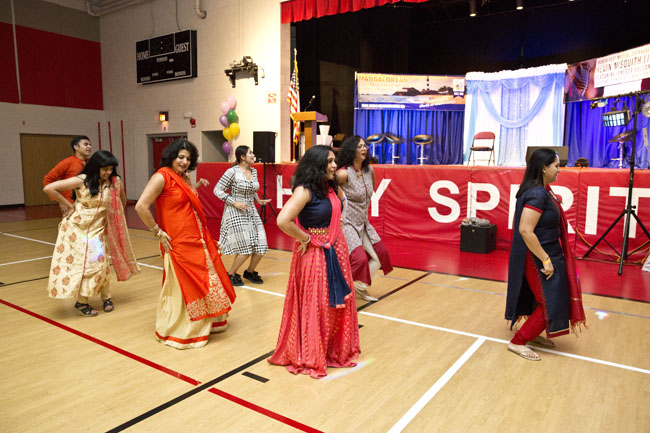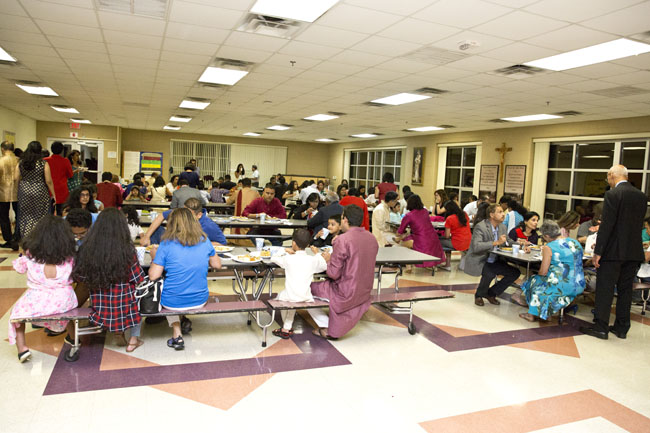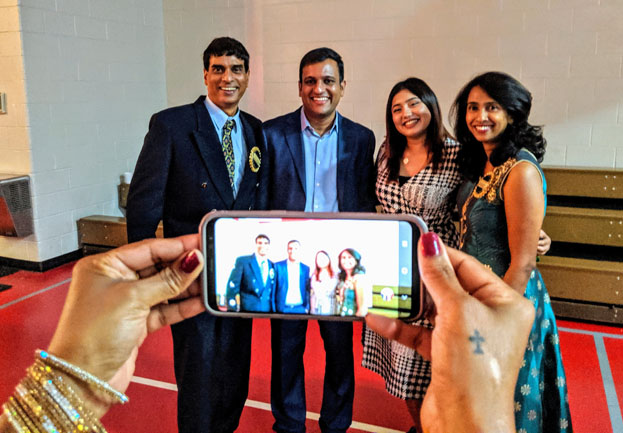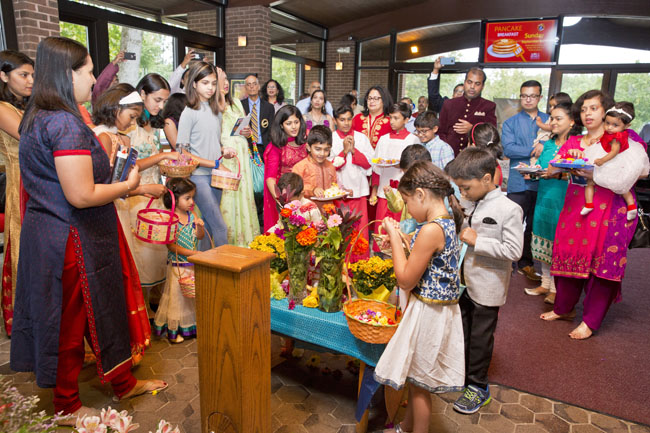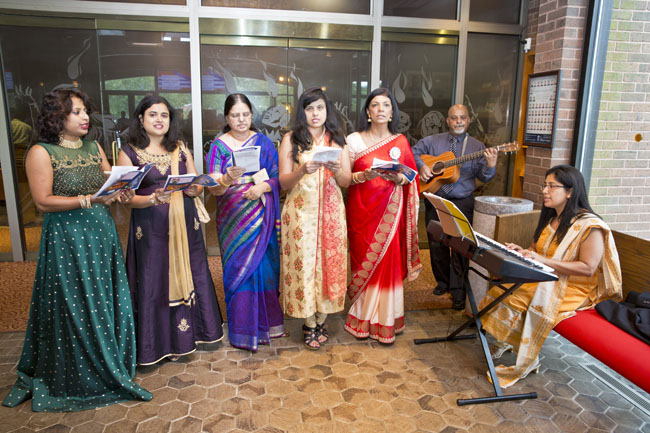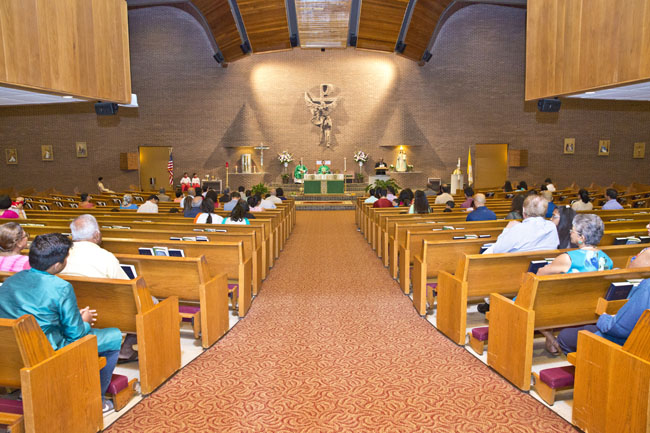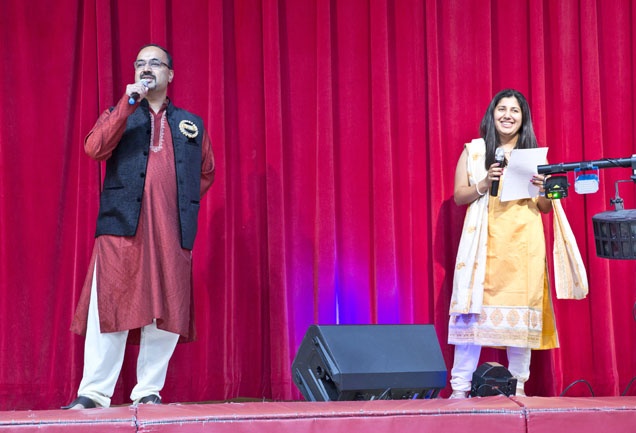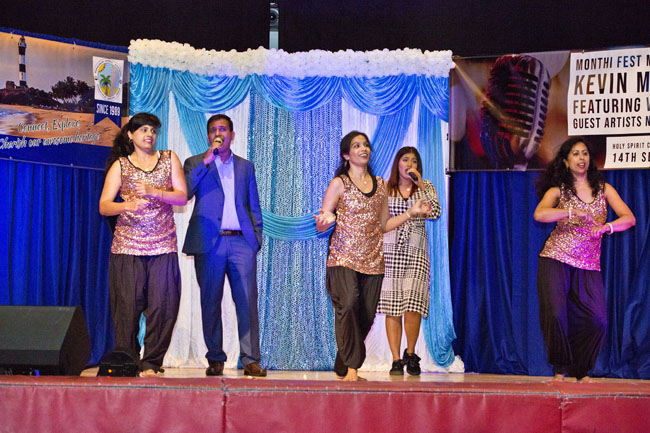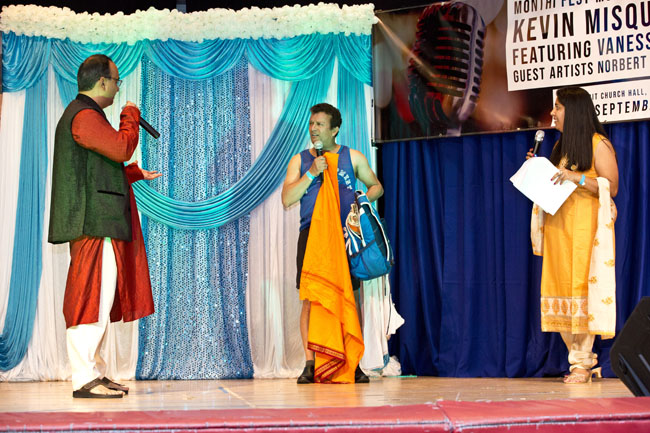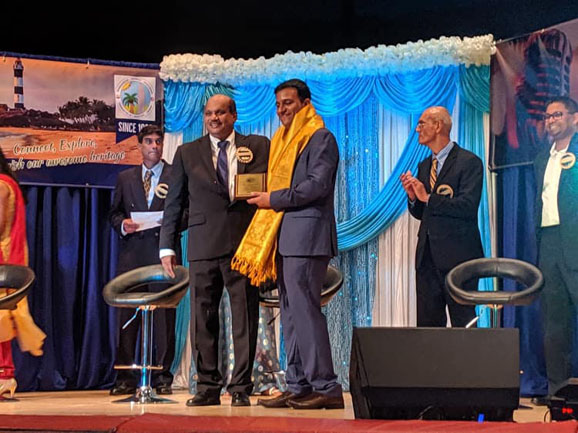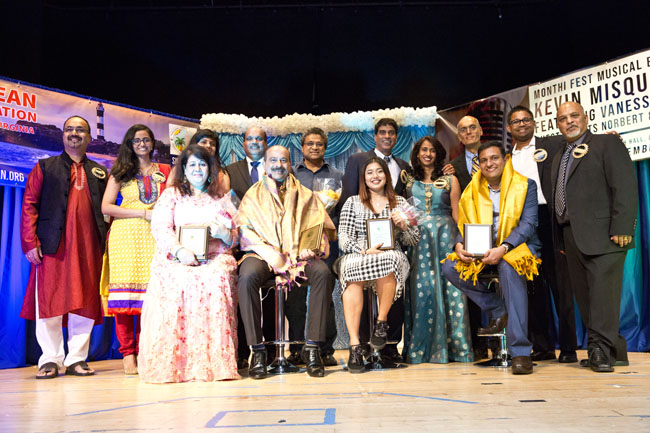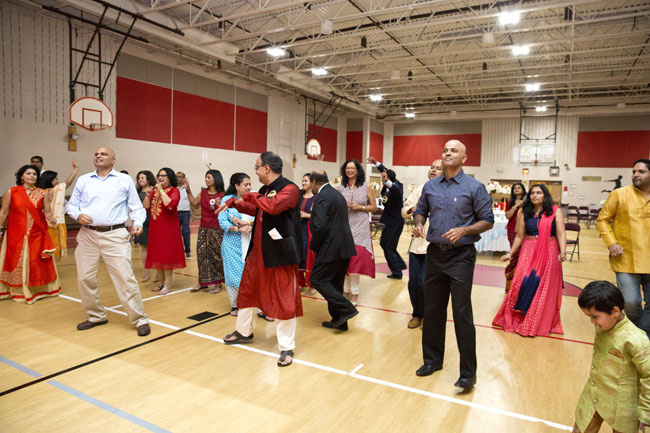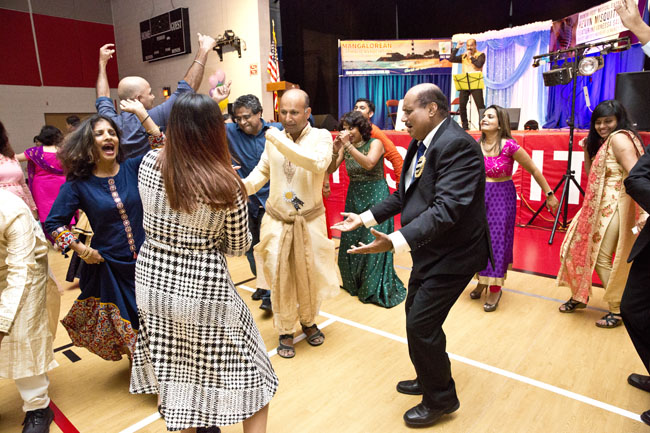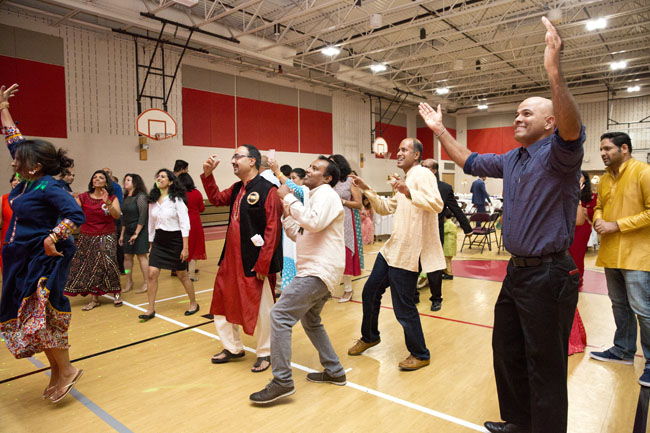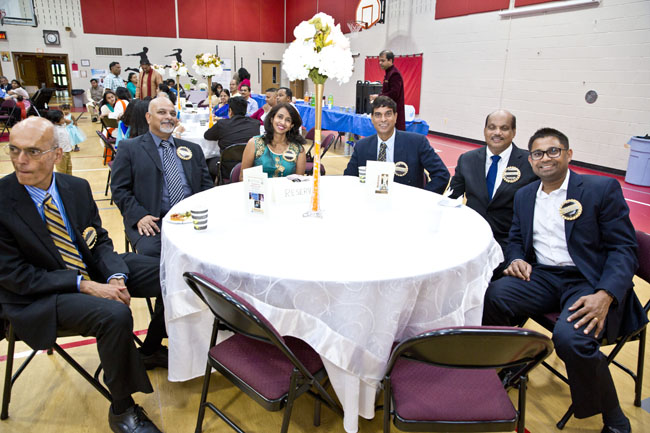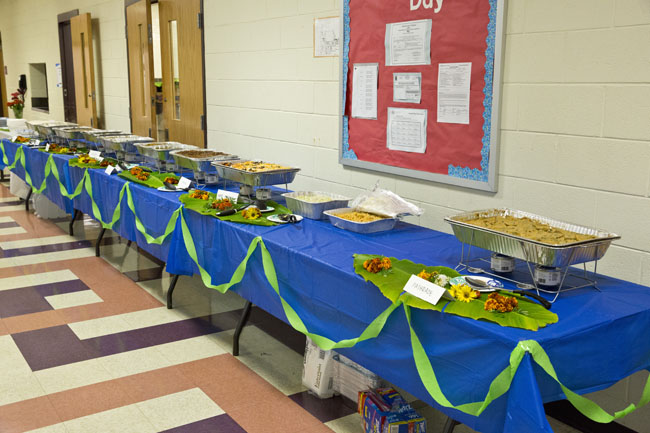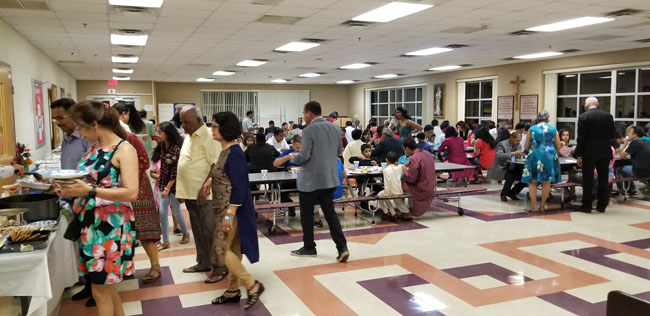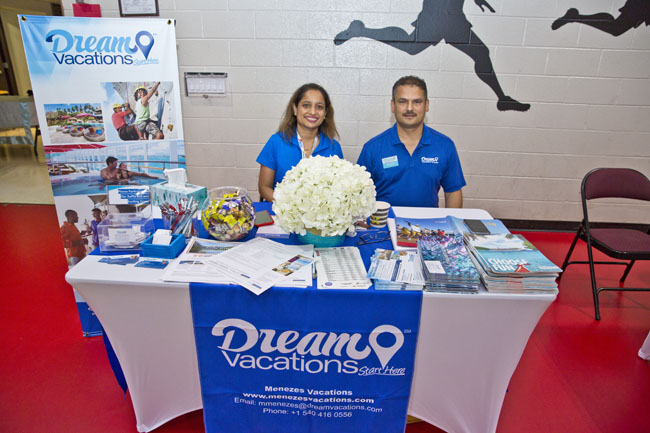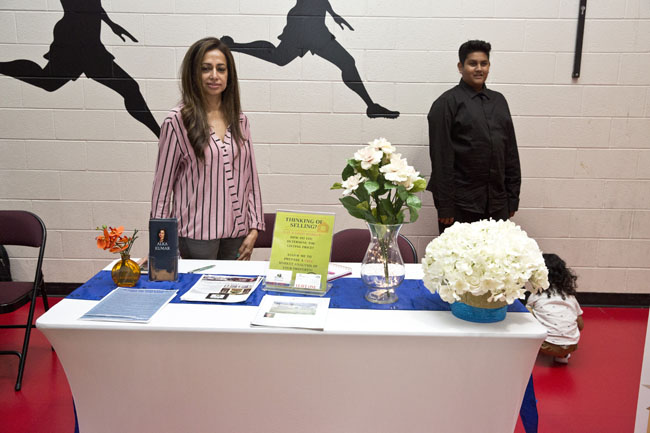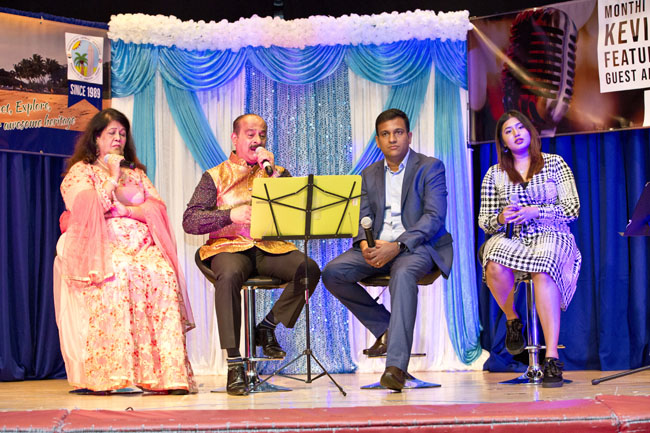 I want to extend my sincere thanks to the dignitaries, the 3 Presidents of different organizations who have come here on my request to attend our functions and they are seated in front row, John Whittle – President of IACA, Claudette Britto – President of Goan Association of DC and Clayton Monis – President of MCA-EC. I also want to thank MCA-EC committee members and guests who have helped in logistics of bringing our musicians and also coming forward without hesitation to help us in all the activities of the day, starting with flower shower line ups, serving snacks and refreshments at the event hall and helping with food in the kitchen/cafeteria and staying back to help clean up the place. Thank you.
Last but most importantly, no event can be a success without a super DJ, who has entertained everyone with his scintillating music and lights while supporting the four musicians on track. A big thank you to DJ, Vijay Furtado from NJ. Our show could not have been done without you.
As we know, there is always one person all of us take for granted and forget, he is the man who captures the important moments of the events and puts it there on the dashboards of Facebook and website for the whole world to see and appreciate. Roshan D'Souza has captured the precious moments of the day and those pictures and videos are all available on our facebook page and our website. A big thank to Roshan as always. Everyone, please go and check out all the pictures and videos posted by Roshan as well as other folks.
On behalf of Kevin, thanks to all the fans of Kevin who bought his latest CD album, Kenna Kenna to support the work he is doing for the Mangalorean Community.
On behalf of our Mangalorean Association of DC/Maryland/Virginia, I want to thank you all for standing up for us to make this unique event a grand success.
Monthi Feast celebrations around the world