Centenary Special 9: A Blast from the Past
Bellevision Media Network



Dear Readers of Bellevision.com,
Church Aided Higher Primary School of Moodubelle is celebrating its centenary during this week and its a proud occasion to all its old students and well wishers. This school as helped to shape lives of thousands of students for last 100 years and the journey still continues.
On this historic occasion, Bellevision website is pleased to publish a series of articles from its old students who narrate their experiences and fond memories. Team Bellevision thanks all the writers for their valuable time and contribution. Request all the readers to come forward and send constructive comments and feed back on these articles of old students.
- Editor.
*********************************
A Blast from the Past: Remembering my Schooldays
Hope, love, joy and peace. It is these four words that we are told to reflect upon during this season of Christmas as we light each candle present on the advent wreath and journey into the past with all the memories that now fill our lives. For me, some memories that come to mind are the good old days back at Church Aided Higher Primary School, which is now celebrating its 100 year mark.
Growing up, I was very fortunate as I lived right next to school and had a father, the late Edward D'Sa, who was once the Headmaster of the same school.I had the great privilege of being involved in many school sports and activities that shaped me to become a better person and made me the woman I am today.
One memory in particular that will always stay with me is that of Violet Monis, Sumangala Nayak and myself as we played on the school grounds every day after school. This was a place for us where we could go, relax and have fun with no worries in the world.
I also remember my teacher Raphael Aranha, who assisted me with my athletic practices, which later helped me at the high school and college level.
I will always cherish these sweet memories along with many others of my elementary school and hope that it continues to change the lives of many other students.

Sheba DSa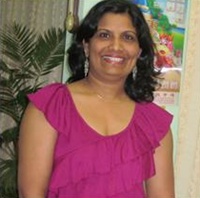 Sheeba completed her primary and high school studies in Belle St.Lawrence Institutions 1971-1981