Centinary Special 6: Well cherished days of childhood
Bellevision Media Network



Dear Readers of Bellevision.com,
Church Aided Higher Primary School of Moodubelle is celebrating its centenary during this week and its a proud occasion to all its old students and well wishers. This school as helped to shape lives of thousands of students for last 100 years and the journey still continues.
On this historic occasion, Bellevision website is pleased to publish a series of articles from its old students who narrate their experiences and fond memories. Team Bellevision thanks all the writers for their valuable time and contribution. Request all the readers to come forward and send constructive comments and feed back on these articles of old students.
- Editor.
*********************************
Well cherished days of childhood
In fact I was enjoying a school sports day at St. Mary's Nursery School at Allahabad. Few well cherished days of my primary school flashed through my mind and I started scribbling down few lines down the memory lane of life. One may say that some students don't understand the importance of education or that they don't have the drive to continue. It takes a lot of energy to crave knowledge and to know education is an essential part to becoming somebody. The key factor to this is determination. It is the key to success. This is important because it shows that a person will not let any obstacles get in his way and try their best to achieve their goals.
During this seven years period of early education in primary school, I still remember the class rooms and the teachers who taught me. Whenever I go for holidays I make it a point to have a glance at the building and the area though very little of what it used to be is left behind being occupied by the new structures. My first few days were very anxious days being scared of the dogs and nearly four kilometers walk to the school from the age of five till I finished my tenth grade then on to begin my journey to the St. Paul's Minor Seminary at Lucknow in 1987.
I had the privilege of occupying the first class room in the extreme end corner of Belle Church Aided Higher Primary School, Moodbelle. I joined the school in May 1977 and my first standard was I A. My journey of education started with Mrs. Leena Almeida my first class teacher whom I admire and salute for her concern and dedicated efforts.
In II B, it was Mrs. Teresa D'Sa who held my hands and made me read and write. In class III C it was a sister and in one exam I did not write anything and got 0. My mother reached the school to enquire but that sister was so good and appreciated me so much and made me write again and I could score well. I felt she was more sorry for me having not answered than myself for having failed.
Then on I was very good at maths and enjoyed maths throughout my schooling. In class IV A, I got a new teacher, Albert sir who always called me lovingly. "Ody illy baa", he would shout calling my name. He was the only person who called me as OD, the initials of my name 'Oswald D'Souza' and I did like it.
In class V D it was Mary teacher who was my class teacher in whose class I accidentally ran out and hit the head of Anath Prakash Alphones D'Souza against my chin and in the process damaged my three front teeth and till date they are half broken.
In class VI D it was Mrs. Clara teacher who taught me maths where again I could score well. It was Sadanada Sir and Kannada Pandith whom we tried to avoid, but I was promoted to his class in VII B. It was unforgettable "Neramaneya Gaury barthale antha ni shalege barthiya bale gida ittu segni haaku bale hannu sighuthe" and the hierarchy of punishment first day standing, second day on the bench, third day in front of the class, fourth day kneeling in front of the class, fifth day he would come and pat on the back with his strong hands.
I still remember the children's parliament and the little debates and fights we used to have. I became sishtth mantry (Discipleine Minister) so my job was to mind the students during the study hour in the morning. I would walk on the veranda holding one book in the hand pretending to read and watch if anyone was talking. It was fun when someone made noise to complain about them to the teachers.
I would like to narrate one occasion that I would not forget and which made me stop complaining about anyone for the rest of my life. One girl tried to tie her bag to the ribbon of the girl who was sitting on the front bench. When she was trying to get up, the bag was hanging on to her ribbon so the entire class started laughing and there was lot of noise in the class room. I went and reported the matter to Sasnanada Sir. The way he came into the class and punished the student in question in such a way that I was so sorry for having complained and not yet overcome that guilt. Since then I never dared to complain about any person. I am not sure whether that girl remembers it but I am not able to forget that incidence.
I had come in contact with many students of my own age. I mixed with them freely. I had intimacy with many students. Some became my best friends. I will never forget them in life. Though I was a good student at school, I must confess that I was quite mischievous too.
I was favorite of some of the teachers. I liked most of them. They mixed freely with us. They treated us as their own children. I had great respect for our Headmaster Boniface Burboza whose signature I tried to imitate. Every time I sign as DD'Souza I remember our head master as BBarboza. His elegant, dignified and orderly life. I do still admire and feel proud of him. He was an ideal teacher. His influence in shaping my character was great. I am really grateful to him as well as all the teachers.
In class VII I got two new friends in the person of Edward and Herald. Herald joined my class after the amputation of his one hand due to the fatal accident and Edward after a severe illness which he suffered. Unfortunately, both are no more today. May God grant them eternal rest and their souls rest in peace. I do remember them as good friends of mine in class VII B.
I owe a lot to my memorable days in the primary and all the people over there. Thanks to Vallu and all the Belle-ites for giving an opportunity to pen down few thoughts of mine about my childhood in Belle of which I am so proud.

Rev Fr Deepak Oswald DSouza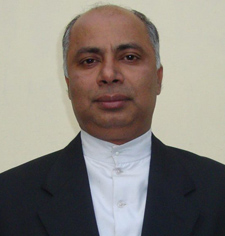 | | |
| --- | --- |
| Name: | Rev. Fr. Deepak Oswald D'Souza |
| Date of Birth: | 19.01.1972 |
| Date of Ordination: | 16.05.1998 |
| Father's Name: | Peter D'Souza |
| Mother's Name: | Agnes D'Souza |
| Home Parish: | St. Lawrence Church, Moodubelle |
| Motto: | Bringing Smiles |
| | | |
| --- | --- | --- |
| Studies: | | |
| Primary: | 1978-1985 | St. Lawrence Junior College |
| High School: | 1985-1988 | St. Lawrence Junior College |
| Intermediate: | 1988-1990 | Private UP Board |
| Graduation: | 1990-1993 | BA-Correspondence Allahabad University |
| | 1994-1998 | BTH Urbania University Rome, Perusing |
| | 2010 | BEd, IGNOU |
| Post Graduation: | 2001-2003 | MA-English, Faizabad University, Faizabad |
| | 2003-2005 | MSW-Medical & Psychiatry, Mangalore University |
| | 2006-2008 | MSc-Counseling Psychology, Madras University |
| Any other: | 2000-2001 | Diploma Computer Programming-DOEACC |
| | | |
| Priestly Training: | | |
| Minor Seminary: | 1987-1990 | St. Paul's Minor Seminary, Lucknow |
| Philosophy: | 1990-1993 | St. Joseph's Seminary, Allahabad |
| Regency: | 1993-1994 | Khrist Jyoti Mission, Asnabandh |
| Theology: | 1994-1998 | St. Joseph's Seminary, Allahabad |
| Specialization: | | Medical Psychiatry & Counseling Psychology |
| | |
| --- | --- |
| Appointments: | |
| 1998-2001 | St. Joseph's Church, Chakeri, Kanpur, Assistant Pastor |
| 2001-2002 | Christ the King Church, Jagdishpur, Assistant Pastor |
| 2002-2003 | St. Xavier's Mission, Naramau, Assistant Pastor |
| 2003-2005 | MSW, St. Aloysius College, Mangalore |
| 2005-2006 | St. Mary's Church/School, Faizabad, Assistant Pastor |
| 2006-2008 | M. Sc, Madras School of Social Work, Chennai |
| 2008 to date | Jan Hit Sadan, Niani, Director of DDWS |
| | |
| Additional Responsibility | |
| 2011 to date | Member of Diocesan Finance Committee |