Bantwal: Grievances of Electricity Consumers Galore at Hello Mescom Programme
Bellevision Media Network


Bantwal, 7 Jul 2013: Hello… Mescom..! Will you solve our grievances? We are fed up. You don't respond to our grievances, what happened to you all? These are queries heard during the Hello Mescom programme that was held at Vittal, near here on Thursday July 4, which was organized by Bantwal taluk working journalists Association.

Puttur MLA Shakuntala Shetty, Mangalore Mesocm zonal superintendent Sukumar U B S and officers were present during this innovative programme.

Jaya Karnataka president Ashok Kumar Shetty raised the issue of Mescom despite its having a solid building in Vittal, it has rented a separate building. Bantwal division executive engineer Umeschandra replied that the rented building was occupied because of space constraint in the own building. Meanwhile, Mescom will buy a plot to build its own building shortly, said Umeschandra.

Anilakatte Abubakker said that the electricity is sapped in Anilakatte locality since over 3 days, while the executive engineer assured to restore the supply at the earliest.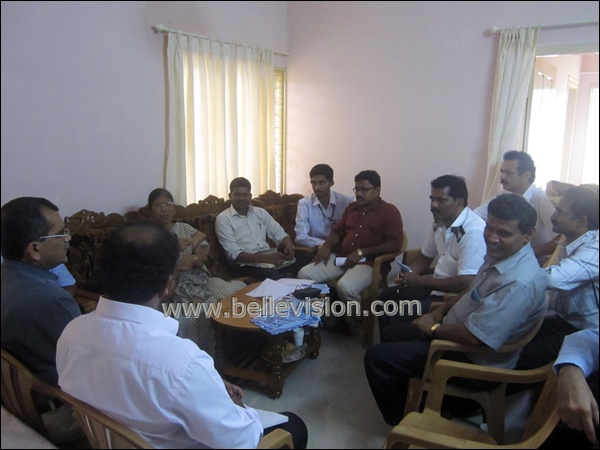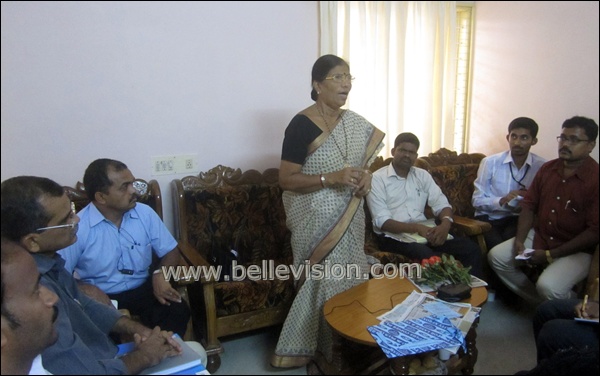 Abdul Rehman, a native of Karai in the limits of Kolnad gram panchayat urged the Mescom to protect the high tension cables with sleeves to avoid imminent threat of electrocution in their neighbourhood.

Mulia Gopalkrishna said that the lineman of Mescom is not attending to the grievances of locals in their neighbourhood. Sudhakar Poojary said that about 10 houses located near Kepu Ullalti temple still have no electricity connection.

Padibagilu Madanamohana Shetty plead the Mescom to fell the trees that threaten high tension cables, while Kanyana gram panchayat former president K P Abdul Rehman said that about 50 houses in the locality are facing low voltage and urged Mescom to install transformers. Pervai gram panchayat president Pushpalata M Shetty and former president Rajesh Kumar Balekallu expressed grievances of sapped electricity supply, irregularities issuing ration cards and smart cards. Kepu gram panchayat member Abdul Karim Kuddupadav and Sanjeev Nayak said that their locality is facing sapped electricity since over 2 months and Mescom branch staff in Ukkuda is not responding to the grievances, linemen does not function properly.

Meanwhile, Mescom officers who were present at the Hello Mescom Programme offered assurances of addressing all the grievances at the earliest. MLA Shakuntala Shetty advised the officers to be peoples-friendly in responding to their grievances.

MLA Shakuntala Shetty expressed happiness over Hello Mescom Programme and offered assurances to organize similar programmes with KSRTC, PWD, PMJSY, zilla panchayat minor irrigation department to address several issues at the earliest.
Mangalore Mescom zonal superintendent Sukumar U B S said that 2,500 electric poles replaced from April to June 19 at an estimated cost of Rs 80 lac. The transformers are need to solve low voltage problems faced by many localities. 300 to 400 transformers are functioning that are installed at the cost of Rs 6 crore. The transformers will be installed in low voltage affected villages on stages to restore normal electricity supply, said Umeschandra.

Vittal sub division assistant executive engineer Yashwant, sub division junior engineer Praveen Kottari, Salettoor branch manager Satish, Mani branch manager Chandrahas, Ukkuda branch manager Anand, Bantwal taluk working journalists Association president Mounesh Vishwakarma, Ibrahim Adkastala, treasurer Sandeep Salian, joint secretary Chandrashekar, members Uday Shankar Nirpaje, Nishant Billampadav, Mohammed Ali Vittal, Hameed Vittal, Vishnu Gupta Punacha, Jyoti Prakash Punacha were present at the occasion.