Any identity card enough for free treatment: Kota Srinivas
Bellevision Media Network


Mangaluru, 25 Jul 2020: Four more hospitals will start COVID-19 testing laboratories in the next 15 days adding to the already operational laboratories in Wenlock and four medical colleges, stated district in-charge minister Kota Srinivas Poojary at the Dakshina Kannada Zilla Panchayat's special meeting.
The meeting, attended by MLAs, seniors district officials and Zilla Panchayat members, was called for to discuss controlling the spread of COVID-19 in the district.
In the meeting, it was announced that in Government-listed private hospitals there is no need for an Aadhar card for COVID-19 treatment. Any identification card is sufficient. A child under 10 months of age should have a Tai card. The outpatient department has already been opened at Wenlock Hospital and outpatient departments have also been set up in private hospitals.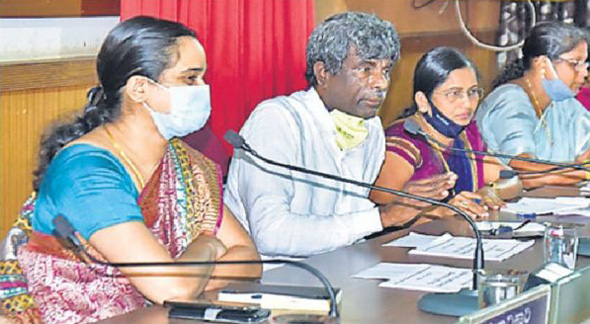 Zilla Panchayat members also raised the issue of private hospitals charging exorbitantly for COVID-19 treatment and the confusion about free treatment.
The chief District Health Officer Dr Ratnakar speaking at the meeting stated that free treatment is provided at 8 government-listed medical college hospitals under the at Ayushman Bharat scheme. However, the patient must bear the cost incurred until the conduct of COVID-19 test. Asymptomatic COVID-19 patients will be home quarantined if they have adequate provisions for treatment at home. However, in the case of pregnant women, children under 10 years and people above 60 years will have to be treated at COVID Care Centres. Recovering COVID-19 patients will be treated at general wards of private hospitals at Rs 5,000 per day under the Ayushman Bharat scheme and those on ventilators in ICUs will be treated at Rs 25,000 for ten days under the scheme.
Poojary stated that action will be taken against those Aargoya Mitras not responding to people at private hospitals.
Deputy Commissioner Sindhu B Rupesh stated that about 85% of COVID-19 patients in the district are asymptomatic and are being treated at home. Presently, there are 3,000 Rapid Antigen Kits COVID-19 tests and 10,000 more will be arriving soon. ASHA and Anganwadi workers in all the taluks except Mangalore are going to every home and checking the oxygen level in the residents using pulse oximeters.
The DC also responded to a request by Bantwal MLA Rajesh Naik that family members should be allowed to attend the funerals of the COVID-19 dead by stating that a D Group employee will be with the deceased's family at the funeral.