'Ek Aslyar Ek Na' ready to entertain Konkani lovers in Israel
- Media Release


Tel Aviv, 28 Jul 2016: With back to back record breaking houseful shows in GCC Countries like UAE, Kuwait and Qatar, trend setting movie of Konkani world 'Ek Aslyar Ek Na' is all set to get released in Israel.
Critically well acclaimed and highly applauded by every Konkani lover, the super hit Konkani movie of all times 'Ek Aslyar Ek Na' is ready to release on July 30, 7.30 pm sharp at Ha Tikwa Theatre, Tel Aviv. The movie release has been organized with immense dedication and commitment from Praveen Pavis Vamanjoor, Satthu Paladka, Sunil Nakre and Konkani Community Israel.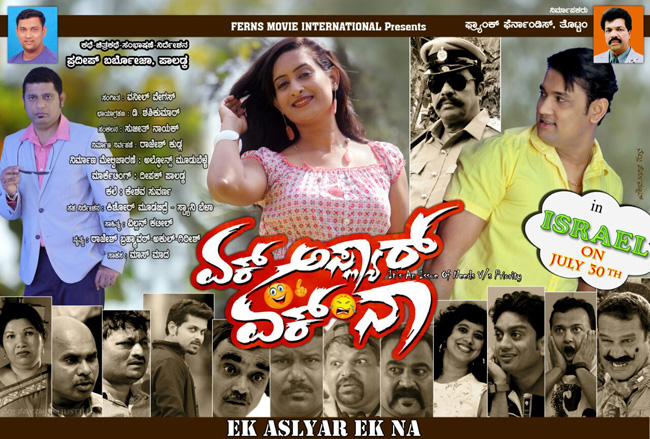 Since 'Ek Aslyar Ek Na' is a first Konkani movie to reach Israel, the Konkani community of Israel have been quite pro-active to turn this memorable event into a festive mood. Tickets for the show are priced at a nominal price of only 60 Shakeels including the mouth-watering dinner and a chance to win variety of gifts. Organizers have also made transport arrangements for the convenience of movie viewers from Haifa, Nofyam, Herzelia and Jerusalem. History in Konkani world will be created when such a large number of Konkani lovers come together in Israel.
'Ek Aslyar Ek Na', which wrote a new chapter by breaking all records in Konkani cinema again and again, is accepted by all type of viewers. The record breaking movie also continues to add more destinations from different parts of the globe to its release list.
Producer Frank Fernandes Thottam proudly says, "If you generate a movie as per the taste of audience, they will embrace it with both hands. He often said "I love my mother tongue and my motherland and will always promote our tradition and culture in every ways."
The Director of the movie Pradeep Barboza Paladka is of the opinion that Konkani viewers are very smart in their selection. Hence, they will always opt for the best movie which entertains them in every way. Along with story, dialogues and direction for the film Pradeep is playing the main character of the film along with Priya Menezes Hospet , Alphons Moodubelle , Deepak D'Silva, Claude D'Lima Shirva, Lavina Gomes, Godwin Castelino, Melwyn , Moras and Richie of Memory fame , John D'Silva (famous Goan actor), Lucy Aranha, a veteran and a famous actor from Kuwait along with famed Konkani stage artists from Mangaluru and Dubai.
Cinematography is from award winner D Shashikumar, Stunts is by Maas Madh. Choreography is provided by Akul-Girish-Rajesh. Stany Bela and Kishore Moodbidri have provided their contribution as assistant directors.
After the release in Israel, 'Ek Aslyar Ek Na' will continue its globetrotting journey to Mangaluru for its release on September 3. Frank Fernandes says this movie is one of the best and most successful movies he has ever made.