Moily unveils 5kg cooking gas cylinder in Bangalore
Bangalore, Oct 5, 2013 (IANS): Petroleum and Natural Gas Minister M. Veerappa Moily Saturday launched the sale of five-kg cooking gas cylinder here at the non-subsidised rate of Rs.492 per cylinder, including taxes.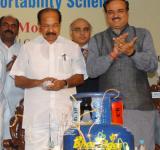 Unveiling the free trade LPG (cooking gas) scheme at a retail outlet of the state-run Bharat Petroleum oil marketing firm in the city's southern suburb, Moily said the new offer was revolutionary, as it would benefit 35 percent population, which is migratory in the country.
"The scheme is a boon to migratory population such as students, IT professionals, back-office employees and people working at odd hours, as it will provide them flexibility to pick up the small cylinder and get refills when they need as petrol pump stations remain open for longer hours," Moily said on the occasion.
The minister also announced the inter-company LPG portability scheme, which enables customers to choose or switch distributor of any of the three state-run oil marketing firms - Indian Oil Corporation, Hindustan Petroleum and Bharat Petroleum.
"The twin schemes will usher in customer democracy. Those who do not have the subsidised cooking gas connection, can buy the small cylinder from their nearest retail outlet and change the distributor through the portability scheme," Moily said.
The small cylinder scheme was launched simultaneously at 11 retail outlets each in four other metros -- Chennai, Kolkata, Mumbai and New Delhi under the pilot project at their respective company-owned and company-operated (COCO) petrol stations.
"The scheme will be rolled out in other metros across the country next year depending upon the success of the pilot project in the five cities," Moily said.
Under the scheme, a prospective consumer has to first to register with the outlet, giving a copy of his/her voter ID card, driving license, PAN card, Aadhaar card or any official document as a proof of identity and buy the equipment with or without regulator at Rs.1,000 plus taxes.
On subsequent refills, only the fuel cost has to be paid.
The portability scheme has also been launched simultaneously in 24 cities across the country on a pilot basis and will be rolled out in other cities nationwide after three months.
"Electronic tracking of portability request and closure will ensure a consumer does not face difficulty in switching over to a distributor of his choice. The scheme will also improve consumer service by distributors as it will usher in competition among the oil marketing firms," Moily added.