LPG to be sold from petrol pumps now
New Delhi, 02 Oct 2013, (DHNS): Migrant workers, students and those with transferable jobs wanting to get cooking gas need not wait for a permanent connection. They can now get cooking gas cylinders from the nearest petrol pump that sells it.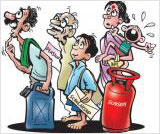 Those unhappy with their distributor and want to change can also opt for it under portability scheme, which will be launched in Bangalore on Saturday. The scheme was earlier launched in January on a pilot basis in Chandigarh. Now, it will be extended to 30 cities and districts, including Bangalore and Hubli in Karnataka, said a petroleum ministry official.
The scheme for sale of 5-kg LPG cylinders is being launched in Delhi, Kolkata, Chennai, Mumbai and Bangalore on a pilot basis through select retail outlets.
The cylinders will be available at company-owned, company-operated petrol pumps and will be priced at market rates, which is more than double the subsidised price of Rs 410 per 14.2-kg cylinder in Delhi.
However, an official statement said, "This will be a boon to the migratory populace such as students, Information Technology professionals, Business Process Outsourcing employees and persons with irregular duty timings, as it would provide them the flexibility of picking up cylinders and obtaining subsequent refills at a time of their choice as petrol stations are open for longer hours.
"Under the portability scheme, a consumer can now opt for the distributor of his choice within a cluster of LPG distributors in the vicinity and across oil companies," said the statement.
Consumers will be able to see the service ratings of all the distributors in their cluster and choose the one they wish to have.
Easy for consumers
To make things easier for consumers, the option can be registered electronically on the website of the oil-marketing company they are attached to.
Electronic tracking of the portability request and closure is in place to ensure that a consumer does not have any difficulty in shifting to a distributor of his choice.
"This will ensure improvement of consumer service by distributors as it will bring in competition in the cluster and bring choice to consumers who want to change their distributor within or want to move to a distributor closerhome," said the statement.
Apart from Hubli and Bangalore in Karnataka, the portability scheme will be available in Hyderabad and Vishakhapatnam in Andhra Pradesh, Patna in Bihar, Raipur in Chhattisgarh, Ahmedabad and Surat in Gujarat, Faridabad in Haryana, Jamshedpur and Ranchi in Jharkhand, and Delhi.
The other places are Kochi and Thiruvananthapuram in Kerala, Bhopal and Indore in Madhya Pradesh, Mumbai, Pune and Nagpur in Maharashtra, Bhubaneswar in Odisha, Chandigarh and Ludhiana in Punjab, Jaipur and Jodhpur in Rajasthan, Chennai and Coimbatore in Tamil Nadu, Lucknow and Kanpur in Uttar Pradesh, Dehradun in Uttarakhand and Kolkata in West Bengal.