Mangalore: Power project shock for Niddodi
Siddaramaiah's proposal 'a setback' for environmental causes, say activists
Mangalore, 13 Jul 2013: Chief Minister Siddaramaiah's Budget announcement of persuading the Central Government to establish an "Ultra Mega Power Project in coastal Karnataka region" has left the residents of Niddodi near Moodbidri in a flutter.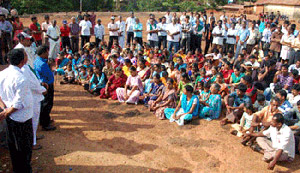 Kiran Manjanbail, convenor of Mathrubhoomi Samrakshana Samiti, Niddodi, said, "It came as a shock to us…Till now, most MLAs have been telling us that the project will not go through." The organisation is leading the charge against the proposed power project there.
Though Mr. Siddaramaiah's Budget refers to the power project in ambiguous terms, the residents of Niddodi are certain that their village will be recommended because of previous official surveys conducted here. With Budget allocating funds for the Yettinahole project as well, environmental protection for the southern coastal districts has received a setback. There is no new announcement for Endosulfan victims, who will have to wait for survey results to get a yet-undefined rehabilitation package.
Big ticket projects like the Udupi-Kasargod high speed rail link, Mangalore Ring Road and upgradation of National Highway 75 between Sakleshpur and B.C. Road, though announced in the budget presented by the former Chief Minister Jagadish Shettar in February, have been omitted in Mr. Siddharamaiah's budget.
Skill development and education gets a fillip this time. A Mini Tool Room, funded by the Rural Infrastructure Development Fund, will be opened at Mangalore to enhance skill development. A Police Public School for children of police personnel is also in the offing.
To create awareness and give "effective training about rural development programmes to the elected representatives and officials", a Regional Training Centre of the Adbul Nazeer Sab Institute of Rural Development, headquartered in Mysore, will be established in Mangalore.
Language and culture in the district get a good deal in the Budget. A Konkani language and culture foundation is allocated Rs.3.5 crore, which is more than the Rs. 2 crore promised by Mr. Shettar for a traditional arts centre at Kalangan. Similarly, Rs. 5 crore is allocated to the preservation of footprints of Koti Chennaiah in Puttur taluk. The region also received funds to recognise 16 century Kannada poet Ratnakara Varni and writer M. Govinda Pai.