No plastic bags in the temple town of Udupi from September 15
TOI


Mangalore, 29 Aug 2012: The temple town of Udupi has decided to go the green way. Realizing that plastic carry bags were the major contributing factor for artificial floods during rains and also as an environment conscious move, the Udupi made the city municipal council has decided to ban plastic bags effective September 15.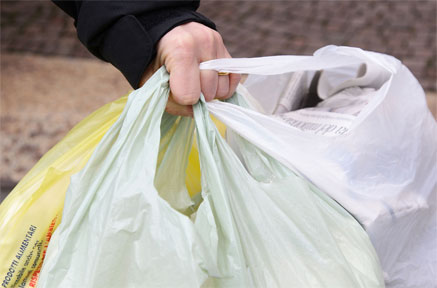 CMC president Kiran Kumar told TOI,"Plastic bags of any micron thickness will be banned. We are also mulling penalty against violators. He said," A shop in Manipal refuses to give vegetables if the consumer does not get his own bags. If a vegetable shop in Manipal can implement this, why not in Udupi? Kumar admitted that it was a tough task, but not many were opposing this move of the CMC. But we need the cooperation of the District Administration, police and the food and civil supplies department,'' he said asserting that shops will not be allowed to keep plastic carry bags even for sale.
Kumar's tenure as president ends on February 14 next year. I thought I should make the first move. I don't know whether my successors will take a decision like this in future. Its better late than never,'' he said. Udupi Deputy Commissioner MT Reju said: It's a bold initiative. The municipality was finding it difficult to handle the waste generated in a small town like Udupi.
The ban will go a long way in helping the town and the environment. In the beginning people may find it difficult. We will give all assistance required for the CMC in this green initiative.''Kumar also aid that this will also help the local jute bag manufacturing industry grow. The recent artificial floods due to clogging of drains, people throwing garbage on road side in plastic bags refusing to give a mere Rs 30 for door to door garbage collection drive were catalysts for this ban,'' he added.
Kiran said that though plastic bags of less than 40 microns were banned last year in August, it did not meet with much success as manufacturers flooded the market with dotted plastic bags less than 40 microns. These bags failed machine detection though it was less than 40 microns due to the dotted pattern,'' he added.