SSLC exams get under way from today
Bellevision Media Network


Mangalore, 01 Apr 2013: Stage is set for the all important SSLC examinations that get under way across the state from April 1 and end on April 10.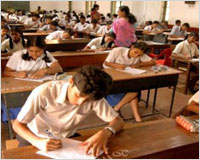 In Dakshina Kannada, a total of 35,061 students will appear for examinations in 96 examination centres across the district. These include 17,001 girls and 18,060 boys. In Udupi district, a total of 16,239 candidates, including 8,160 boys and 8,079 girls, will write the examinations in 56 centres.
In Dakshina Kannada, 31,346 out of 35,061 are regular candidates, 1,770 private candidates and 1,309 repeaters. Among private candidates, there are 636 repeaters. A majority of 1,770 private candidates, that is, 1,429 candidates are boys. While most number of examination centres - 26 is in Mangalore North education block, 20 are in Mangalore South, 15 each in Bantwal and Puttur blocks, 10 in Belthangady, 6 in Sullia and 4 in Moodbidri blocks.
In Udupi, an additional 680 repeaters, including 512 boys and 168 girls, will also appear for the examination. Arrangements have been made to accommodate 820 private candidates - 648 boys and 172 girls to write their examination at Government PU College, Udupi, near the bus stand, Government PU College for Girls, and St Sicily High School. In Dakshina Kannada too, all private candidates have been accommodated in centres in Mangalore.
Early examinations
In a change from the previous year, the SSLC examinations will start at 9.30am instead of 10.30am and end at 12.45pm. Students will be given the first 15 minutes to browse through the question paper, understand it and soothe their jangled nerves before answering the same. Language examination will be held on April 1, science on April 3, second language on April 5, mathematics on April 8, third language on April 9, and social sciences on April 10.