Indian Democracy at Cross-roads Part-11: The Good News
By Philip Mudartha

Bellevision Media Network



India is due to face one of the greatest challenges within few weeks when 81.45 crores of voters will cast their votes in the general election to elect 543 members of the sixteenth Lok Sabha. The general election will be held in nine phases, the longest election in the country's history, from 7 April to 12 May 2014. Voting will take place in all 543 parliamentary constituencies of India. The result of this election will be declared on 16 May 2014, before the 15th Lok Sabha completes its constitutional mandate on 31 May 2014.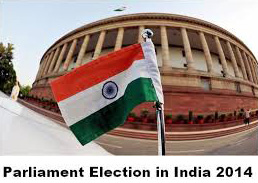 There is a lot of speculation all-around regarding the possible outcome of the general election. It seems that the wind is clearly blowing in the direction of the Narendra Modi led BJP and the National Democratic Alliance (NDA) which is predicted to sweep the polls whereas the Congress led United Progressive Alliance (UPA) is being written off as the party and alliance that is doomed to utter failure.
In spite of these predictions, one cannot underestimate the regional parties who collectively can topple the applecart of the NDA by coming together on a common platform in the form of a Third Front. But one cannot forget the previous experiments with such a possibility as each of the regional leaders entertain an ambition of becoming Prime Minister. Hence, their efforts would be to win the maximum number of seats so that they could have bargaining power to put forward their own claim for the Prime Ministerial Chair.
A lot of churning is going on in the political ocean as alliances are being formed and disgruntled ticket-losers in one party jumping the bandwagon of other parties. As winning is the prime 'mantra' of all political parties, they are in the process of fielding candidates with criminal background and corrupt practices. The general election of 2014 has been generating a lot of heat and dust. As such it would be interesting to be a witness to the historical event by understanding the forces and personalities that shape the future of this great country. Bellevision.com would bring out analytical articles by experts on the forthcoming elections that would provide insight into the historical general election of 2014.
- Bellevision.com Team
24 Apr 2014: At the time of writing, 349 LS constituencies have voted in 2014 general Elections. The voting process for remaining 194 will be over in 18 days. My readers will heave a sigh of great relief; good riddance! We can finally relax with regular news of music concerts, annual picnics, IPL and such fun activities. We are done with the headache of political analysis for next five years.
Just like the election campaigning and voting, The Holy Week and Easter are over. The admissions of our children to school and vocational colleges are on our minds. The summer is harsh. Water is scarce. Electricity supply is low on voltage to run the air-conditioning. Internet can't be accessed. To compound our problems, it is wedding season: the whole month will be gone shuttling from one reception hall to the other.
What is good about life? What is this guy writing about? Doesn't the guy know his WIIFM model did not get any eyeballs? Patience; I would not let go without spreading the good news. The good news is:

1. Our national GDP is poised to touch 5 trillion USD within next six years. The per capita income will almost treble to 4,000USD.

2. India is youngest nation with median age of 24 years with largest English speaking professionally trained and skilled workforce. One of four skilled workers in the world will be an Indian. Indians will be second highest pool of doctors, scientists and engineers.

3. Currently, we are the largest rice exporter. We are largest milk producer too.

4. We are the largest producer for spices and mangoes, increasingly sought after by people all over the world.

5. Tea is what we wake up to. We are largest consumer, second largest producer and fourth ranked exporter of tea.

6. Our rail network is second largest and is run by a single management: the central government. There is a tremendous opportunity for public-private partnership in raising quality of services for moving goods and people faster, safer, cheaper and better than what is achieved.

7. We are world leader in manufacture of tractors. We also are second largest manufacturer of bicycles. This is an opportunity to promote cycling as an economical, green and non-polluting mode of transport everywhere except on expressways and major roads in bigger cities.

8. We are third largest manufacturer of both optical media and wind turbines.

9. We rank among the top exporters of bulk medicine formulations. The second largest pharma company is Indian.

10. We are world leader in solar heating with more than 80 applications.

11. Ours is second largest textile industry with second highest exports of apparels and textile furnishings.

12. India is among top-3 most favoured investment destinations for global companies.

13. India is one of six countries with its own satellite launching technology and capability.

14. 12% of mobile subscribers are in India, with tariffs one of the lowest in the world.

15. The third largest, by transactions, is our National Stock Exchange besides Bombay Stock Exchange having the honour of highest listed companies on its register.

16. We are second largest biscuit manufacturer in the world. We are Curry King too.

17. Our film industry is the largest in the world. Do not grumble about its quality in comparison to Hollywood; it is gaining global recognition. Frieda Pinto, hear, hear!

18. 11 of 12 diamonds worn in the world are cut and polished in India.

19. Indian households (you and me!!) hold 1 trillion dollar worth of gold. Our women war more gold jewellery than any other woman in the world. Our temples hold more gold in their underground vaults than any other religious institutions. We import 25% of all gold sold globally year after year. (I will pen a separate exclusive on our gold obsession in coming weeks. Till then, ladies, hold your breath!)

20. Indians are born entrepreneurs. All our footpaths are taken over by street vendors. Anywhere and everywhere is shopping arcade. India holds the potential to be entrepreneur paradise, especially if AAP comes to power in states. Whoever comes to power at centre does not matter. (A separate exclusive on Mumbai hawkers is a must to understand this potential)

21. The billionaires' era has begun. There is no shame in getting rich and bragging about it. The general elections and the assets disclosed by our LS candidates is evidence. In 2012, there were 122 disclosed dollar billionaires. Their number is expected to treble in six years.

22. We are fastest growing exporter and importer. Our annual foreign trade has crossed six hundred billion dollars. It is growing at about 16% each year.

23. India is poised to gross over 1 trillion dollar in infrastructure investment within 2017.

24. As far as ERDD goes, we are foremost in global outsourcing revenue. ERDD is engineering, research, development and design. This is an offshoot of our human resources potential, English language proficiency and access to technical education at rural clusters.

25. Our wellness sector is grossing 1.7 billion dollar annually. The CAGR is 20%, holding great promise to traditional therapies of Ayurveda, Yoga, Oil massages and the works in eco-zones like Western Ghats, Konkan and Malabar Coasts, Vindhyas and Himalayas.

26. The rural income per capita is worryingly low at half the national average. Over next decade, rural per capita incomes should touch 3000USD in order to nurture an equitable and just society, where both rich and poor feel secure from each other. This is an opportunity to design national policies with a human touch rather than the greed models we discussed earlier.

27. We may not be winning Nobel prizes. Our R&D work by domestic companies may not be praiseworthy. But over 100 MNCs among fortune 500 companies put their faith in Indians and run their programs from research labs located in India. This is cheap labour manipulation at present, but viewed in positive manner, useful skills are learnt by Indians in order to qualify for next round: domestic R&D by next generation of Indian researchers.

28. Our own Moon mission is a success. We have breakthrough in space exploration technology. We can launch 10 satellites within 1000 seconds. Our Mars mission is on its way.

29. Our internet industry is growing by leaps and bounds. It has created 22 million jobs already. This is why I can reach you by a click of the mouse on my desk.

30. Indians are getting richer and richer. Evidence is in mushrooming of malls packed with shops trading in luxury goods, fitness, sports and lifestyle products. Next to gold and fashion jewellery, Indians are spending on body care products and other needs once considered luxuries.

31. We are big on bio-tech too. 25 years ago, even a college graduate had not heard of this sector. Today, it is a 50 billion dollar industry and will double within next ten years.

32. By 2050, Indians will account for 40% of global middle class consumption. The retail sector is projected to grow by 260% in coming five years. Look at the mad rush for FDI in retail by Wal-Mart and other global biggies. They can hardly wait to dip their fingers in the cookie jar!

33. In the next five years, the electrical and electronic appliances industry will grow by 700%.

34. In the next five years, our telecom industry will grow by 435% by conventional reckoning. Telephony is growing more rapidly than ever.

35. The car market is expected to grow by 250% in five years. The gleaming cars on the roads are increasingly getting more and more even in remotest parts of the country.

36. And finally, we are certainly going to manufacture our future. We are on the threshold of emerging as second largest manufacturing economy in the world within next five years. At present 28% of our GDP is from manufacturing. As a result of investment in education over the decades, the necessary skills are available to compete with cheaper Chinese imports, eventually displacing them entirely with made-in-India consumer goods. Indians are emerging as innovators of cheaper technological products for household use. Indians are also learning the art of duplication from their Chinese counterparts and will bridge the skill gap within five years.
Finally, Modi or no Modi, India stands at threshold of becoming a self-confident nation. His sharp rhetoric of no development is political grandstanding aimed at exploiting the frustrations of a certain class of voters who feel cheated of the progress made. If anyone has been left out, the individual too has to take a large share of the blame for his own predicament unless he or she is handicapped, mentally challenged or struck by an incurable disease.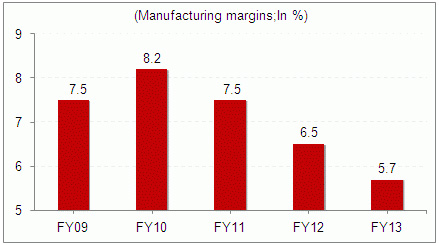 The bad news is the profitability of our manufacturing sector has shrunk over previous five years. The good news is it is making profits, and not losses. As long as a single rupee is earned, it is enough to keep going. That is the entrepreneur spirit. The better days will come, of course, when government will not obstruct through combined might of corrupt practises of its officials and crony favouritism granted to select big industrialists. In other, when the entrepreneurial spirit so natural to Indians is set free. I believe Indians are not good at providing services. That is another story for another time. Indians are good at jugaad, which is faking, imitating, duplicating, innovating and creating new things by observing others doing it. And where but manufacturing such skills are employed!
Also Read