BJP blast EC over denial of permission for Varanasi rally
Lucknow, 8 May 2014(DHNS): Senior BJP leader Arun Jaitley alleged that the RO was 'not impartial' and did not 'deserve the post he held. A furious BJP on Wednesday criticised the Election Commission (EC) and threatened to stage "dharna" for not acting on its demand to remove the returning officer (RO) of Varanasi who refused permission for party's prime ministerial candidate Narendra Modi's rally at the minority-dominated Beniabagh.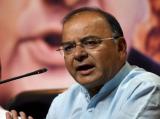 Speaking to reporters in Varanasi, senior BJP leader Arun Jaitley alleged that the RO was "not impartial" and did not "deserve" the post he held.
He alleged that the RO had refused permission for holding "Ganga Arti" (a ritual on the bank of the Ganga) and a meeting with 150 "intellectuals" at a city hotel. But, he said, AAP leader Arvind Kejriwal was allowed to hold "Ganga Arti".
Accusing the RO of being "biased," Jaitley said the BJP leaders had sought permission to hold a rally at Beniabagh on the night of May 5. "He made them wait till 1:30 am and then called them on the morning of May 6 and told them that the venue was allotted to an NGO for flag hoisting. The RO also cited an IB report to support his contention. The RO is lying. Later, perhaps apprehending protest, he offered an alternative venue. We will not accept it as it can accommodate only 2,000 people," he said.
He said he was saddened by the "inaction" of the EC. "I have written three letters to the EC but there was no action. Is it to be believed that the EC is acquiescing to this conduct of the RO," he asked.
Jaitley also alleged that local authorities had taken back the voter's slips from the people in the constituency. "This is not a banana republic. India is not under British rule," he said.
All Modi events cancelled
The BJP later in the day informed the poll panel that it was cancelling all the programmes involving Narendra Modi even after the returning officer granted permission to four of the five events that the party wanted to hold.
Modi was scheduled to address two election rallies in Varanasi on Thursday.