Amrita University Signs MoU with Vrije University (VU Amsterdam)
- Media Release


Bangalore 26 Mar 2015: In an event that was held in Bangalore yesterday, Amrita University, one of the leading universities in southern India signed a Memorandum Of Understanding (MOU) with Vrije University of Amsterdam. The signing was done by President of VU, Dr. Jaap Winter and Amrita University's Vice Chancellor and Dr. Venkat Rangan.
After a successful Five year relationship with VU Amsterdam, Netherlands via a Student Exchange program, Online Lectures, Conferences, and Adjunct Faculty, Amrita University now looks forward to extend its collaboration with the European University by signing a University-wide Memorandum of Understanding (MoU) to deepen and expand the collaboration to other Departments and Programs at Amrita. Dr. Hari Sharma, a Professor from VU Amsterdam, visited the Coimbatore and Kochi campuses and helped to initiate the possibility of an extended collaboration.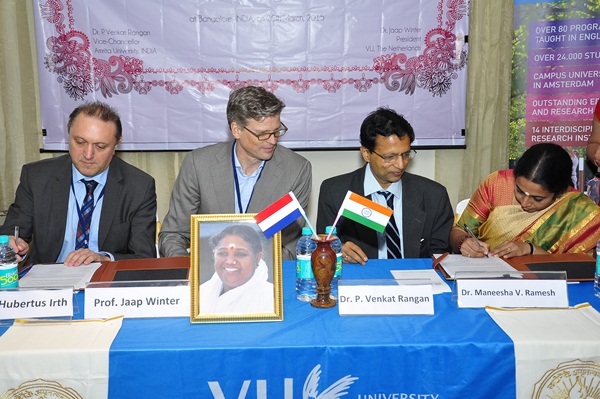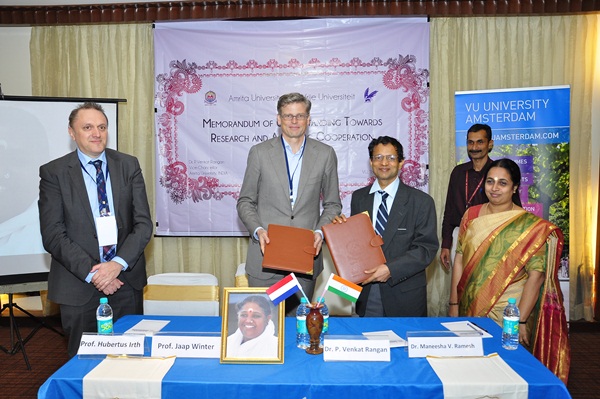 Amrita has actively engaged with VU Amsterdam by appointing Two Adjunct Faculty who have conducted many online courses and have guided Masters and Phd students. Many prominent VU faculty members have attended several of Amrita's International Conferences. Members of Amrita's International Team (Dr. Krishnashree Achuthan and Dr. Maneesha Ramesh) have visited VU Amsterdam over the past several years.
VU Amsterdam has been known for its distinctive approach to knowledge and is similar to Amrita's Vision of an open organization that is strongly linked to people and society. VU is ambitious in Scientific Research & Education and encourages the Free & Open communication of ideas.
The VU delegation comprised of the President of VU, Dr. Jaap Winter and Dr. Hubertus Irth, Director of the Faculty of Sciences, among other highly regarded international scientists. Amrita University's Vice Chancellor, Dr. Venkat Rangan and Prof. Jaap Winter, VU President signed the MoU at this event.
The current MOU proposes to expand collaboration to Health sciences, involving advanced Speciality services, Precision Robotic Surgery and Radiotherapy, Oncology, as well as, Translational medical Research, Nano medical sciences, Biotechnology, Management and Public health.
During this meeting, the Two Universities negotiated and developed an MoU applicable to all the Schools, Centers and Departments at Amrita and VU Amsterdam.