Islamists abduct 'more than 100 girls' from Nigeria school
MAIDUGURI (Nigeria), 15 Apr 2014 (AFP): Boko Haram Islamists have kidnapped more than 100 girls from a secondary school in Nigeria's northeastern Borno state, a senior security source told AFP.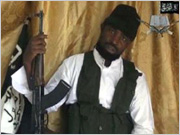 Asked to confirm media reports that 200 girls had been taken from a school in the Chibok local government area during an Islamist attack, the source, who requested anonymity, said "the number is not up to 200, but it is over 100."
"Many girls were abducted by the rampaging gunmen who stormed the school in a convoy of vehicles," said Emmanuel Sam, an education official in the town of Chibok, where the attack took place on Monday.
Boko Haram is a radical Islamist militant group whose name means "western education is forbidden".
It has repeatedly attacked schools in the northeast during an insurgency that has killed thousands since 2009.
The gunmen came "in trucks and on motorcycles and headed to the school", where they overpowered soldiers deployed to guard it, said a witness who requested anonymity.
He said soldiers had been deployed to provide extra security ahead of yearly exams, but the gunmen "subdued the soldiers and took the girls away".
He was not able to provide an estimate of the number of girls abducted. In an attack earlier this year in Borno state, witnesses said Boko Haram gunmen surrounded a girls' school, forced the students to leave and ordered them to immediately return to their villages.
Sam spoke in Borno's capital Maiduguri where he said he fled after the attack at the Government Girls Secondary School in Chibok.