Kundapur: Yakshagana artiste Airabil Anand Shetty Felicitated
By Bernard J D'Costa

Bellevision Media Network


Kundapur, 20 Feb 2014: Airabail Anand Shetty, veteran Yakshagana artiste of Brahmalingeshwar Yakshagana troupe of Maranakatte, near Kedoor, Tekkatte, here was felicitated during Yakshagana play staged at Kallukutiga temple, Tenkabettu, Kedoor, here on Tuesday February 18.


Anand Shetty in acknowledgement to the felicitation, said that an artiste motivated to do excel in his chosen art by acknowledging ones talent. Meanwhile, Shetty appealed to Yakshagana lovers to support in sustaining Yakshagana that is the heroic of coastal district.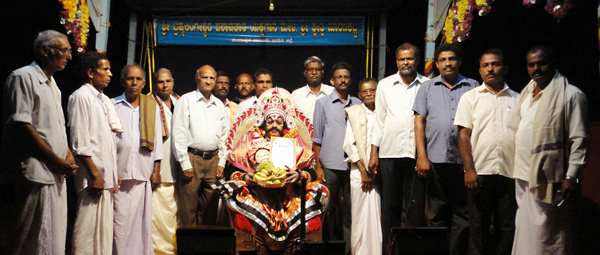 Kedoor gram panchayat president Sharat Kumar Hegde presided the programme.


Dr Mohandas Shetty, Kedoor – Kallukutiga temple priest Shankar Bhat, managing trustee Suresh Shetty, Sanjeev Shetty, Kedoor Umesh Kamat, Shekar Shetty, Karunakar Shetty, Nagayya Shetty, retired head master Bhaskar Shetty, Babu Shetty, Timmappa Shetty, Muttayya Shetty, Tenkubettu Sudhakr Shetty, Kushal Kundar Kedoor, Tenkubettu Narasimha Kulal and others were present on the occasion.