Kuwait: Bunts Sangh to organize Karnataka Maitri Family Picnic on Nov 8
Media Release


Kuwait, 5 Nov 2013: Bunts Sangh Kuwait will be organizing 'Karnataka Maitri Family Picnic 2013' at Mishref Garden, Mishref, here on Friday November 8.


It will be a fun filled day with lots of interesting and new games for all age groups.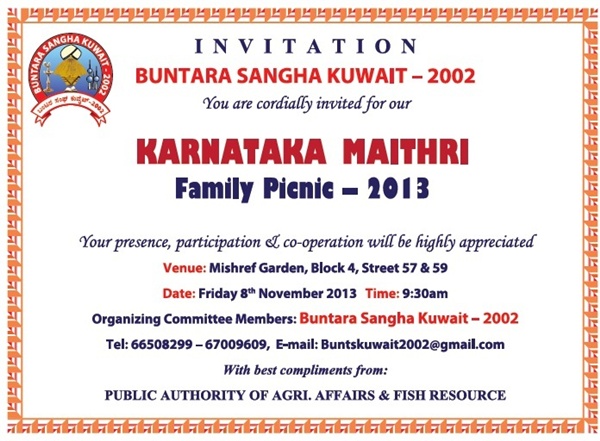 There will be games like Kabaddi, volleyball, throw ball and individual games like shot put, Tulunadu traditional game kutti donne etc.


To entertain the kids from the age of 3 years and above,various interesting games ball throwing, color separation, sack race, breaking the pot, golf etc. An interesting game will be held for couples too.


The highlight of the whole event will be photography competition. Anyone can click a photo of the live event on picnic day and mail to the organizers. Anybody can be a photographer for the day. It will be an ideal outing for family and friends.