Terrace gardening is fast catching up in Mangalore
It makes good use of space and brings greenery to the house
Mangalore, 23 Jan 2013: Rajkumar, a Mangalorean, who has a terrace garden in Surathkal, does not buy vegetables. While talking to him, it is evident that other than cultivating vegetables, his terrace garden gives him joy beyond that of monetary gain. He is one of several people in the city who have terrace gardens. While it helps save money, having a garden on the roof or the terrace keeps a person and the family busy. It makes good use of a space that would otherwise have been vacant and brings greenery to the house.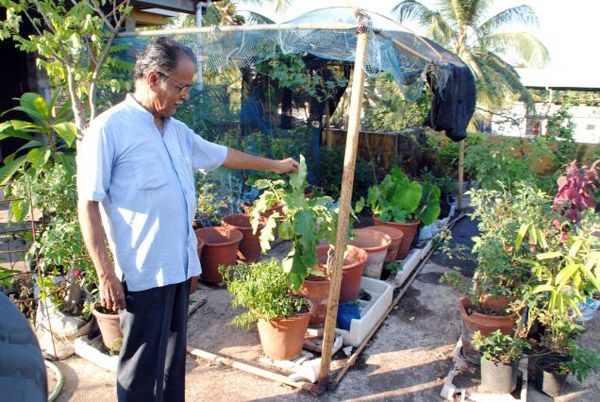 Like other people with terrace gardens, Mr. Rajkumar grows beans, brinjals, chillies and green leafy vegetables, all without using fertilizers. He recounted the learnings from terrace garden.
He said that he used a polyfilm to cover the garden so that the plants did not get excess sunlight. The garden was covered with fishing net to keep away monkeys, which created problems. There was an unexpected added benefit: the net became a support for creepers and trailing plants. The result was more vegetables. He also keeps bees and claimed that they ensured pollination among the plants. The Horticulture Department should provide training in beekeeping as it was a valuable addition in gardening. Besides, people could learn from the way the bees worked. Manjula has a terrace garden on 400 sq ft at home in Padavinangady. She said she bought only carrots and potatoes, which she was unable to grow in her terrace garden. Other than that, her year-old terrace garden provided her with all other vegetables, she said.
G.P. Shenoy grows fruits and vegetables on 900 sq ft terrace garden. His terrace garden is teeming with greens, brinjals (green, purple and "mattu gulla"), and fruits such as green, red and pink "jamun" ("nerlehannu"), which he bought from a nursery near Mangalore. He said he rarely bought chillies and they were fed up with lady's fingers both of which the terrace garden provided. He described how for some time he was unable to grow green, leafy vegetables. Once some trees on the ground were cut, the greens could be grown. The reason was the trees attracted birds, which did not allow the greens to grow. He had been experimenting with a variety of plants. He bought a Hyderabadi variety of guava from the market and planted its seeds. The terrace garden yielded two fruits last year and four this year, he said.
Mr. Shenoy's can be contacted on Ph. 2491188.