Delightful experience of growing Cherry Tomatoes in the backyard
By Francis Saldanha

Bellevision Media Network


Bahrain, 30 April 2014: The Cherry Tomato is smaller and sweeter than conventional tomatoes. They are popular all over the world, and they can be found in a wide assortment of dishes from Mexico to Asia. They are also remarkably easy to grow, and they mature quickly in temperate zones. Since cherry tomatoes can get costly at the grocery store, a lot of people prefer to grow them at home, where they grow like weeds under the right conditions. These plants work great in small spaces it's like they were made for container gardening and they look good doing it.
Dig a small hole in the center of the planting mix. Carefully remove your tomato plant from the pot and slide it into the hole, planting it deep enough so only the top four to six leaves show once you cover it back up with mix. Water every two or three days to keep the soil evenly moist (in hot, dry weather you may need to water every day). Once a week, feed your plant organic fertilizer according to the label directions. As the plant grows, the branches will start growing on all directions hence push them back inside and tie it down gently to the supporting wooden flank, (sticks) so that the plant doesn't droop.
Most cherry tomato plants will start flowering in about a month. You'll see flowers appear that are followed by tiny green fruits. After a few weeks, those turn into full-blown cherry tomatoes you can harvest. A really ripe cherry tomato will come off its stem very easily and is well worth waiting an extra day for, so hold off on picking them. Pluck individual ripe fruits every day for best results. With luck, your plant will continue to produce right up until frost. If the weather turns unseasonably cool or an early frost threatens, tuck an old sheet over and around the plant to extend your harvest season.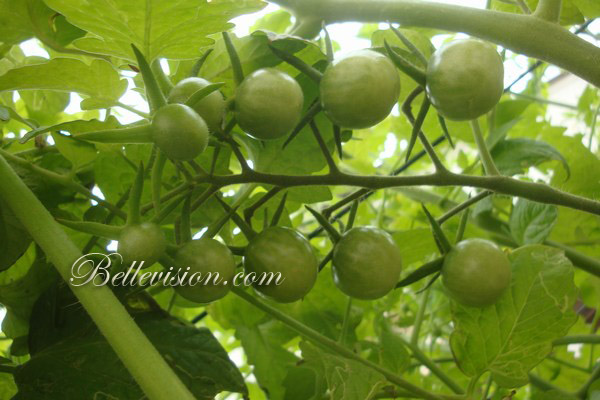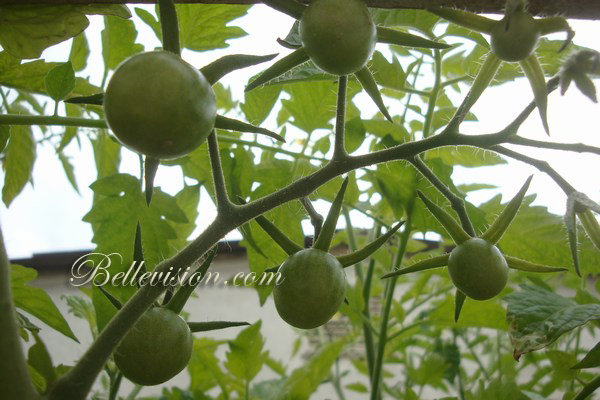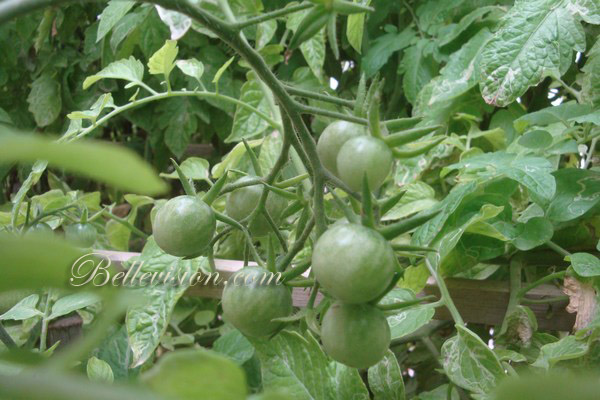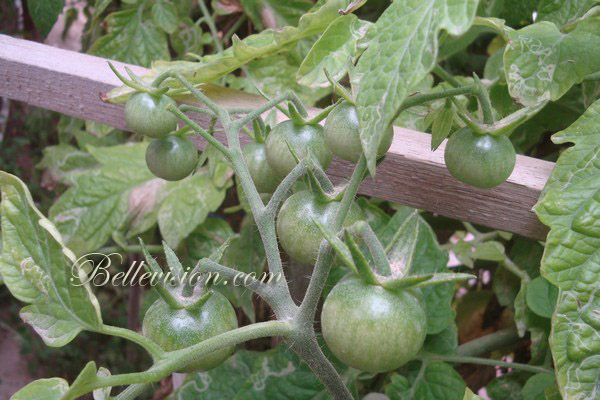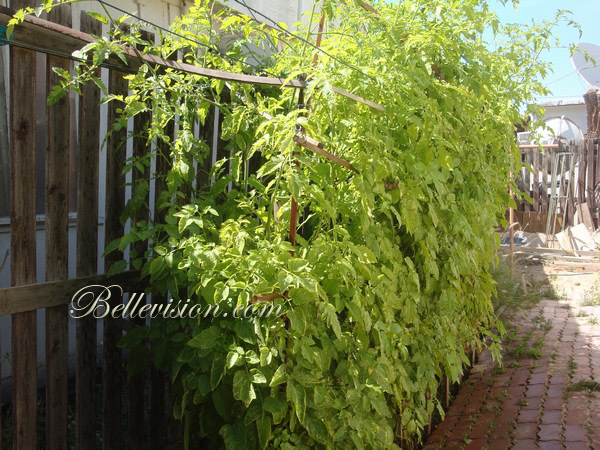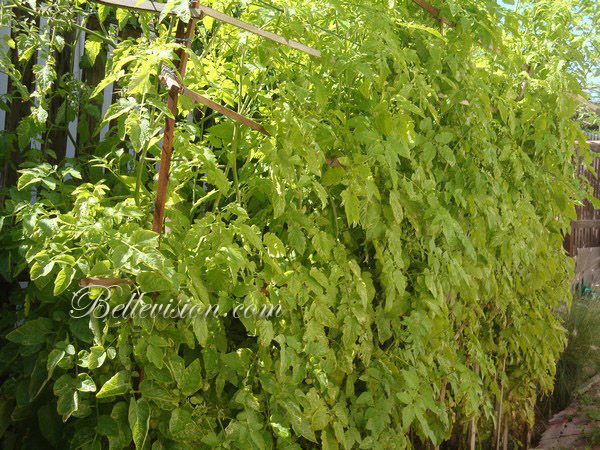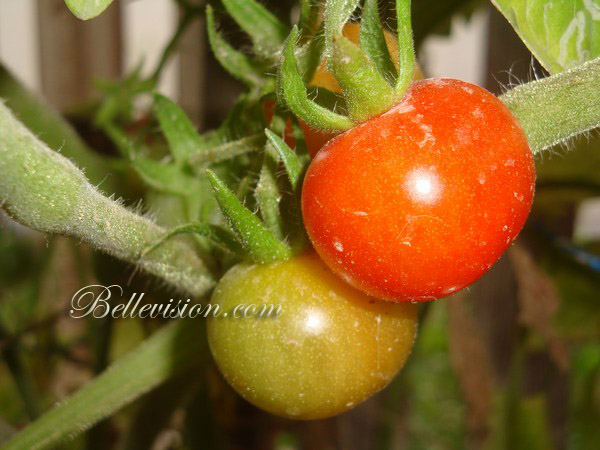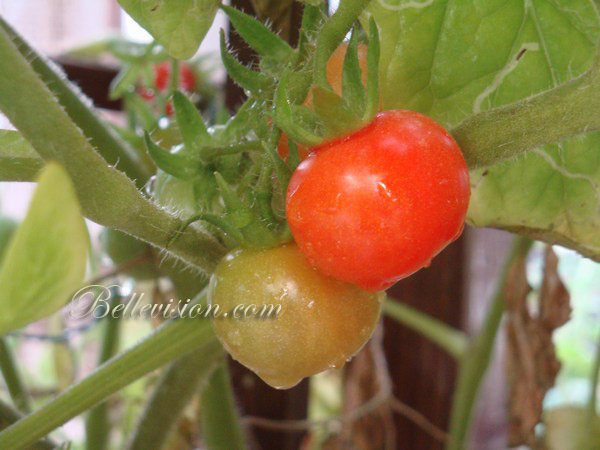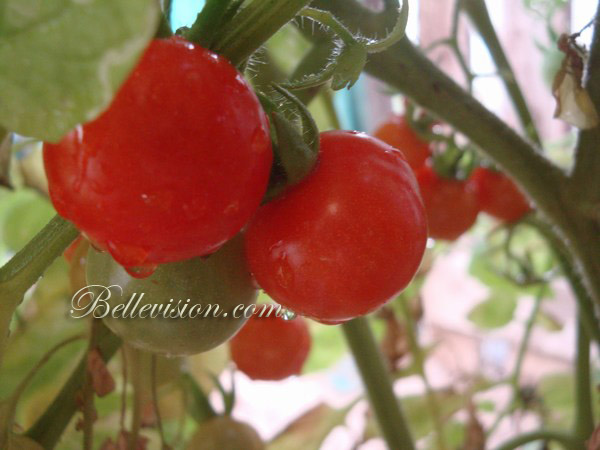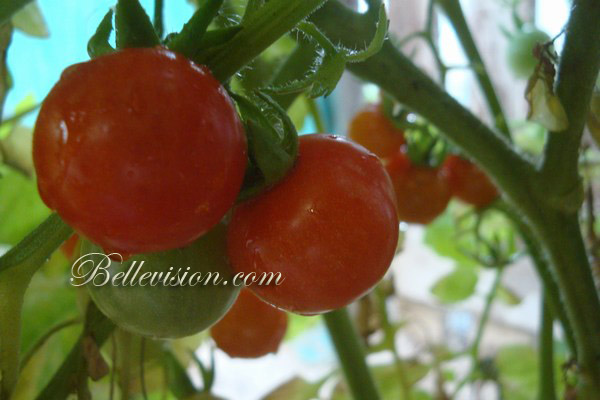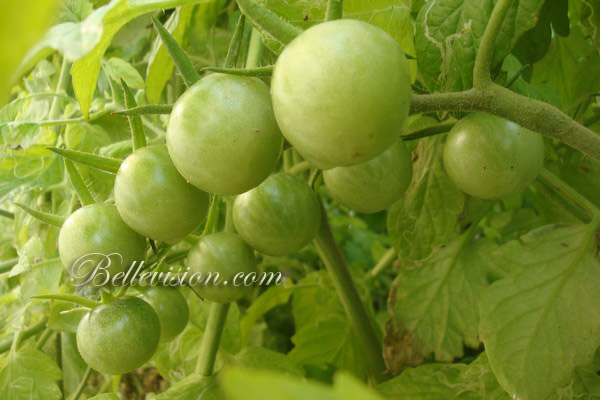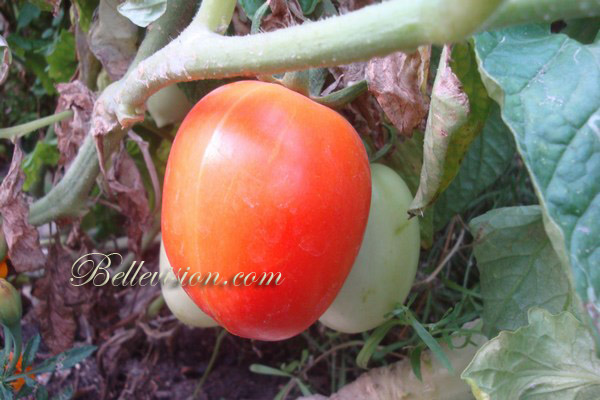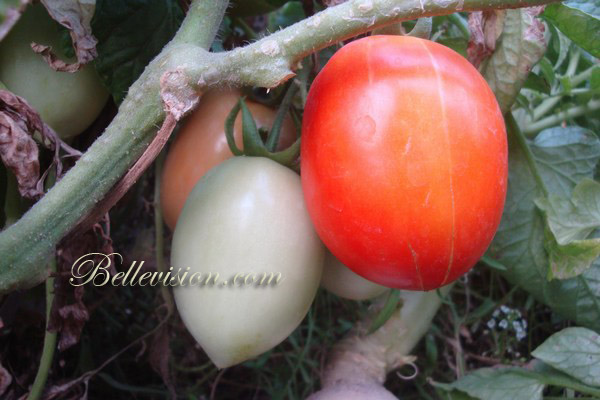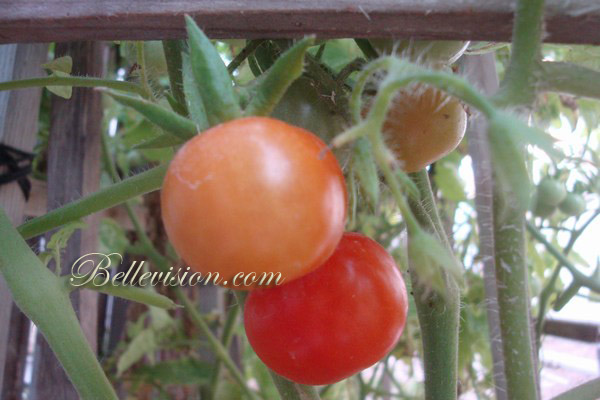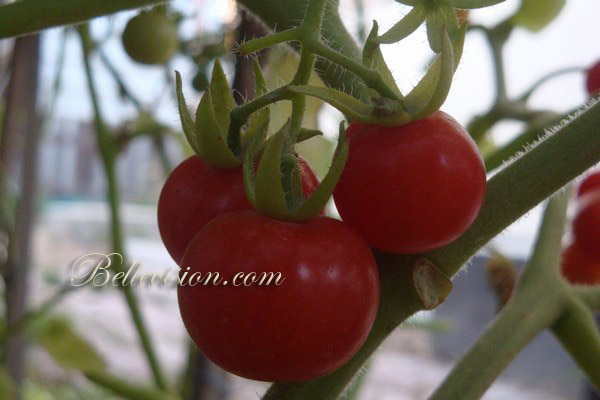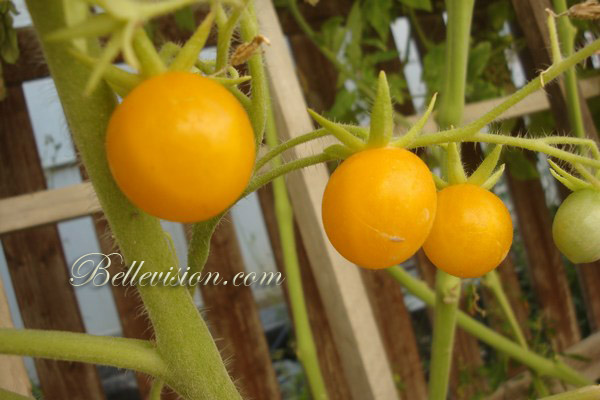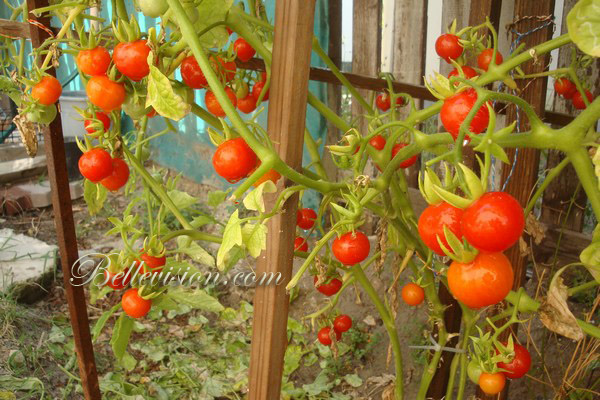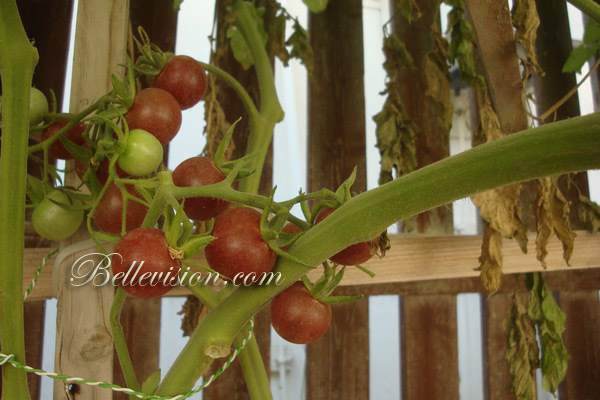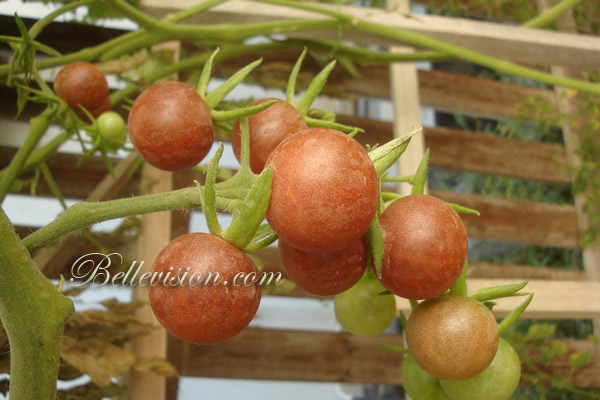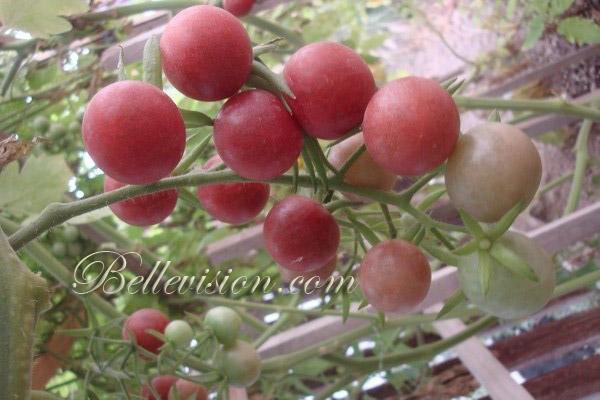 Tomato plants are vines, and they have two basic ways of growing, called determinate and indeterminate. The vines of determinate varieties (sometimes called bush tomatoes) grow only 1 to 3 feet long, and the main stem and side stems produce about three flower clusters each. Once flowers form at the vine tips, the plant stops growing. This means determinate types set fruit over about a two-week period and then stop, which makes them excellent choices for canning. Indeterminate tomatoes have sprawling vines that grow 6 to 20 feet long. Most produce about three flower clusters at every second leaf. They keep growing and producing unless stopped by frost, disease, or lack of nutrients, which means you can keep picking fresh tomatoes the whole season. Pruning is necessary, however, or they will put too much energy into vine production.
My absolute favorite cherry tomatoes are Sweet Million, which bear long clusters of sweet tomatoes, red fruit; Sun Sugar, which produces super-sweet, richly flavored golden fruit; and an heirloom called, rather unimaginatively, 'Black Cherry,' whose tomatoes have a complex, rich, sweet flavor. All three are what are called "indeterminate" varieties, meaning they will continue to grow taller and produce more until the plants are killed by frost, which if they really like where they are means the plants may grow to six, eight, or even 10 feet tall. If you don't want to deal with that much plant, see if your garden center has any "dwarf" or "patio" varieties of cherry tomatoes for sale.
Cherry Tomato is not only a tasty snack but it's also guilt free. In the winter it's hard to find good tomatoes and when all the other tomatoes taste a lot like cardboard, give the Cherry Tomato a try. Just pop a few of these juicy little morsels in your mouth and you've got a great snack and they don't go straight to your hips. Cherry Tomatoes are better than candy, they are Natures Candy!
Red or yellow pear tomatoes are fun because of their shape (they have necks just like their namesakes), though their skins tend to be a little thicker than your average cherry tomato. You can also often find grape tomato plants, which bear very sweet oblong fruits similar to those sold in supermarkets.
These smaller bush type plants are remarkably easy to grow and there are so many Cherry Tomato varieties to choose from. Some of my favorites are of course the trusty Argentina Cherry with its burst in your mouth tangy flavor and there is the Chocolate Cherry with its smooth mild taste. The Golden Cherry has a really sweet less acidic taste and not only tastes great in a salad but adds color to just about any dish. The Rainbow Cherry gives you a little of everything and what could be better than that?
Cherry tomato plants are great because, even if you grow just one plant, it will bear a steady crop of bite-size fruits. Biting into a sweet, succulent cherry tomato is one of the joys of summer, and somehow it tastes even better when you grew it yourself. After all Cherry tomatoes are not difficult to grow in a home garden.