Muscat: MCCP marches into 25th year through a grand inaugural
By Lavina DSa

Pics by Joachim D'Souza

Bellevision Media Network


Muscat, 30 Aug 2016: On the dawn of 26th August 2016, Mangalorean Catholic Center of the Parish, Ruwi saw a new beginning as Dilip Correa took charge as the President of MCCP along with the newly formed Executive committee for the 25th year.
The day began with a high mass celebrated in Konkani by Fr. Marian Miranda, who is also the Spiritual Director of MCCP, his homily highlighted the need of humility in service. The konkani choir for the mass conducted under the guidance of Apolinaris Dsouza.
The cultural program was held in the Ruwi Church parish hall, which was beautifully decorated in blue and Silver by Lancy Lobo and his team. The entire programme was well planned and executed by the Executive committee for the 25th year.
The program commenced with Parameshwara the legendary MCCP anthem composed by Ozwald D'Souza and Walter Monteiro marked the beginning of the cultural programme. The melodious voice of the children - Alston Moras, Megan D'Souza, Lenita Lobo, Melita Rodrigues, Neil Castelino, Gail Castelino, Ashwitha Aranha, Clive Austin Danti, Sharon Tyana Menezes, Liza Dsa, Ralitsa Correa filled the hall. Dale Dantis accompanied with the Keyboard. The Parameshwara song was monitored and directed by Monica Dantis and Apolinaris Dsouza.
An enactment of the "Prodigal son", the biblical parable added a spiritual message to the audience. The play was enacted by: Walter Mendonca, Deepak D'Souza, Lancy Lobo, Sunil D'Souza, Flavy D'souza, Peter Serrao, Clifford Castelino, Naveen Sequeira, Merlin Sequeira, Cyril Britto, Rakesh Cohello and Lancy Saldanha and directed by Deepak Dsouza and Walter Mendonca.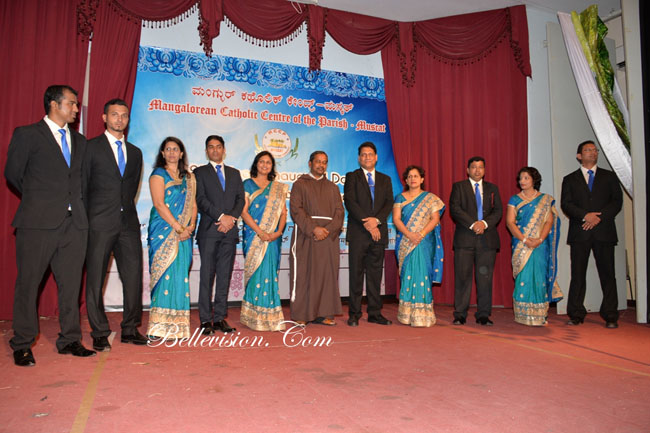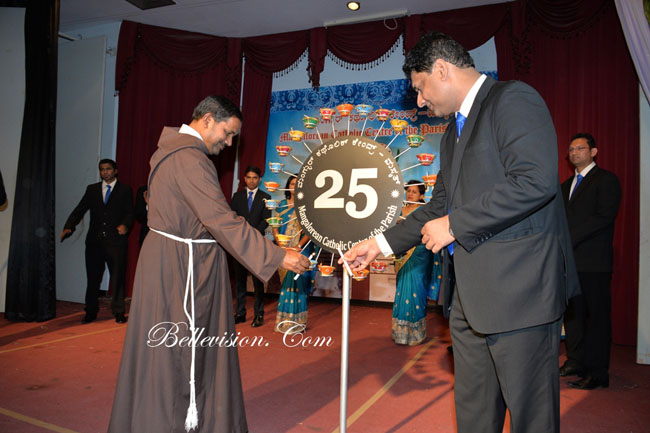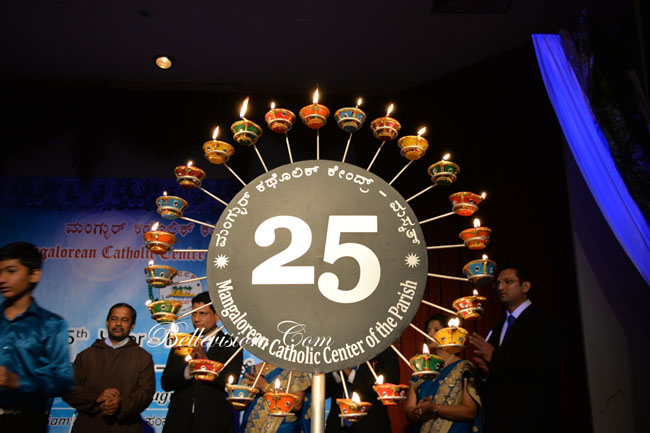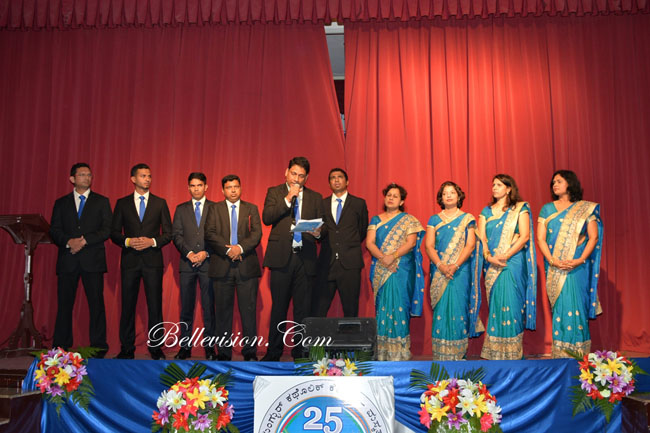 Clarence Pinto, a very well-known Konkani activist and an compere par excellence compeered the whole event with his great talent and eloquence in speech. Clarence Pinto introduced to the audience the newly elected 25th President of MCCP, as well MCCP's Silver Jubilee celebration - Dilip David Correa. Dilip David Correa, a prominent name in the Konkani community in Oman, a devoted Toastmaster a well known writer, married to Sandra Correa.
Dilip Correa then honored the Spiritual Director Fr. Marian Miranda and the Chief Guest of the Silver Jubilee Celebration – Ms. Eulalia Pinto, from Omantel, with a floral Bouquet.
Introduction of the profiles of the Executive committee for the Silver Jubilee year was done by the President, Dilip Correa. The team for the 25th Year consists of:

President: Dilip David Correa
Vice President Sports and Finance: Jessie Vivian Pereira
Vice President Cultural, Spiritual and Community Services: Lavina D'sa
General Secretary: Melita Sheela Alva
Honorary Treasurer: Ashok Kiran Pinto
Internal Auditor: Victoria Trecilla Menezes
Cultural Secretary: Jason Cardoza
Sports Secretary: Lynel Lobo
Spiritual Secretary: Naveen Francies Mascarenhas
Community Services Secretary: Sachin Joy Steevan Lobo
The executive committee along with Fr. Marian Miranda then lighted beautiful 25th year lamp, specially crafted for the day. A special Logo was designed for the Silver Jubilee year and it was unveiled by the Spiritual Director, Fr. Marian Miranda along with the Core committee members, Stanley Fernandes, Henry Martis, Donald Pinto and Clarence Pinto, accompanied by the Executive committee. The new logo was designed by Natasha Noronha who was the also presented with an award for the logo competition.
The executive committee then presented the Theme song which highlighted the theme for the year "BHAS SOMSKRITI, GAMV AMCHI OSMITAI ZAMV" (Let Konkani language, culture and motherland be our identity) which was composed by Dolvin Kolalgiri and lyrics were written by Wilson Kateel.
President Dilip Correa delivered the presidential speech during which he assured the best of the events in all spheres to the MCCP and also he expressed his wholehearted support to the church activities and social work.
An inaugural dance choreographed by Dynet Fernandes was a dance with a difference. As the children Anisha D'costa, Calida Machado, Christine Angelin Danthi, Lanette Rego, Leanne Alva, Lovette Rego, Melanie Nerissa D'cruz, Nicole Kaitlin D'Souza, Pearl Lewis, Reia Correa, Rochelle Correa grooved to the instrumental notes the whole audience was enthralled delight.
The Galetian rockers, who rocked the stage with their scintillating performance by Melina Goveas, Liza D'sa, Priyanka Mendonca, Staphen Montiero, Rebecca D'souza, Avelen D'souza, Stacy Vaz. This dance was choreographed by a young talent Priyanka Mendonca.
The Main sponsors were acknowledged and it was addressed by Jessie Pereira and the President presented them with a floral bouquets. The Mega and Gold Sponsor of the event was M/s. Omantel, a leading telecommunication Organisation in the Sultanate of Oman and were represented by Ms. Eula Pinto, an ardent supporter of MCCP.
The supporting event sponsors were M/s. Technofit Trading LLC – Mr. Liguory D' Mello; M/s. National Training Institute - Mr. Lawrence Alva, M/s. Prestige Projects & Engineering LLC – Mr. Denis Mascarenhas; M/s. Mohsin Haider Darwish – Courtesy Mr. Anu Rastogi, M/s. Zahrat Al Rawdha- Mr. Raphael Quardros, Muscat Golden Services - Mr. Raphael D' Souza, Intisar Corporation LLC, Ronald Castelino - Oasis water .

The fabulous gifts for the Bonanza lucky draw were sponsored by M/s. Eurostar LCL - Ramananda Shetty; Mr. Rakesh D' Souza – M/s. Khalid United Travels ; Rita D' Souza – Travel Point ; Sunil Menezes; Alban Dsouza
The sumptuous breakfast was sponsored by Mr. Sharaffudin - M/s. Muscat Bakery.
A comedy skit 'Dhaav Jerry Dhaav' enacted by - Jason, Rolson, Joel and Sunil was appreciated by the audience.
The Ultimate Generation group who sizzled the stage are : Aldrean Moras, Alston Moras, Andril Lobo, Bertyl Noronha, Lenita Lobo, Megan D'souza, Ralitsa Correa, Princy D'souza & Shannon D'souza, it was choreographed by Sachin Lobo and supported Ms. Sonia D souza & Philomena Moras.
The Prophecy Group presented by Alston Moras, Canan D'souza, Cavin D'souza, Megan D'souza, Philomena Moras, Reena Mathias, Rony D'souza, Sachin Lobo & Shamila Bennet entertained the crowd with their dazzling performance. Sachin Joy Lobo was the choreographer and it was organized by Sonia Dsouza & Philomena Moras.
Bhurgyaponale dees - A rib tickling comedy show was presented by Peter Fernandes, Praveen Serra, Lawrence D'souza, Edward Mendonca, Denis Cutinho, Thomas D'souza, Aslita D'souza, Meera Saldanha, Cynthia Saldanha, Gracy Barboza, Lancy Saldanha, Cynthia Martis, Jethroz Periera, Jessy Pereira, Helen Sequeira. It was directed by Peter Fernandes and choreographed by Meera Saldanha.
RCL2 Dynamites comprising of Allen Menezes, Alviya Menezes, Calida Machado, Clarita Saldanha, Harleen Maria Pinto, Grace Menezes, Glen Menezes, Larissa Saldanha, Laurette Rego, Leanne Alva, Lorvette Rego & Reia Correa entertained the crowd with their dance. This dance was choreographed by Dynet Fernandes.
Bhende Kai Tonde Kai - a comedy dance by Walter Mendonca, Deepak Dsouza, Lancy Lobo, Flavy Dsouza, Sunil Dsouza, Naveen Sequiera amused the audience as the adults dressed as children danced to the famous Kannada song tune. It was choreographed by Deepak Dsouza
Naveen Mascarenhas, the Spiritual Secretary addressed the gathering with grace before meals and Dilip Correa proposed the Jevnak Udak. Like every year the audience enjoyed delicious, traditional and sumptuous Mangalorean food and was prepared by Mr. Alwyn Saldanha of M/s. Al Arsalan Restaurant.
The students of the community who scored 85% and above in the 10th and 12th board exams were honored with the Meritorious award and a gift. This award was sponsored by Mr. Lawrence Alva of M/s. National Training Institute LLC (NTI) and was presented to the children by Mr. Manohar - the Financial Controller of NTI.
The awardees were Grade 10th were Dale Dantis, Jenilda Jasmin Mathias, Jevita Maria Saldanha, Vinita Rosa Monis, Viyola Caroline Dcosta scored CGPA 10, Michelle Siona Gonsalves, Shaun Darran Dsouza Scored CGPA 9.8, Aaryl Saldanha scored CGPA 9.6, Chrizanne Almeida, Vihaan Jovin Pereira scored CGPA 9.4, Elvita Valentine Gonsalves, Royston Fernandes, Ryan Savio Nazareth scored CGPA 9.2, Alston Conrad Moras, Christon Ashley Rodrigues scored CGPA 9.
The awardees of Grade 12 were Marlon Neal Dcruz - 94.2%, Shannon Jean Menezes - 94.17%, Anshul Pinto - 93%, Shaina Lisa Dsouza - 91%, Wyonna Linnet Fernandes - 90.29%, Caroline Maria Dsouza - 87.2%, Michelle Rose Quadros - 86.6%.
Lavina DSa, Vice president Cultural, Spiritual and Community services conducted the Bonanza draw and the Housie Housie. Ms. Melita Alva, General Secretary proposed the Vote of Thanks. Naveen Mascharenas, Sprititual Secretary and Trescilla Menezes Internal Auditor conducted the Merit award distribution.
We are grateful to our media supporters, Joachim D'Souza, Gerwyn Dias. We applaud with immense gratitude the help of our support team comprising of Sudhir KP, Sharon Alva, Shannon D'Souza, Alan Rodrigues, Priyanka Rodrigues, Shaila Machado, Anita Dantis, Shaila D'Souza, DJ Loveline, Anvesh D'Souza, Raphael Dsouza and Sunil Dsouza.
MCCP Executive team for the year, looks forward to a veryeventful Silver jubilee through their various upcoming programs throughout this year.