Multi-talented Dilip Correa elected president of MCCP Oman
Pics by Joachim D'Souza

Bellevision Media Network


Muscat / Sultanate of Oman, 10 Jun 2016: Dilip David Correa, one of the vibrant leader, ebullient speaker, talented singer and energetic Konkani activist of the Mangalorean Community in the Sultanate of Oman, has been elected to the President's role of the Mangalorean Catholic Centre of the Parish (MCCP – Sts Peter and Paul Church, Ruwi) for the year 2016 – 2017 during MCCP's 24th annual day celebrations held in the main parish hall of Sts Peter and Paul Church, Ruwi, here on Friday June 3.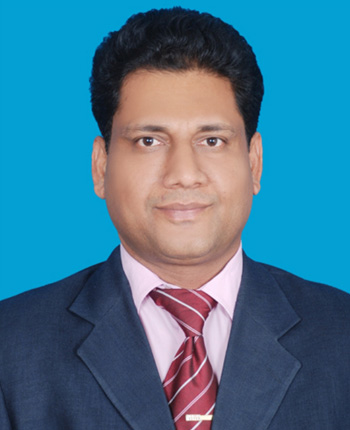 Dilip is the eldest son of David and Eliza Correa of Pernal Parish and had completed his education in the Mangalore University. Dilip has been actively involved in several social organizations in the past. He was the President of ICUF in 1990-1991 (All India Catholic University Federation), president of CYM Pernal in 1990-1993, NSS President in St. Mary's College Shirva in 1991-1992, CYM Shirva Varado Secretary in 1992-1993, St. Mary's College Union Council Member in 1992-1993, Kannada Sangha President in St. Mary's College in 1992-1993, VP of Famad Pernal Dubai in 2002-2003, President of FAMAD Pernal Dubai in 2003-2004, Cultural Co-ordinator of MCCP Oman in 2006-2007, Main Co-ordinator of MCCP Oman in 2007-2008, VP Public Relations - ABC Toastmasters, Oman in 2009-2010, Area Secretary, Area 67, Toastmasters International Oman in 2009-2010, Division Secretary - Division D, District 79, Division D, District 79 in 2010 - 2011, VP Membership ABC Toastmasters, Oman in 2012-2013 and Charter member of ABC Toastmasters, Oman since 2008 till date.
He has won several awards and some of them are:
Best Speaker Award, Runner Up, Mangalore University (1990-1991)
Best Poem in Kannada Chosen to publish in a book Published from Mysuru (1991-1992)
Best University level Extempore Speech (1992-1993)
Best Essay writing Competition University level, inner (1992-1993)
Many Awards in singing competitions during 1990-1993
Acted in more than 150 dramas & skits since 1988-2015
Two times semi finalists in GVOM
Dilip and his wife Sandrella Malini Correa (Shirva Church) are blessed with Ralitsa, Reia, Rochelle and Derrick
The annual day program began as early as 7.00 am with the celebration of Konkani High Mass by the Spiritual Advisor of MCCP, Rev. Fr.Wilson Rumao. It was also a thanksgiving mass for MCCP in honour of Our Lord's generous blessings in successfully conducting various programmes and functions throughout the year.The mass turned out to be a memorable one for the Konkani Community as Fr. Wilson introduced the new priest, Rev. Fr. Marian Miranda, a Capuchin from Mangalore. The entire community joined with Fr. Wilson in welcoming Fr. Marian as the new shepherd of the Konkani community in Muscat. The beautiful choir for the Mass was led by Choir master Apolinaris D'Souza with Valerian Peres, Wilma Peres, Anitha Danthi, Cyril Danthi, Freeda Suares, Stany Suares, Stany Menezes, Lovline Rego, Dale Dantis, Precilla Menezes and Edwin Gabriel as choir members. The Executive Committee members offered offertory during the Mass and at the end of the Mass all attendees were served cake and soft drinks.
The main event started at 12.15pm in the Parish Hall with Shaina D'Souza, Reia Correa, Melanie D'Cruz and Rochelle Correa performing a classical dance for the Welcome Song 'Parameshwara'. The dance was choreographed by Sonia D Souza. Clarence Pinto, the Master of Ceremony for the day took over the proceedings and welcomed everyone. Fr. Marian Miranda then offered prayers for the success of this function.The audience were in for a major surprise when the current President John Gonsalves and the Executive Committee members came on stage and sang a welcome song 'Maka Anandacho dhakho bosalla' (Original Song : Late Wilfy Remimbus), which instantly struck a chord with the audience. The music was provided by Pritam D'Souza.
The Chief Guest of the day, Ligoury and Margaret D'Mello couple were called on stage along with Fr Wilson Rumao and Fr Marian Miranda. They were felicitated with flower bouquets by president John Gonsalves. It also set the stage for Fr Wilson to express his feelings about his association with MCCP for more than four years. He welcomed Fr. Marian and requested the community to extend support to him. President John Gonsalves then presented a memento to Fr Wilson as a token of appreciation for his continuous guidance throughout the year as the Spiritual Director.
John Gonsalves then in his presidential address reminisced about his one year as the President and thanked everyone for their generous support. He then called his Executive Committee members one by one on stage greatly appreciating their unstinted support and hard work during the last one year. They were Ophelia Lazarus (Vice President for Sports and Finance), John Mathias (Vice President for Cultural, Spiritual & Community Services), Priya Menezes (General Secretary), Sunil Furtado (Honorary Treasurer), Sudhir P (Internal Auditor), Joyson Rodrigues (Sports Secretary), Anitha Lobo (Cultural Secretary), Anitha Danthi (Spiritual Secretary) and Lancy Saldanha (Community Services Secretary). They were accompanied by their spouses on the stage as a symbol of gratitude for their support. In turn, John Mathias on behalf of the entire Committee applauded John Gonsalves' qualities as a leader and his humility.
Ophelia Lazarus(Vice President for Sports & Finance) then took on the onus of honoring the Sponsors of the year and facilitated them on behalf of the Community.
They were,
Gold sponsors: Renna Mobile (Courtesy Francis D'Souza), Omantel (Courtesy Eula Pinto)
Silver sponsors: National Finance Co SAOG (Courtesy Robert Pancres), Hyssna International (Courtesy Ronald Pinto)
Bronze sponsors: Technofit LLC (Courtesy Ligoury & Margaret D'Mello), Muscat Pharmacy (Courtesy Dilip Mehta), Areej Vegetable Oils & Derivatives SAOG (Courtesy Ophelia Lazarus), Muscat Golden Services LLC (Courtesy Raphael D'Souza), Sky United Logistics (Courtesy Dilip Correa), Prestige Projects & Engineering Supplies (Courtesy Denis Mascarehnas), Hydrotech International LLC (Courtesy Clifford Sactis) and Zaharat Al Rawdha Trading (Courtesy Raphael Qaudros)
Apart from these, all event sponsors were also thanked in general.
In order to rejuvenate the crowd, a scintillating Bollywood style dance was performed by Gulf Dancers of Mangalore (GDOM). The dancers were:Shaina D'Souza, Megan D'Souza, Alston Moras, Princy D'Souza, Leanne D'Souza, Philu Moras, Saira D'Souza, Reena Mathias, Sachin Lobo and Jason Cardoza. Choreography was done by Sachin Joy Lobo and coordinated by Sonia D'Souza.
As the Annual Day is also considered as the Annual General Body meeting of the Members, MCCP's Annual Report for the year 2015-16 was read out by John Mathias (Vice President for Cultural, Spiritual & CS) highlighting several activities that were carried out and various efforts being made to bring the community together. Simultaneously, while the report was being read out, a Power point presentation showing photographs of the events helped the audience to relive those moments once again. This was followed by tabling of the statement of accounts for the year 2015-16 by Sunil Furtado (Honorary Treasurer). The noble thought of the Executive Committee to allocate amounts for Parish activities and to donate to charitable trusts including home for the aged back home was revealed, which was well appreciated. John Gonsalves along with John Mathias and Sunil Furtado then handed over the Annual Report and the statement of accounts to Core Committee member, Mr. Stanley Fernandes.
This was followed by a beautiful dance performance by small children called 'Dynamites' under the tutelage of Dynet Fernandes. They were: Christine Danthi, Lanette Rego, Leanne Alva, Lovette Rego, Nicole D'Souza, Renessa Walder, Reia Correa and Rochelle Correa.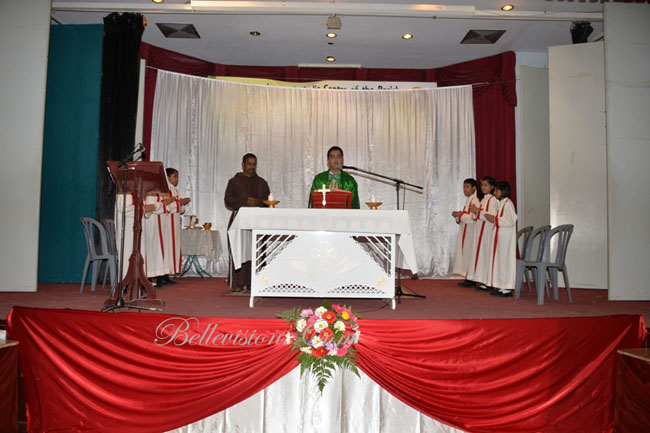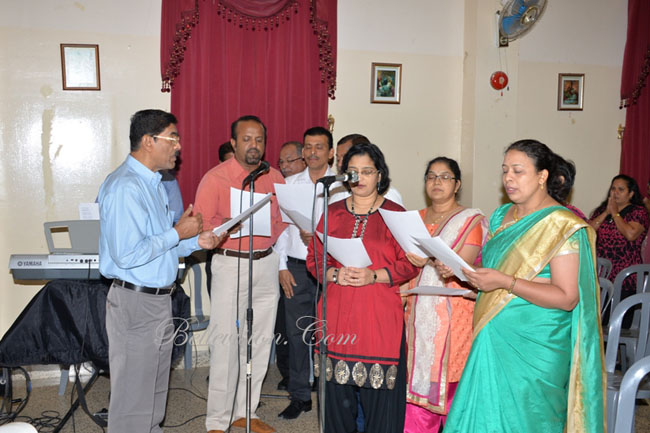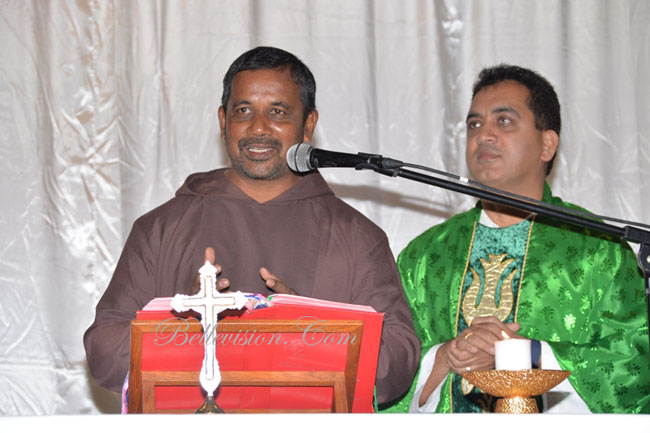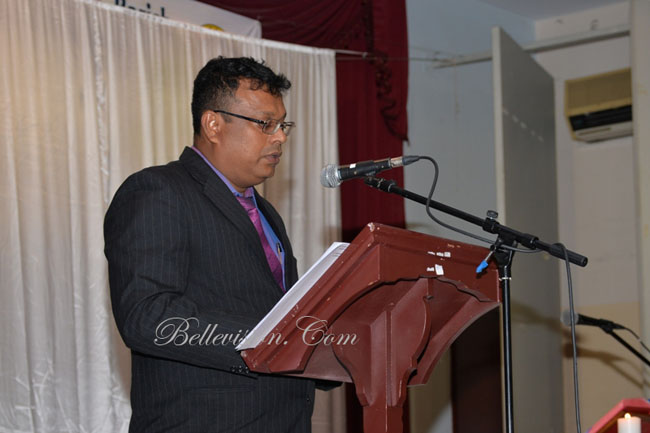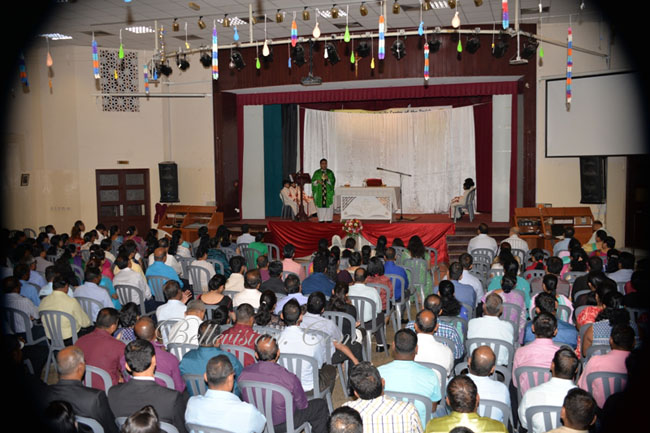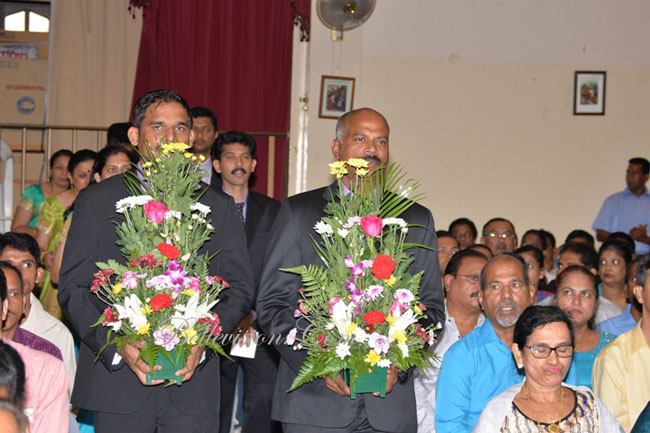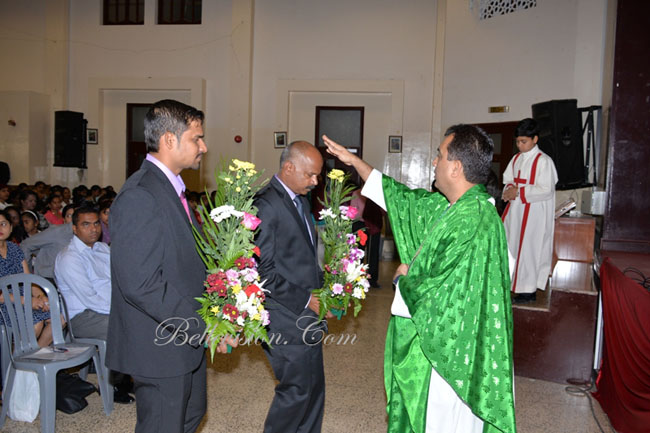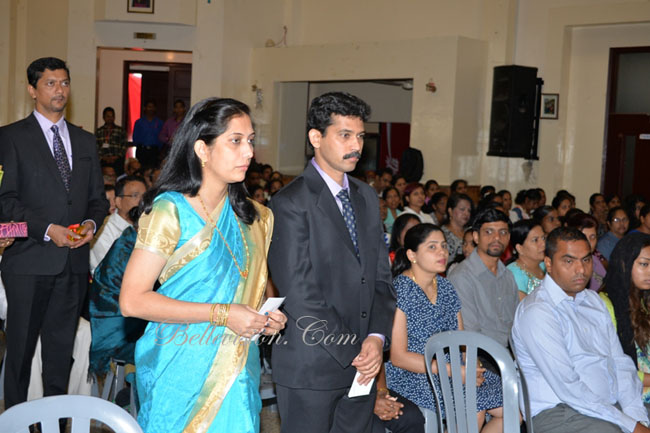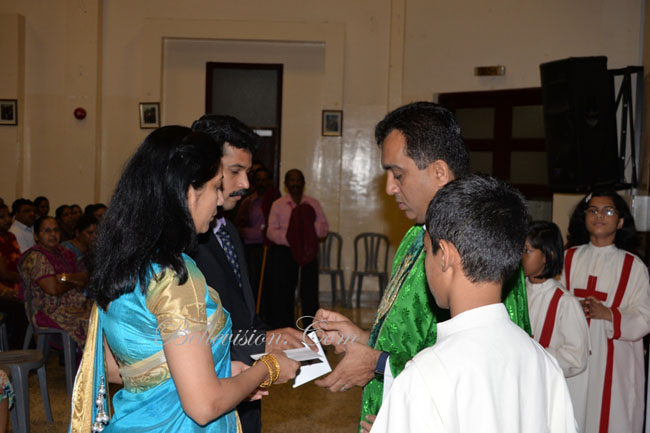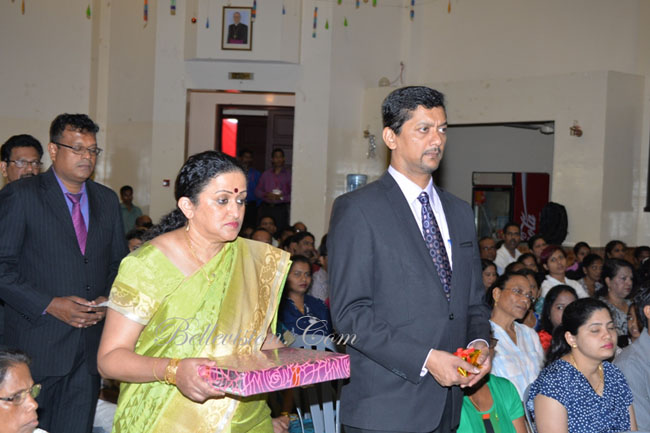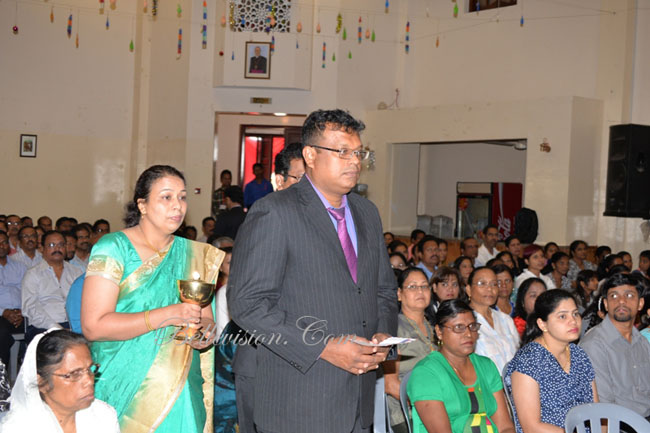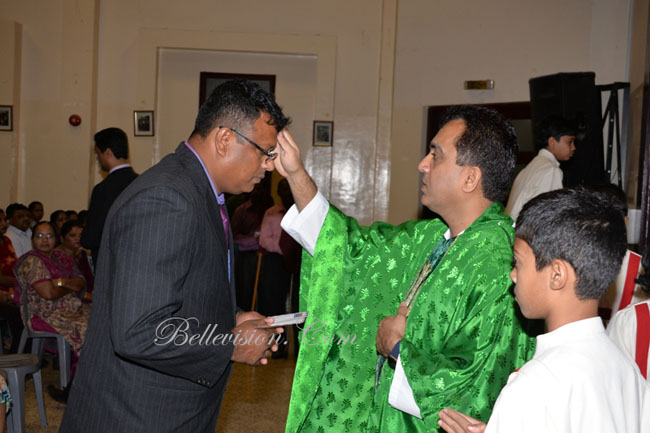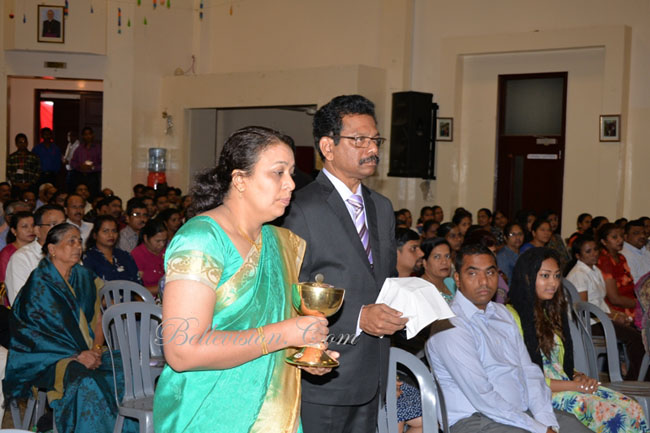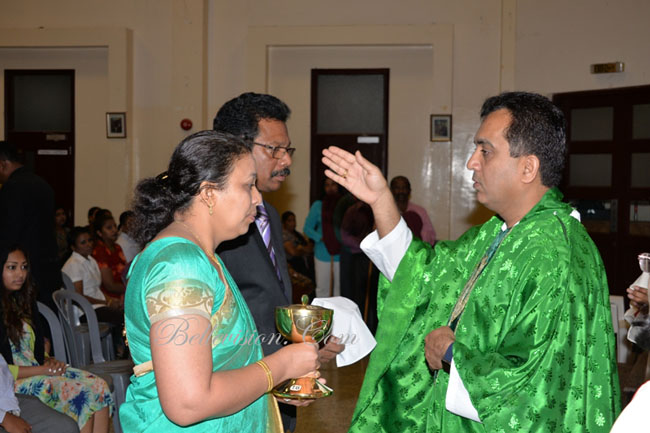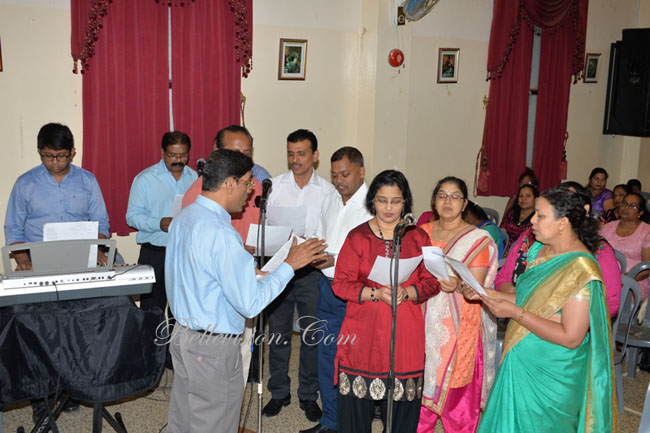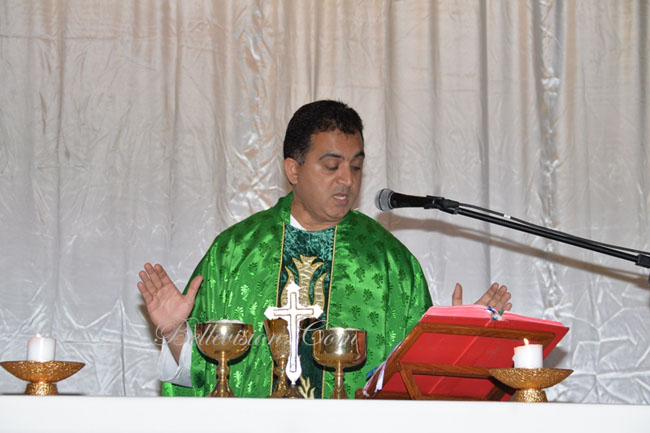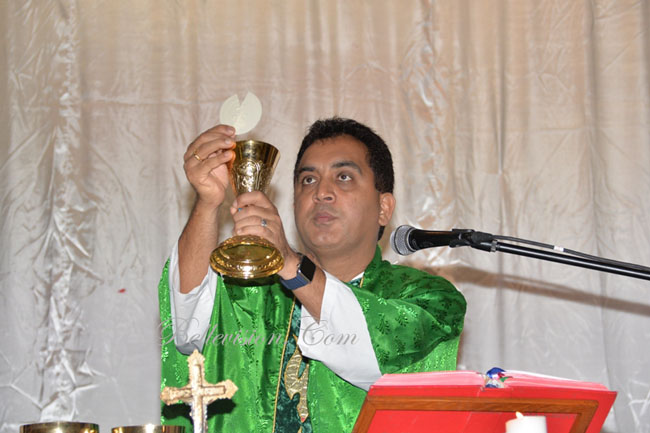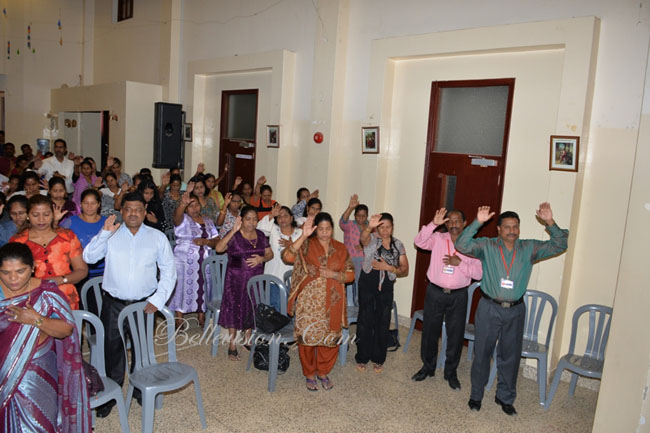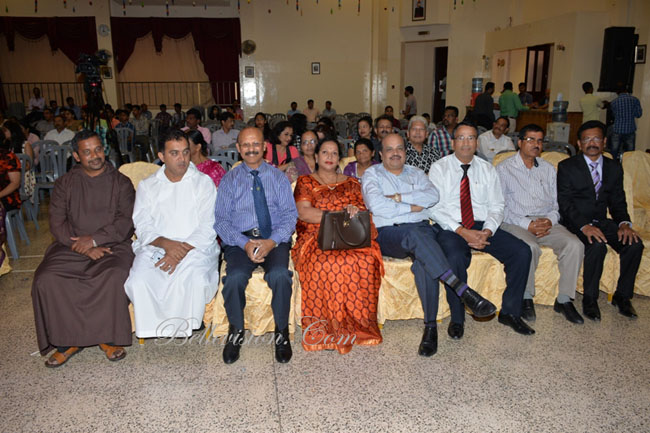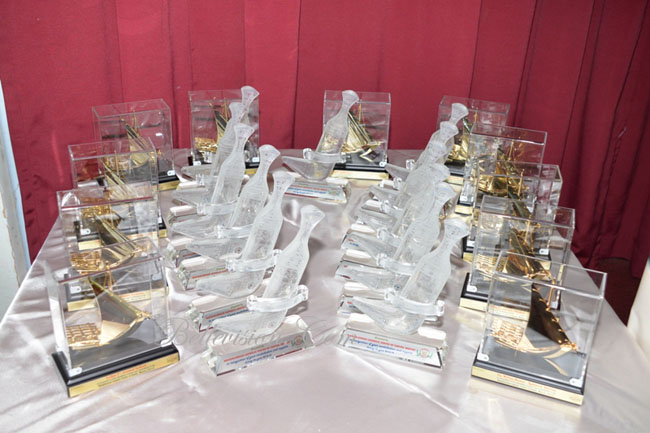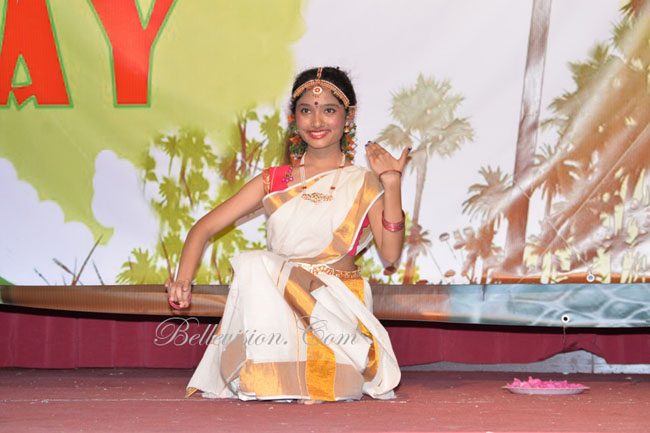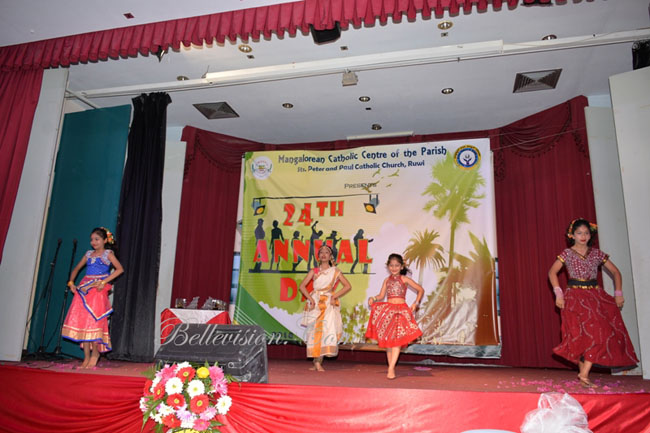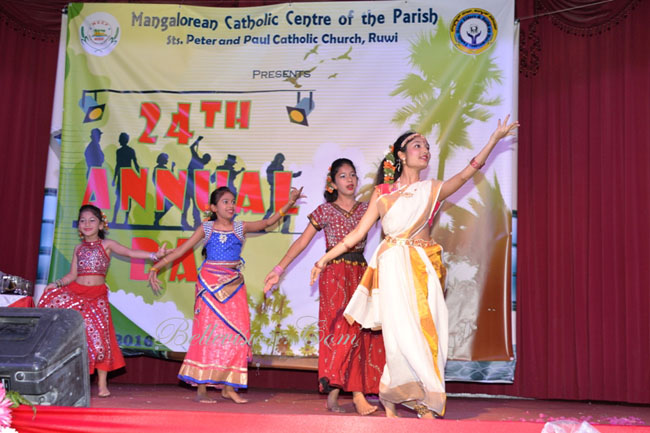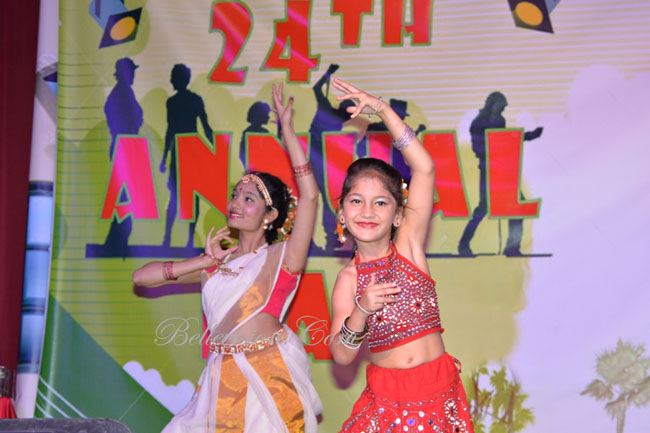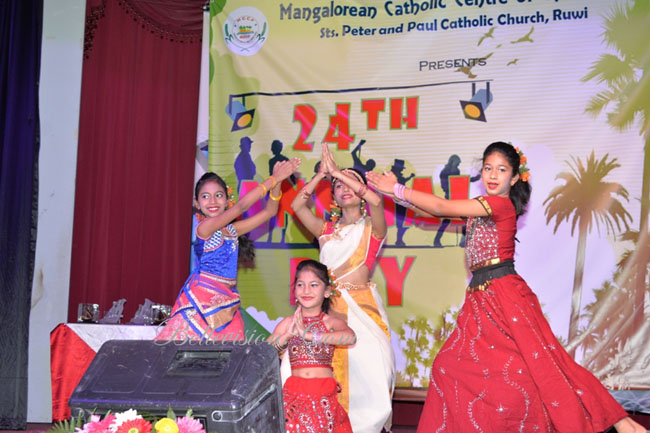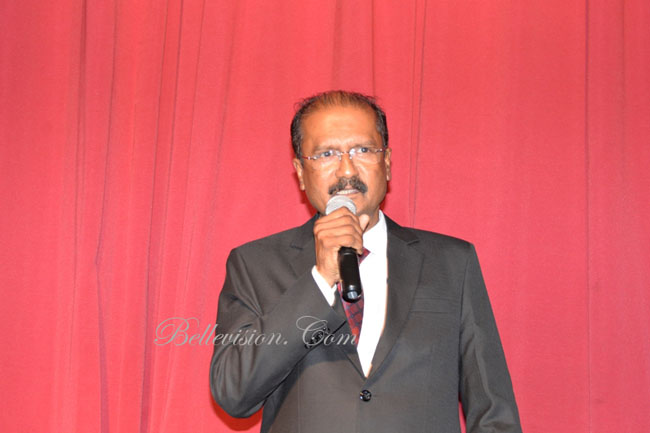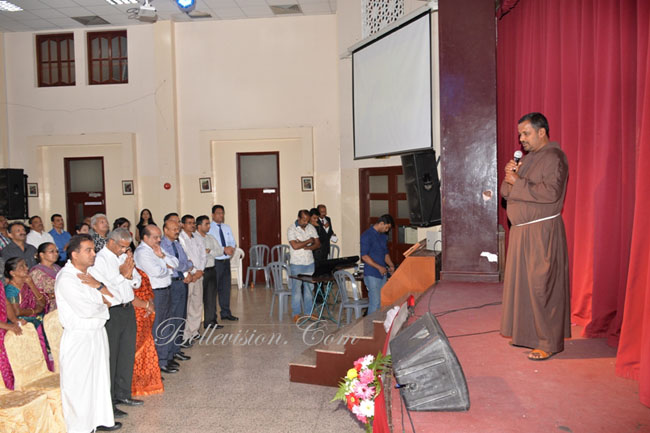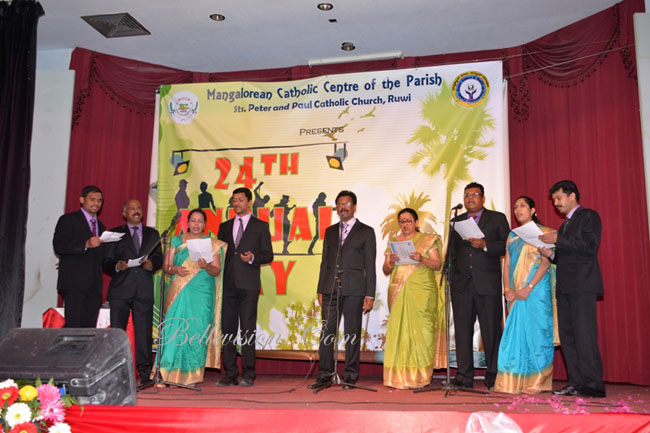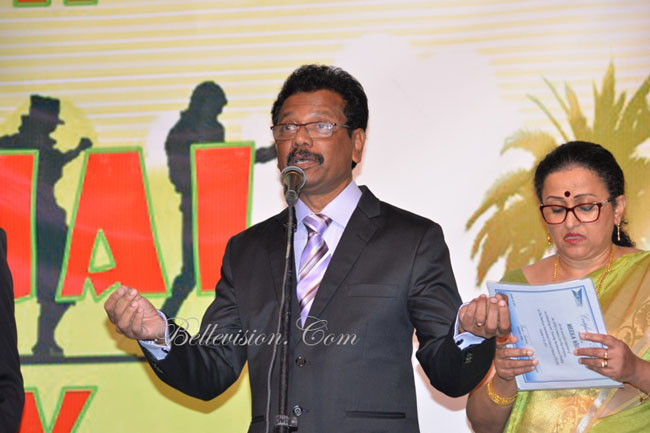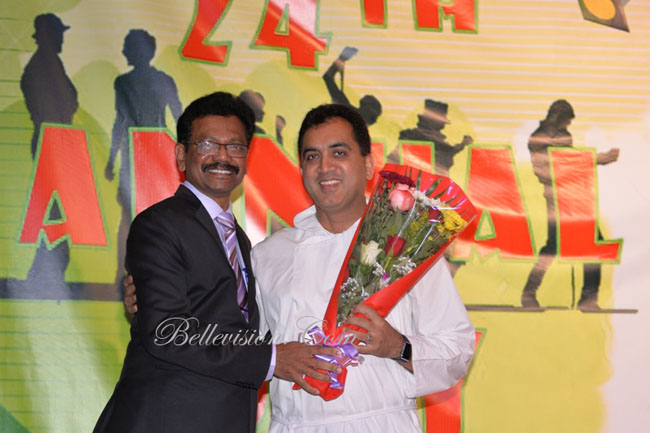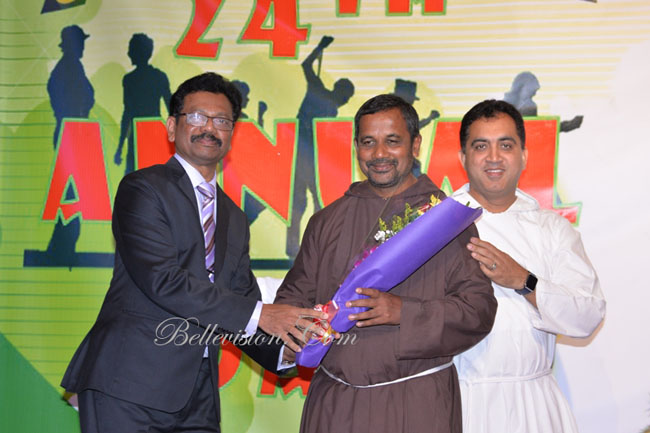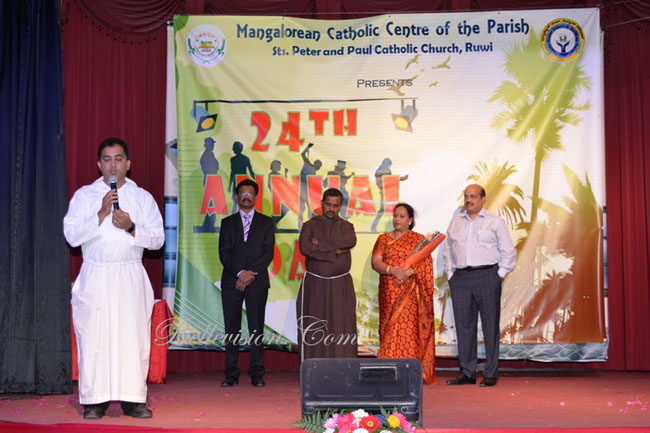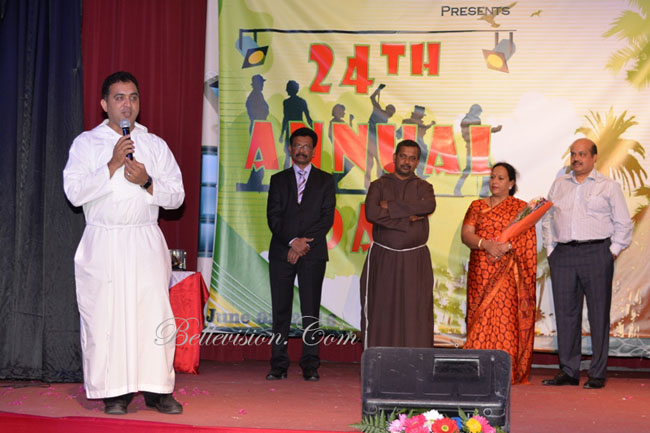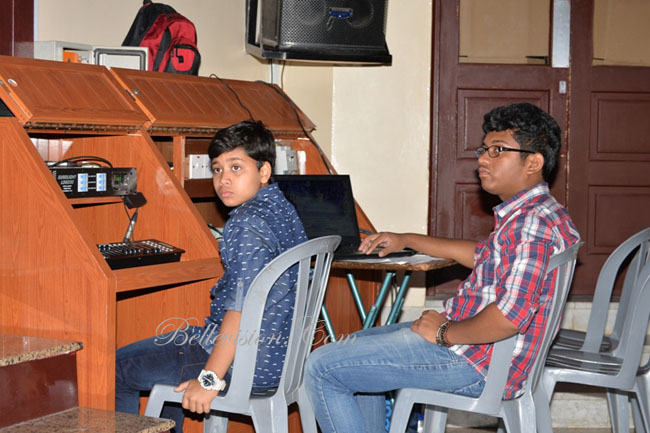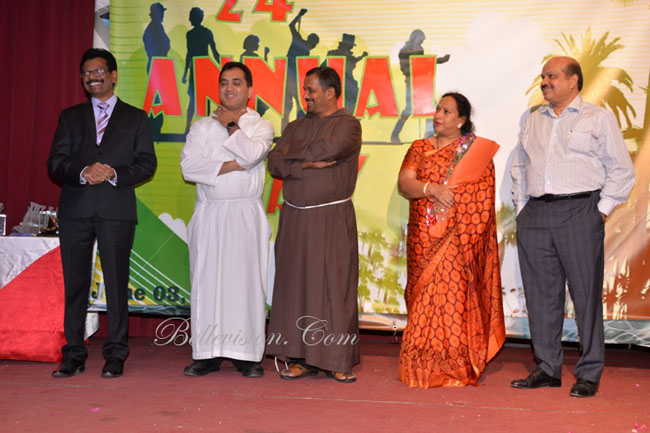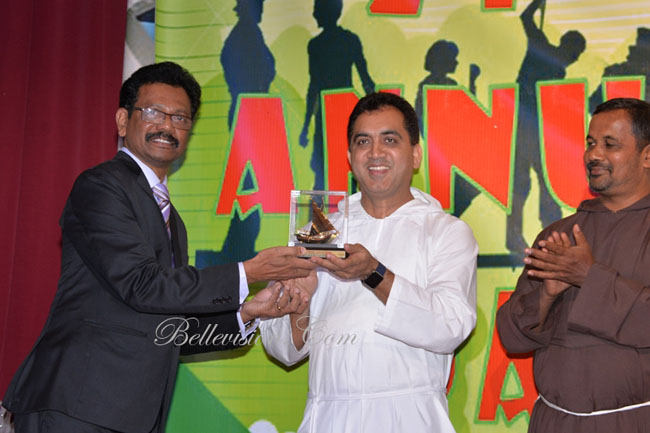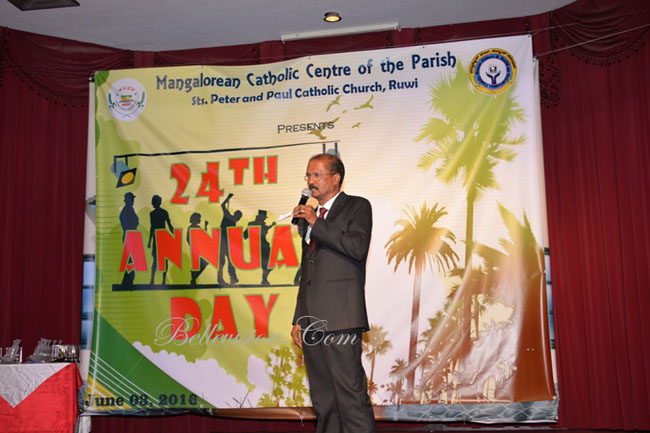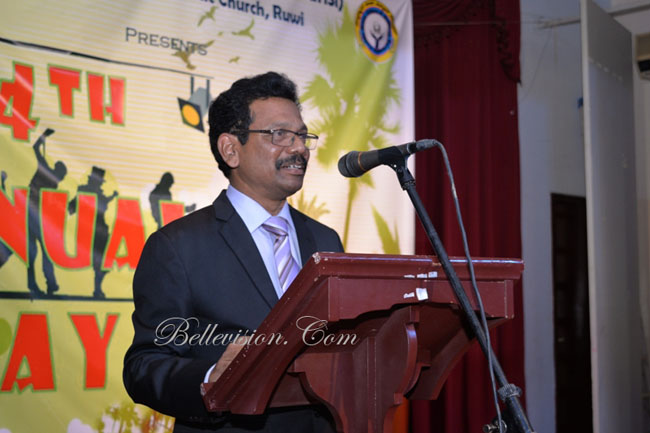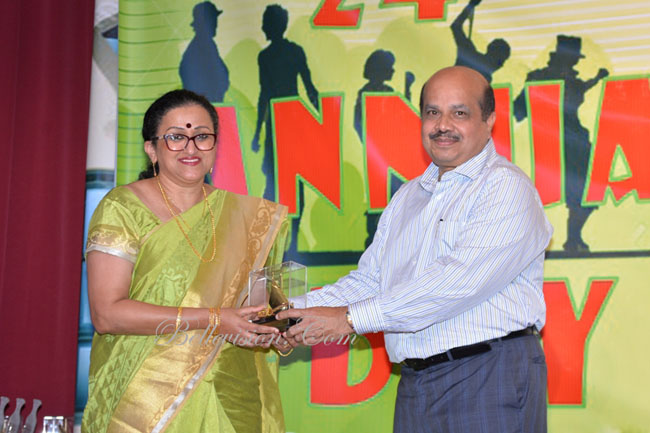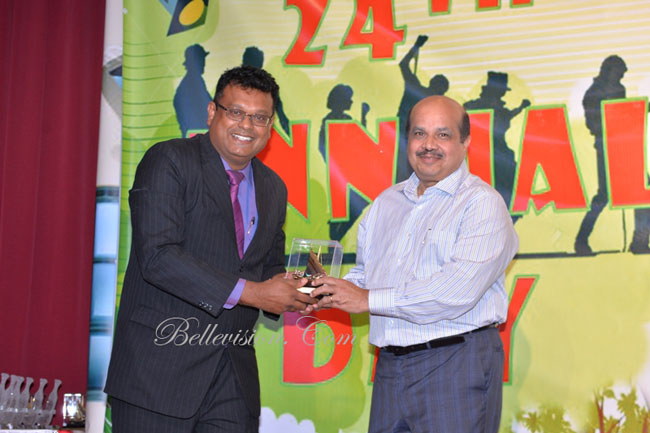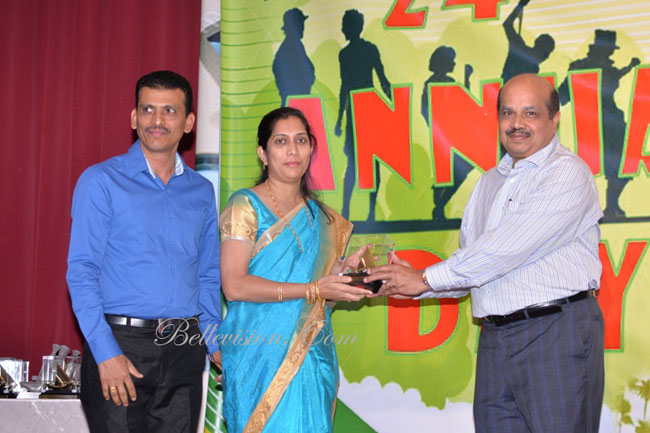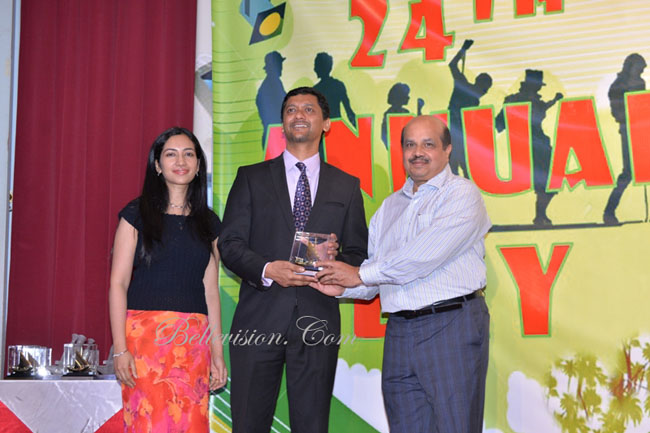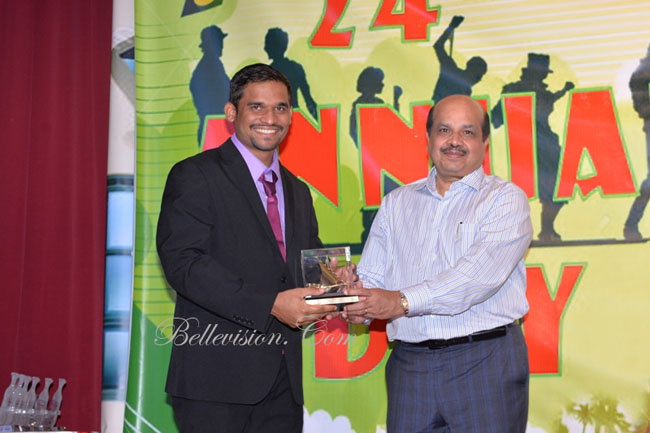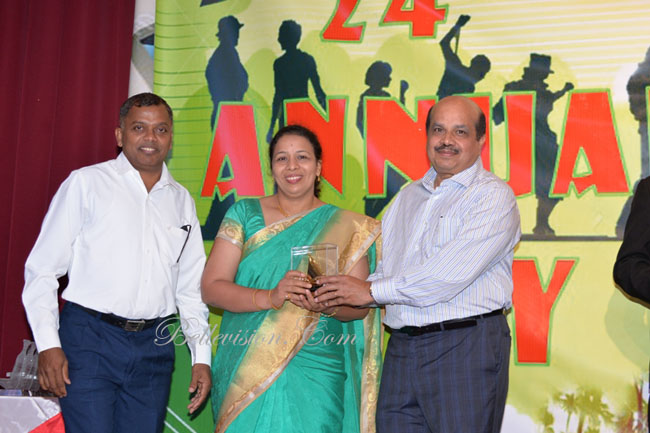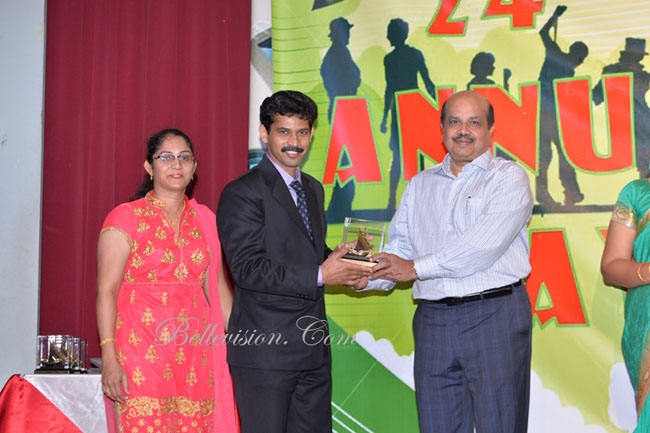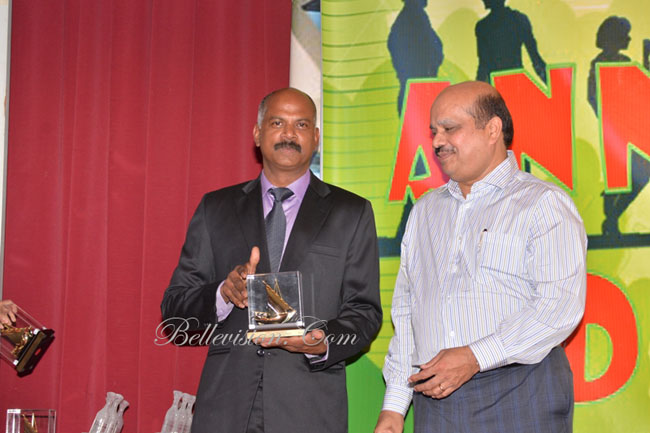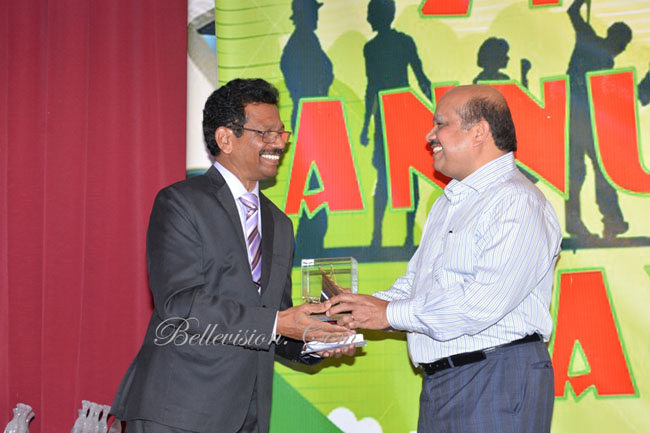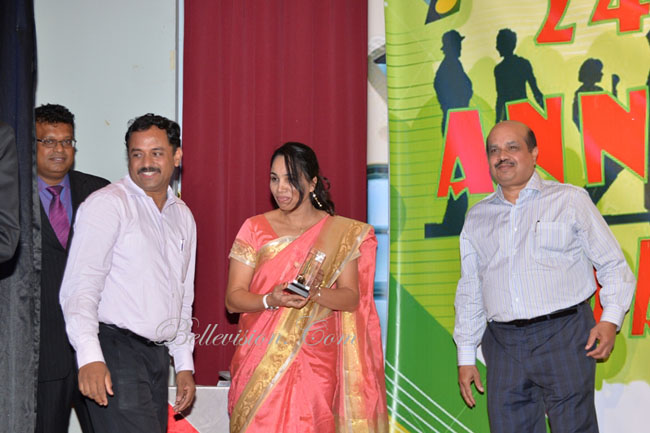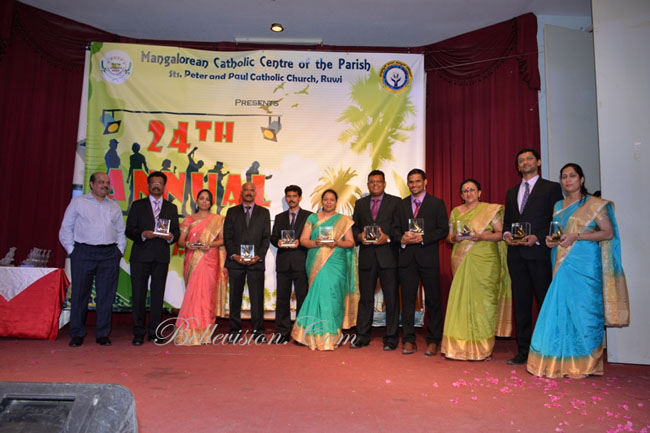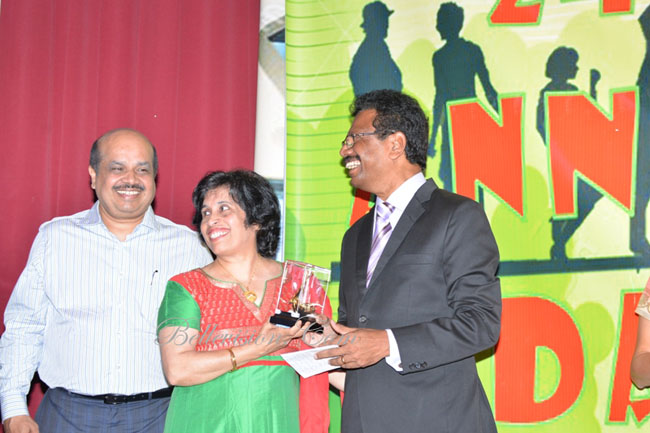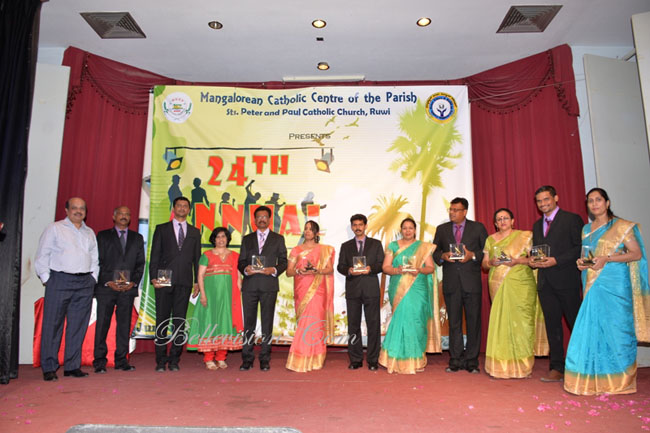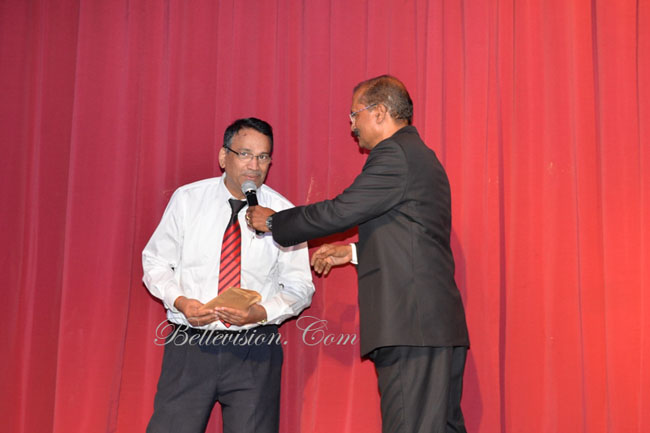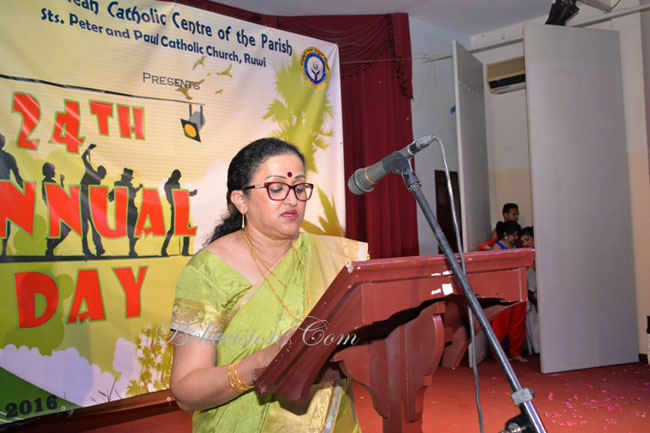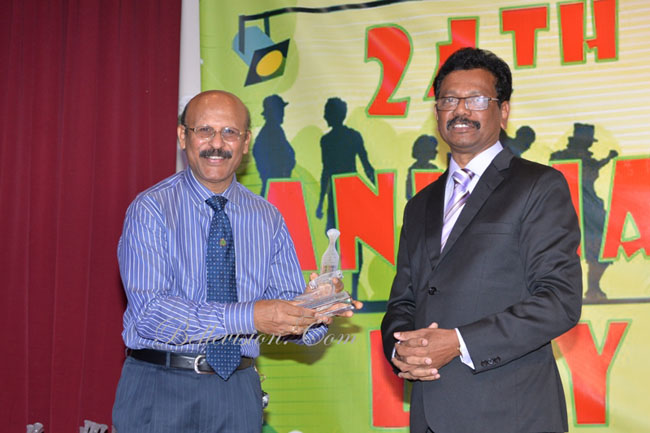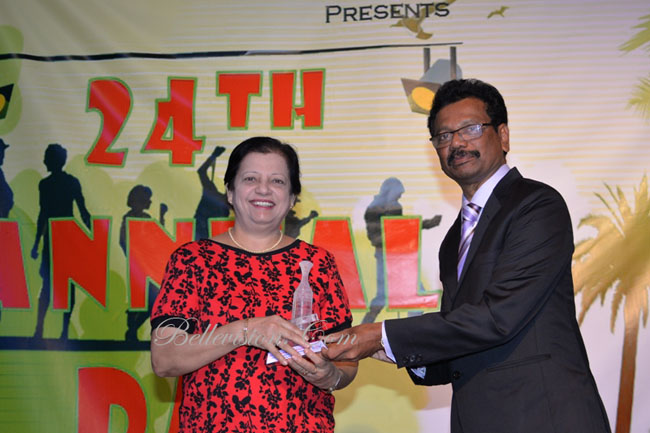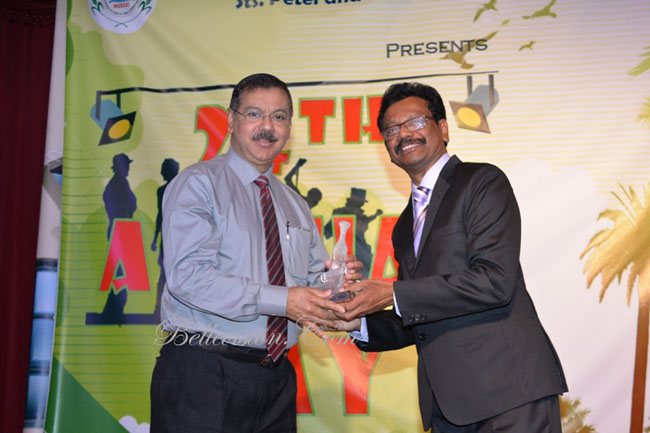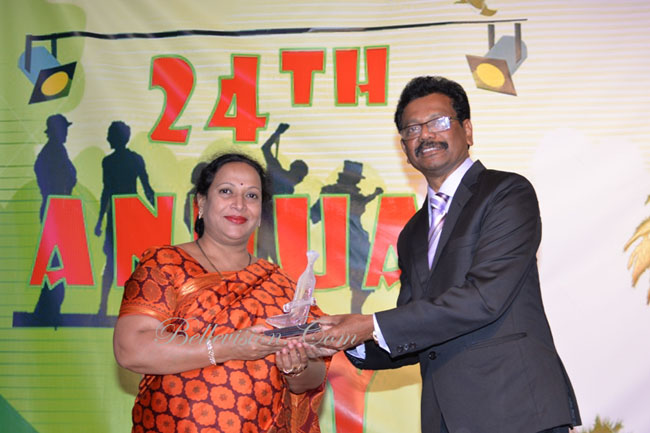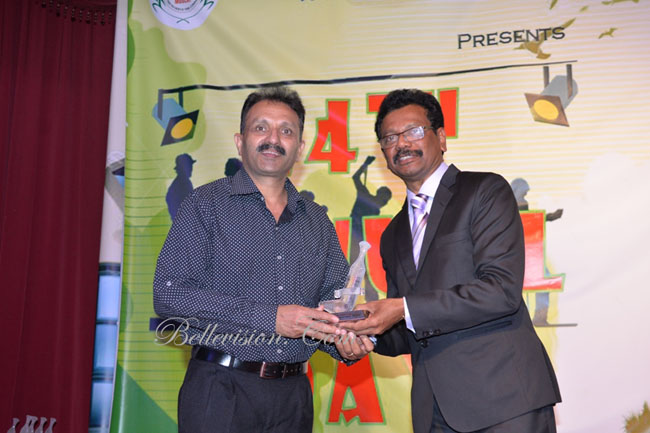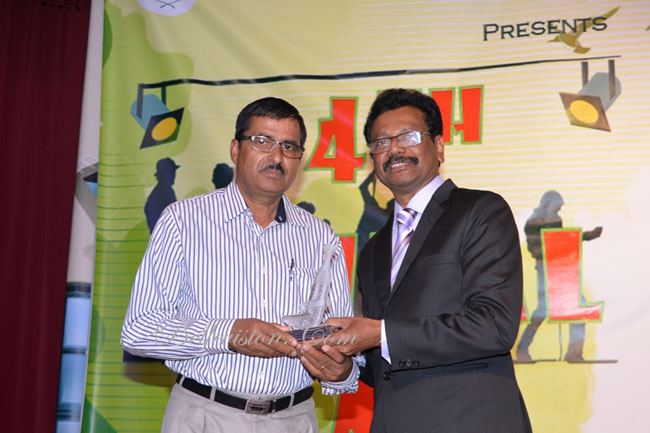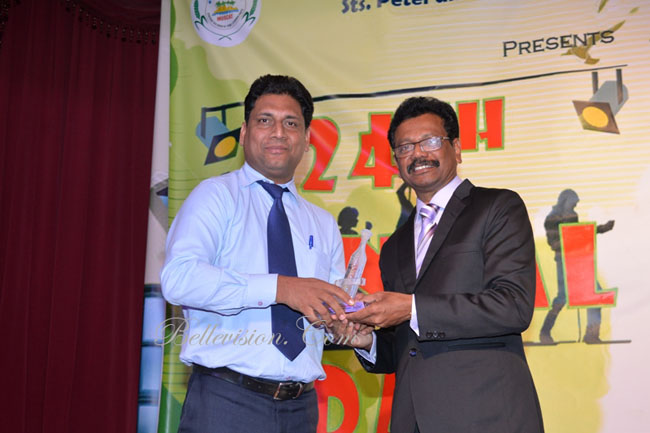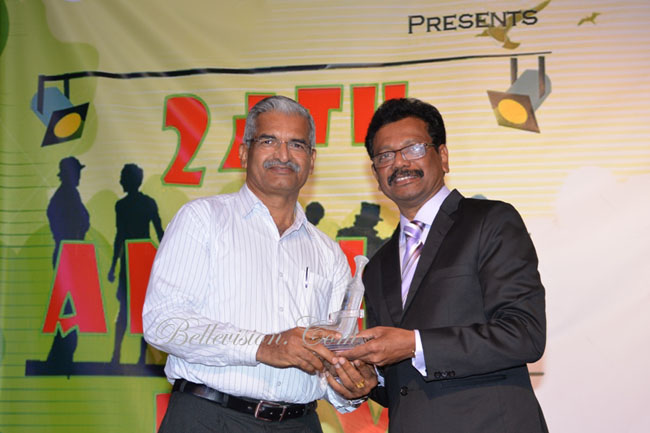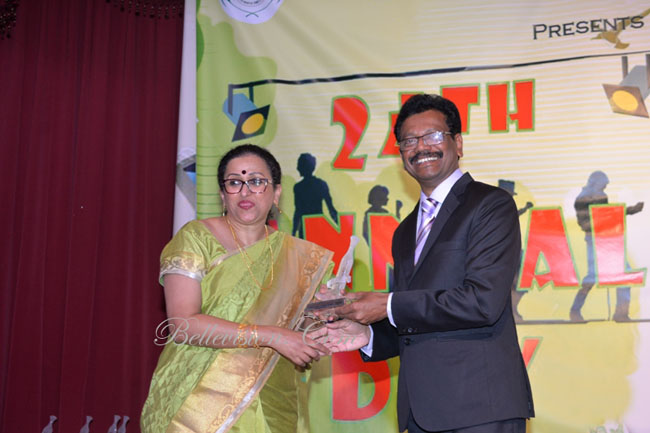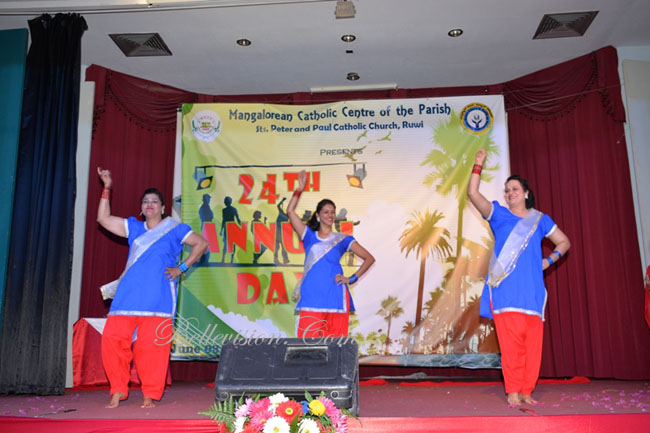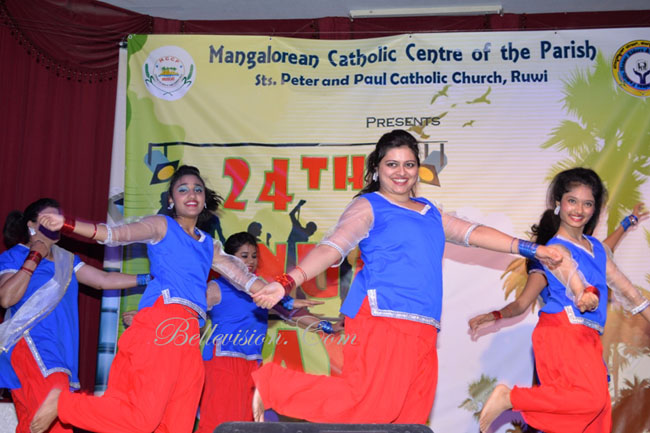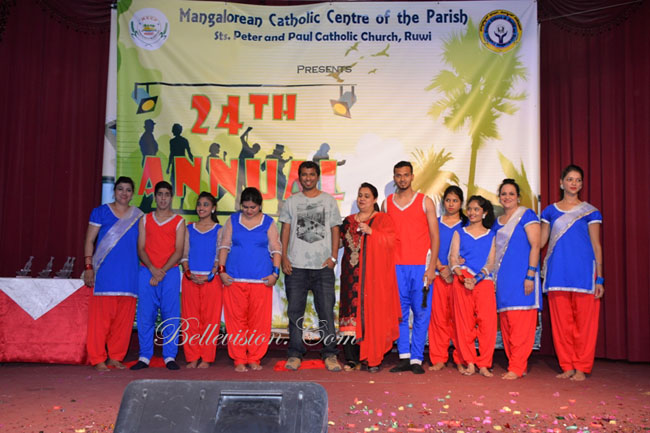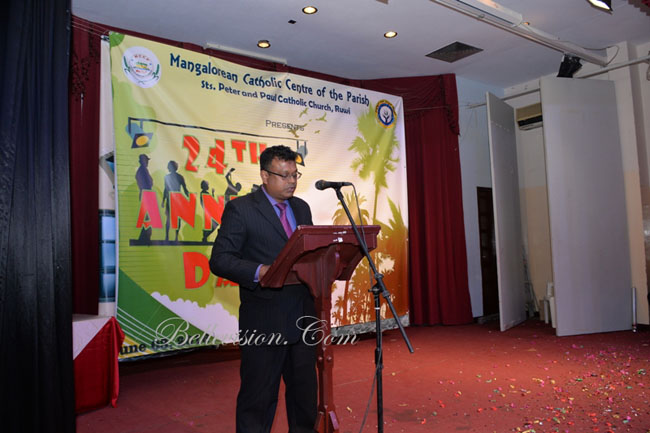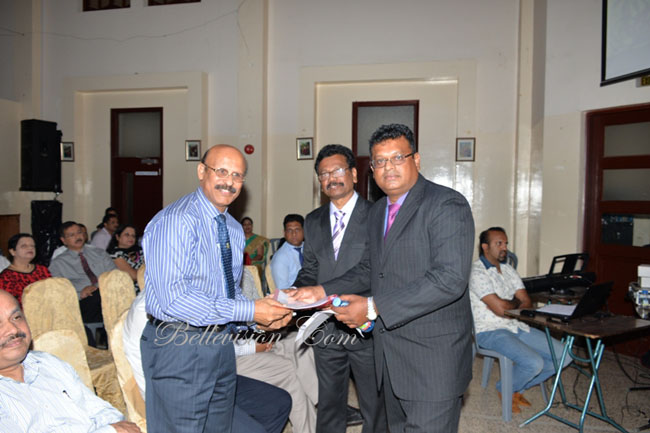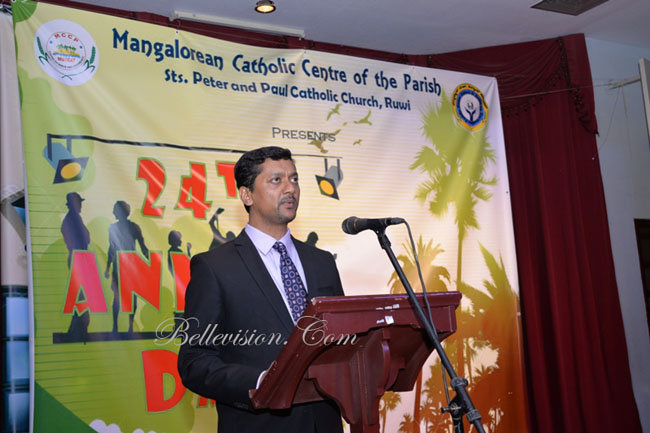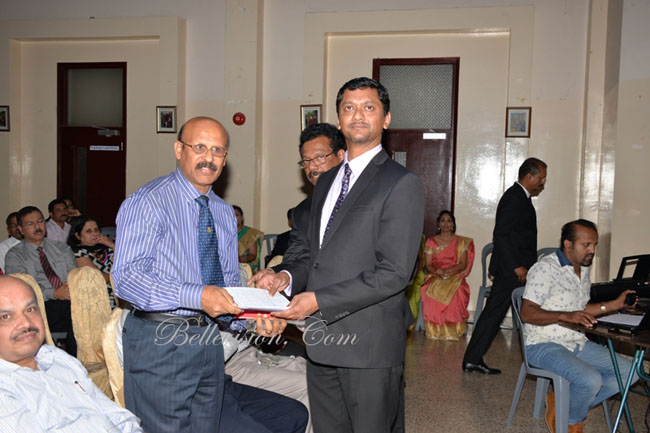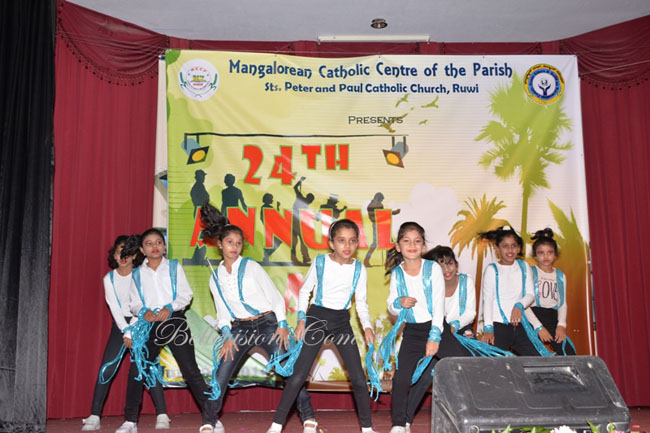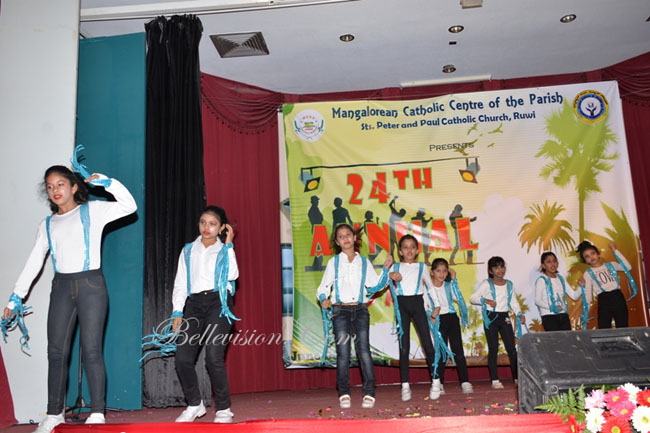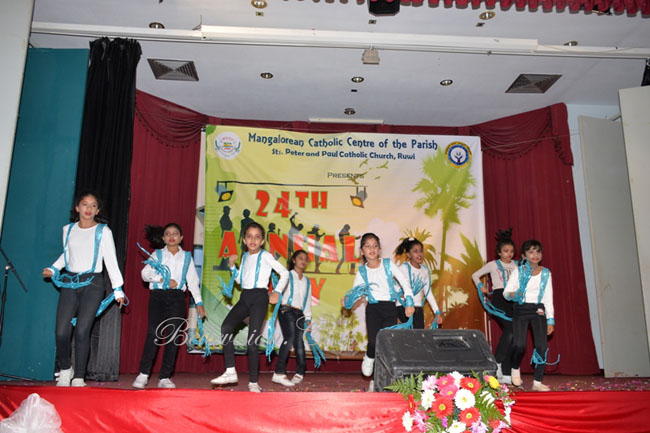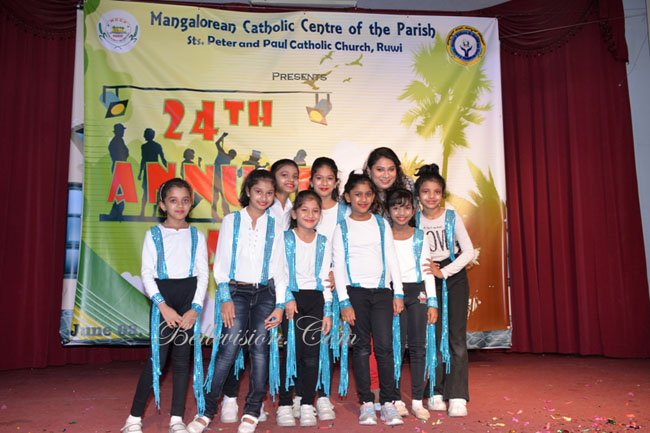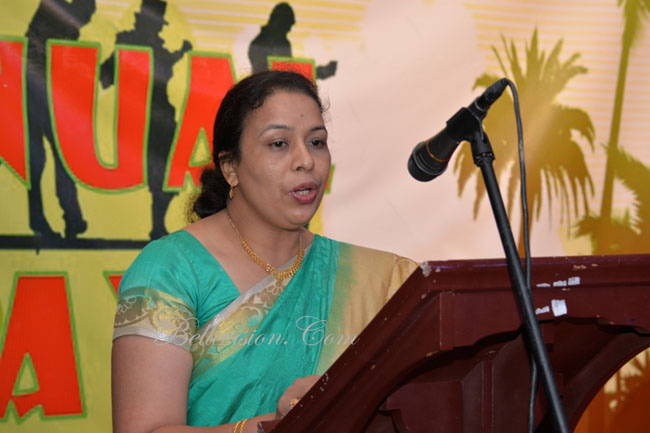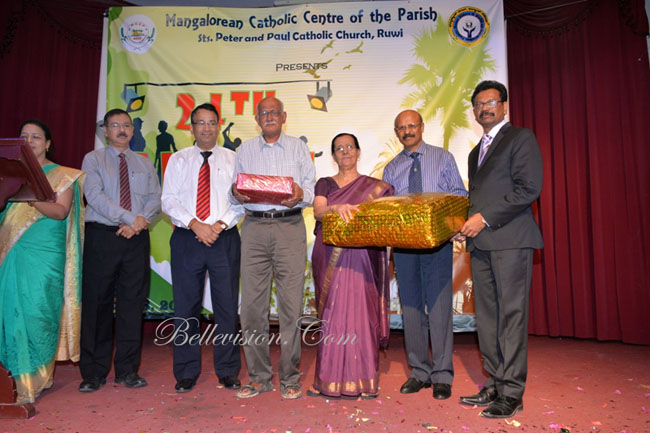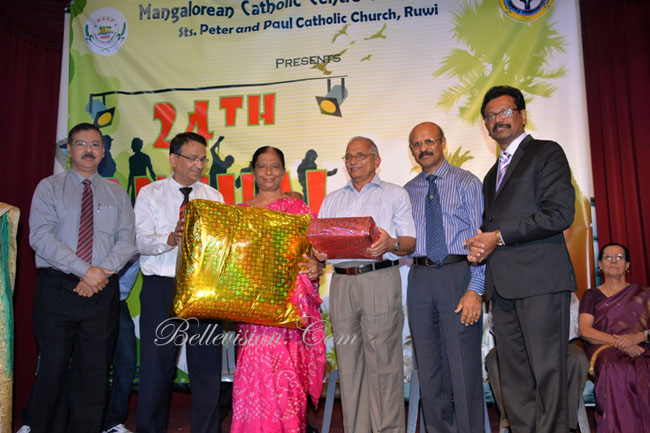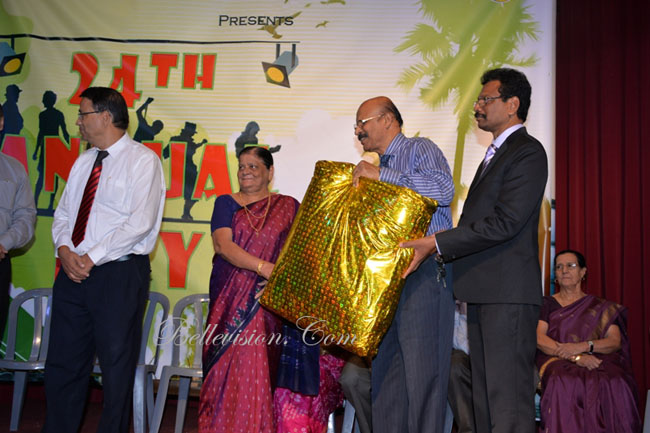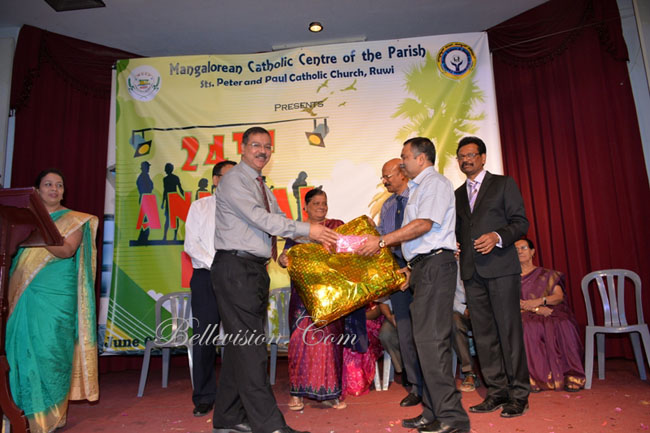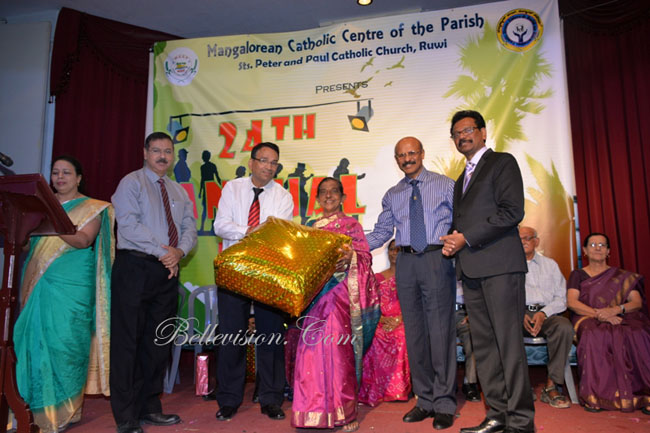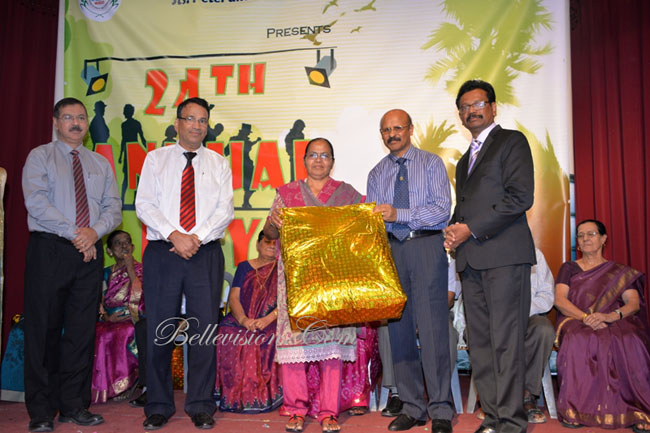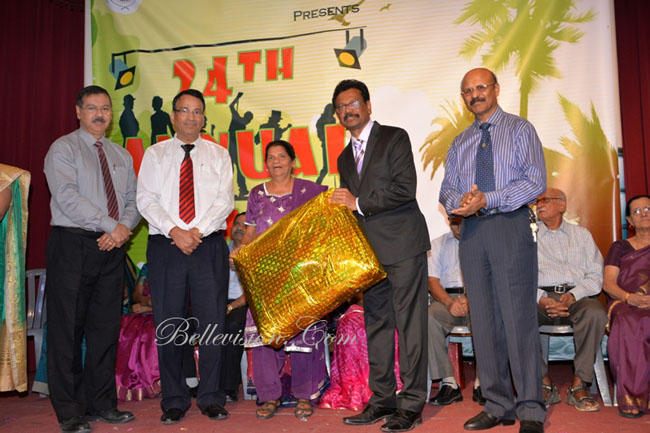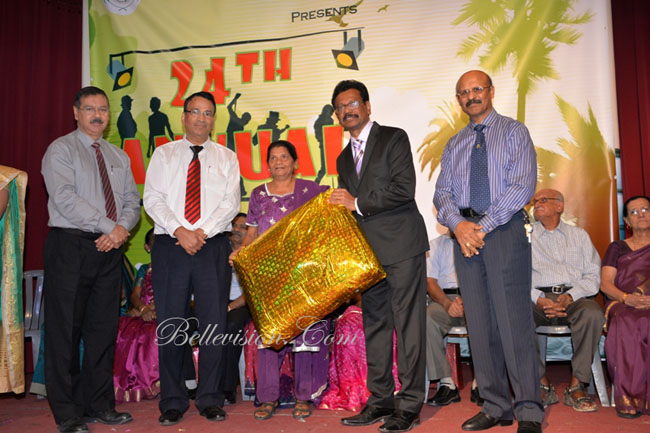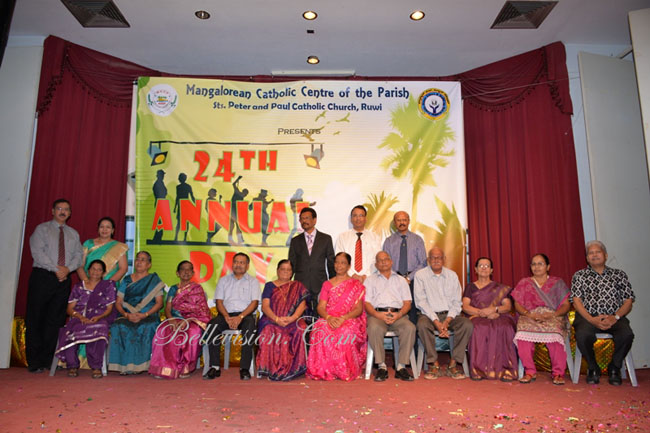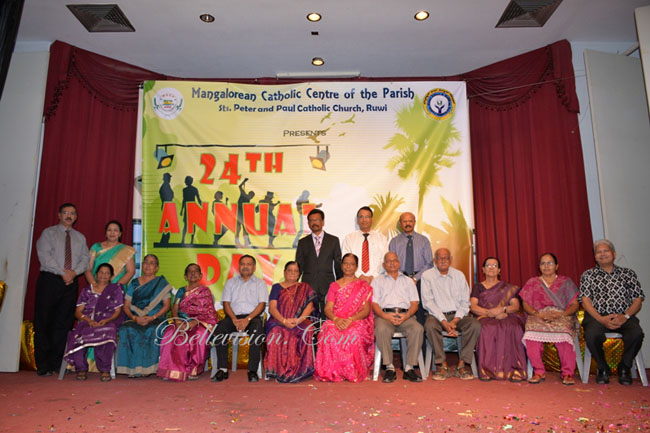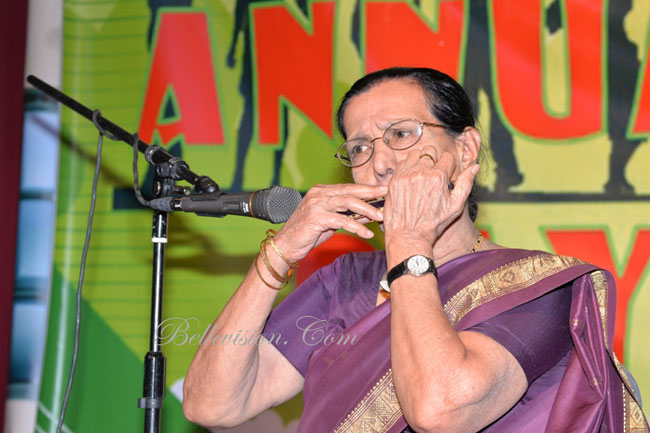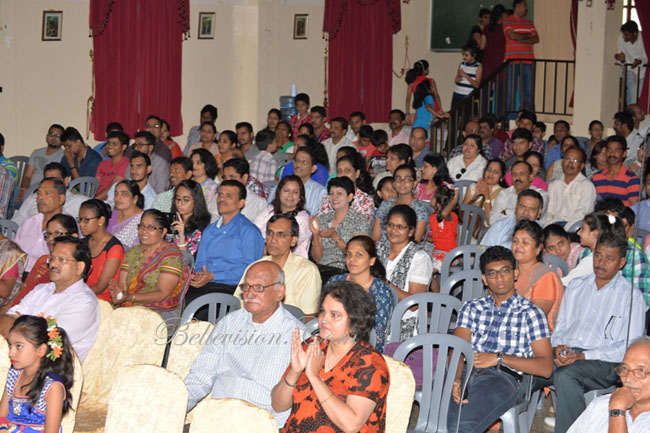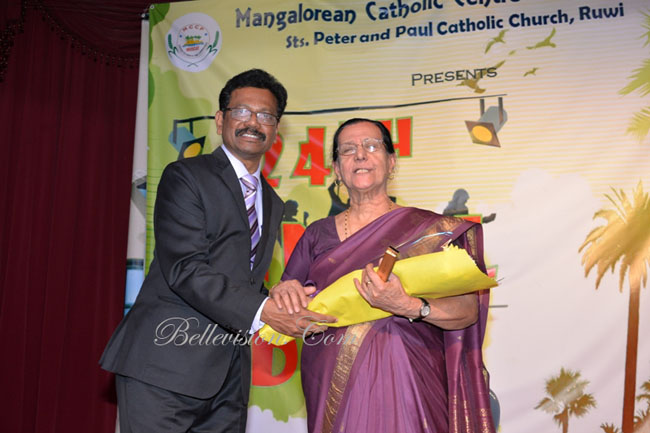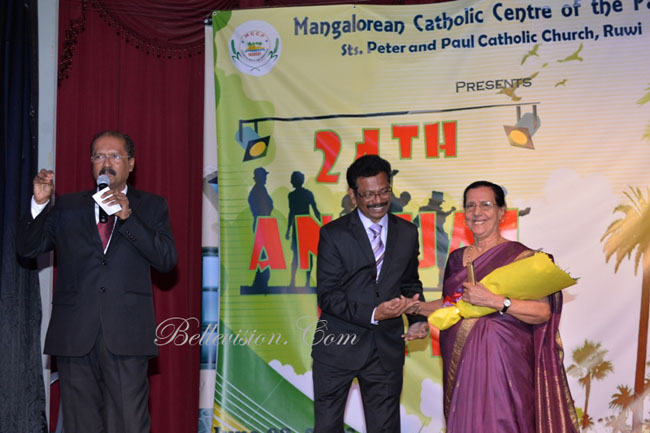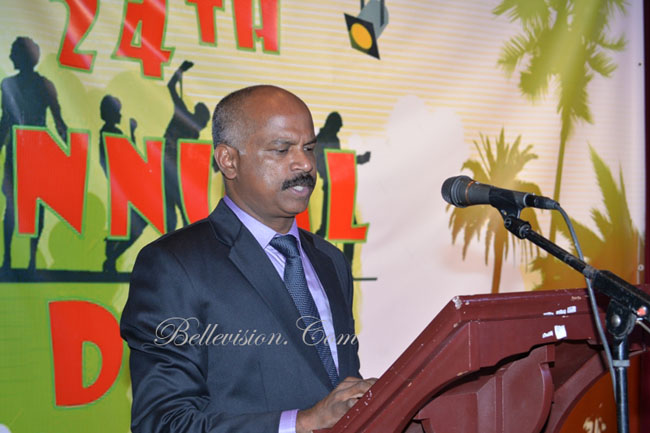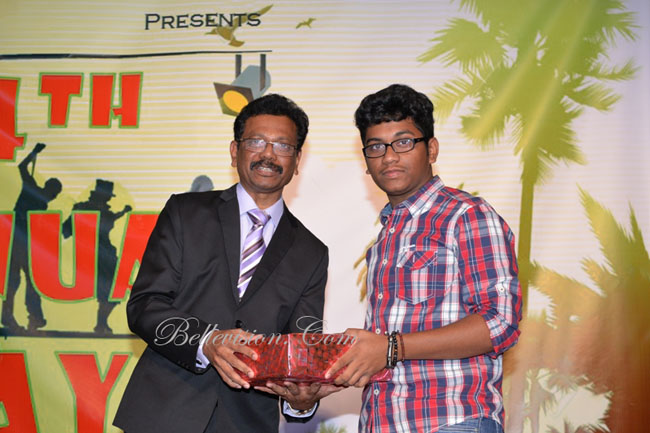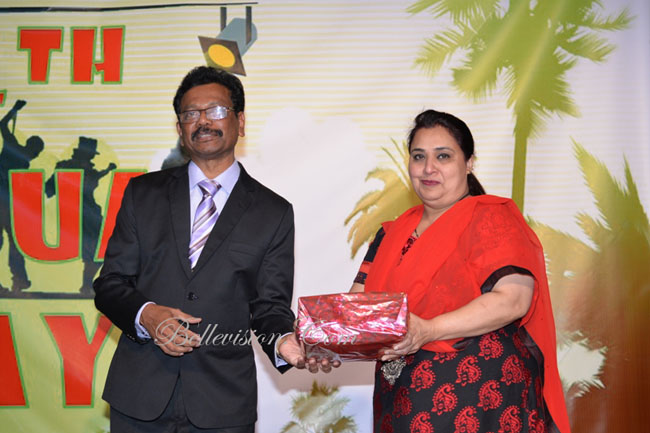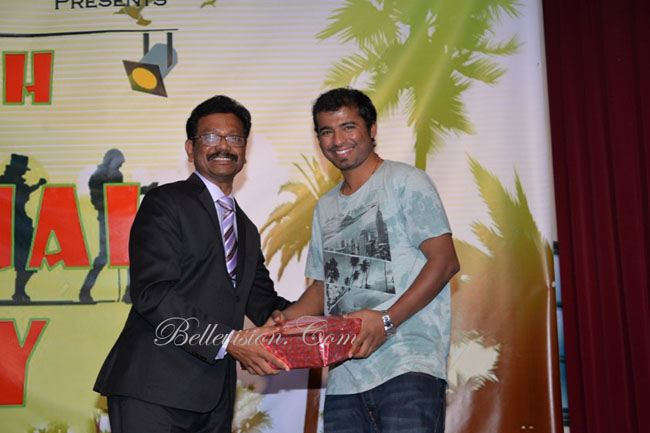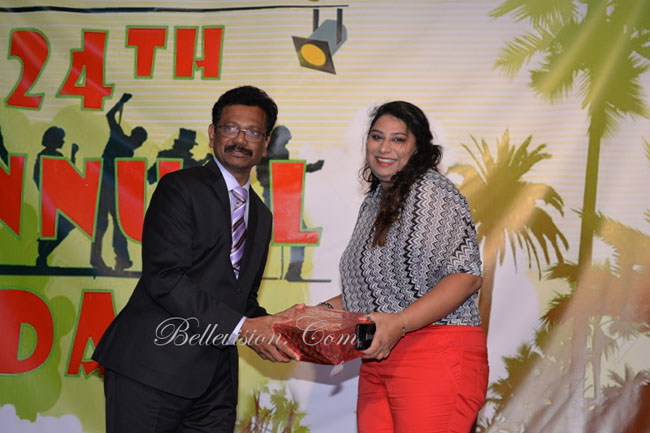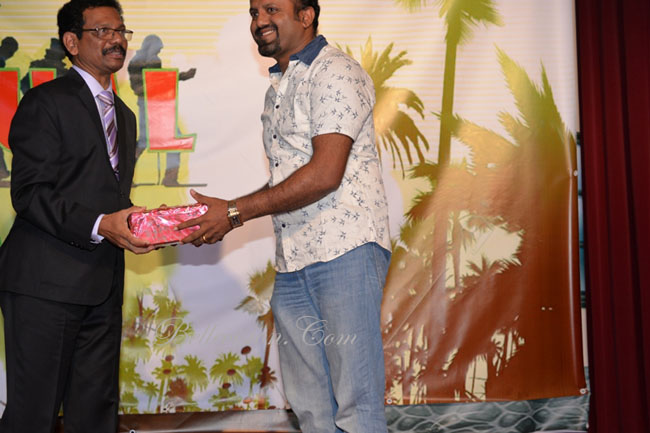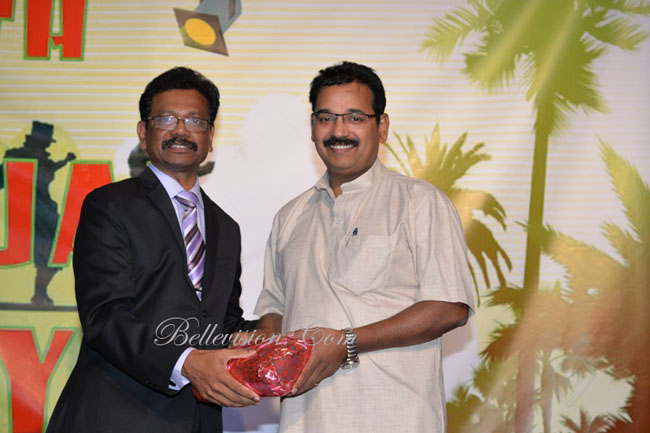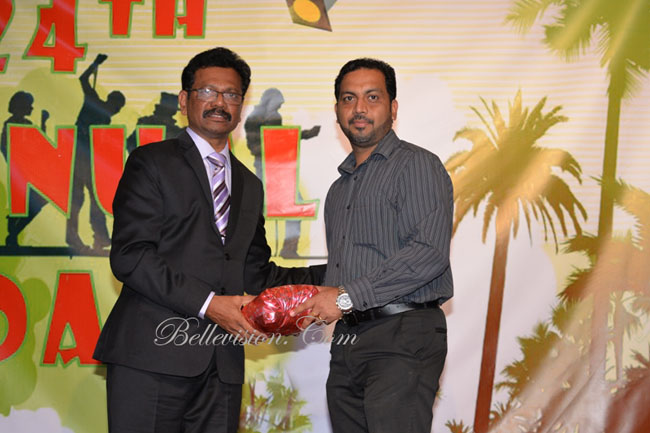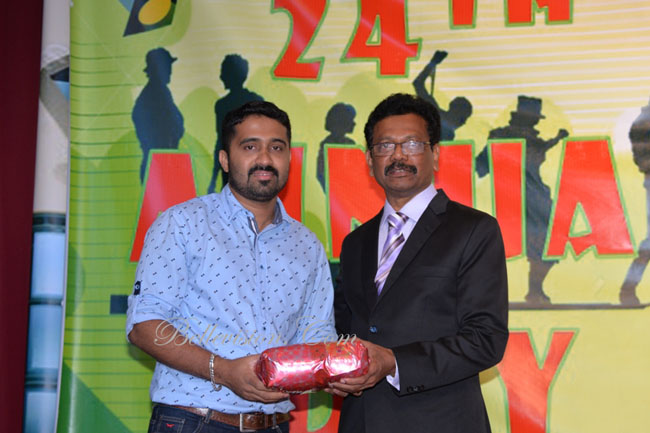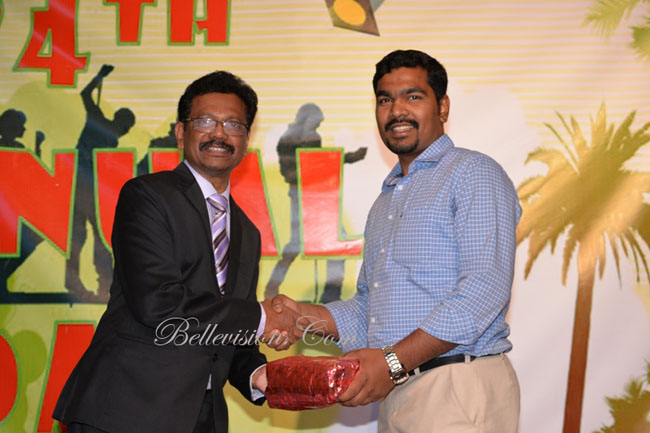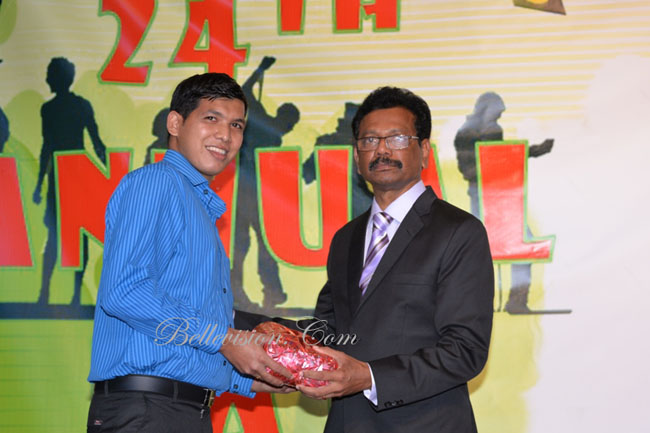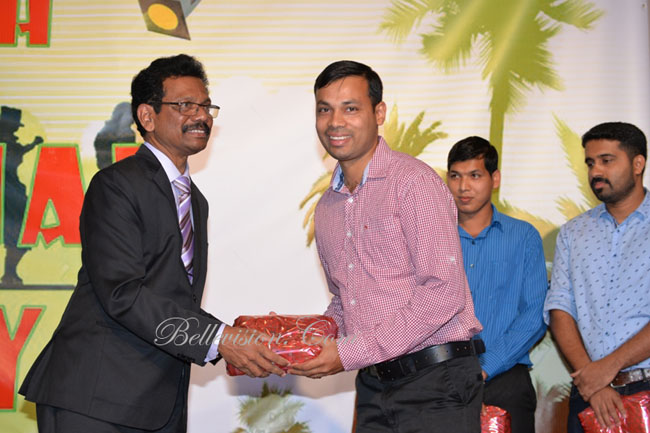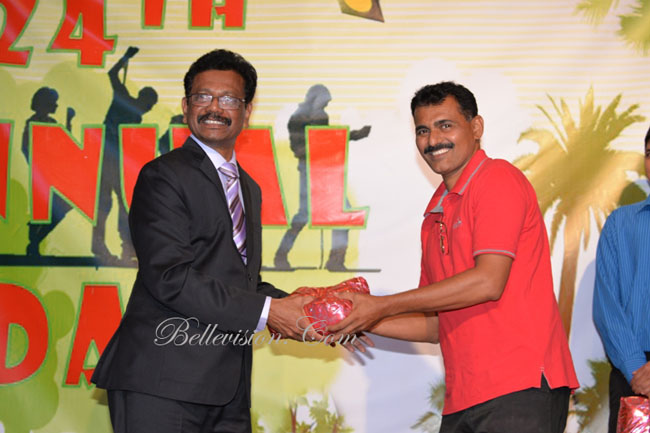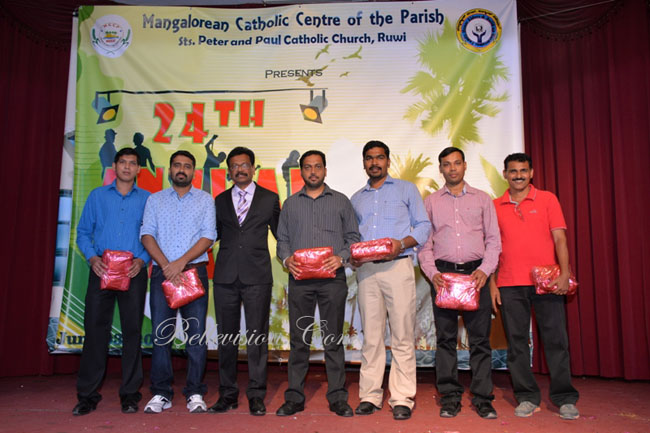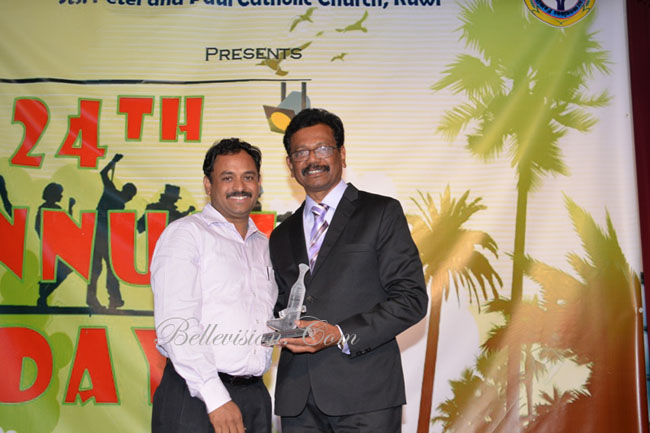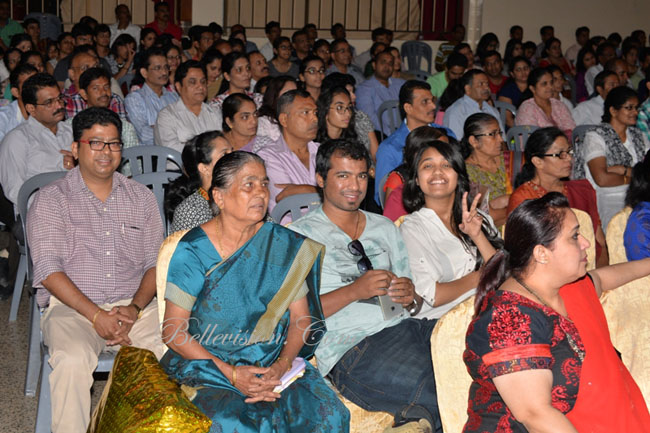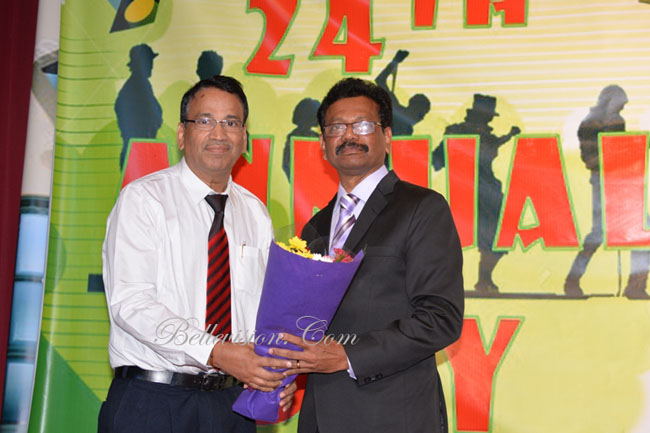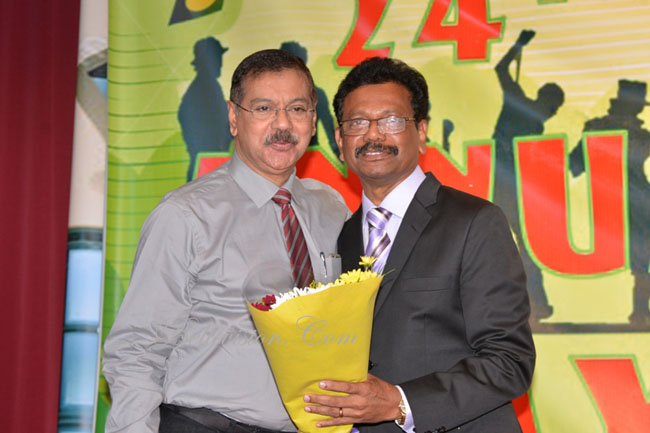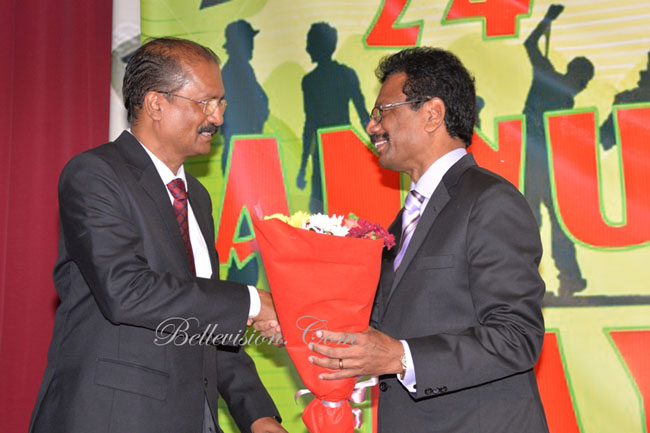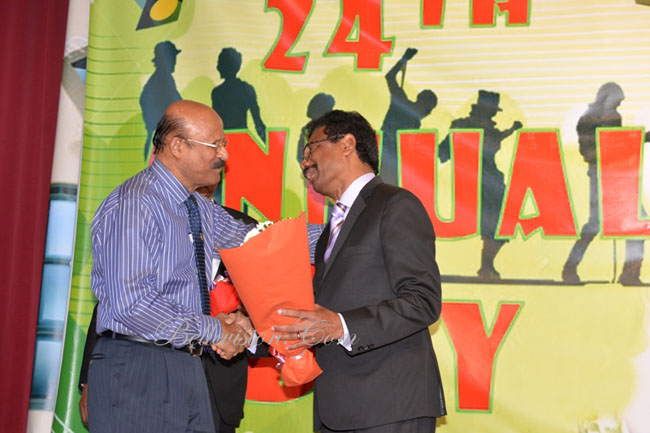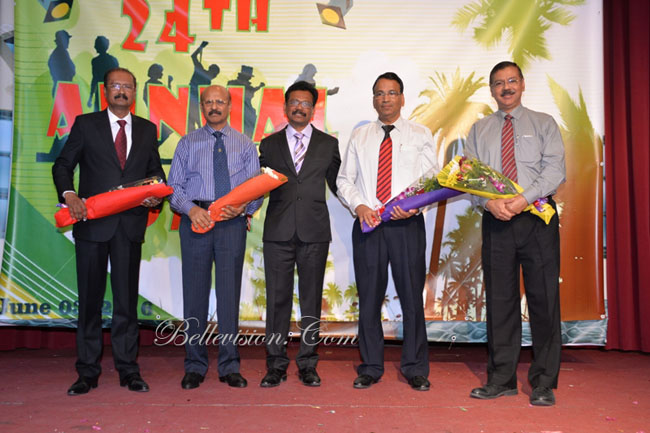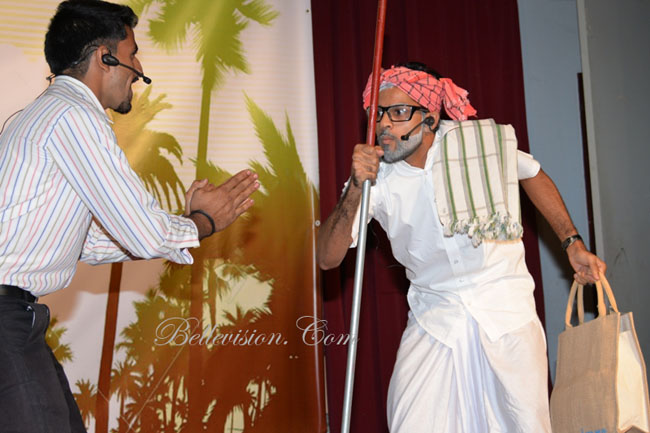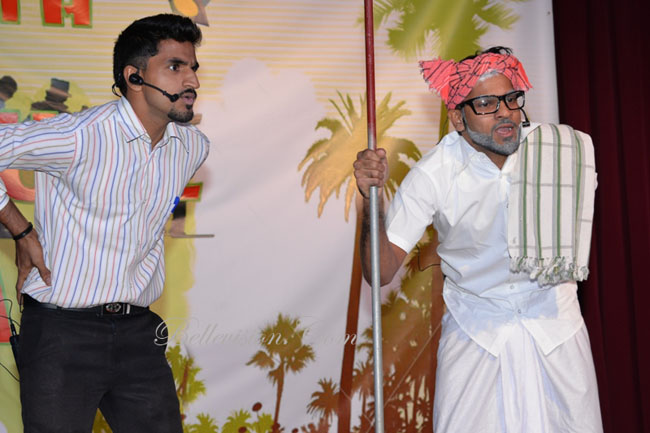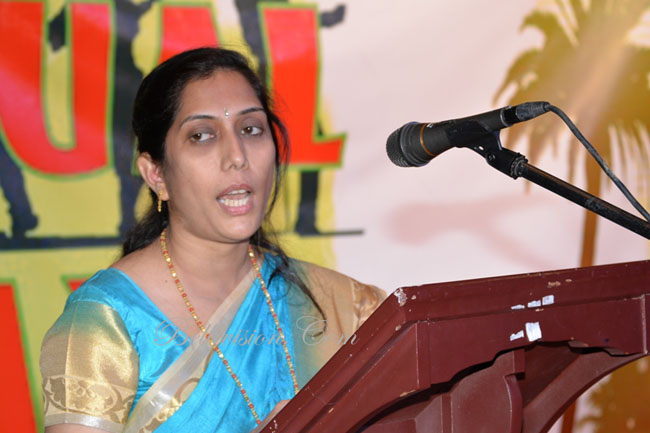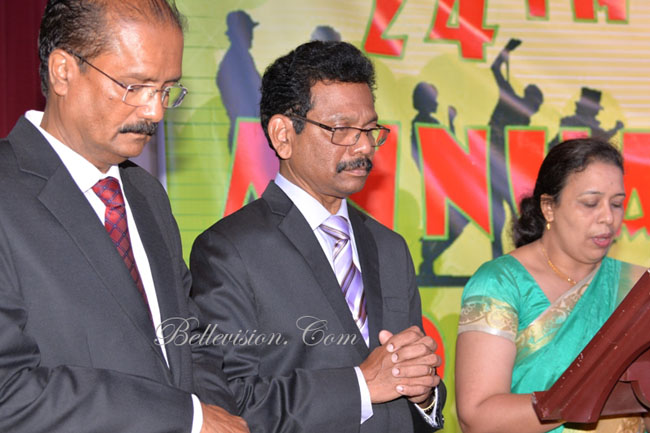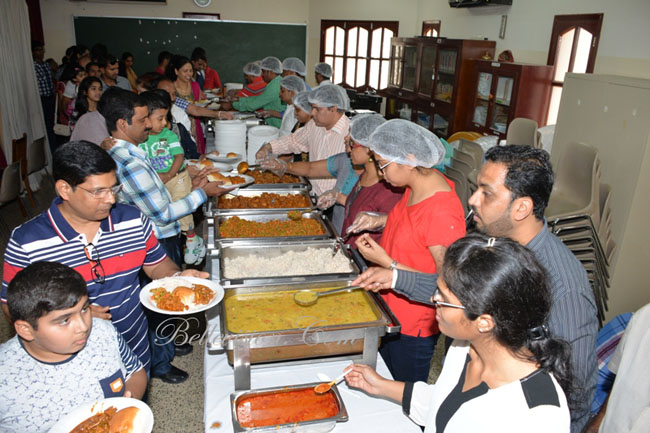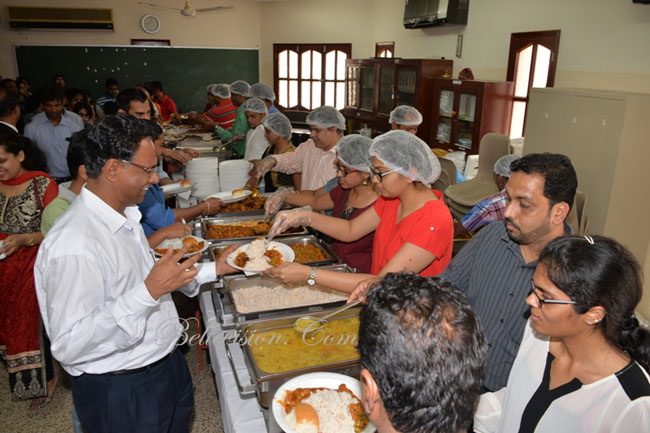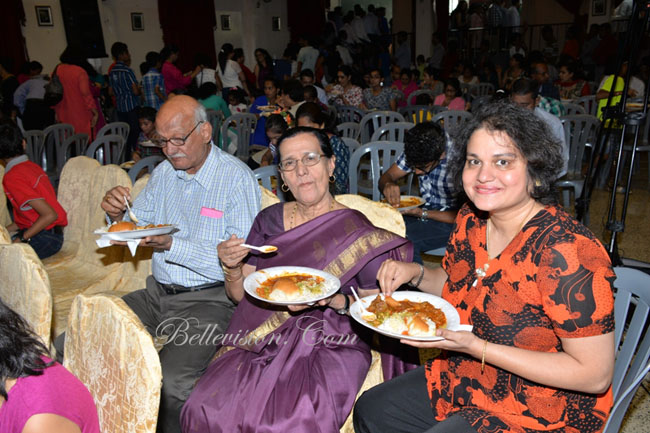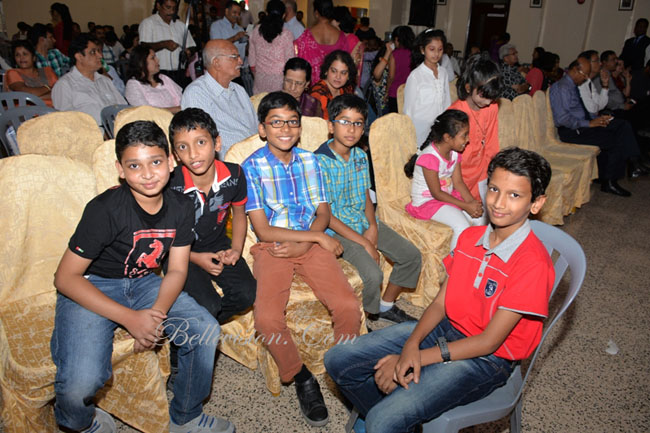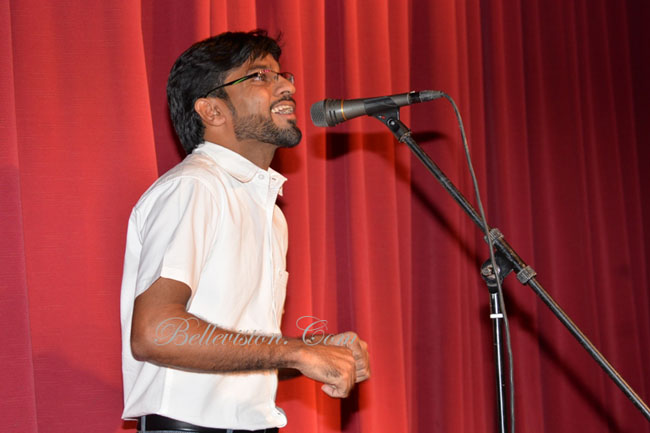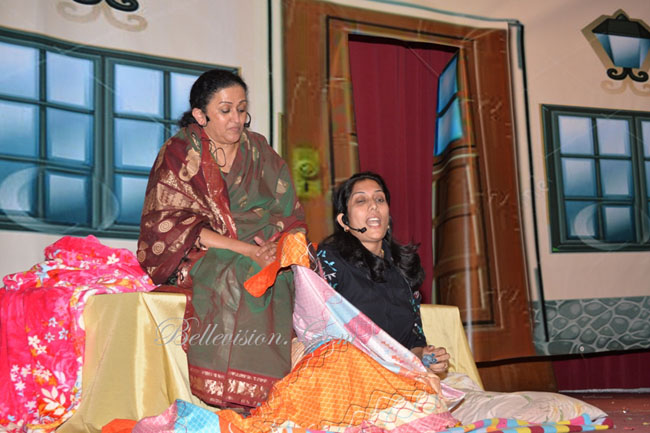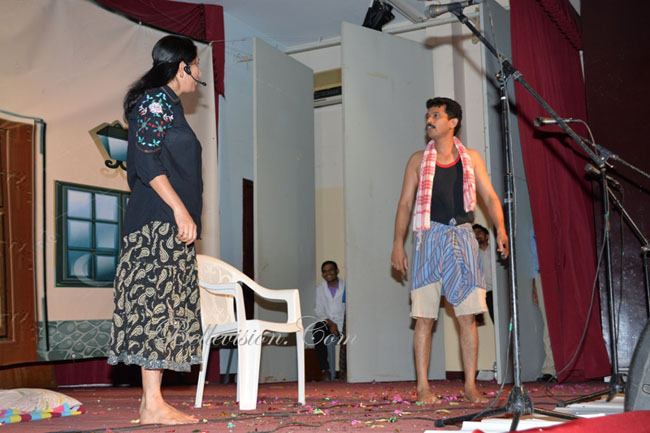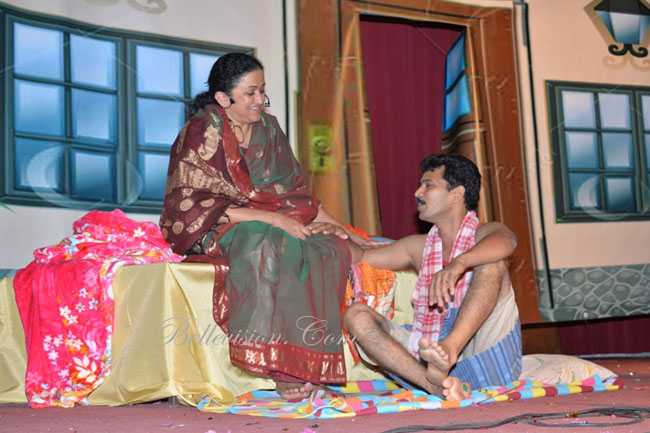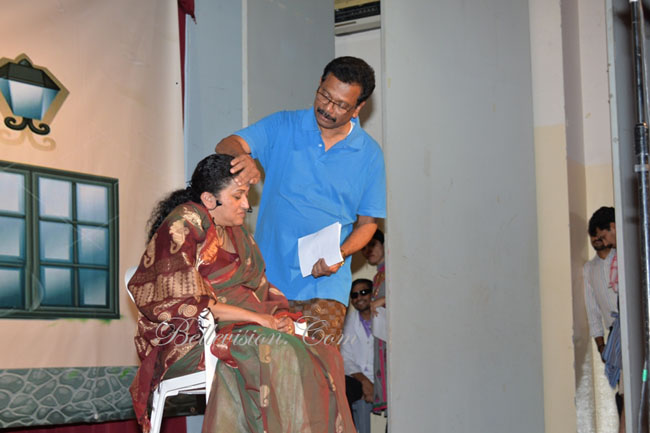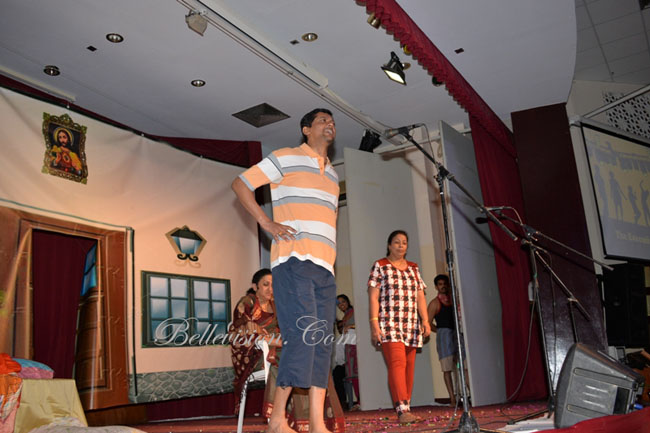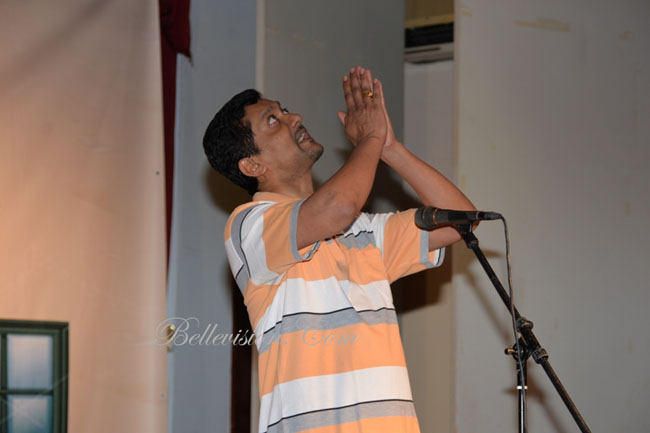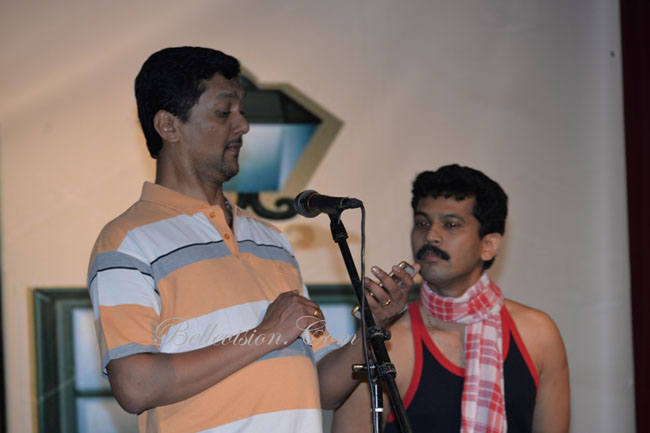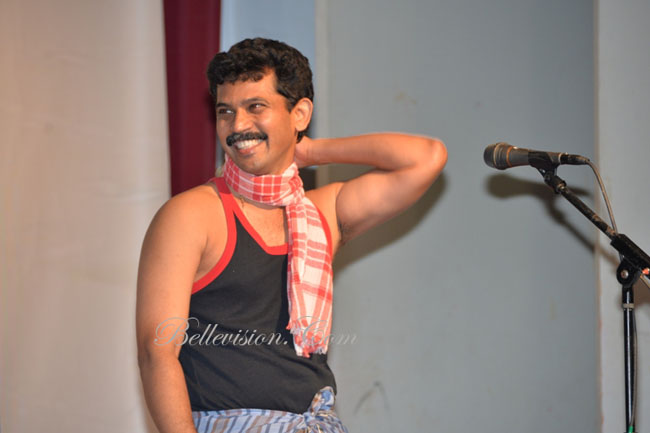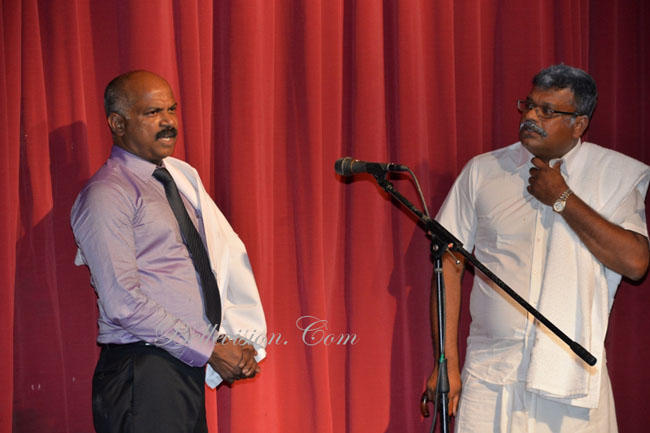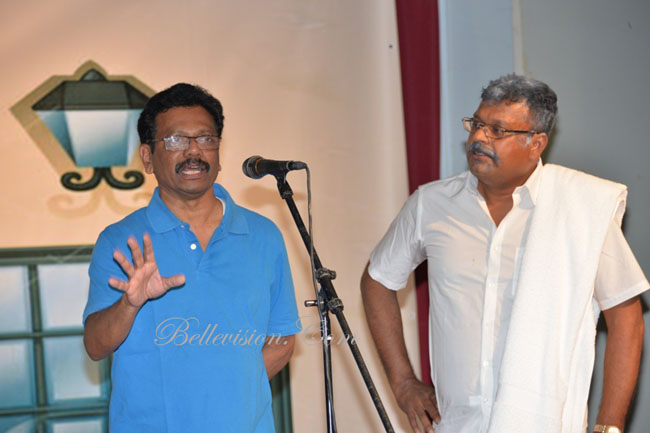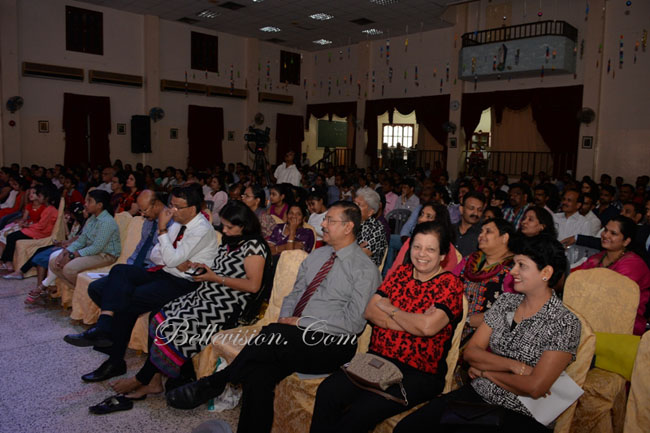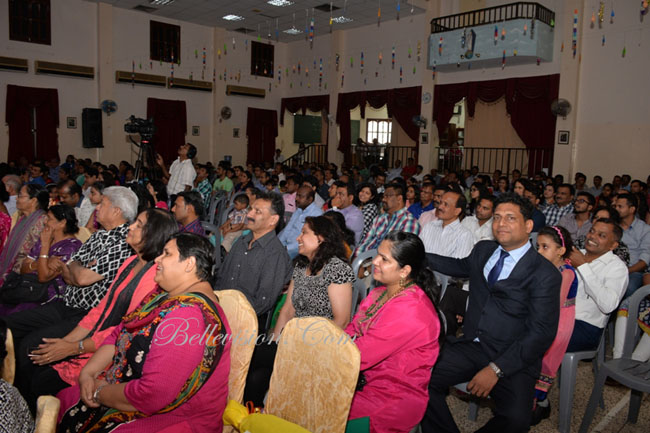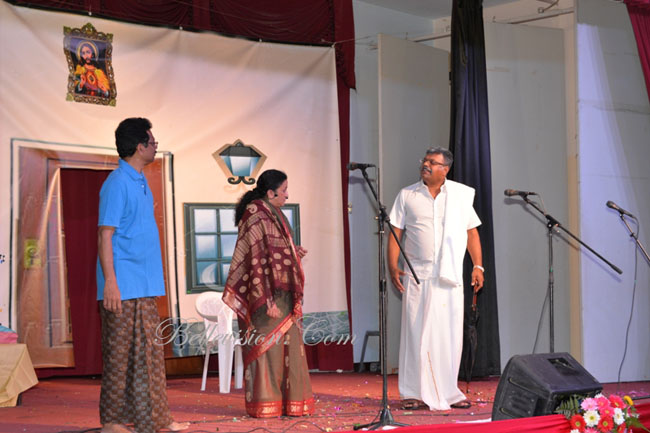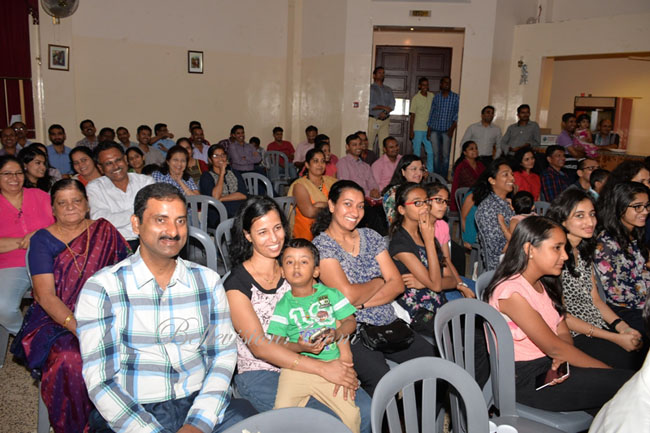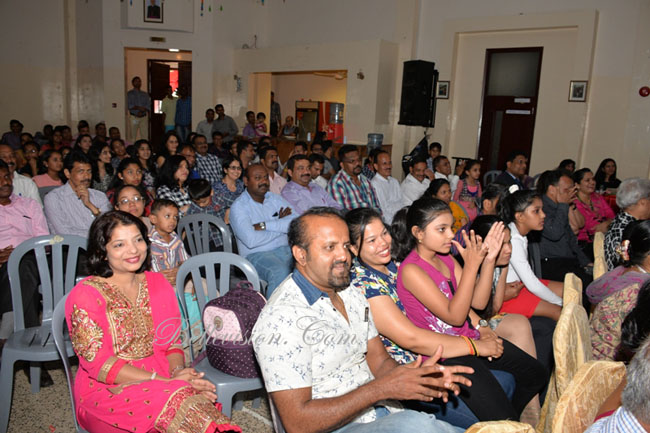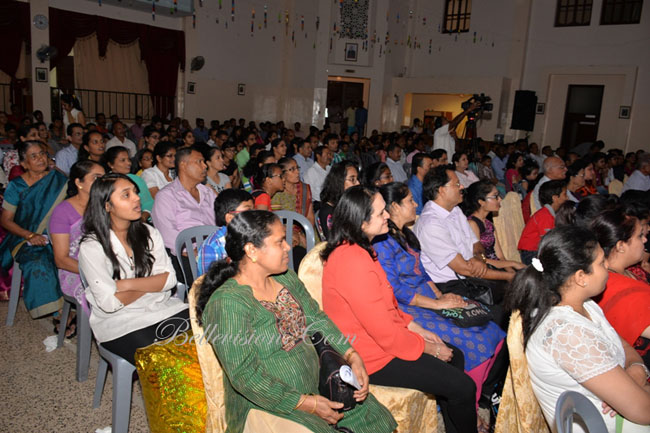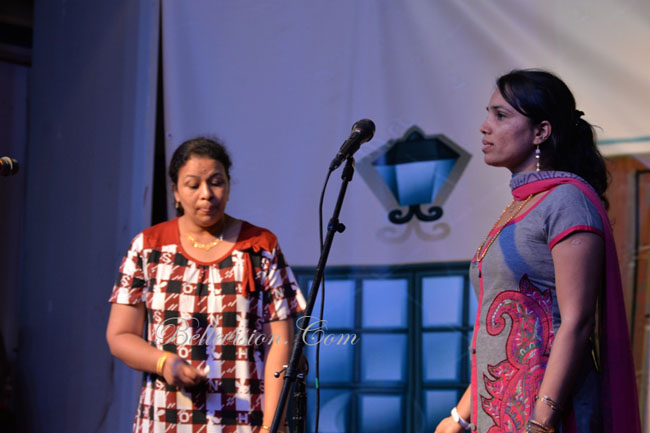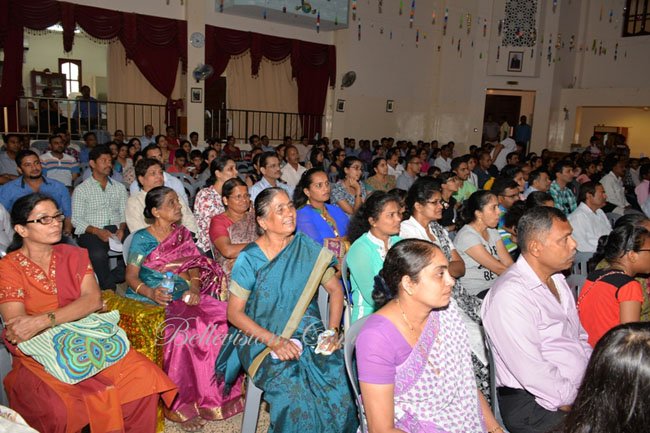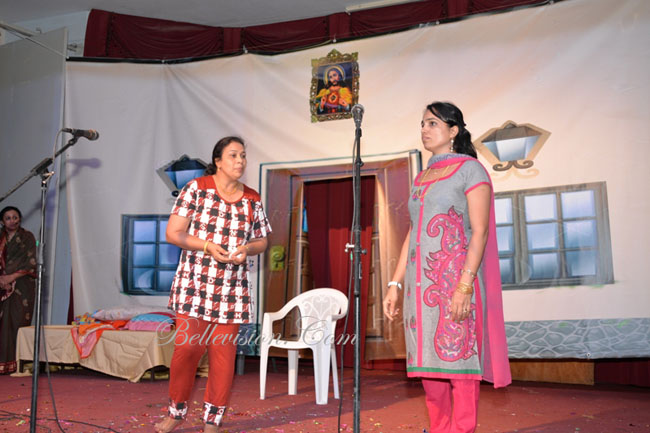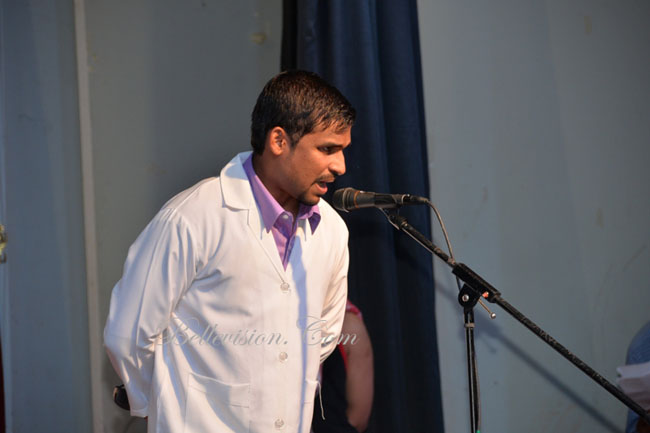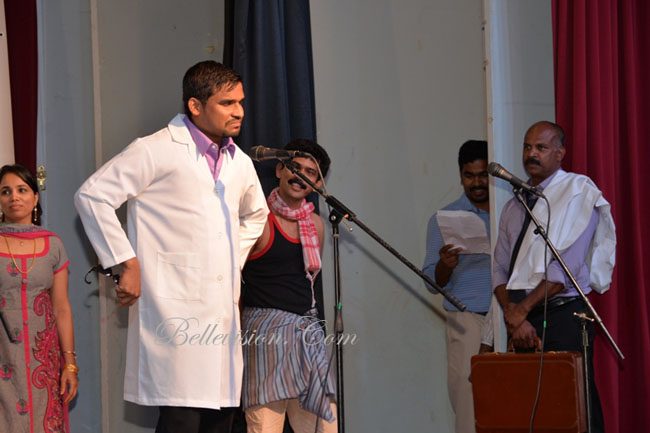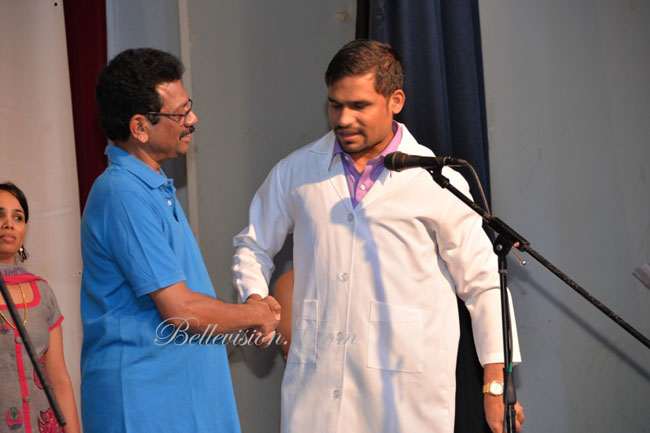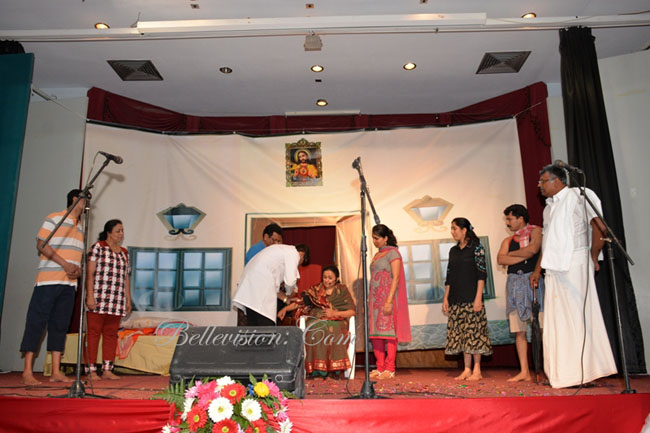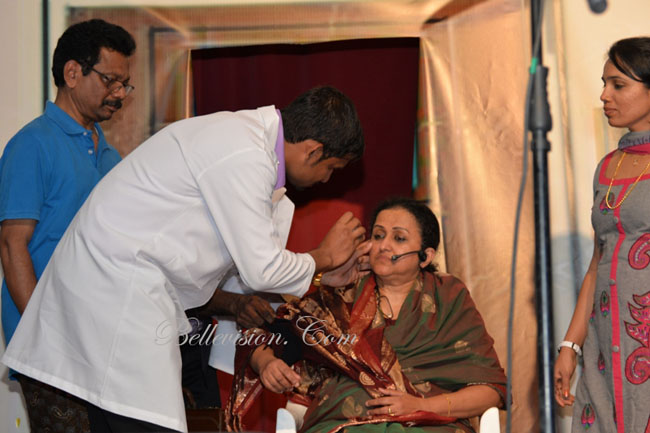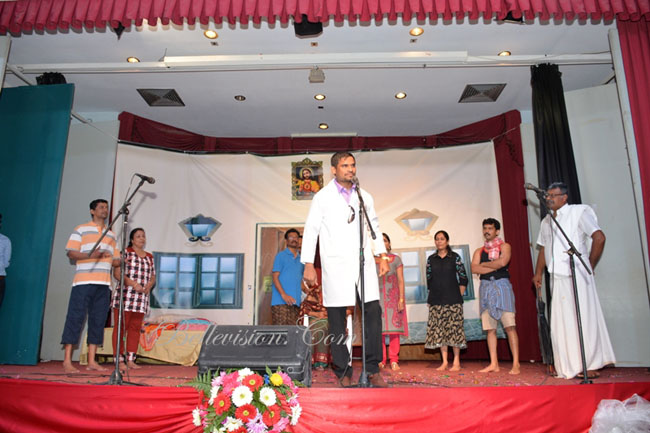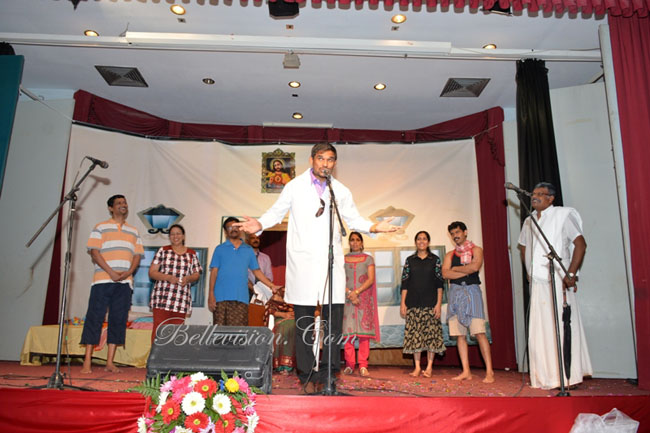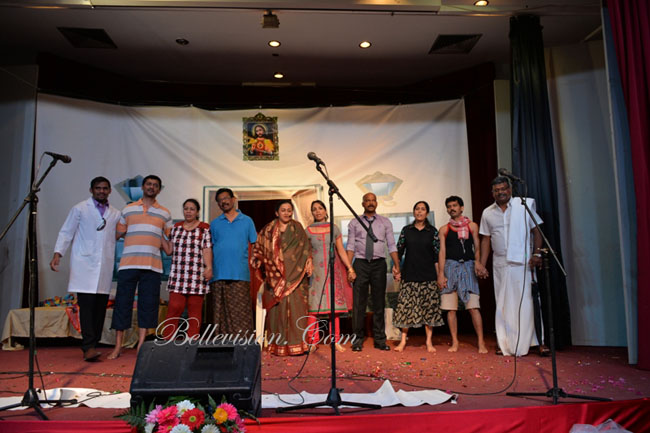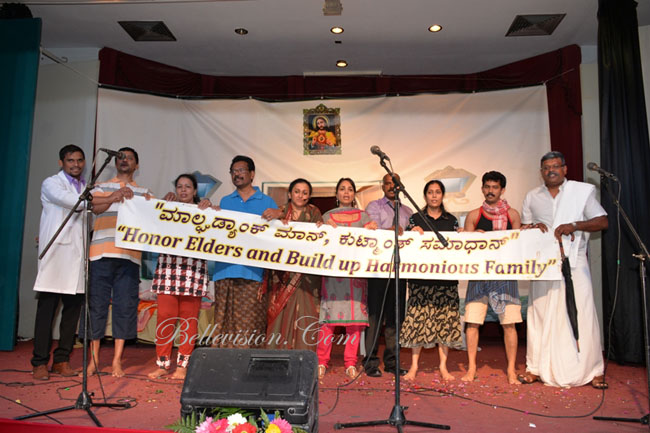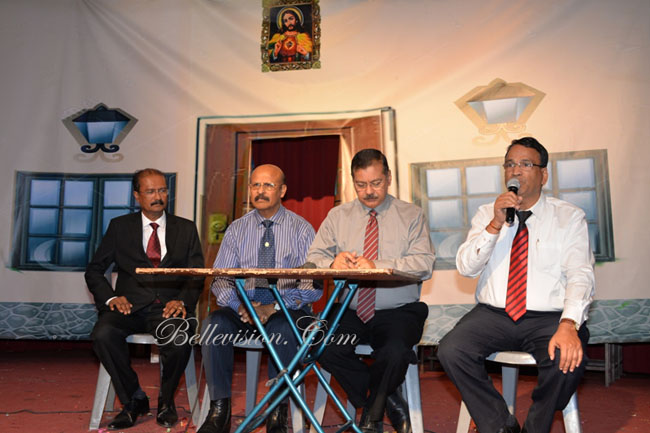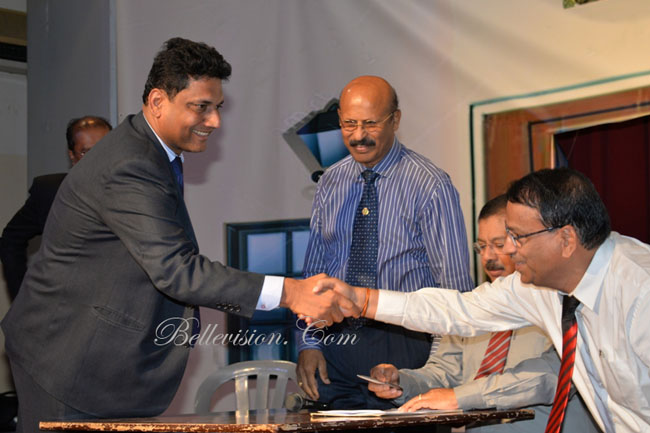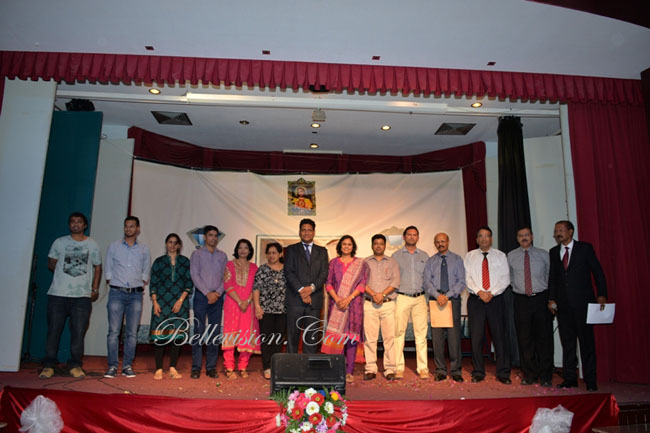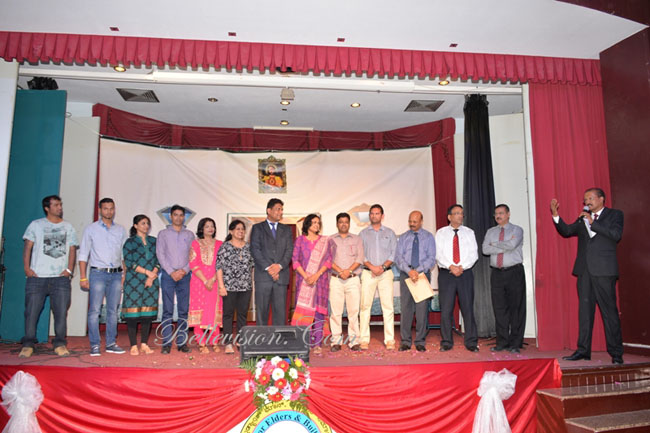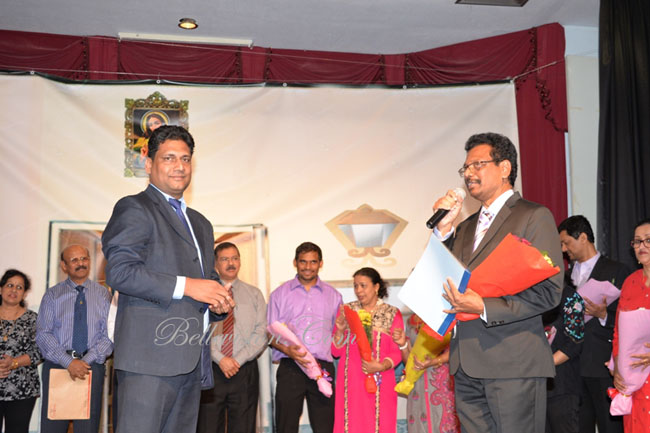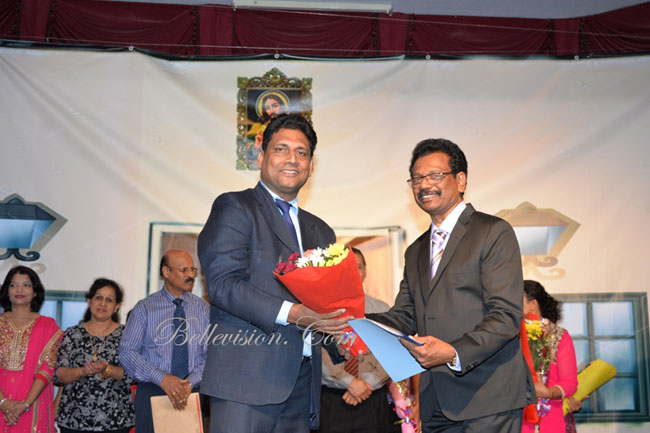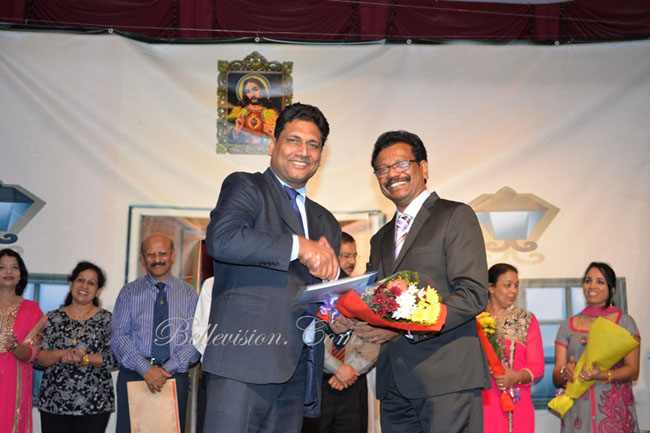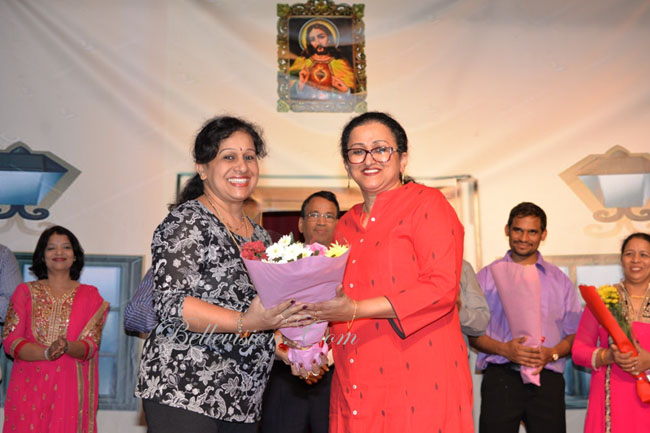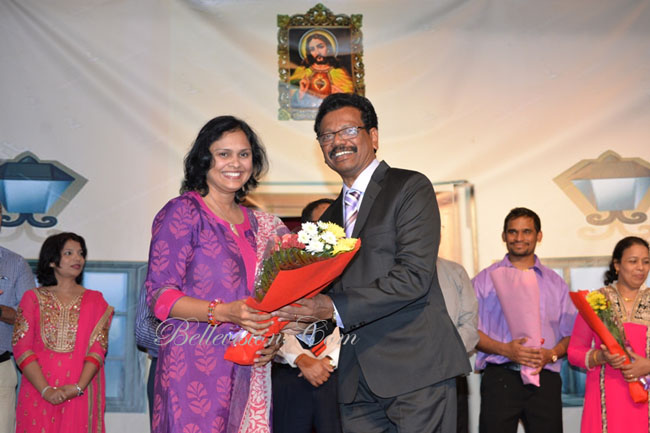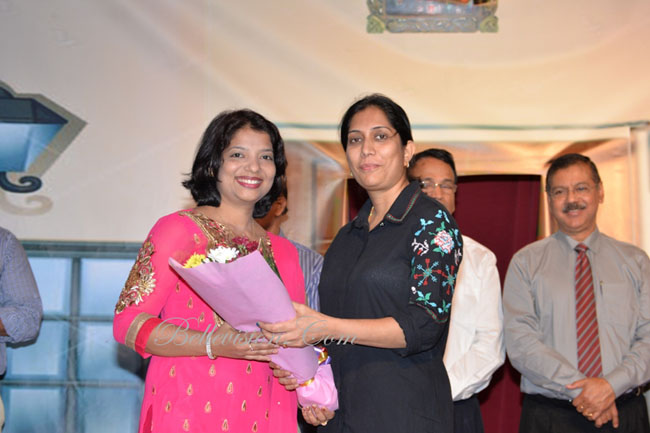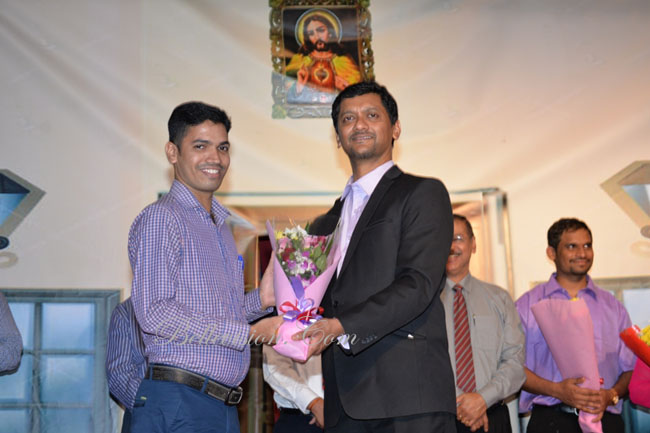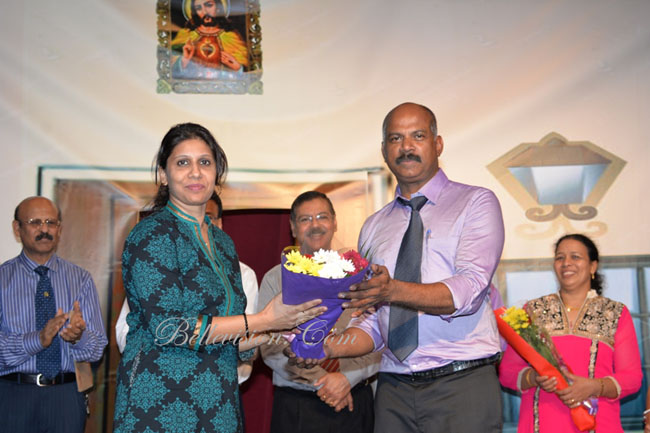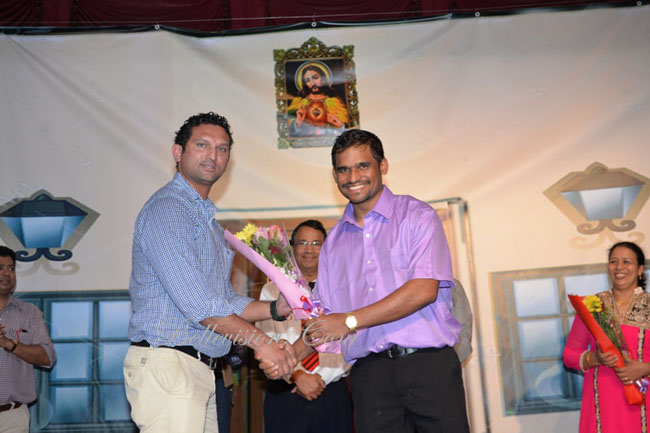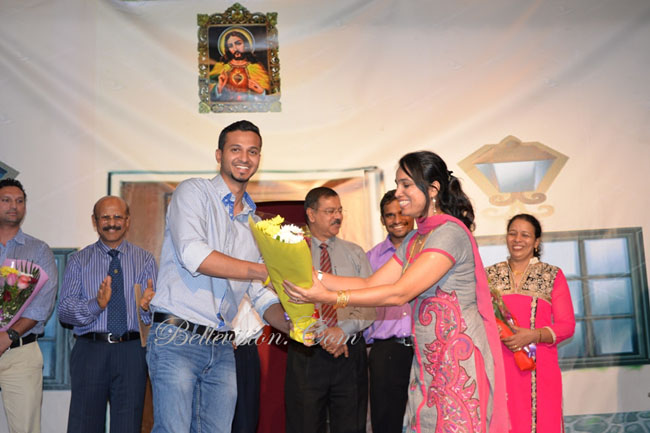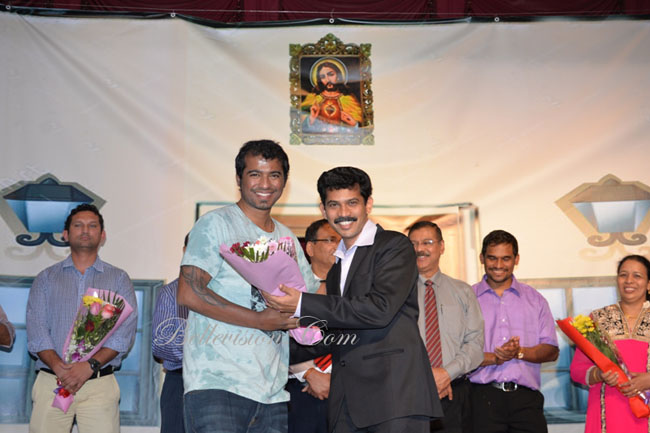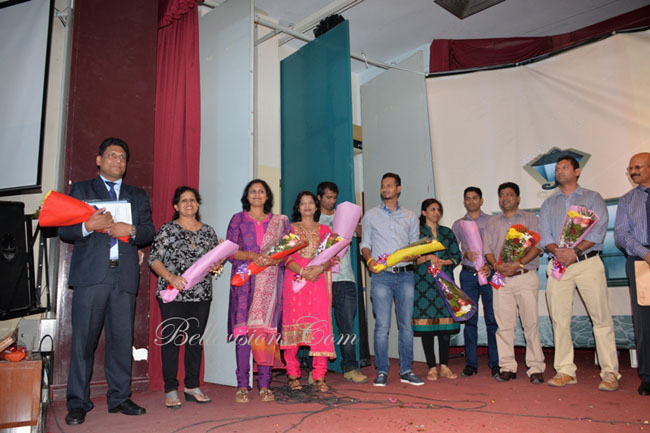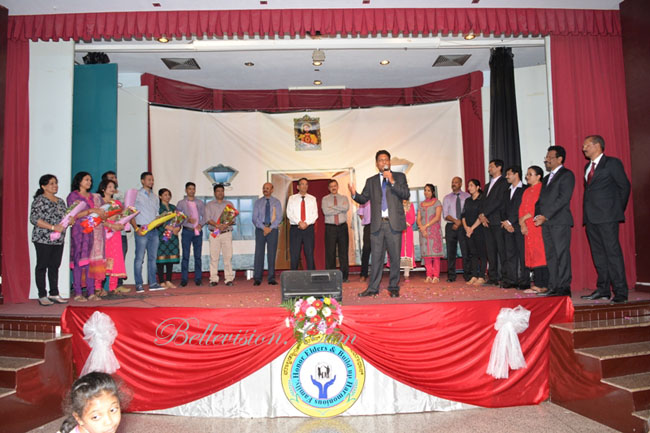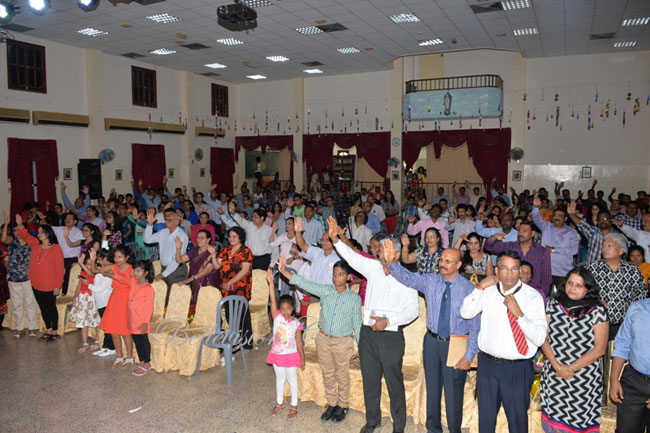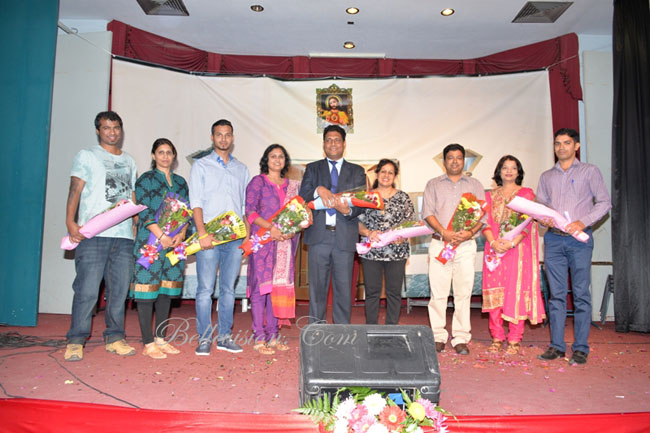 The current executive Committee (Team 24) with the theme of the year 'Malgadyank Maan, Kutbant Samadhan' had sent out an invitation to all senior citizens in the community in the age group of 60 years and above. They were given a distinct place among the audience and were treated as special guests. Anitha Danthi, the Spiritual Secretary called them on stage one by one. The President along with Core Committee members honoured these elders of the community with special gifts. One among elders, Mrs. Celine Dion Fernandes volunteered to showcase her talent as a mouth organ player. She played some popular songs and mesmerized the audience, who were surprised at her remarkable ability at this age, who celebrated her 77th birthday one day before.
The contribution of volunteers and enthusiastic supporters was then highlighted and were called on stage by Sudhir P (Internal Auditor). They were felicitated by John Gonsalves. A special mention was made about Lancy Lobo for his unstinted support during the entire year and he was presented with a memento. The President also deeply thanked the Core Committee members Stanly Fernandes, Henry Martis, Clarence Pinto, Donald Pinto and Suraj Rebello for their guidance during his tenure and presented them bouquet of flowers.
To lift the spirit of the crowd, brilliant comedy actor Peter Fernandes and Jeevan Fernandes presented a rib tickling skit, which had the audience in splits. Anitha Danthi then said the grace before meals and invoked God's blessings on the food and all those partaking in it. A delicious Mangalorean menu was served to everyone present.
After the meal, Peter Fernandes continued with his Comedy act, but this time as a stand-up comedian. Then, Team 24 presented a humorous Konkani play titled 'Bolaikechen Vokoth', enacted by all the members of the Executive Committee. The play was written and directed by Peter Fernandes and coordinated by Lancy Lobo. The play had a social message that the elders in our family need love from us and that cannot be compensated with money. The crowd highly appreciated the play as they felt that the social message was very touching and relevant to the current times.
Priya Menezes (General Secretary) proposed the Vote of Thanks, citing everyone who in one way or the other had helped MCCP to conduct various programmes during their tenure, including the co-sponsors of today's event Al Hajri Trading Co. Al Jassr Furnishing.
Finally, it was time for appointing the new Executive Committee for the year 2016-17, which also marks the 25th year for MCCP. All present were anxious to know who would be shouldering the responsibility of leading MCCP in its Silver Jubilee year. The Core Committee members Stanley Fernandes, Henry Martis, Clarence Pinto and Donald Pinto took centre stage as Returning Officers. Based on nominations, the following members stepped forward to become part of the Executive Committee 2016-17.
President: Dilip Correa
Vice President for Sports and Finance: Jessie Pereira
Vice President for Cultural, Spiritual & Community Services: Lavina D'Sa
General Secretary: Melita Alva
Honorary Treasurer: Ashok Pinto
Internal Auditor: Trecilla Menezes
Sports Secretary: Lynel Lobo
Cultural Secretary: Jason Cardoza
Spiritual Secretary: Naveen Mascarehnas
Community Services Secretary: Sachin Joy Lobo
The outgoing President, John Gonsalves, handed over a bouquet to the new President Dilip Correa, and wished him all the very best assuring full support from his team and himself. In reply, Dilip Correa said that while he would continue to maintain traditions of MCCP, he would also try to infuse fresh and new ideas during this 25th year. He said that his team consists of both youngsters as well as experienced members, which would help him to realize that dream. The new office bearers were welcomed and given bouquets by their respective counter parts in the current committee.
The curtains came down to indicate the end of the 24th Annual Days well as the tenure of Team 24, which ran the show of MCCP for the last one year. However, it also marked a beginning for Team 25 as MCCP steps into its Silver Jubilee year.