Norbert Pereira Presents Moga utar releasing on September 8
Review of 'MOGA UTAR'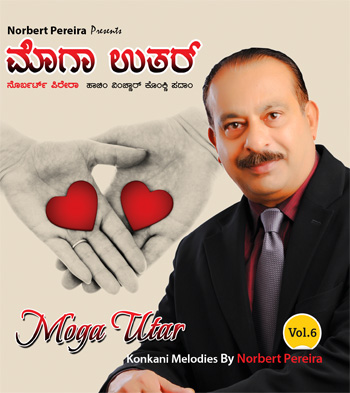 Norbert Pereira, known popularly as Nobby by Konkani music lovers needs no introduction. He has created a niche for himself in Konkani music world through his unique, innovative and creative compositions. Despite being away from Mangalore for long, has remained in the hearts of Konkani buffs through his melodious and memorable compositions. The man known for popular numbers such a 'Dees Ami Axelo', ' 'Rita Mojha Moga', 'Bara saron tera', 'Xetkar', 'Prathver Kallok Mandtana', 'Mira','Maria', 'Paavs', 'Kazar' 'Do Re Me Fa' etc is again hitting the news headlines with this forthcoming release 'Moga Utar'.
Nobby's upcoming music album 'Moga Utar' is a perfect blend of creative and innovative music with rich lyrics. The album comprises of 11 melodious numbers and each of the songs has Nobby's trademark touch of innovation, creativity and experiment. Again Norbert has blended melodious ballads, slow rock with his favourite pop and jazz numbers. There's a neat and equal blend of baila, folk and tradition.
Two stand-out songs of this album for me are of two different genres. The first one is a solo number 'Tuje Sobit Dolle' sung by young yet popular Prajoth D'Sa, fondly known as the Sonu Nigam of Coastal belt. Prajoth has mastered the art of mesmerizing listeners with his soulful singing. His soothing voice is medicine even to ailing hearts. But what sets him apart is his soul in songs. I am sure this song will be a favourite dedication of every young man to his Valentine. The more you listen to this song, the more you fall in love....that's the power of this composition.
Then there's the title number 'Moga Utar', a soul-touching duet sung by Norbert and Ivy. This song perhaps would make into several wedding parties and even competitions. Ivy D'Souza has been around for long and has made a name for herself with her unique tone and texture. She has rendered hundreds of memorable solo and duet numbers in the last decade or so. Nobby's previous album Do Re Mi Fa had one similar duet Dis Ami Axelo which is still a great hit. And again Norbert has come up with a perfect duet number that would get an encore everytime it is sung anywhere. Ivy's mellifluous voice is in perfect match with Nobby's deep, sonorous voice in dishing out an eternal duet.
Konkani's Dream Boy Rony D'Cunha, whose golden voice is unparalleled, has lent his voice to three numbers, a solo and two duets, one each with Nobby and Ivy. His solo Sinorita is a foot-tapping dance number. Young, up and coming singers must listen to Rony if they would like to become good singers. His voice quality, rendering and presentation are impeccable. Sinorita is a baila number and yet it has Rony's stamp on it. Though these kinds of numbers are not entirely new to Konkani music, the composer seems to have understood the fact that it is only these kinds of numbers which have commercial value 'Hanv Tuzo Tum Mujem', is a duet number rendered by Rony along with Ivy. It is not only rich in lyrics but goes with a melodious tune too. Both the singers have indeed given life to the lyrics of Nobby.

Young singing couple Robin and Carol Sequeira are amongst the popular singers in Konkani for the last few years. Robin, who was recently crowned Rai Kogull at SOAD 4 has lent his voice to number of Konkani albums in the last few years. He is an owner of sonorous voice and his solo number 'Axem Kityak Bognnam' gives ample proof of his precious talent. Though it is a simple composition with light lyrics, Robin has enlivened the song making it his own. It's a song that would keep haunting the listeners again and again due to its simplicity. Similar is Carol's solo number Sopnnantlo Cholo. It has rich lyrics and ear-catching tune and Carol has stamped her authority all over the song. She indeed has all that can make her good singer in the days to come. Raja-Rani, a duet by Robin and Carol is captivating. While the lyrics are cleverly penned, what the listener would take home is its foot-tapping melody.
Nobby's life partner Nancy to whom he credits his success has been Nobby's strength during his musical journey through all these years. She is a talented singer and her rendering of solo 'Sangeeta' gives ample proof of her talent. There is no doubt that she has done full justice to this composition.
'Dudu', a duet by Nobby and Rony is a blend of meaningful lyrics and foot-tapping tune. So is the last number Bharat Desh, sung by Nobby. This song surely would be a sought-after number for group dances and tableaux.
All in all, 'Moga Utar' is mirror to Norbert's rich talent and his love towards Konkani. Amidst the inflow of young blood into Konkani music world, Nobby is still able to create his own space owing to his creative compositions.
Roshan Angelore, young yet most sought-after musician has set the background score. He is a self-made achiever who has climbed the ladder of success with hard work and his dedication to music. Roshan's possession for perfection and desire to be different sets him apart from his peers. That is why for the last few years, he is by far the best musician in Konkani having sound knowledge of western as well as traditional music. While composers are soul of their albums, Roshan is the heart.
Moga Utar is a super fusion of traditional melodies with modern styles and is a must buy to the Konkani music lovers who have a penchant for different genres of music.
Review By- Almeda-Qatar
About Norbert Pereira
Norbert Pereira has carved a niche for himself in Konkani music world. Amidst the inflow of young blood into Konkani music world, some of the established and popular composers have still been steadfast and they have adapted and contributed with the same zeal and love for Konkani. Norbert Pereira is one such musician who despite being away from the native has regularly contributed in his own way.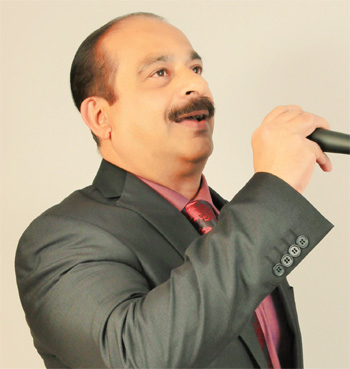 His music albums 'Love Hits', 'Konkani Pops', 'Tuzo-MuzoMog' , 'NaachNaach' and 'Do Re Me Fa' have established him as one of the premier musicians & melodious singer of Konkani. Some of his compositions such as 'Rita Mojha Moga', 'Prathver Kallok Mandtana', 'MiraMira','Maria', 'Paavs', 'Shethkar', 'Dees amiAshelho'& "Do Re Me"etc have gained popularity and have brought in a name and fame to him and have proved his immense talent. His distinct love for pop has always been the hallmark of compositions. He's one of the first Konkani composers who tried to blend western music with the traditional Konkani music such as folk and baila and his success perhaps even prompted many more to introduce such experiments in Konkani. He composed his 1st song 'PrathverKallokMandtana', at the age of 19 years, which won many prizes during singing competitions. Even today Bands are playing this number more frequently for functions in and around ofM'lore.
With his latest album 'Do Re Me Fa,' got good response and apperception from Mangalorean community. For his melodious songs and music contribution, Konkani Catholic Association (KCA) of Mysore awarded him with title "Konkenecho Sangeeth Kuvoor". He is popularly knownas Nobby has made the world of Konkani music richer and more proud.
His latest album Vol-6 "MogaUthar" is ready for release. He says this album too has soothing music & melodies to win hearts of Konkani music lovers and sure these songs also will remain as popular like his other old melodies.
During his college days, he has won "Konkani Natak Sabha" M'lore singing competition for solo and duet categories and also won many prizes for Hindi film songsduring inter-college competitions. Even today he admires old Hindi film songs.
Norbert Pereira is originally from Angelore Parishbutpresentlybelongs to Milagrese Parish Mangalore.

Watch Promo
Norbert has performed several shows in Mangalore, Mysore,Doha and Kuwait. In addition to his solo performers Norbert has performed with famous singers& composers like WilfyRebimbus, Henry D'souza and with many other younger singers too.
Norbert feels that singing is such a beautiful thing that he wishes everyone could sing and be happy in this world.
Music is like water, it flows, it has no boundaries no limits, you have a rhythm beat,and the floor is yours.