Mangaluru: Dr Veerendra Heggade to adorn Padma Vibhushan
Mangaluru, 25 Jan 2015: Yet another feather has been added to the crown of Sri Kshetra Dharmasthala that has already been basking in glory owing to its immense contribution to the society.
The Kshetra's Dharmadhikari Dr. D. Veerendra Heggade is now a recipient of Padma Vibhushan award, the second highest civilian award in the Republic of India for his exceptional and distinguished service to the nation.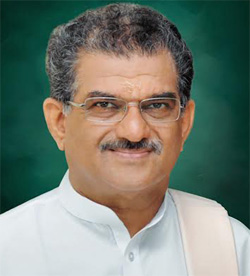 Speaking to media, the living legend opined that the award is a recognition to the services he has been able to offer to the society.
"I am blessed. I believe this award is a recognition to my service. On this occasion, I would like to thank all the pundits and staff associated with the Kshetra and all the organizations associated with the Kshetra. This would not have been possible without them," said a mighty pleased Dr. Heggade.
He has previously been honoured with the country's third most prestigious Padma Bhushan award.
"I received Padma Bhushan almost 10 years ago. Since then, the Kshetra, its sister concerns and our services have expanded manifolds. I am happy that my organizations are reaching out to the needy. I've never worked for recognition and I would continue to offer whatever help I can," he said.
"The Lord almighty provides ample opportunities for each one of us to help others. I think I have been able to establish upon such opportunities that came my way," Dr. Heggade said.
Three formulae to be followed in life
1) Serve
According to Dr. Heggade, every individual or organization must try and help out those in despair and their deed will surely fetch them rich fruits in their lifetime. Also, by helping others, one develops his own personality both internally as well as externally.
2) Offer unconditional help
Stressing on the need to help each other, he said that a person needs to offer help to the one in pain even before the person concerned asks for it. This will provide immense peace of mind to the benefactor.
3) Guide
"There are hundreds of people out there gifted with sufficient knowledge on a given issue. On the other hand, there are thousands who are capable of touching the skies but are choked of guidance. You be the guide for somebody. As far as my knowledge is concerned, I've always been guiding people with whatever little I am gifted with," said Dr Heggade.
Born on November 25, 1948, Dr. D. Veerendra Heggade succeeded to the post of Dharmadhikari at the age of 20, on October 24, 1968 becoming the 21st Dharmadhikari of Dharmasthala Temple. In less than four decades, he has carried his heritage to greater heights. Not only by continuing to protect the essence of the Kshetra, but also by achieving remarkable progress in his service to mankind.
His contribution in the field of health, education, religion, art, literature and culture in incredible. He has made a world good to millions through his RUDSET organization and has given a new lease of life to hundreds by organizing free mass weddings. His contribution in the field of health care, yoga and moral science through various schemes has shaped thousands.


Dr Heggade's medical college and hospital in Dharwad, dental medical college, engineering college and management institutes in Mysuru have been recognized at the national level. His Dharmasthala based Shantivana Trust's initiative to hold yoga class simultaneously in Dakshina Kannada and Udupi districts created a milestone by entering into the Guinness Book of Records for holding the 'largest yoga class'.
Hundreds of awards bestowed on him seem too small a figure for the amount of contribution he has rendered so far. The fame and the followers Dr. Heggade has garnered throughout the world speak for his magnanimity.