B'lore-Chennai double-decker train to ply soon
Bangalore, 10 March 2013 (IANS): The much-awaited air-conditioned double-decker train linking Bangalore and Chennai is set to debut this month.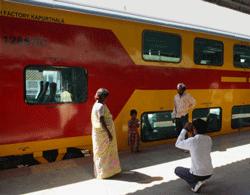 Indian Railways have been operating double-deckers on three routes: Howrah-Dhanbad; New Delhi-Jaipur and Mumbai-Ahmedabad since 2011-12.
The Bangalore-Chennai service is expected to lure more passengers to take the train, rather than ride a bus on the 360-km route. The trip will take six hours.
"The double-decker train is on trial run for a fortnight, and its operations are being fine-tuned in terms of safety, speed, halts and other technical parameters. Once we get statutory clearances, we will introduce the service before this month-end," Bangalore division railway manager A.K. Agarwal told IANS.
To be operated daily, the train will initially have 10 AC chair cars and two power cars for air-conditioning, lights and auxiliary services.
"Each coach will have 120 reclining seats, with 50 in the upper deck, 48 in the lower and 22 in the middle, split at entrance on both sides. Being a double-decker, the train will carry 42 more passengers in each coach as against 78 per coach in a Shatabdi," Agarwal said.
Unlike in Shatabdi, where food service is included in the fare, passengers in the double-decker will have the choice of ordering a-la-carte menu from pantry service in each coach as in other superfast trains like Brindavan Express and Lalbagh Express.
"As the fare to travel in double-decker will be same (Rs.440) as in AC chair car of Brindavan or Lalbagh, we are confident of attracting more passengers to travel by this train than bus or other modes of transport," Agarwal said.
With 1,200 seats in the double-decker, the railways will not only be able to ferry more passengers to Chennai or eight other destinations in between the two metros, but also offer a choice of travelling in AC comfort.
"Though we are operating seven mail/express trains, including two Shatabdis daily between the two cities, we are unable to meet the surging demand, as evident from long waiting-lists, especially during the peak season. A double-decker will meet the shortage and tap the huge potential passenger traffic from the road sector," Agarwal noted.
The double-decker is equipped with GPS (global positioning system)-based information system that scrolls its real-time running position, speed, distance to the next station in English, Hindi, Kannada and Tamil.
As the train will run at about 100 km an hour in some sections, the Kapurthala coach factory in Punjab has fitted the coaches with air suspension system and shock absorbers to minimise vibrations.
"The overall height of the double-decker coaches have been increased marginally by 116 mm (4.5 inches) keeping in view overhead structures, bridges, electric traction equipment and platform roof," an official of the Lucknow-based Research Design and Standards Organisation (RDSO) of the railways told IANS.
The coaches being two meters longer, the space between each coach is, however, lesser than in conventional trains.
The bright yellow coaches with red strips in between boast of features like aesthetically pleasing interiors, blue-cushioned seats with fire retardant upholstery, tabletops between seats in the centre and electrical points for charging mobile phones and laptops.
The double-decker also has filter control discharge toilet system.
The first double-decker was introduced between Howrah and Dhanbad in West Bengal Oct 2, 2011, the second on the New Delhi-Jaipur route Aug 25, 2012 and third on the Mumbai-Ahmedabad route Sept 12.