8 passengers die as they jump out of train in Andhra Pradesh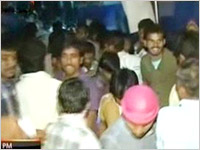 Vizainagaram, 02 Nov 2013 (AP): Eight passengers were run over and two injured on Saturday when they came under a train coming from the opposite direction after jumping out of their train following rumours about fire in it at a place near Vizainagaram.
The incident took place at around 6.50pm when rumours spread about a fire in Elappi (Kerala)-Dhanbad Express train, triggering panic among its passengers, a spokesman of East Coast railway told.
The passengers of the express train pulled the chain, brought it to a halt and jumped out but were crushed under the wheels of Rayagada (Odisha)-Vijaywada passenger train coming from the opposite direction on the adjacent track, he said.