Advance booking period for train tickets reduced to 60 days
New Delhi, 25 Apr 2013, (PTI): Railways has reduced advance booking period from four months to two months from May 1 as part of its efforts to prevent touts from cornering bulk of tickets.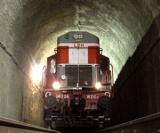 The advance reservation period (ARP) for booking reserved train tickets will be reduced from existing 120 days to 60 days (excluding the date of journey) from May 1, according to a Railway notification issued today.
However, all the bookings done up to April 30 under the existing ARP of 120 days will remain intact.
"The reduction of advance reservation period to 60 days will be a deterrent for touts who book bulk tickets in advance. We hope the reduction of booking period will help genuine travellers," a senior Railways official said.
"It has been found that passengers generally book their tickets two months in advance before the journey," the official said.
Cancellation of the booking made beyond the ARP of 60 days will, however, be permitted. There will be no change in the case of ARP limit of 360 days for foreign tourists.
Currently, tatkal tickets are issued only on the production of self-attested photocopy of a valid identity proof. No agents are allowed to book tatkal tickets from 10 AN to 12 PM over the internet.
Railways conduct regular raids at rail stations to keep a check on tout menace.