How organic is your garden?
Students benefitted by a workshop that taught them the importance of growing organic vegetables.
26 Jun 2012: Recently, a workshop was held in Polali in Mangalore to make people aware of the importance of growing organic vegetables.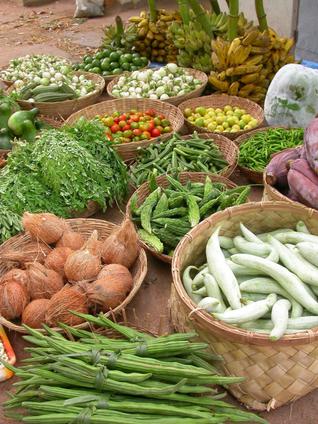 About 70 students from rural areas around Polali and their teachers were present. Farmers and the schoolteachers too attended the workshop. Bhagyalakshmi, a teacher, said that the students, from Stds. VI, VII and VIII, were from agricultural families. She was happy that the children could tell their parents about the workshop.
Student speak
Suchitra, a Std. VIII student, and her friends, keenly took down notes. They were students from Sri Vidya Vilas Aided Higher Primary School, Polali. She said that she had come to attend the "krishi mela" (agriculture meet) because she wanted to know more about growing vegetables. She helped her grandfather in the fields. "I planted 'bhattha' (paddy) some days ago," she said. Priya, her friend, said she wanted to know how to grow vegetables at home. Her father does masonry work and her mother rolls "beedies", she said.
Billampadavu Narayan Bhat Vittla, an agriculturist and the resource person for the event, told the gathering that he grew vegetables without using chemical fertilizers. He said they were healthier (than those grown with chemicals), and that one could sell them in Mangalore for a good price. He told them that seeds must be sown so that the vegetables would be ready to be sold during festivals.
Sadananda Rai, President, Vijaya Rural Development Foundation at the Polali level, was also present at the meet. An official from Vijaya Bank, who heads the bank's branch in Polali, said the aim was to create awareness among children.
Mr. Bhat had brought 35 seeds of different kinds of vegetables. He showed the children photos of vegetables such as white and red lady's fingers.