Why coconut oil is good for your skin
17 May 2015: Coconut oil is considered one of the best oils that is mostly used for treating any kind of hair problems — be it dandruff, itchy scalp etc.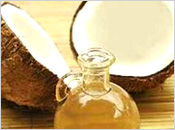 However, coconut oil according to Ayurvedic experts is also considered to be one of the best ways to treat any skin-related disorders. Here are a few problems that can be healed using coconut oil.
Acne and acne scars
The application of coconut oil can help reduce the occurrence of acne. Mostly acne happens when the pores of your skin gets blocked. Coconut oil not only helps clear the pores but also reduce the swelling around the area. Further, acne scars can also be treated using coconut oil. Regular application of this oil will lessen the scar and also clear your complexion.
Itchy skin
Another advantage of using coconut oil on your skin is that it helps treat itchy skin. It soothes the skin and also hydrates it so there is no way you can develop dry skin.
Cures skin rashes
Skin rashes are common during this season. Thus, the application of coconut oil will make your skin super soft and will reduce the occurrence of rashes.