Spoonful of yoghurt a day may keep diabetes at bay
London, 27 Nov 2014: A new study has revealed that eating one table spoon of yoghurt can dramatically cut your chances of getting diabetes.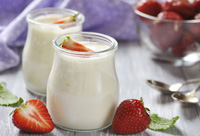 The researchers revealed that daily tablespoon of yoghurt reduces the risk of getting type 2 diabetes by nearly a fifth, the Mirror reported.
It was found that the amount of dairy foods in general people ate did not cut the risk of developing diabetes in the study participants who already had it, but when they looked at eating specific products - such as milk and cheese - they spotted the link between yoghurt and a lower risk of Type 2 diabetes.
The researchers discovered that eating one 28g serving of yoghurt per day was associated with an 18 per cent lower risk.
Professor Frank Hu at the Harvard School of Public Health said that they found that higher intake of yoghurt is associated with a reduced risk of type 2 diabetes, whereas other dairy foods and consumption of total dairy did not show this association and the consistent findings for yoghurt suggest that it can be incorporated into a healthy dietary pattern.
The study was published in open access journal BMC Medicine.