10 ways to deal with knee pain
13 Jan 2013 (Health Me Up): Knees are the most commonly injured joints in the body and the pain is among the most excruciating ones.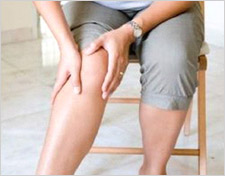 They are throbbing inflammations and cause stiffness of the joints. "Severe knee pain will never go away 100%. But you can make it negligible by taking few precautionary measures," says Chaitanya Shah, mobility consultant and Founder, Orthofit. Read on to know what you can do to deal with knee pain so that the problem becomes bearable.
For most forms of knee pain, applying ice is the first step to recovery. Ice also acts as an anesthetic to soothe the ache. Use an ice pack or ice cubes inside a plastic bag. Just make sure the ice pack is wrapped in a towel, so it does not come in direct contact with your skin.
Avoid the knee bashers. Some activities, such as running and hiking over hilly terrain put a greater demand on the kneecap than others.
Examine your shoes, no heels, no awkward bumps and no hard materials.
If there's any difference in the lengths of both your legs, ensure you get insoles so your body posture is balanced.
Muscle up your leg muscles. To strengthen the quadriceps, the thigh muscles that hold your knees in place, start with straight leg raises. Consult a physiotherapist for more exercises.
Work your hamstrings. To rehabilitate an injured knee, it is essential to build up strength in the hamstring muscles on the back of the thigh.
These six foods are excellent support for your knees; berries, ginger, avocado, flaxseeds, omega-3-rich fish, and soy.
Posture and you To get the most from your knees keep a good posture especially while at work. Attention is to be paid to the chair you are sitting on. If the chair is too low the knees are in flexion constantly, not good. If the chair is too high you are struggling for foot support. "Get a chair ideal for your height where your knees are bent at a comfortable angle, allowing you to sit down and get up easily. Sitting cross-legged and using low furniture can usher in knee problems over the years", points Dr Dilip Nadkarni, Orthopedic surgeon specialized in Arthroscopic or Key-hole surgery for the Knee Joint.
Excessive sodium to be avoided as it contributes to water retention and swelling, which puts pressure on your knees and causes pain.
The nightshade family of vegetables should be had in moderation; particularly if your knee pain is caused by arthritis. Nightshade vegetables include green peppers, cayenne, eggplant, paprika, tomatoes, and potatoes, all of which contain sotanine, a toxin to which arthritis sufferers may have a particular sensitivity.
Vitamin C is great for your knees. Ensure you stock up on this 'powerhouse' vitamin to keep your knees in shape.