5 Ways to work out at home
TOI


24 Aug 2012: You don't need an expensive membership to a fitness club or a personal trainer to be healthy and fit. Some easy workouts can be done from the comfort of your own living room.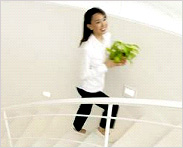 Not only does it give you privacy, but also a certain level of convenience and a relaxed ambience. You could exercise alone or call a friend over but always check with your doctor before starting an exercise program. Here are a few simple things you could do.
Stair climbing
If you have a staircase at home, you can get a great workout by simply climbing the stairs. To start, step up onto the first stair, and then back down. Repeat this move on the first stair ten times. Then walk up the first two stairs, and then back down. Repeat this ten times. You will definitely feel the burn by the end of this step routine. If you feel winded or dizzy, start slow. Stick with the first three stairs, and gradually build up your endurance over the weeks and months to come.
Laundry lifts
A laundry basket full of clothes can be more than a household chore .It can also serve as an arm exercise apparatus. Hold the basket above your head, and lift upwards and back down. Do this at least three times. If it is too heavy for you, all you have to do is take out some clothes. This exercise will work your shoulders, upper arms and upper back muscles. Vary this workout by lying flat on your back, and lifting the basket up and down from your chest.
Commercial break exercise
If you are a couch potato, then commercial break exercise bursts are right for you. When a commercial comes on, get up for a burst of intense exercise. Do some sit-ups, push-ups, jumping jacks, or crunches. Get your heart rate up. When the show comes back, you can go back to it. Continue the cycle throughout your shows.
Rolling chair presses
If you have an office chair with wheels then you can do some arm workouts right at your desk. Just hold onto the edge of your desk while you are seated in the chair, and use your arm muscles to pull yourself close to the desk, and then push yourself back away. This will work your biceps.
Marching dishes
Life is busy, so try to multi-task if you don't have time to fit in a proper workout. When you are stuck in front of the sink doing dishes, march in place. You should try to incorporate exercise into your daily tasks whenever possible.
Follow these simple steps and you will feel fit.