Walk backward for good health
TOI


02 Aug 2012: The ancient Chinese tradition of walking backward for health is set to become Mumbai's hot, new fitness fad.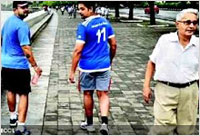 Forget the jump rope and motorised gym wall and those weights, for the new secret to health is actually quite the proverbial 'walk in the park'! It's going backwards. Before you get flummoxed, let us rephrase. The mantra that's got joggers and health strollers into a bind is about simply walking backwards, even at a pace, to rev up the health quotient. A huge hit in Japan, this philosophy of burning calories and revving up one's balance is becoming increasingly popular over 20 locations globally having set up 'retro-stepping' organisations.
Experts give go-ahead to going backwards!
Dr Hasmukh Ravat, Senior Interventional Cardiologist says a workout like this can set the right pace as there is a heart attack risk in tougher endurance sports. "Very strenuous exercise is associated with the actual deaths of heart-muscle cells," he warns. "A theory suggests that heightened adrenaline levels sometimes observed during prolonged exercise rather perversely lead to the constriction of coronary arteries, which results in localised cell death within the heart. So this seems a good thing but do not bend the knee while walking and choose an obstacle-free path."
Adds trainer Zarine Watson, "Retrowalking is a great way to stay fit. Because it's a harder activity for the body to perform, the calorific expenditure is quite high. It sharpens other senses and the step one takes is shorter, so it has a lesser impact on the joints. Unfortunately, we don't have too many open spaces in Mumbai for it. But, it can be done in the gym. You could have a partner as your 'eyes' in front of you.
Society's game too!
Perizad Zorabian remembers that walking backwards was something her late grandfather was asked to do in Manali, where they holidayed. "He had a heart problem and the doctor specifically told him to walk backwards on the slopes as that would be less stressful on his heart. For me, I usually do cardio, but I'd like to try out walking backwards as a change. However, I think people are so used to intensive workouts that it might take time for the trend to catch on." Ready to get used to the new monsoon workout?
Benefits
100 steps backward walking is equivalent to 1,000 steps conventional walking. Increases balance and vision Is good for the hips, legs, and trunk. Improves brain clarity.