Diet plan for new mothers
Mumbai Mirror


The postpartum diet need not be complicated - just a mix of age-old remedies and home science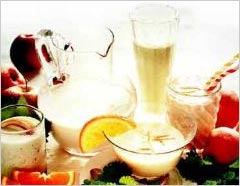 16 May 2012: The stork came and went, and left you multitudes of relatives who are telling you what to eat. They are peddling age-old remedies, while you are clutching on to your doctor's advice of no green vegetables or fruits. Iron deficiency, constipation and soreness are some of the things you may suffer, while expending more energy and needing more calcium. The best path is to try out both sets of advice and see what works for you.
Ketaki Karpe-Kolgaonkar, new mother and clinical pharmacist found that 'the diet should be all about the mother's needs'. "The baby takes the nutrition it needs and doesn't need any help doing that," she says. "Watch out for bacteria from unwashed vegetables, unpasteurised milk, unfiltered water or uncooked meats."
Raise calorie intake
Nutritionist Dr Shilpa Joshi emphasises on the importance of wholesome meals with no restrictions apart from oil and spice, unless the doctor says so specifically. "The mother needs extra energy, at least in the first six months, because she will be nursing the baby more often," she says. "So she needs to eat more calories, which will come from small meals, which are rich in proteins - nuts, daals and legumes."
If you are a non-vegetarian, don't switch to a leafy vegetarian meal instantly. This will cause you more harm than good. Eat shredded meat in soups and broths without too much spice or oil.
Pump iron
Since a new mother suffers from loss of blood, her iron levels could be precariously balanced. A little spinach can go a long way. Ketaki developed low iron levels in her second trimester, and panicked. "So I started to incorporate spinach in everything such as daal, chappati dough and even in chicken curry." She continued this after the baby came, which steadied her iron levels.
Milk the calcium
It goes without saying that you'll need lots of calcium so that the baby can use the cafeteria uninterrupted. "If you are lactose intolerant, and can't drink milk or eat milk products, go for curd," says Joshi. "Garden cress seeds (aleev or haleem), are a rich source for calcium. Traditionally, these are made into sugar-rich ladoos. If you are being careful about sugar, make a haleem kheer."
Water yourself
There's not much you can do to artificially stimulate breast milk, other than drink lots of fluids. Also, new mothers tend to be a little scared of the pain and resist passing urine or stools, which can result in constipation. Ordinarily, this can be resolved by medication, but because medicines will pass on the baby, it's better to take preventive action. "I used to keep a huge bottle of water and use a straw to sip it so as to not put pressure on a the C section incision," says Ketaki.
Joshi also suggests ingesting fluids by drinking lots of soup, coconut water, broths, whole fruits, fresh fruit juices and milkshakes that are also easier to eat for the harried mother. "I would drink strawberry milkshake so that it didn't feel like you are adding ten things to the plate. Even eating seems overwhelming to a new mom and if she has to chew one thing less, it's a huge convenience," says Ketaki. "Fluids help flush out toxins and medication, and help stay oriented even with the lack of sleep that comes with parenting."
Yoghurt is not only a stool softener but also has the probiotics essential for keeping Urinary Tract Infection (UTI) away. Edible gum balls (dink ladoos) are a good laxative because of their combination of ghee, edible gum and nuts. "After the baby came, I would resist therapeutic Indian food without thinking about whether it was scientific," says Ketaki. "I eventually did eat one dinkache laadoo a day and that did me good. Sometimes, it pays to listen to your mother - she may know best!"