A mouthful of curd for good health
TNN


Curd has lots of nutritional properties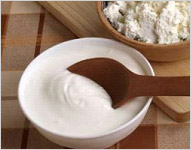 10 May 2012: Curd or yogurt is used since ages to gain its nutritional and health benefits or as a beauty product. According to Ayurveda, curd should not be consumed at night. Though it provides lot of health benefits, over consumption should be avoided. Make sure that you consume curd when it is fresh. Apart from providing nutritional and health benefits, curd is also used as a beauty product. If curd is massaged on facial skin, it acts as skin bleach. It also brings softness in skin. It also acts as an excellent hair conditioner and can be used for treating sunburns.
Nutritional and health benefits provided by curd or yogurt
- Helps improve the digestion
- Helps strengthen the immune system
- Consuming curd increases the capacity to absorb the nutrients and minerals form other food stuffs
- Especially helpful for those who are lactose intolerant
- Helps get strong bones and teeth as its calcium content is high. It helps fight against osteoporosis.
- Helps minimize the risk of high blood pressure
- If you have high cholesterol, then consuming curd can help you
How to consume curd?
There are many ways to consume curd apart from having a cup of it regularly with your lunch. Curd rice which is quite popular in South India is quite wholesome and tasty too. You can also have curd (instead of milk) and museli for breakfast. You can use curd when you do not like spicy food. For example; if you do not like to eat spicy gravy you can add a spoonful of curd. Having buttermilk prepared out of curd after the meals proves beneficial for digestion of food.
If you find it difficult to consume curd regularly you can have it occasionally in form of Indian preparations like lassi, shrikhand etc. Or just make a tadka of adding mustard seeds, red chilly, curry leaves and then add it to a bowl of curd.