St. Lawrence Basilica: Significance of Basilica in the Catholic World
By Dr. Eugene DSouza

Bellevision Media Network


Karkal, 21 Jul 2016: It is a matter of great pride and honour to the people of the Udupi Diocese that one of the prominent historical shrines in the diocese dedicated to St. Lawrence at Attur-Karkala has been elevated to the status of Minor Basilica by Pope Francis in a Decree issued on April 26, 2016. St. Lawrence Minor Basilica is the 22nd in India, first being the Minor Basilica of Bom Jesus in Old Goa where the mortal remains of St. Francis Xavier have been preserved, and second in Karnataka, St Mary's Basilica in Bangalore being the first one in the State.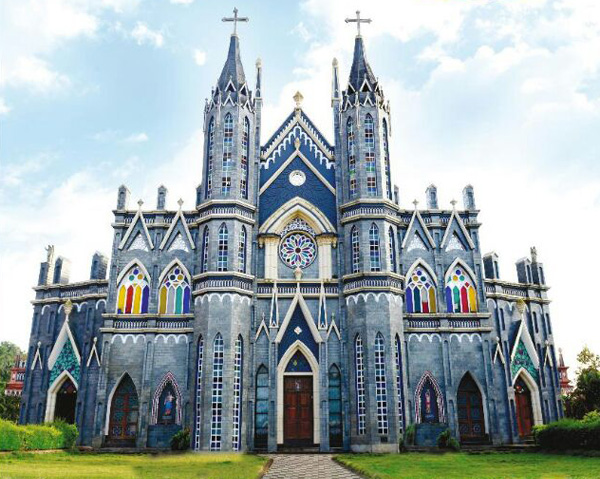 St. Lawrence Shrine, Attur-Karkala
The Proclamation and Dedication of St. Lawrence Minor Basilica will take place on August 1, 2016 with a thanksgiving holy mass celebrated by Cardinals, Archbishops and Bishops from all over India along with hundreds of priests, religious and laity of the Dioceses of Udupi and Mangalore. This historical and memorable event will recognize the shrine of St. Lawrence as a sacred sanctuary of blessings, favours, reconciliation, peace, unity and communal harmony.
As we are about to witness the momentous, holy and historic event in our diocese, it would be appropriate to understand the meaning of 'Basilicas', their tradition in the Roman Catholic Church, their importance and significance to the faithful.
Meaning of 'Basilica':
The word 'Basilica' is derived from a Greek term 'Basilike' meaning "royal house." In the Catholic world, a basilica is a church building that has been granted special privileges by the pope. Certain major churches have been honourd with the designation of Basilicas owing to their antiquity, dignity, historical importance or significance as centres of worship.
Major and Minor Basilicas:
Basilicas are divided into two groups: Major Basilicas and Minor Basilicas. There are four Major Basilicas in the world, all of which are in Rome. They are also known as Papal Basilicas. These Major Basilicas are: St. John Lateran (Cathedral of the Diocese of Rome), St. Peter's of the Vatican, St. Paul's outside the walls and St. Mary Major. Major basilicas have the papal altars and holy doors which are opened at the beginning of a Jubilee Year.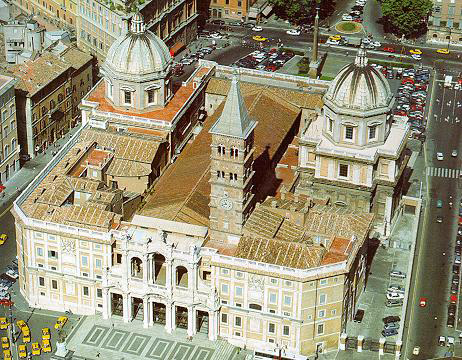 Basilica of St. Mary Major in Rome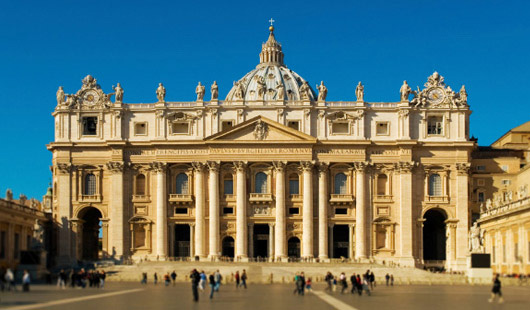 St. Peter's Basilica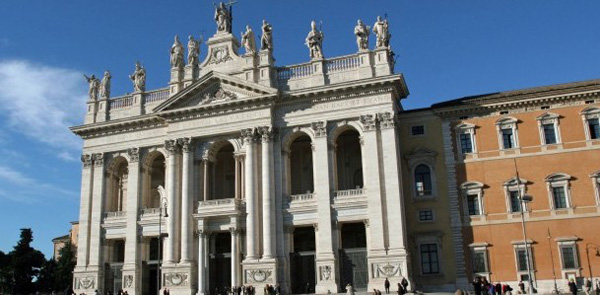 St. John Lateran Basilica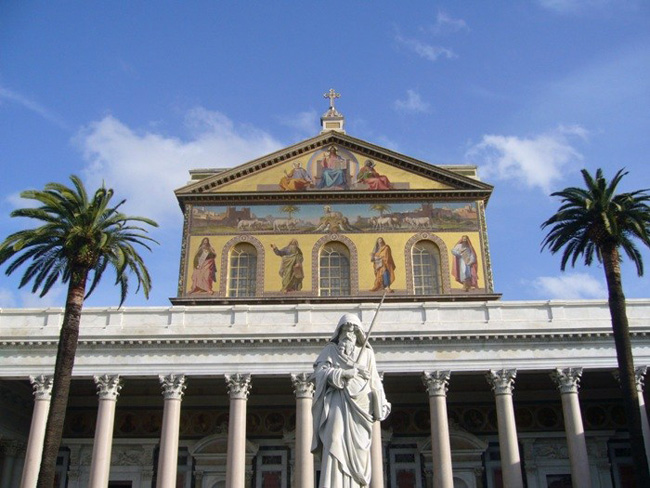 St. Paul, Outside the Walls Basilica, Rome
Criteria to declare a Church as Minor Basilica:

Minor or lesser Basilica is a title given to some Roman Catholic Churches. According to canon law, no church building can be honoured with the title of basilica unless by apostolic grant or from immemorial custom. Presently, the authorising decree is granted by the Pope through the Congregation for Divine Worship and the Discipline of the Sacraments. The Minor Basilicas are significant churches in Rome and elsewhere in the world that meet certain criteria and are given special ecclesiastical privileges by the Pope. Besides having the attributes such as antiquity, dignity, historical value, architectural and artistic worth they also should be significant centres of worship.
According to the 1989 Vatican document 'Domus Ecclesiae', a basilica must "stand out as a centre of active and pastoral liturgy." It should be sufficiently large and with an ample sanctuary. It should be renowned for history, relics or sacred images, and should be served by a sufficient number of priests and other ministers and by an adequate choir. Many basilicas are notable churches and often receive a large number of t pilgrims. In December 2009, the Basilica of Our Lady of Guadalupe in Mexico set a record with 6.1 million pilgrims in two days for the feast of Our Lady of Guadalupe.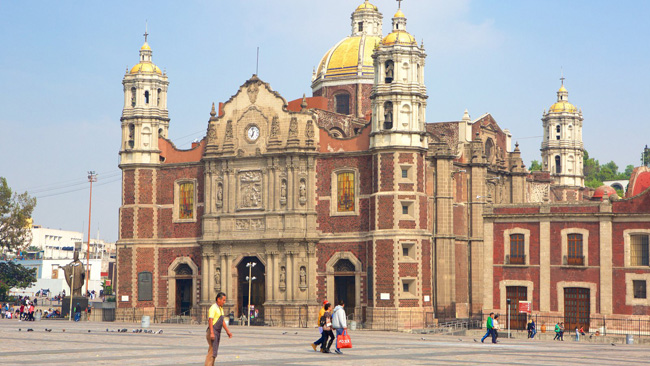 Basilica of Our Lady of Guadalupe, Mexico City
The process of obtaining the title of 'Minor Basilica' could last from a few months to a few years. In the case of St. Lawrence Shrine, Attur-Karkala, the title has been obtained within one and a half month from the day the definite proposal was sent to Vatican through the Apostolic Nuncio, Most Rev. Salvatore Pennacchio. This manifests the fame and name of St. Lawrence Shrine.
Special Bond of Communion with the Pope:
Being designated as a 'Basilica', the shrine or church manifests a special bond of communion with the pope. The parish has to celebrate certain feasts associated with papacy such as the feast of the Chair of Peter on February 22, the solemnity of the Holy Apostles Peter and Paul on June 29, and the anniversary of the pope's election or his inauguration into his pastoral ministry.
Identification Marks of Minor Basilica:
The Minor Basilica is identified by the following three signs:

1. The presence of the conopaeum — a silk canopy designed with stripes of yellow and red which are the traditional papal colours.

2. The tintinnabulum- a bell mounted on a pole and carried in procession along with the conopaeum at the head of the clergy on special occasions.

3. The Minor Basilica has the right to display the Papal Symbol of Crossed Keys on banners, furnishings and on the seal of the Basilica.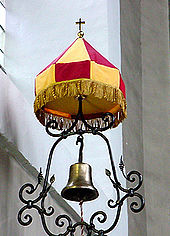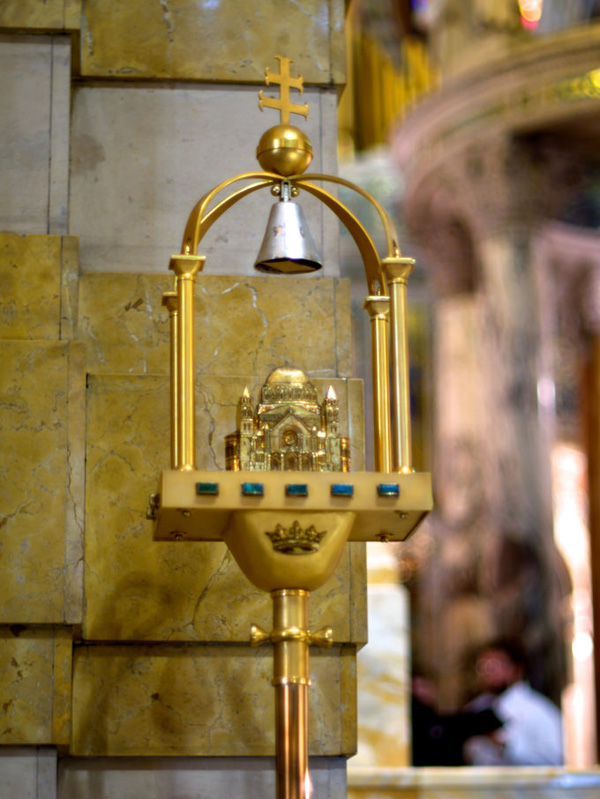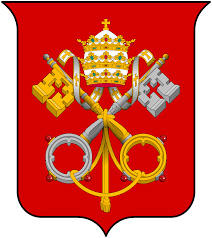 Conopaeum Tintinnabulum Papal Symbol of Crossed Keys
A special privilege provided to the Rector of a Minor Basilica is that he may wear a black 'mozetta' or cap over his surplice with red piping, buttons, and buttonholes in the exercise of his office.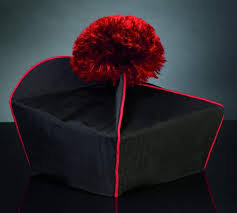 Mozetta
The other privileges granted to a Minor Basilica are related to the celebration of the liturgy, and the faithful may acquire a plenary indulgence on praying in the Basilica on certain particular days.
All over the world there are 1740 Minor Basilicas. Europe has the maximum number of Minor Basilicas. Following European countries have more than 100 Basilicas: Italy (554), France (170), Poland (134), Spain (112).
Minor Basilicas in India:
There are 22 Minor Basilicas in India. Among these 18 are of the Latin Rite, 3 of the Syro-Malabar Rite and 1 of the Syro-Malankara Rite. India is the country with the highest number of Basilicas in Asia.
| | | | | |
| --- | --- | --- | --- | --- |
| No | Name of the Basilica | Location | Dedicated to | Year conferred |
| 1 | | Old Goa | Infant Jesus | 1946 |
| 2 | | Madras (Chennai) | Mother Mary | 1956 |
| 3 | | Bombay (Mumbai) | Mother Mary | 1954 |
| 4 | | Meerut | Mother Mary | 1961 |
| 5 | | Velankanni | Mother Mary | 1962 |
| 6 | | Bangalore(Bengaluru) | Mother Mary | 1973 |
| 7 | | Ernakulam | Mother Mary | 1974 |
| 8 | | Tuticorin | Mother Mary | 1982 |
| 9 | | Cochin(Kochi) | Mother Mary | 1984 |
| 10 | | Calcutta(Kolkatha) | Mother Mary | 1988 |
| 11 | | Trichur | Mother Mary | 1992 |
| 12 | | Poondi,near Thanjavur | Mother Mary | 1999 |
| 13 | | Ranchi | Mother Mary | 2004 |
| 14 | | Vypin Island, Cochin | Mother Mary | 2004 |
| 15 | | Tiruchi | Jesus and Mother of Perpetual Help | 2006 |
| 16 | | Trivandrum | Mother Mary | 2008 |
| 17 | | Hyderabad | Mother Mary | 2008 |
| 18 | | Edapally,Cochin | Mother Mary | 2009 |
| 19 | | Arthunkal,Alleppy | Jesus Christ | 2010 |
| 20 | | Pondicherry | Jesus Christ | 2011 |
| 21 | | Pallippuram, Ernakulam | Mother Mary | 2012 |
| 22 | Basilica of St. Lawrence | Attur-Karkala | St. Lawrence | 2016 |

Basilica of Our Lady of Mount, Bandra, Mumbai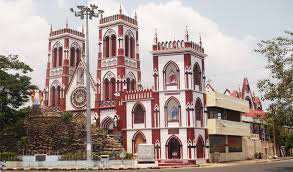 Basilica of Sacred Heart of Jesus, Pondicerry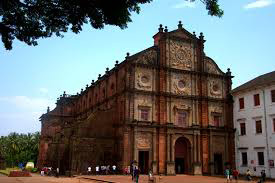 Bom Jesus Basilica, Goa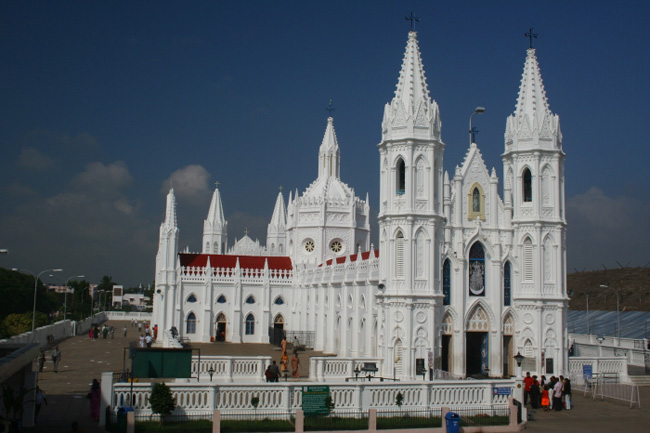 Basilicca of Our Lady of Good Health, Velankanni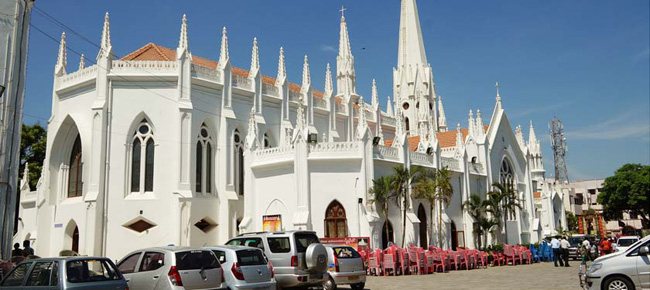 San Thome Basilica, Chennai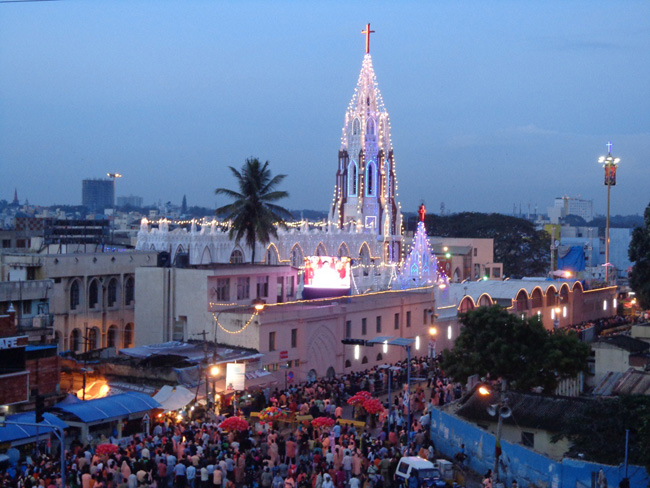 St. Mary's Basilica, Shivajinagar, Bangalore
Out of 22 Minor Basilicas in India, 18 are dedicated to Mother Mary, two to Jesus Christ, one to Infant Jesus and the recent one to St. Lawrence.

(From various sources)