New generation and sports culture
By Francis Saldanha, Bahrain

Bellevision Media Network


01 May 2012: I often wonder why the adolescent always look tired and worn out. Is it due to only excessive stress due to the over burdened prospectus which is inversely proportional to their age? It is "yes of course that the Indian students are ranked the best when compared with their counterparts any where in the world in terms of knowledge power. But when it comes to sports or physical activity we are lying far behind. This is because sports or physical activities always take a back seat during the last years of study. Now the question is will it have an adverse effect on their studies if they take some time off their studies and are out playing a robust game, exercing their muscles or training their body to be in excellent shape. We learn that most of them who did play earlier, gave it up when they entered their 10th std., because of pressure of study to get in to a preferred course/college of their or their parents' choice. It is a pity that no one told them that they would be able to perhaps do much better in studies if they gave about an hour, for robust play, every day.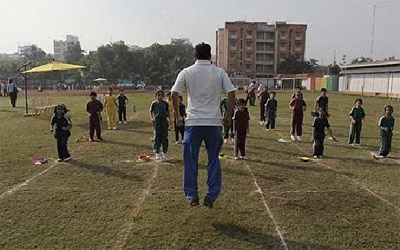 Schools in India do not actively encourage team sports or fitness. A one or two hour play period in a weekly curriculum is inadequate and does not engage all students in activities that expose them to different games and sports. Without an exposure, it's not possible to expect them to be enthusiastic about Volley Ball, Basket Ball, Foot Ball, Hockey, Badminton, Table Tennis, Tennis, or Throw Ball. It is important to make students participate in team games to develop sportsmanship. They could also learn a dance form, marital arts, yoga and few of the indoor games. As of now, schools sports are not a priority. As long as they have some groups to represent them at competitions outside, school authorities do not insists on ensuring participation by all, in sports and games. This compliancy is at the root of the ignorance regarding the importance sports in young people. Lack of infrastructure, instructors, facilities and low investment in the fitness arena and importantly over emphasis on academic results, is the reason for this malady. There is a lack of awareness regarding sports in the 'governing bodies' and the unhealthy situations continues.
Parents are equally responsible for the dullness and inactive lifestyle of our students because they pull out even those keenly interested in sports owing to their concern about good scores in 10th & 12th. So we find students who should be out playing in the evening hours, doing the mill of tuitions and losing the advantage of a sporting activity! A game of cricket for a couple of hours is grudgingly permitted by parents on week ends!
The above being the case, how can anyone, arouse interest in fitness through healthful physical activity in a youngster who's either never done it or gave it up years ago?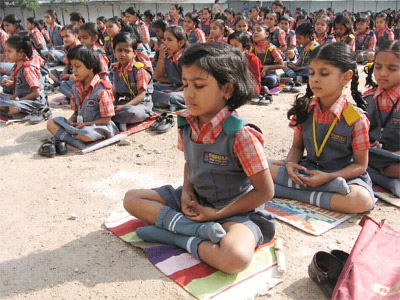 Studies have proven beyond doubt that a person engaging in a healthful fitness activity for about 30 – 40 minutes in a day that is aerobic in nature, has the advantage of natural ' feel good' neuro chemicals getting released in his brain that keep him active, energetic, alert and enthusiastic. This in turn, will enable him to study with much better focus. Besides, a person who engages in a healthful sport has added benefit of a stronger immunity to common ailments, better appetite and sleep and a healthy social relationship with others as a result of the socialization that occurs in team sports.
It is very inspirational to see people well past their prime walking briskly and energetically, participating in activities like trekking, mountaineering, year after year, even post retirement. The secret of their health and fitness is their 'discipline' and importance given to regular exercise and fitness activity. Their stamina, energy and enthusiasm put many a young person to shame!
So it's time our young men and women of our beloved school to do things right, stay prudently away from fatal attractions, and educate themselves & the less privileged others. Hence you all will live long and well by making regular healthful play, a part of your life, come rain or thunderstorm and perform your role of being a student in a chosen course with aplomb!.
All good wishes to each one of you!