Dubai: Stan Ageira Selected to Confer Daiji Dubai Literary Award -2014
Media Release


Dubai, 17 Dec 2013: The Konkani prolific novelist and short story writer Stan Ageira Mulky chosen to confer fifteenth Daiji Dubai Literary Award – 2014. Daiji Dubai is Konkani Writers' Forum in the UAE.

This is the second time in the past 15 years that a regular member of Daiji Dubai Forum itself was chosen for the award. C J S Taccode was first to receive the award in 2000. The Award carries a cash prize of Rs 75,000, a citation letter and a memento.
Incidentally, the Forum is celebrating its fifteenth anniversary at Dr M Vishveshwarayya Memorial Auditorium, Matunga, Mumbai on Sunday January 26.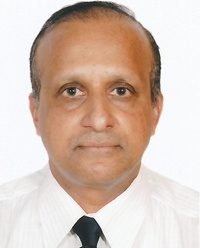 The award will be conferred on the same day in the presence of an august gathering of eminent guests and Konkani enthusiasts. The event will also mark the seventh show of the much-acclaimed Konkani play '..Nathlyaa Vellar' presented by Daiji Rang Mandir's amateur artistes.

The selection process for Daiji Literary Award was held recently in Dubai in the presence of all the members. The proceedings were managed by senior Konkani writer and activist Linus Moras. Out of 10 noted Konkani writers, 5 were shortlisted for the final round. The winner was chosen through democratic voting system where Stan Ageira was chosen with more than 60 percent votes by the members.

The fifty-two-year-old Stan Ageira is well-known in the field of Konkani literature. His first short story was published in 1975 when he was barely 14 years and as on date he has authored over 300 short stories and 18 novels in Konkani.
He has been recognized and honored with awards by the Konkani Bhasha Mandal, Goa, and Konkani Sahitya Academy, Karnataka and Konkani Kutam Bahrain for his novels.

He has published books in Konkani, Kannada and English. He had a Konkani column 'Bindaas' in www.daijiworld.com. His collection of short stories in Konkani 'Tambdi Mirsaang' published in 2006 was selected recently for the Karnataka Konkani Sahitya Academy Award. His short stories have been published in magazines like 'Woman's Era' and 'Alive' which are published from New Delhi.

His short stories in English are also available on www.daijiworld.com dedicated column 'Red Chillis.'

Stan Ageira is currently residing in Dubai with his wife and two sons.