Chennai is losing ground to Bangalore in attracting international fliers
Chennai, 21 Sep 2013: It looks like Chennai is losing ground to Bangalore as the southern gateway for business and tourism owing to deficiencies at the city airport.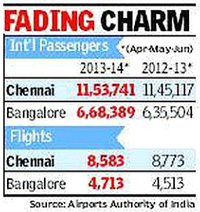 After overtaking Chennai in domestic passenger traffic, Bangalore airport is inching closer to Chennai in terms of international passenger traffic.
Bangalore's annual international passenger traffic is only 50% of Chennai's, but the airport has been registering a higher rate of growth for the past three years. Last year, Bangalore's domestic traffic grew at double the pace of Chennai and the international traffic at more than six times. The trend has continued into the first quarter of this year.
Last year, Chennai handled 44 lakh international passengers, while Bangalore had 25 lakh of them. But statistics compiled by the Airports Authority of India (AAI) shows that the passenger traffic grew at the rate of 6.5% in Bangalore while it was 3.6% in Chennai in 2012-13. In the first quarter of this year, international passenger numbers grew by 0.8% in Chennai while it increased by 5.2% in Bangalore.
In 2011-12, Bangalore registered a growth of 5.9% while Chennai saw only a 1.5% increase. "International travellers from Bangalore are young professionals, while a good percentage of those who fly from Chennai are families. Bangalore also has the highest number of people working in multinational companies. This is fuellilng the growth," said Air Passengers Association of India president D Sudhakara Reddy. Attempts by the hospitality industry to change this pattern in Chennai have failed because the airport is not up to the mark.
An airline official said that "Bangalore will catch up in the next couple of years as red tape and infrastructure limitations at Chennai airport discourage airlines from increasing frequencies. The private owner of Bangalore airport offers incentives to shift passenger and cargo flights from Chennai." SpiceJet on Friday announced that it will start a Bangalore-Bangkok flight.
A senior AAI official said "being public sector has its limitations. Chennai will pick up when the airport gets privatized early next year."