Hassan: DSS protests to Withdraw Approval on Encroached State-Owned Lands
By Srinivasa

Bellevision Media Network


Hassan, 26 Jul 2013: Karnataka Dalit Sangarsh Samiti (DSS) staged protest in front of the office of Deputy Commissioner (DC) here on Friday July 26, urging the state authorities in order to withdraw the approval to allot state-owned lake for private parties.
The protesters urged the authorities to withdraw the approval of state-owned lake bearing survey number 16 of nearly 9 to 20 acres, for private parties. The lake was irrigating the farmlands, providing podder for livestock since many centuries. It was exclusively used by the residents for different farming activities since several generations, urged the protesters.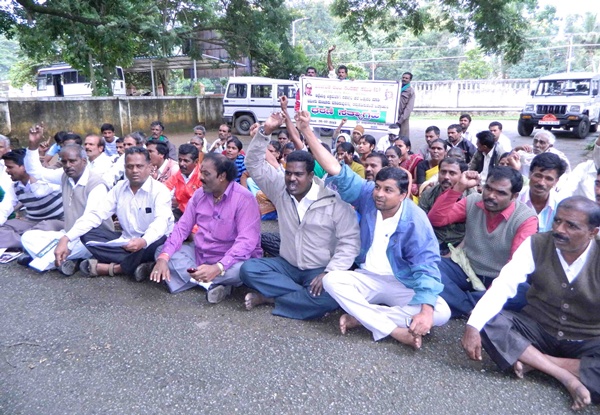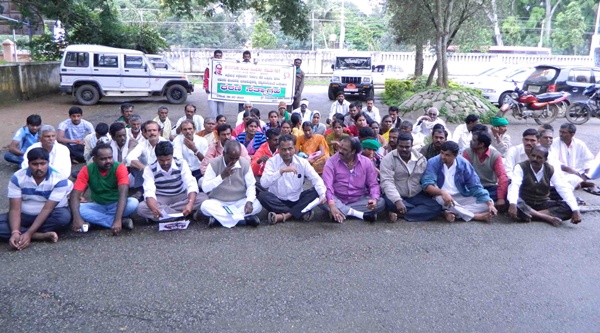 The protesters alleged that a certain Puttayya, a resident of Neeragunda village in Gandasi constituency of Arasikere taluk had managed to get state approval and began leveling the lake using earthmovers on July 19, alleged the protesters.
The protesters complained that Puttayya has assigned a few man to till the leveled lake, complained the protesters.
The protesters urged the state authorities to withdraw the approval that was issued to Puttayya and other 3 private parties on survey number 16, which was already mentioned in the report of V Balasubramanian on encroached state-owned lands.
The protesters presented a memorandum to DC in this regard.
DSS district convener Krishnadas, state convener K Eerappa, B P Jayaram, Chalavati Mahasabha president H P Jayaram, Samata Sainik Dal president K H Satish and others were present at the occasion.