Dubai: Dr Panditaradhya Swamiji to be conferred 'Dhwani Sriranga Prashasti'
Media Release


Dubai,13 Mar 2013: Dr Panditaradhya Swamiji has been chosen for Dhwani Pratishthana's theatre award 'Dhwani Srirnaga Prashasti' for the year 2012-2013.
Dhwani Pratishthana honours eminent Kannada theatre personalities every year with this award, which comprises cash reward and a memento. The award will be presented at 'Dhwani Rangasiri 2013', the 28th anniversary programme to be held at Emirates International School Auditorium, Dubai on Friday March 22 at 5.30 pm.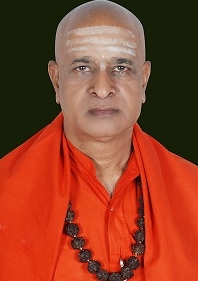 Dr Panditaradhya Swamiji, a postgraduate from the University of Mysore, entered ascetic life and becamethe pontiff of Sri Math, Sanehalli, Branch of Sri Taralabalu Jagadguru Bruhanmath, Sirigere. He is a literary person, social and religious reformer, political guide and also a patron of art and culture.
Swamiji's activities in the field of theatre are remarkable. He is responsible for the establishment of Sri Shivakumara Kalasangha and Shivasanchara, a theatre repertory in Sanehalli. The sangha extended its performances to the remote villages of the state to eradicate superstitions and blind beliefs prevailing even today. The dramas were widely attracted by the rural and urban mass.
He is responsible for the construction of Sri Shivakumara open air theatre in a Greek style in Sanehalli which can accommodate more than 4000 people. National and international drama festivals were organized in Sanehalli. Shivachanchara artists have enacted four Dramas in Hindi based on the life of great social reformer Sri Basaveswara in different parts of North India. Bharathna Ranga Sanchara is a unique programme in the theatre history of India. Shivasanchara artists have performed more than 42 different Dramas with more than 1600 shows in the last 14 years which are witnessed by lakhs of people from different parts of the country.
Sri Swamiji is a saint of profound knowledge. He is a great thinker, he brought out his ideas through thought provoking articles and this enabled him to emerge as a great writer. He has composed more than 55 literary works and are published. He is also writing articles, criticisms and columns in news papers and magazines. (Columnist of " Balabutti " in Prajavani News paper).
He is responsible for conducting many programmes like mass marriages and inter – caste marriages. He is of the view that Indian society is caste ridden and classed one. He views that programmes like mass marriages and intercaste marriages help in this regard to bring social harmony and patch up the gap between upper and lower class people. Hence, every year, such programmes are systematically arranged under Sri Swamiji's care and guidance.
On the occasion, internationally-acclaimed play 'Bali - The Sacrifice', written by Jnanapeeth awardee, Padmabhushan Girish Karnad, will be staged on the occasion under direction of Prakash Rao Payyar. With entry free, all Kannadigas are requested to attend in large numbers.