Udupi: Bellevision.com is all set for the grand Decennial Celebrations on 28 December, 2012
Media Release


Udupi, 27 Dec 2012: Bellevision.com is all set for the grand Decennial Celebrations on 28 December, 2012 at 4 pm at Lions Bhavan at Brahmagiri, Udupi. On this occasion, the prizes will be distributed to the winners of the prestigious 'Cute Kids Photo Contest" organized by Belelvision.com as part of their Decennial celebration. The Bishop of Udupi, Most Rev. Dr. Gerald Isaac Lobo will preside over the Decennial Function. Member of Parliament, Shri Jayaprakash Hegde will be the chief guest. Mr. Sarvotham Shetty, President – Abu Dhabi Karnataka Sangha, Mr. Walter Almeida, MD – Regal Furnishings and Storage Systems LLC and Mr. Walter Nandalike – Editor in Chief – Daijiworld.com as guests of honour. Several social and religious leaders from the Udupi region are expected to attend the function.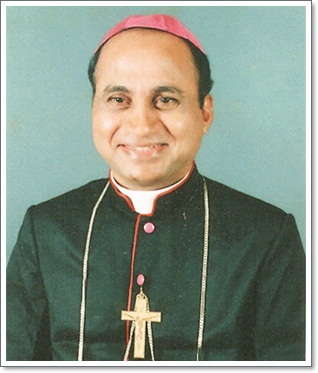 Rev. Dr. Gerald Isaac Lobo

Jayaprakash Hegde
One of the unique and most popular contests in recent history, Bellevision.com's " Cute Kid Photo Contest" had overwhelming response and attracted more than 750 entries of kids of Karnataka origin who are spread all over the world. Result of the contest was declared on Children's Day, 14 November 2012. The winners in two categories 0 to 2 years of age and 2 to 5 years were selected on the basis of popular online voting as well as the decision of three most renowned photographers who were the judges for this contest.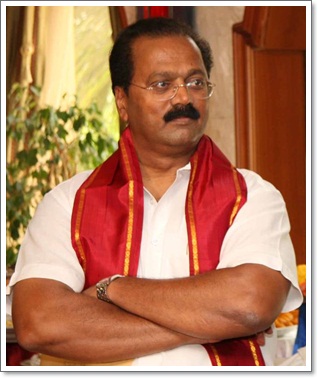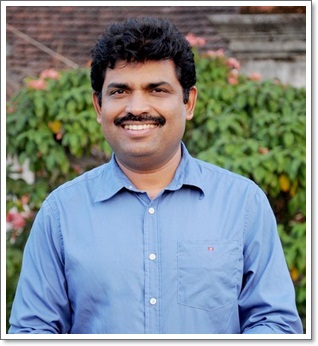 Sarvotham Shetty Walter Nandalike
Over 100,000 online votes were cast during a period of 3 weeks and it had become a topic of discussion in every household. The professional judges had viewed and given their scores which had resulted in declaring 3 winners in both the categories of 0 - 2 years and 2 - 5 years. Prizes worth Rs One Lakh are up for grabs.


Winners: BV Cute Kid Contest, Category: 0-2 years


Winners: BV Cute Kid Contest, Category: 2-5 years
Cute Kid contest was organized by Bellevision Media Network on the occasion of decennial celebrations of its popular website www.bellevision.com. Today Bellevision has become a familiar name in the media circles which mainly caters to people of Mangalore and Udupi districts with its timely news updates, special columns and live web streaming of important events from UAE.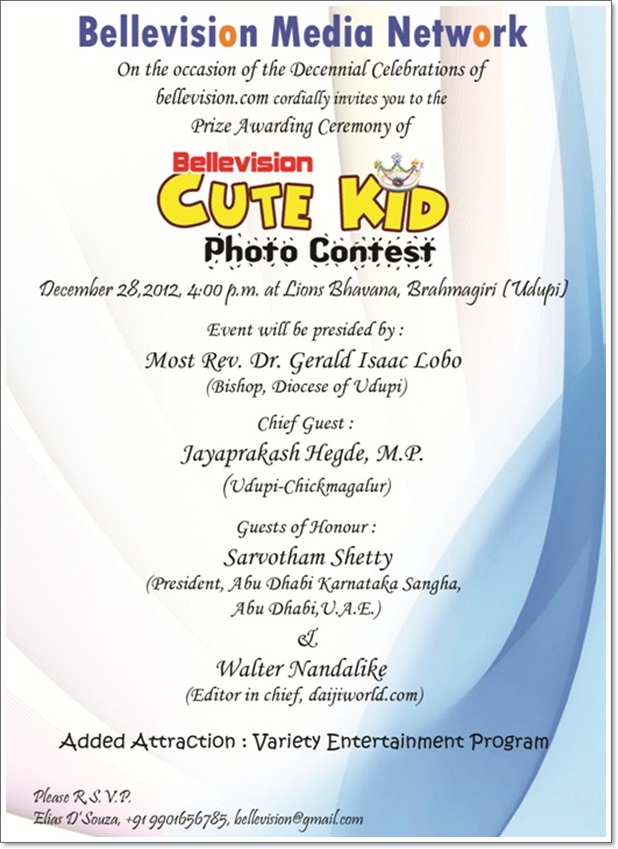 On this auspicious occasion, Bellevision.com would like to express gratitude and thanks to all sponsors who have been the back-bone of this successful contest and have been supporting in many other events through their financial backing and through their regular advertisements. These include: Mr. Vijay Dante(MD- Udupi Madra Café and Chutney Swami)-Title Sponsor, Mr. Sudhir Kumar Shetty (COO- Global) – UAE Exchange Centre) –(Associate Sponsor), Mr. Walter D'Almeida (MD -Regal Furnishings and Storage Systems) - (Associate Sponsor), Ronald Aranha (Fast Track Contracting), Mr. Wilfred Menezes (Omnitech), Mr. Ronald D'Souza (Bluechem), Mr. Agnel D'Souza (ABL), Mr. Benedict Quadros and Royal Furnishings.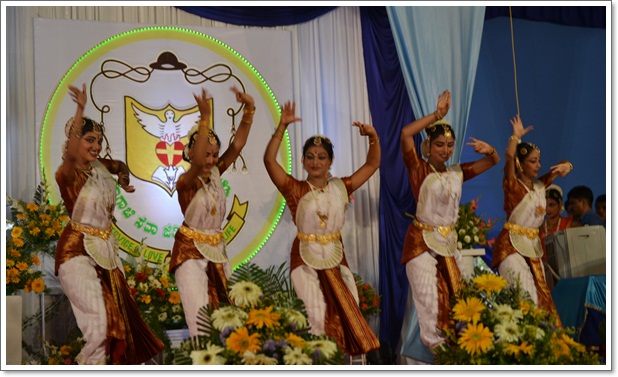 (file picture)
Bellevision.com
Bellevision.com has completed 10 glorious years of its existence this year. It is proud of its achievements over the last ten years. To celebrate this proud moment, Bellevision.com has just completed online photo contest titled 'Bellevision Cute-kid photo contest' for the people of Karnataka living world over.
Bellevision.com is a News web portal serving the Mangalorean Community across the world from year 2002. Bellevision.com has become a part of the day to day lives of the people of the Coastal Konkan region, mainly Udupi, Mangalore and its surrounding districts who are spread all over the globe. The dedicated team's sincere efforts of bridging the gap between the region and people of this origin living world over by regular updates of day to day happenings in the region and other popular columns are paying rich dividends as the viewership of the site has increased steadily over the years.
Bellevision will strive to provide latest and timely updates and also has several plans in the pipeline including change of name to a more appealing and popular to the people of Karnataka. A few new columns also to be added and updated as per our readers' requirements.