Doha: Naveen Melwyn D'Souza elected as MCC President
Media Release


Doha, 14 Jun 2021: Mangalore Cricket Club (MCC), Qatar conducted its 28th Annual General Meeting on Friday 4th June 2021 on a virtual platform wherein members elected Naveen Melwyn D'Souza as its new President for the term 2021-2023.
The meeting opened with an introduction by Ryan Renjar, compere of the evening and welcomed the gathering. Jeevan Rayan Ferrao Cultural Sub-Committee member, led the opening prayer invoking God's blessings on the programme. Audience were welcomed with MCC Anthem song "Raisondhi Amche MCC" composed by MCC member Mr. Remy D'Souza and sung by young budding singers Vanessa Fernandes and Viola Monteiro.
Special guest and representative from Indian Cultural Center (ICC) Mr. Sajeev Sathyaseelan, ICC Affiliation Head was present for the meeting to witness the Election Procedure and was invited to address the gathering.
MC Ryan invited the outgoing Executive Committee led by dynamic President Sunil D'Silva along with sub-committee members who served the club from June 2018-2021 to the virtual stage. All committee members and Advisory Committee were introduced on virtual platform.
The executive committee of 2018-2021 then presented its annual report before the members for the term 2019-2021. General Secretary Naveen D'Souza presented the Annual report of the club while Treasurer Ashith Rodrigues presented the audited financial report.
President Sunil D'Silva then gave his final outgoing President message and briefed on the success story of activities especially Virtual Monti Fest Celebrations in 2020, Career Guidance/Counselling workshop conducted for children pursuing higher education in India and abroad. MCC always stands by the needy and continued its support to Indian Community Benevolent Forum (ICBF) in difficult times and has given a substantial amount as donations to support Indians during this pandemic both in Qatar and India to fight out COVID affected people. The MCC Charitable Trust promoted by MCC is at the forefront helping needy & deserving children through scholarships for the class X & XII Standards in Mangalore and Udupi. He thanked every excom member, advisory committee and members for their continued support and help during his term.
He then emphasized the need to promote budding leaders in our community as we have been witnessing drastic leadership gaps for our survival. He said, "We have a sizeable catholic community in Qatar well educated, holding good positions but then it's very sad and pitiful to see our youngsters not stepping forward to take leadership roles or serve the community or contribute some time for the betterment of the society". MCC has always given a platform to showcase the talents and groom as a leader. He requested incoming committee to work on a MCC YouTube Channel to promote our cultural activities and the talents of our members.
He concluded his speech wishing success for the MCC elections and to the new committee for a successful tenure.
Wendy D'Silva as the Q&A moderator received all questions pertaining the AGM meeting and presented it to committee. On behalf of the committee, President answered all questions of members,
To lighten the mood before the elections audience were entertained by a melodious song "Sopnanthlo Raay" composed by Vishwas Rebimbus. The song was presented by Muzo Thalo Gaithalo (Gulf Edition) winner and GVOM Season 5 Runner up Carol D'Souza winning the hearts of the audience.
This was followed by Election of the new committee. MC Ryan invited the Election Officer Mr. Henry D'Souza to conduct the elections. Henry D'Souza is a senior member, Chartered Accountant by profession, Financial Advisor at Al Balagh Trading & Contracting and an Advisory Committee member. He first dissolved the old executive committee members from their duties.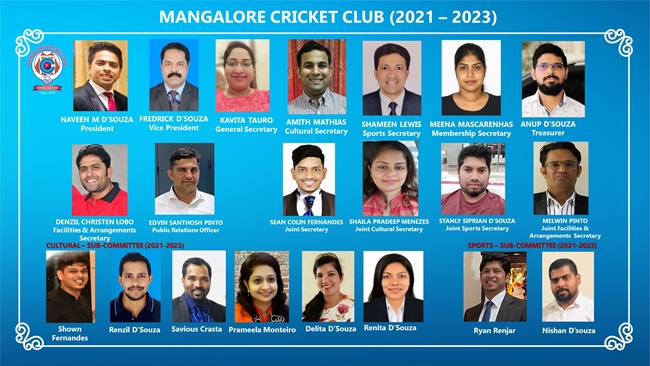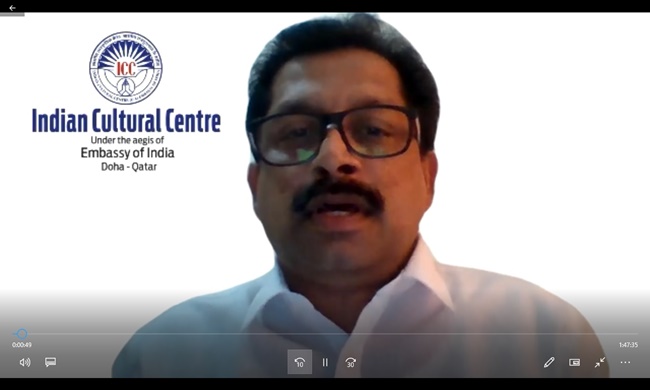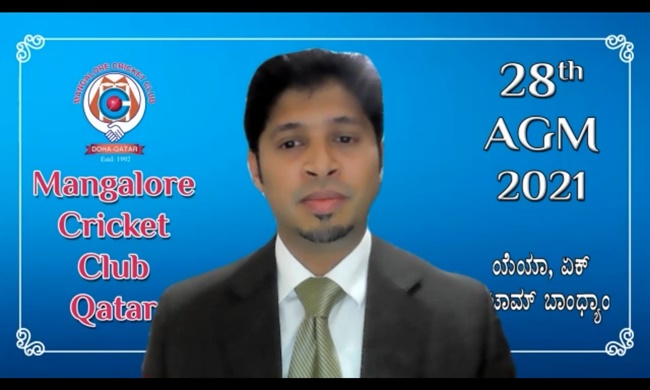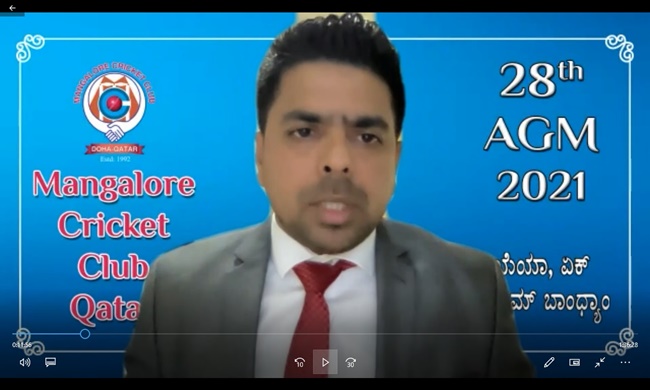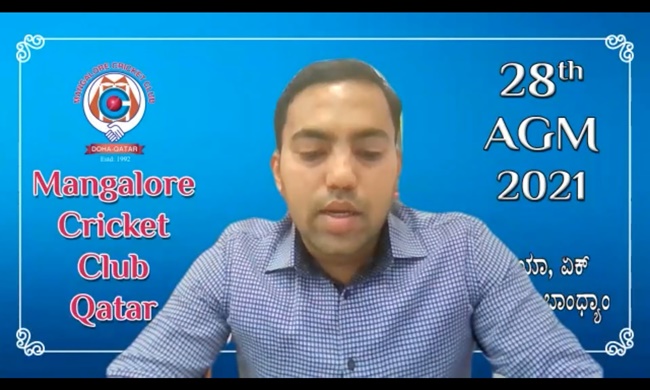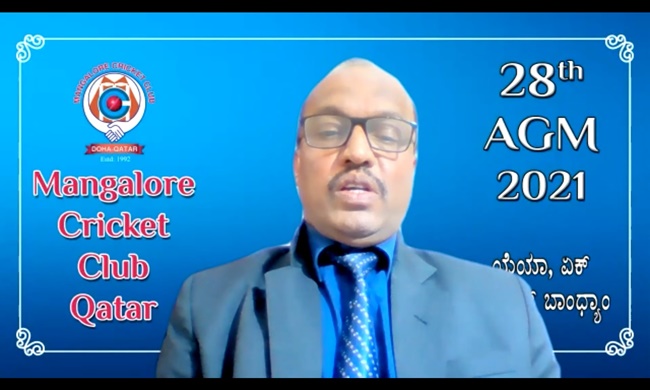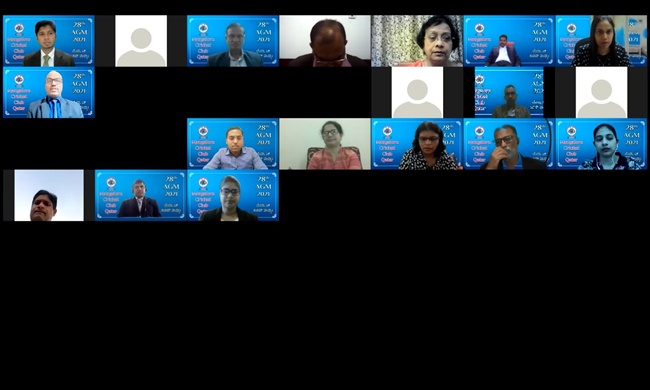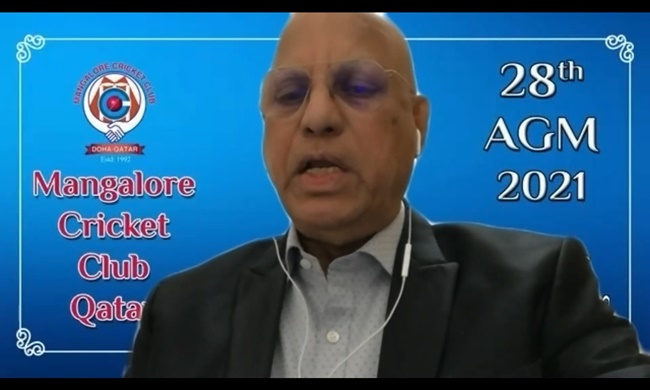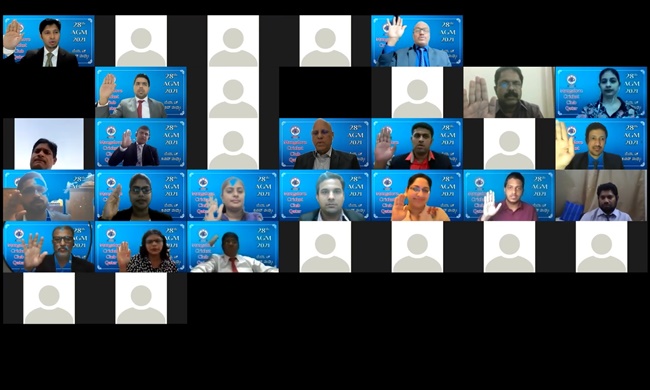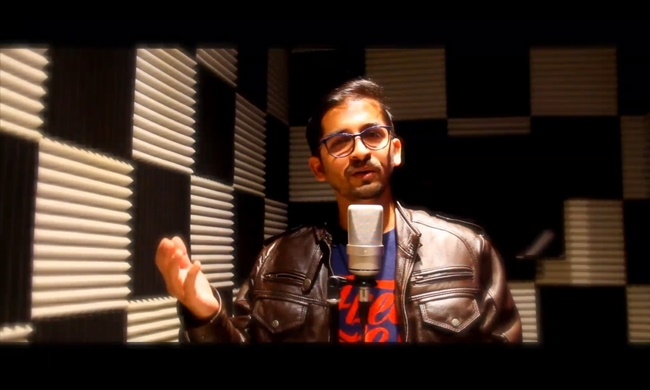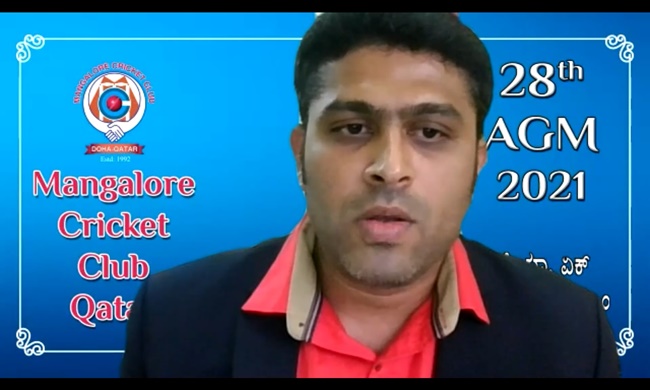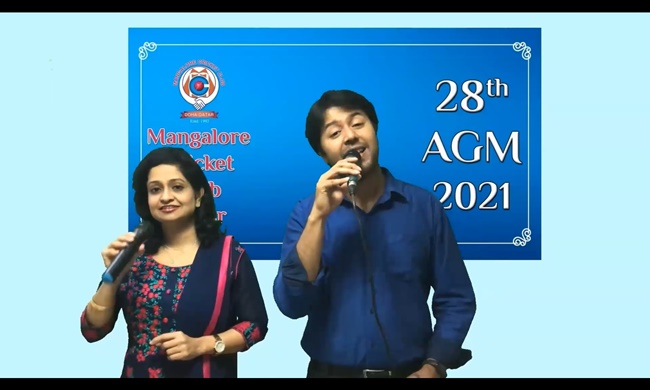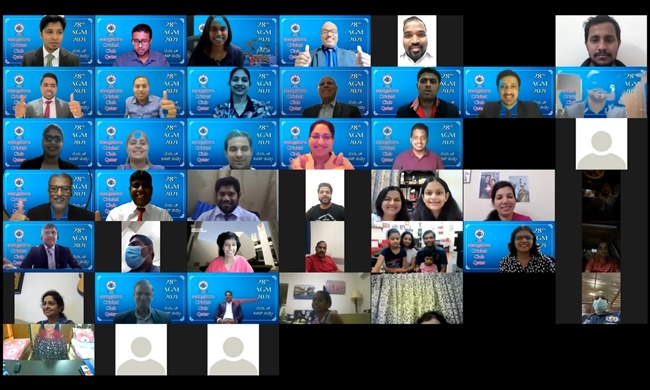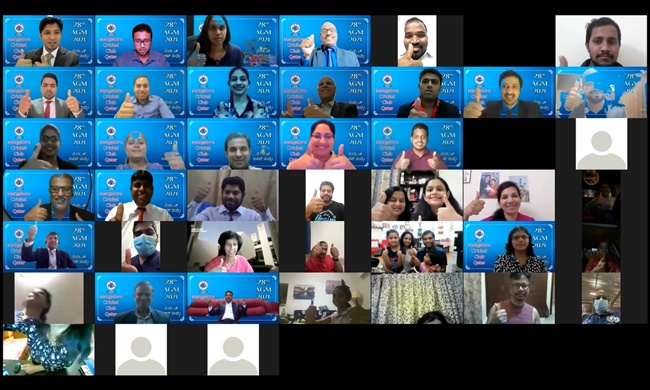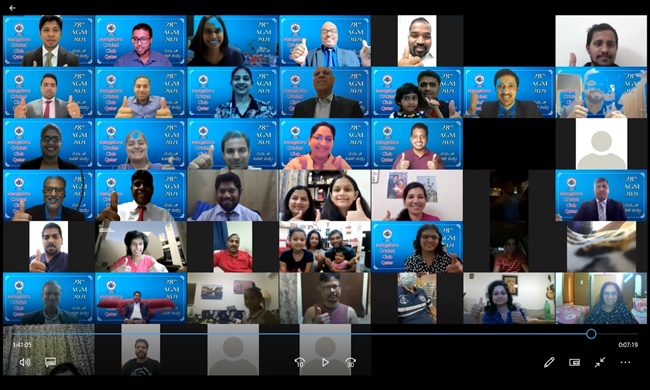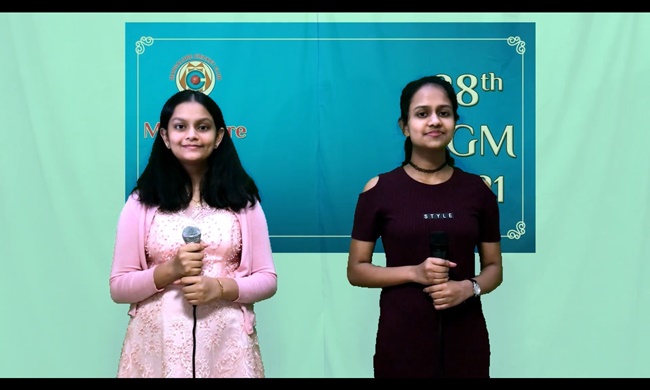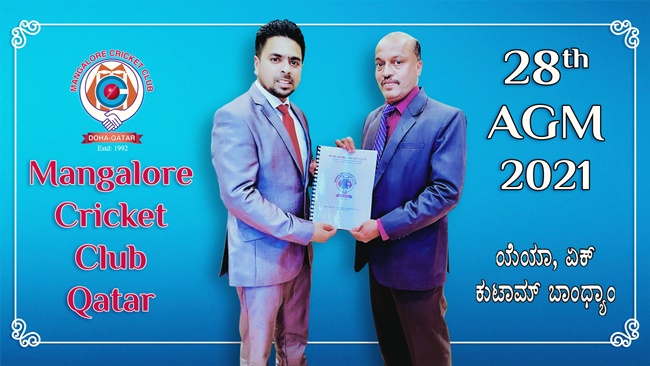 He then conducted the election of the new President and Executive Committee in a professional manner. He read all the nominations received for the positions and invited all elected members. The new executive committee elected is as follows:
President: Naveen Melwyn D'Souza
Vice-president: Fredrick D'Souza
General secretary: Letitia Kavita Tauro
Cultural secretary: Amith Roy Mathias
Sports secretary: Shameen Sylvester Lewis
Membership secretary: Meena Francisca Mascarenhas
Treasurer: Anup D'Souza
Facilities and arrangements secretary: Denzil Christen Lobo
Public Relations officer: Edvin Santhosh Pinto
Joint Secretary: Sean Colin Fernandes
Joint Cultural Secretary: Shaila Pradeep Menezes
Joint Sports Secretary: Stanly Siprian D'Souza
Joint Facilities and Arrangement Secretary: Melwin Pinto
Sub-committees to assist the executive committee was also formed on the occasion. The members are:
Cultural team: Shown Fernandes, Renzil D'Souza, Savious Crasta, Prameela Monteiro, Delita D'Souza and Renita D'Souza
Sports team: Ryan Renjar, Nishan D'Souza
Web-master: Anson Sequeira
Election Chair Mr. Henry D'Souza then took an oath from all the elected members describing their duties and were officially enrolled in the committee. He then asked the pledge from the members of MCC to the newly elected excom in discharging their duties. Outgoing President Sunil D'Silva then handed over the constitution to the new President Naveen Melwyn D'Souza.
Newly elected President Naveen Melwyn D'Souza then delivered his acceptance speech and thanked members for giving him a chance to serve as President. He thanked the outgoing committee for a successful term and congratulated the newly elected committee members. He addressed the gathering by identifying MCC's immense contribution to the good of the society and appreciated the sacrifice and service of all the Advisors, Executive Committee and members. His close association with MCC and his active involvement in MCC activities has given him this confidence to accept this important post of this prestigious club and thanked the opportunity given to serve the community. He also requested members to step forward to participate in our club programs and give their full support and cooperation.
The official programme was then followed by a short cultural programme. The recently conducted Muzo Thalo Gaithalo (Gulf Edition) male category winner and GVOM Season 6 winner Clement Fernandes entertained the crowd with a beautiful song 'Kenna Thuzo Ugdas Yetha' from the album "Xetam Merer", composed by Roshan D'Souza Angelore.
A well-known musician and ballroom dancer Royston Lobo and melodious singer Prameela Monteiro sang beautiful duet mash up songs "Shirandhariso Pavs" from album Konkani dance hits by Maand Sobhan, "Nach Nachoya" by Claud D'Souza and "Baila Nach" by Dilraj Rodrigues. The mash up songs kept the audience entertained.
Facilities and arrangements Secretary Denzil Christen Lobo rendered the vote of thanks.
MC Ryan Renjar did an excellent job as compere and wished all good times to come soon so that we can meet physically to enjoy MCC activities. All members were then invited for a virtual group photography.
MCC thanks Renwick D'Souza who managed entire programme behind the scene on Zoom without any technical glitches.