Renowned Advocate William Pinto Shirthady (79) passes away
By Dr. Eugene DSouza

Bellevision Media Network


Udupi, 17 Feb:Advocate William Pinto Shirthady (79) a well-known social activist and a lawyer who dedicated his life fighting for the cause of the poor passed away on Sunday, 17 February 2019.
He is survived by wife Rosy Pinto and two sons Chetan and Praveen.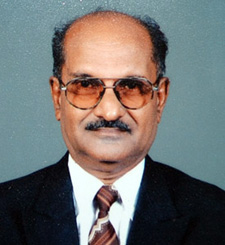 Shirthady William Pinto has been a well-known personality not only in the undivided district of Dakshina Kannada but also in other parts of the Karnataka State. As a legal expert, advisor and counsellor, forceful orator, promoter of the cause of the downtrodden and oppressed, especially the tiller of the land he has already made a mark as a crusader of agricultural tenants and a popular social activist. Humility and down to earth approach has been the hallmarks of his personality that has endeared to all those people either in high places or the masses with whom he came in contact.
The contribution of Shirthady William Pinto in making the common people aware of their rights and explaining the various laws affecting their day to day lives in simple and understandable language through books, articles in various papers and magazines and through talks on Akashvaani, lectures in seminars and workshops and speeches in public meetings has been greatly appreciated by one and all.
Acknowledging his service to the society, Shirthady William Pinto has been honoured and felicitated by various organisations and associations, the most prestigious being the 'Rajyotsava Prashasthi'(2004) conferred on him by the Karnataka Government on November 1, 2004.
Though Shirthady William Pinto has climbed the ladder of success and achievements, his journey to this position has been a difficult one, especially the initial years of his life as a student. However, determination, will power, foresight and inner qualities of William saw him through the difficult phase of his life and set him on the path of an illustrious legal career and social activism that made him a household name in the undivided district of Dakshina Kannada and later in the twin districts of Udupi and Dakshina Kannada.
The funeral of late William Pinto Shirthady will be held on Monday, 18 February 2019 at Our Lady of Church, Perampalli.
Also Read: