Doha-Qatar: Christelle, Clement March into GVOM Finals - Konkann Myna Honoured
By Jerald DSouza

Bellevision Media Network


Doha, 23 Sep 2018: After a lot of anxious moments, neck-to-neck contest between Qatar's 12 best voices, vociferous backing of Konkani music lovers from Qatar and meticulous judging by eminent judges, young, melodious and expressive Christelle Noella Pinto and Qatar's favourite voice and Prince of Romance Clement Fernandes bagged the ticket to represent Qatar at the finals of the 6th Edition of the Gulf Voice of Mangalore, the biggest, longest running and most popular Konkani reality show on planet earth.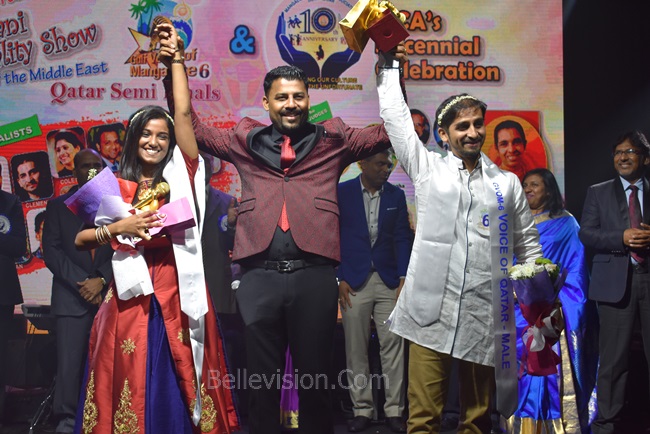 As Walter Nandalike, Editor-in-Chief of Daijiworld announced the names of the winners of the semi-finals, the jam packed Ballroom of the Majestic Holiday Inn Hotel burst into spontaneous celebrations in honour of two of the finest voices that have ever performed in Qatar. The celebration and applause was not just meant to the toppers but to all 12 singers of the semi-finals who dished out a fantabulous performance and kept the audience glued to their seats for close to 5 hours unceasingly. It was a nail-biting, neck-to-neck contest that kept the audience guessing throughout as the pendulum swung from one end to the other constantly with Qatar's Top-12 coming up with sterling performances outweighing each other. At the end, the youngest yet the most mellifluous and confident Christelle Pinto and sonorous, Qatar's favourite and first runner-up at the GVOM 5 Clement Fernandes, outshone the other participants with their stupendous and sterling performance and bagged the coveted ticket to proudly represent Qatar in the finals to be held on November 9, 2018 in Kuwait. The celebration also brought curtains down to the Decennial Celebrations of Mangalore Cultural Association, the host of the GVOM Qatar chapter with conferring of the MCA Kala Puraskar-2017 on Konkann Myna Meena Rebimbus being the crowning moment of the entire evening.
As Christelle and Clement were announced winners the roofs of Hotel Holiday Inn came down with the raucous applause of the full-house Friday audience who were witness to one of the toughest and best GVOM semi-finals ever here. If first round was fantastic yet grueling, the second round with Top-3 was nail-biting affair, making the job of the experienced jury. Yet as they say, two best voices of the evening won but not before being tested and pushed to the wall by other contestants who were equally good and fabulous, making it a memorable evening for the jury, organizers and the audience.
The evening hosted by Mangalore Cultural Association (MCA) began with the playing of MCA anthem after a brief introduction by Alfred Cyril Crasta. Thereafter Alfred handed over the reins of the programme to one of the finest Konkani comperes of the contemporary times across the Konkani world Dony Correa Pernal. Talented Dony was in Qatar a year ago to host MCA's annual musical extravaganza. It was not just MCA but the Konkani buffs of Qatar too loved his power-packed compering made even delightful with his excellent control over the language and the audience then. Hence within a year he MCA flew him again to Qatar on popular demand not just to host GVOM semis but also host the valedictory ceremony of the decennial celebration of MCA.
He gave a grand opening to the GVOM semi-finals by inviting the participants to the dais as the GVOM anthem being played in the background with Wilson Mendonca and GVOM Qatar chapter coordinator Shalini Mendonca escorting to the contestants to the grand stage. It was followed by introduction of the jury panel of the evening to the gathering and welcoming them. The judges of the semi-finals were young musician Suraj Noronha, renowned singer Joy Mathias Rai, who also happens to the judge for another Konkani Singing Reality show Mozo Thallo Gaithalo being telecast at Daijiworld 24x7 and composer, singer and musician Alwyn D'Cunha, fondly known as Valla Mestri. All three were specially flown in from Mangalore for this special occasion.
The stage was then thrown open to the contest as witty, eloquent and spontaneous Dony took control of the evening's proceedings. The first performer of the evening was Rhea Aranha who emoted perfect sentiments coupled with brilliant vocals in rendering 'Pavxilya Disa', a foot-tapping song composed by Wilson Olivera and sung originally by Zeena Pereira. She hit all the right notes and stirred the romantic chords of every Konkani lover present in the audience with the stellar rendition. It was a perfect beginning to the musical battle and also signal to what was in store in the next few hours.
Second one to the stage was Colette Nazareth who belted out fabulous dance number 'Raath Aichi' composed by Llyod Taccode and Roshan Angelore and sung originally by Lavita Lobo for 'Xetam Merrer' album. Colette's performance was one of the best performances of the evening as her enchanting and energetic performance raised the level of the competition. Gifted with a bold voice, she is surely a star in the making, if only more and more opportunities come up her way.
Third in line to take to the stage was Freeda Monteiro who presented lovely and melodious yesteryear number Sanjechea Vellar composed by Patrao Brothers. Her fine performance was well received by the audience with rousing applause. She was followed on stage by another newbie Melita Lobo who rendered 'Mai Baba', a beautiful number composed by Melwyn Peris and sung originally by Ivy D'Souza. Melita did a fabulous job in presenting this emotional number with her unique and 'one-of-its-kind' voice that came in appreciation from all quarters.
Next came in perhaps one of the most melodious as well as flawless performances of the evening. Christelle Pinto was just a small child when GVOM had its first beginning in 2008. But 10 years down the line and this young yet matured female voice took everyone in the gathering by surprise with her flawless and mellifluous singing. It was for the first time she was singing in front of such a big gathering and performing in front experienced and esteemed jury. It was perhaps the biggest stage of her life. But nothing stopped her from dishing out a superlative performance and doing complete justice to Melwyn Peris' musical masterpiece 'Choli' sung originally by ace singer Anitha D'Souza.
Last of the female singers was Eva Wilma Pinto. Wilma has been a consistent performer in every GVOM held so far. Her choice of the evening was Alwyn Noronha Bajpe's 'Fondar Tujea', one of the most sentimental numbers that has ever been composed in Konkani. This song sung originally by young yet one of Konkani's finest ever female voices Babita Pinto, has come in for lot of praise by the music critiques and has been a regular entry in various Konkani music competitions. Eva with her unique voice timber and beautiful presentation dished out a great performance that came in for a lot of praise by the jury and the audience.
The performances by all the female contestants was of such high standards that audience was left stunned in sheer appreciation of the perfect blend of melodious singing and equally matching performance by each one of the contestants. For sure judges Suraj Noronha, Joy Mathias Rai and Alwyn D'Cunha had difficult time in selecting the best one. It was also heralding of what was in store when contest would start for the male semi-finalists. And no one was disappointed as Qatar's Top-6 male voices dished out a wonderful performance through their superlative singing.
The first contestant among the male singers was young Jeevan Rayan Ferrao, a new singing sensation of Qatar. He was all romance as he presented Mandd Sobhann's romantic number 'Tujea Bhognnani', sung originally by Alwyn Fernandes. Jeevan's performance and rich voice came in a lot of praise of the jury. He was followed on stage by Naveen Pinto, an experienced singer who has been a regular performer in Qatar. He has always been hailed for his deep, sonorous voice by the audiences. His voice has a magical touch that enchants the audience to the maximum. He chose to sing one of Mandd Sobhann's best compositions 'Ambor Pikya Moga Khinnyan' originally sung by Konkani's numero uno male voice, Dream Boy Rony D'Cunha. As always Naveen did not disappoint anyone and presented a sterling performance.
Naveen D'Souza is another Qatar's favourite singers for few years now. His baritone voice is a delight to the ears when he hits the lower octaves with ease. He presented Konkann Kogull Wilfy Rebimbus' emotional number 'Mai Mojhi' sung originally by Wilfy Rebimbus himself. It is such an emotional number that anywhere and anytime it is sung, listeners are transported into a sentimental world. It wasn't a different story today either. As Naveen hit those low notes, audience and judges were seen mesmerized with his super-duper rendition.
Alphonse D'Silva, is one of Qatar's best singers. Time and again those who have heard him opined that his voice has a close resemblance with the voice of Konkani's original and first showman Jerome D'Souza. Alphonse's ability to come up with astounding performance almost everytime he climbs up the stage is second to none and he lived up to his billing as one of the top performers of the evening with the superb rendition of the late P H Pinto's Magnum Opus 'Ye Chondrema Ye Chondrema' originally sung by Blanche D'Cunha, who had lion's share in the vocals in P H Pinto's musical albums. As always Alphonse came up with an enthralling performance that was received with thunderous applause by the audience.
Then came another new and fresh voice of Qatar Jason Dias. He sung Wilfy Rebimbus' famed composition 'Raath Jalya Raath', sung originally by Konkani's Golden voice Dr Prashanth Raj for Padri Konkani film. Jason was considered by many to be the dark horse of the evening and he proved that with a near flawless rendition of the chosen song. His vocal abilities and stage performance came in special praise from the jury too.
Last among the participants was Qatar's favourite voice, heartthrob and a singer extraordinaire Clement Fernandes. His singing, laced with tons of emotions and rich vocals has taken Qatar by storm for the last couple of years. As expected, he was at his melodious best as he presented one of the late Mic Max's best compositions 'Ye Mujha Mana' sung originally by Dr Prashanth Raj. It was the best performance of the evening, at least going by the reaction of the audience. It took extraordinary skills of compere Donny Correa to bring the venue back in order as the audience went berserk with applause.
This was the first round and the judges were to select Best-3 in each category for the second round. It was Christelle, Colette and Eva Wilma who came up triumphant in female category while Clement, Jason and Alphonse in the male category. While in the first round, singers were allowed to sing a song of their choice, the second round was more challenging as the Top-3 had to sing a common song given by the organizers. It was 'Disco' song for the female and 'Vanitha Vandana Shalini' for the male. Again all the 6 contestants came up with the brilliant performance knowing well that their fortunes of entering the finals depended on this round. It was indeed superlative performance as margin of error decreased and contestants put their best foot forward to impress the jury.
The background music was scored by band led by Pappan-Joswin duo who have scored music for most of the musical nites as well as albums of the late Wilfy Rebimbus. They were joined by local Qatar artists on tabla, flute and bass guitar.
Once the contest was over, a short stage programme was held wherein MCA Kala Puraskar-2017 was awarded. While Hemant Kumar Dwivedi, First Secretary at the Indian Embassy, Qatar, was the chief guest of the evening, Walter Nandalike, the Editor-in-chief of Daijiworld and Milan Arun, president of Indian Cultural Centre were the guests of honour. The guests were escorted to the stage by MCA president Veena Pais, vice-president Clement Saldanha and advisors Felix Lobo, Jerry Pinto, and Wilfred Fernandes. MCA cultural secretary Jovita D'Souza nee Pereira introduced Hemant Dwivedi to the gathering before MCA president Veena Rebimbus Pais delivered the keynote address.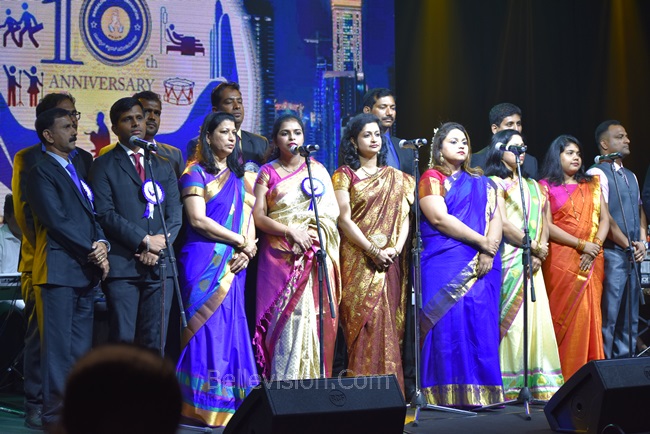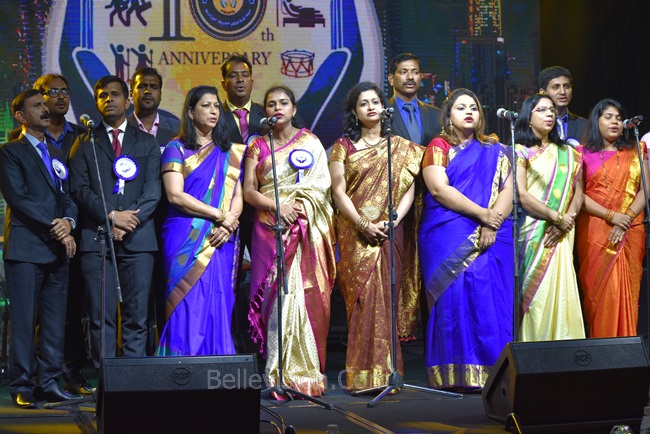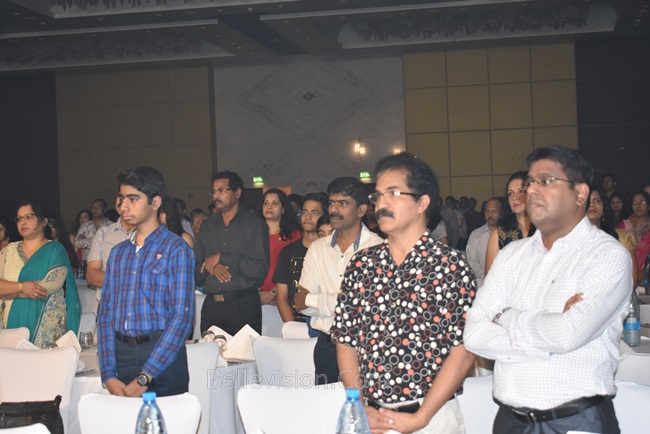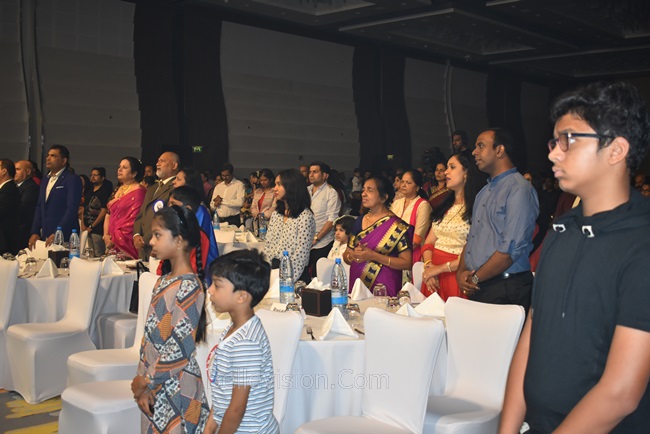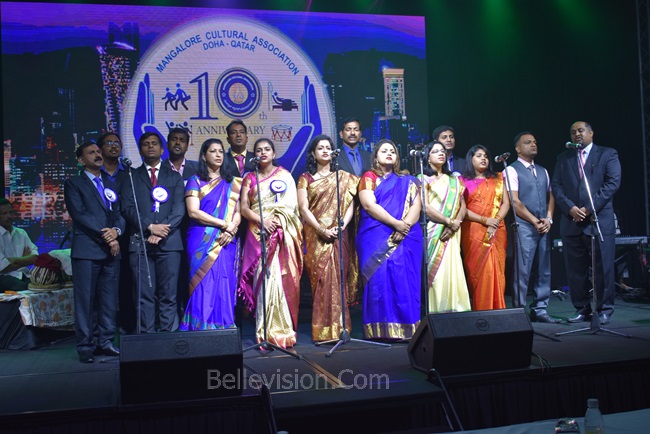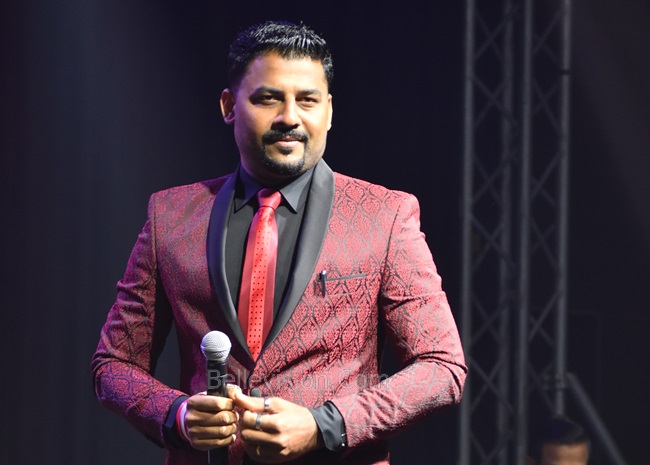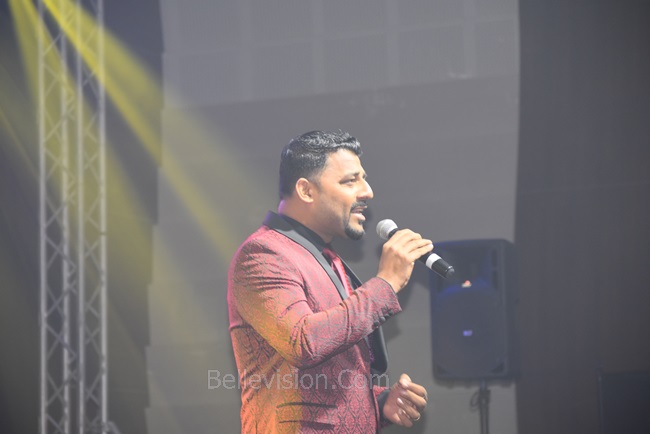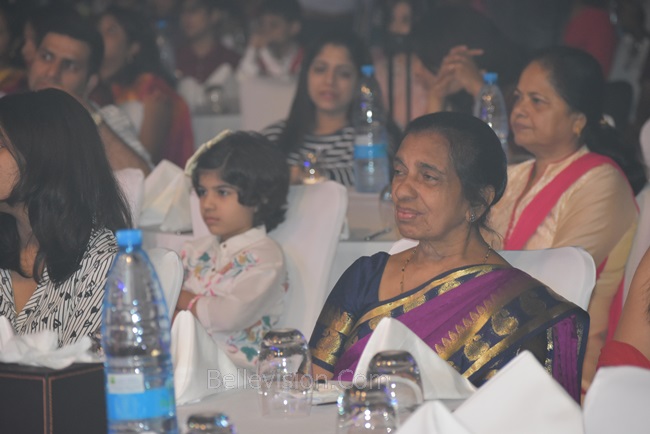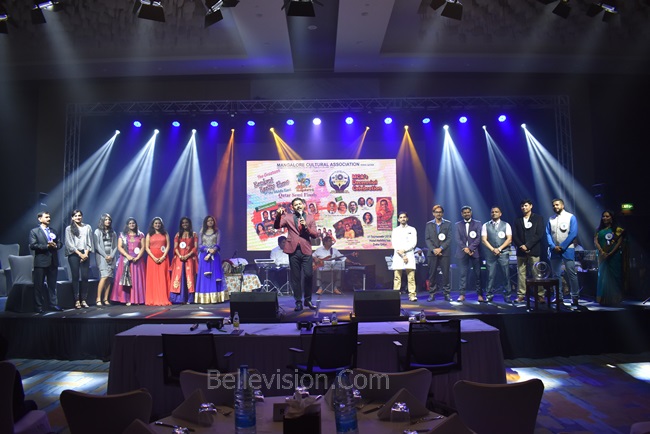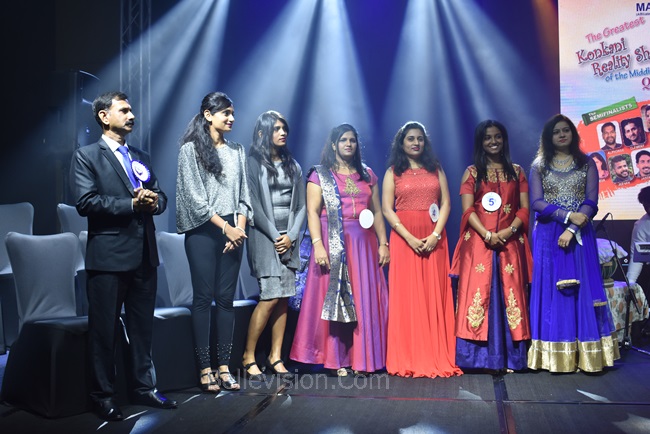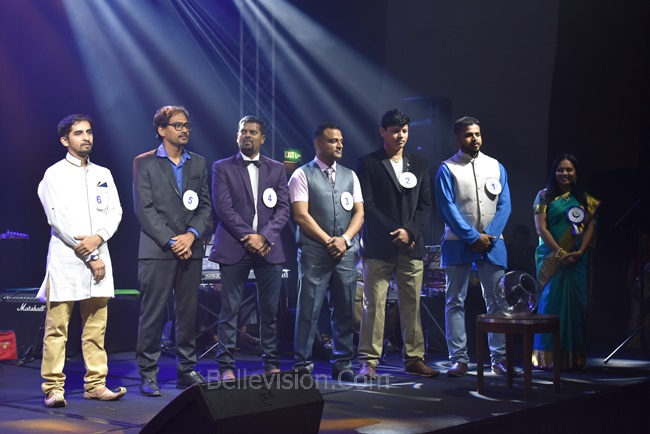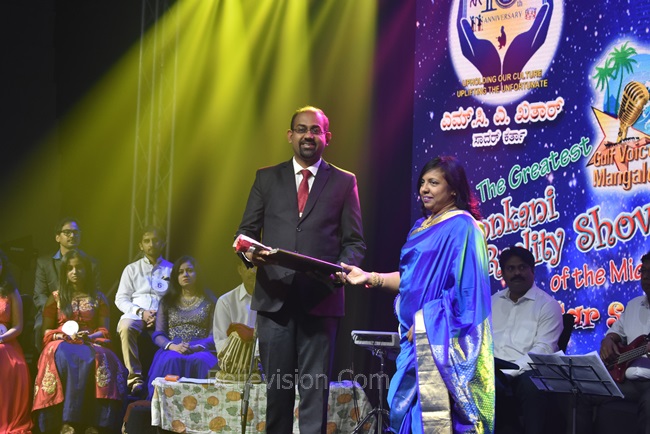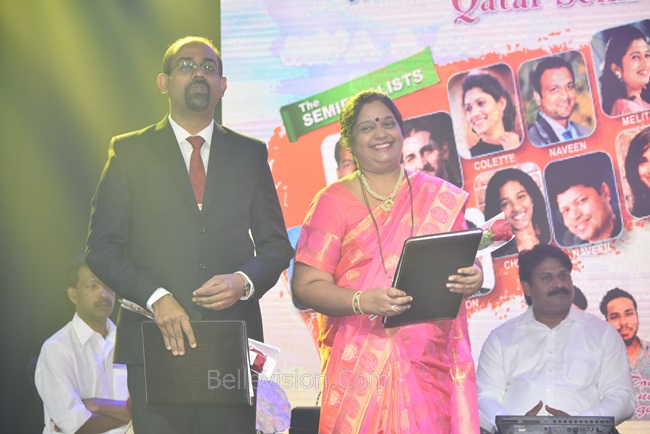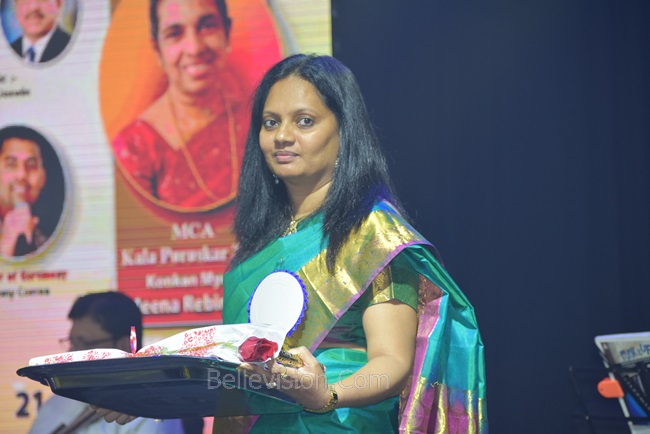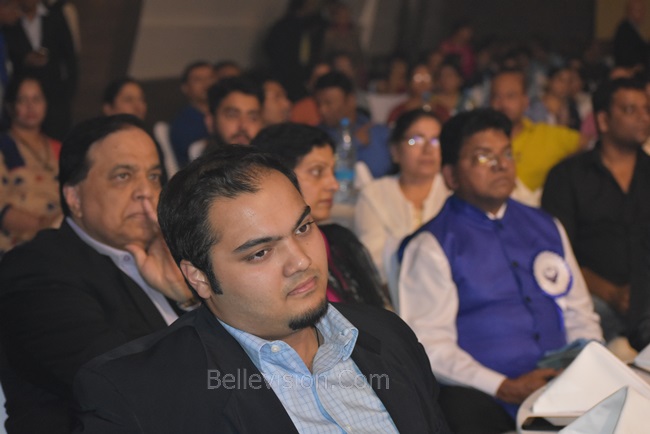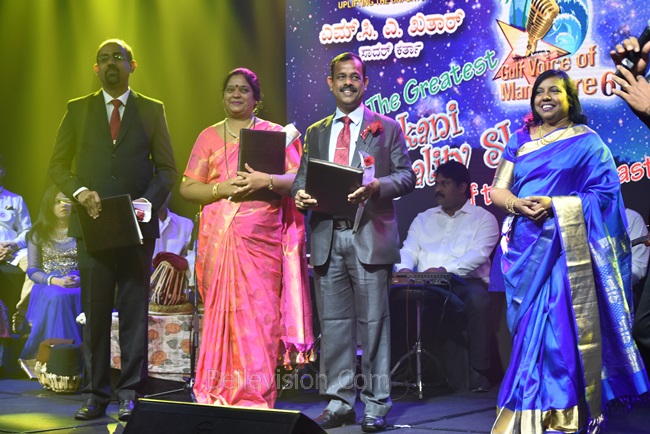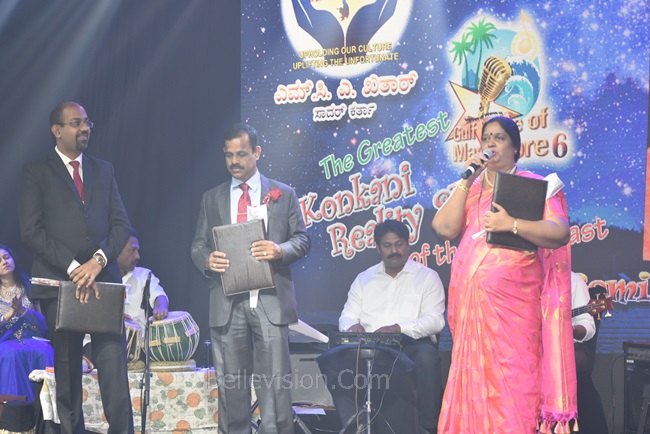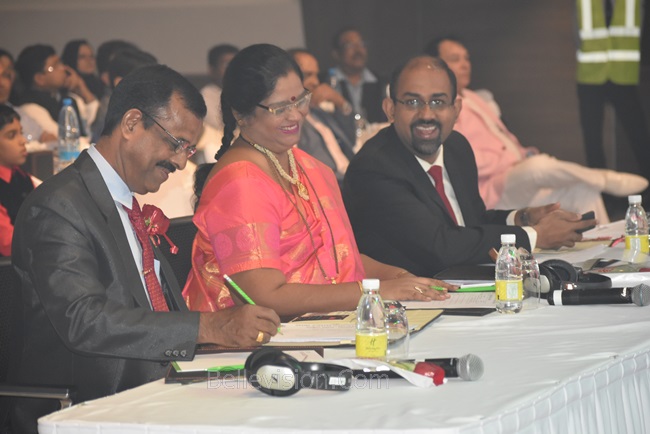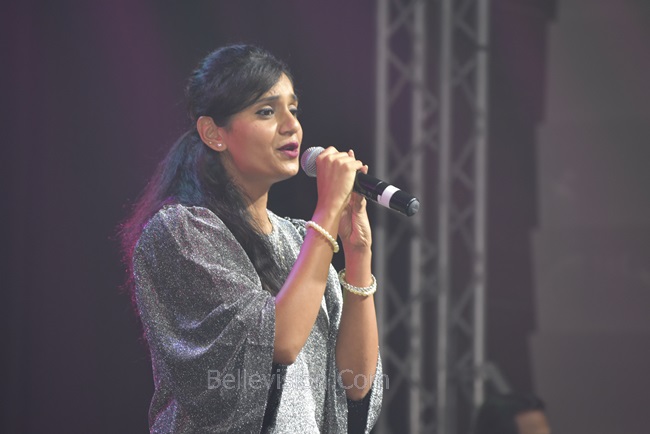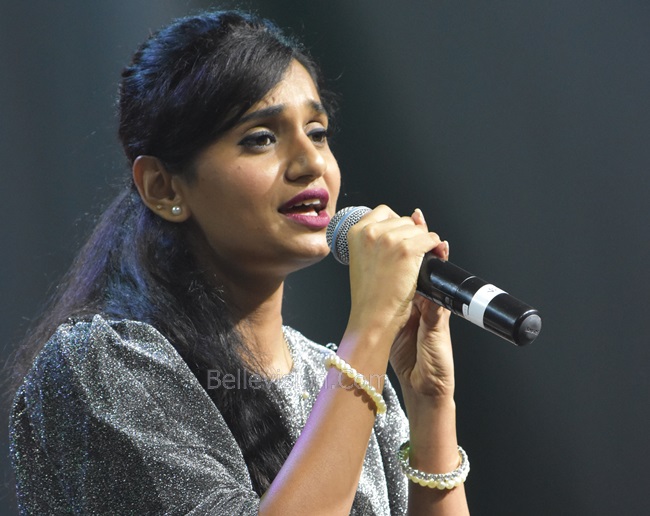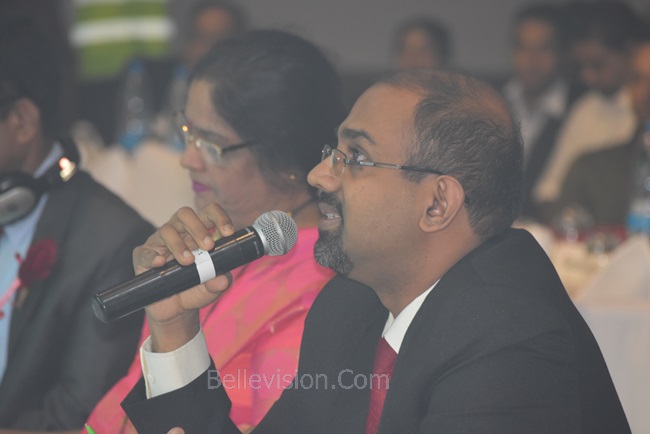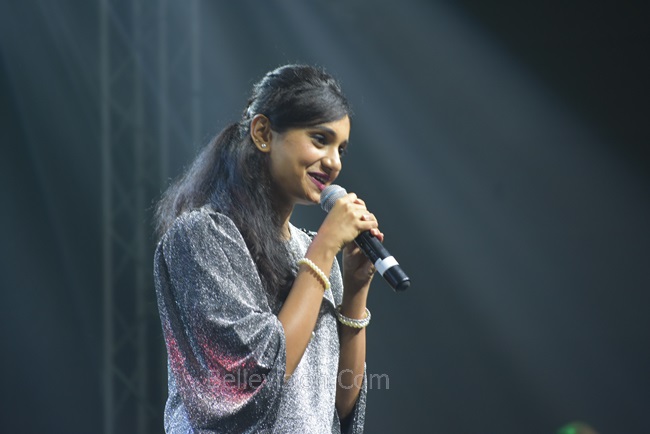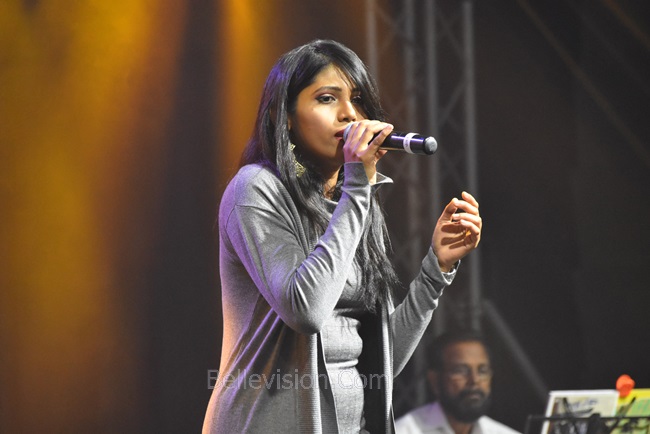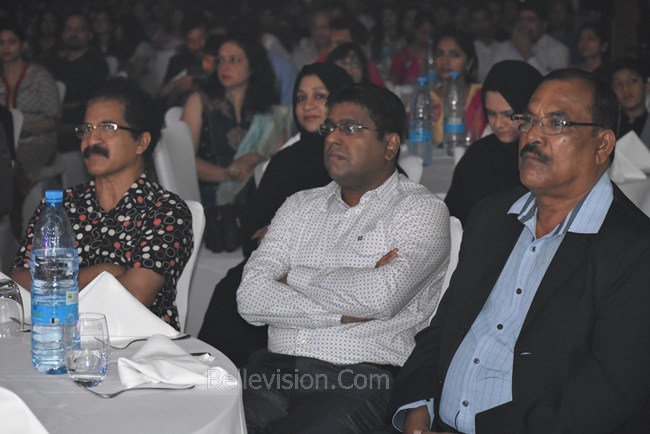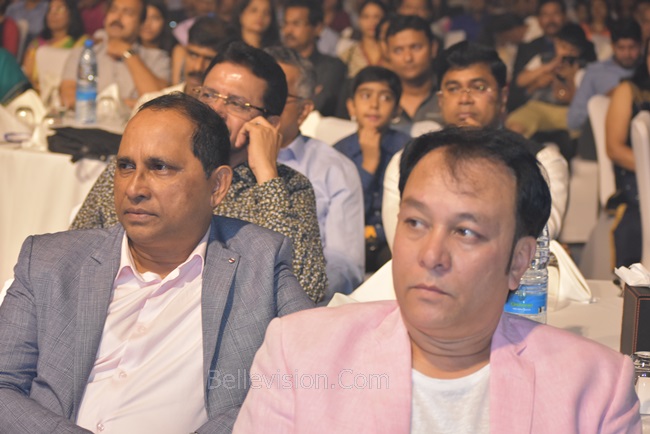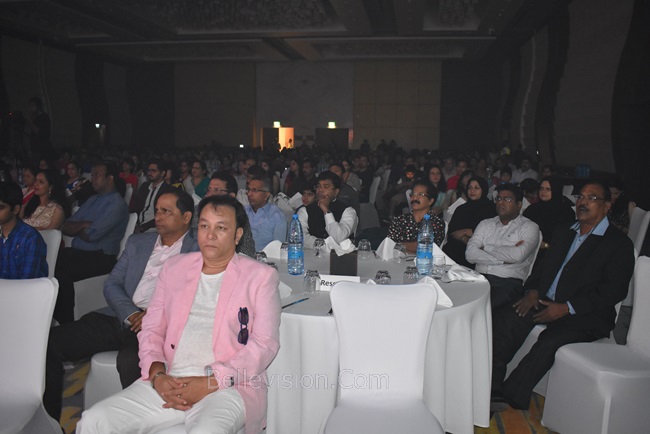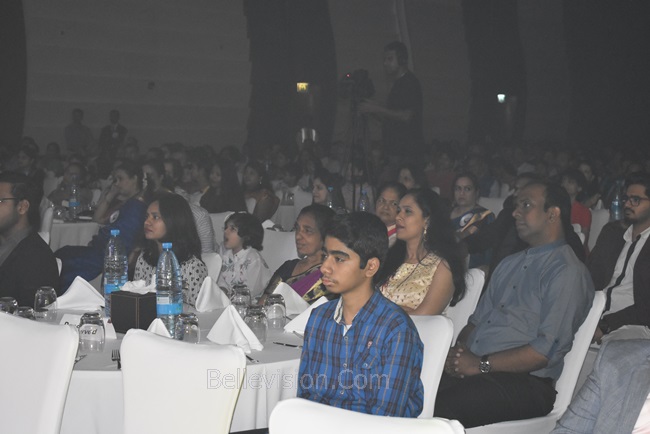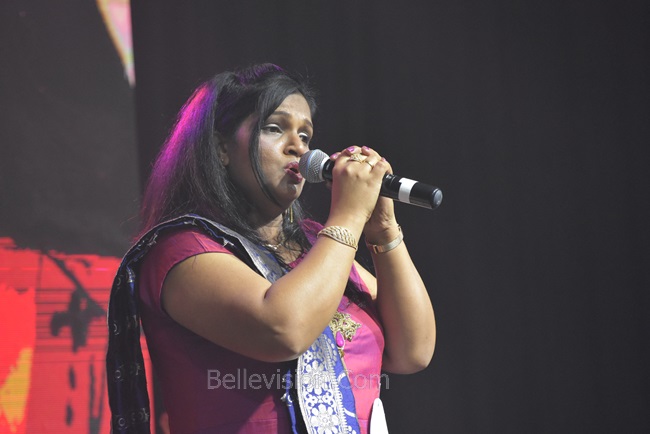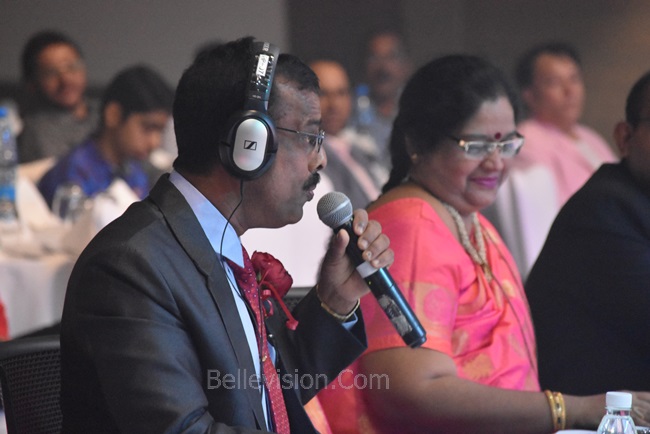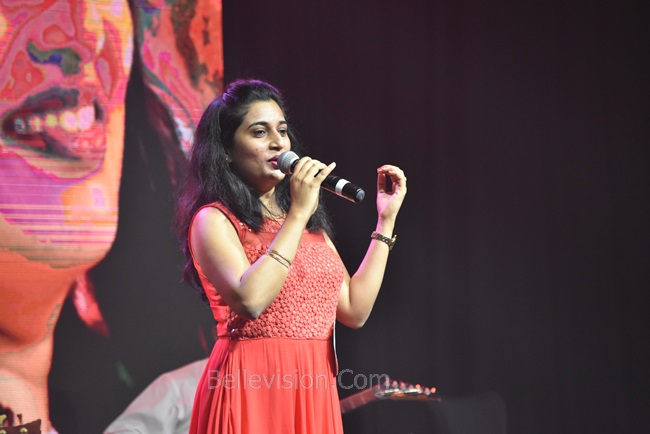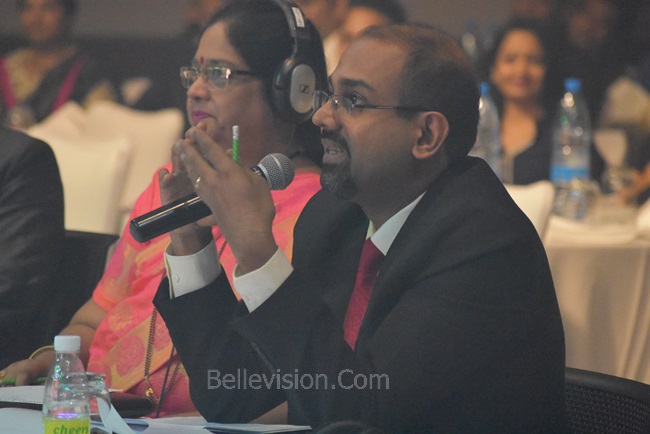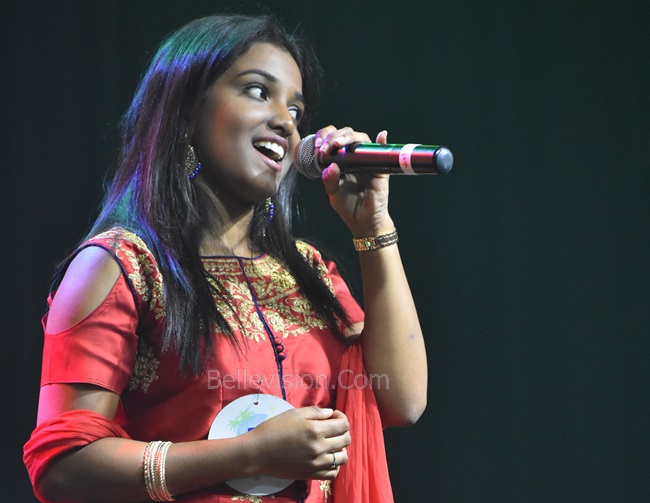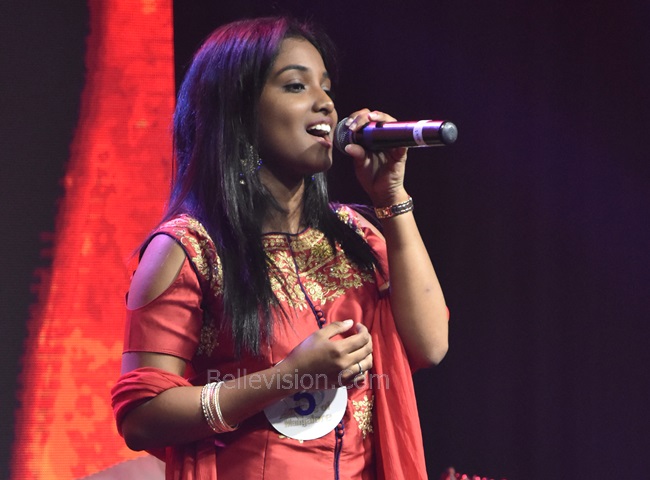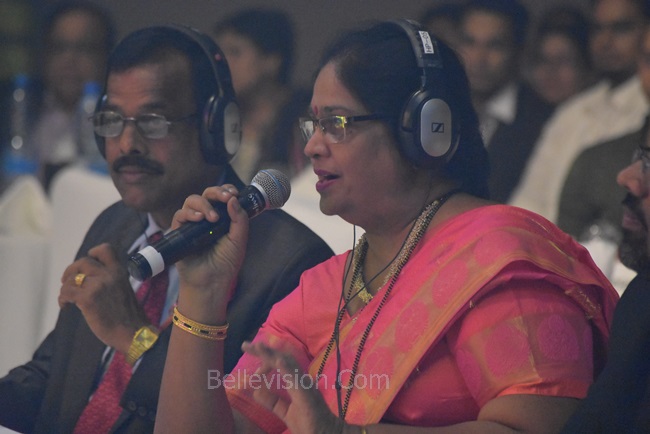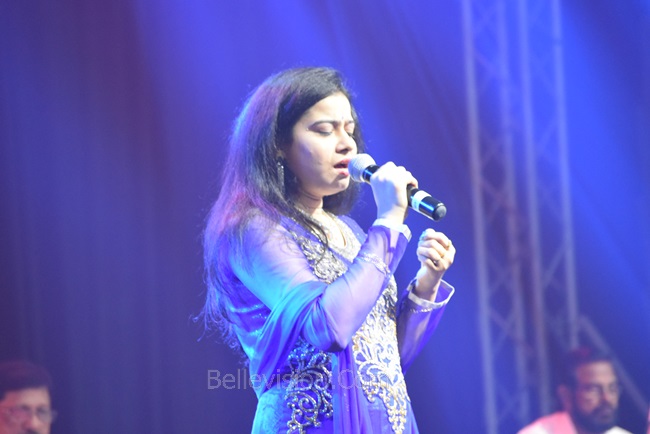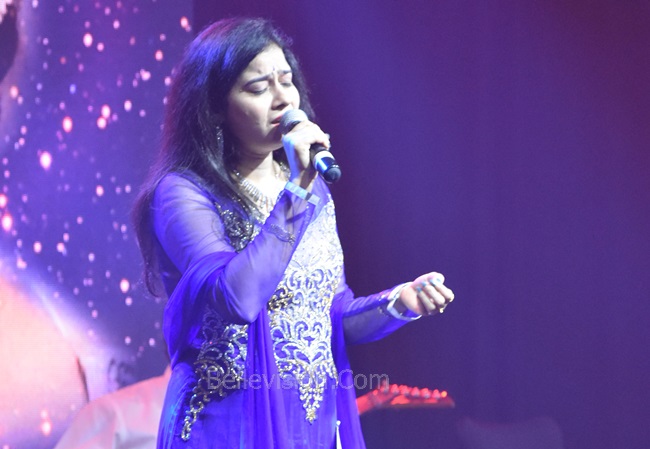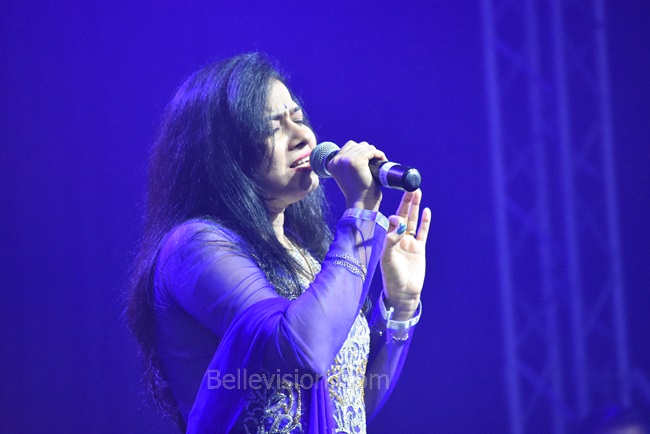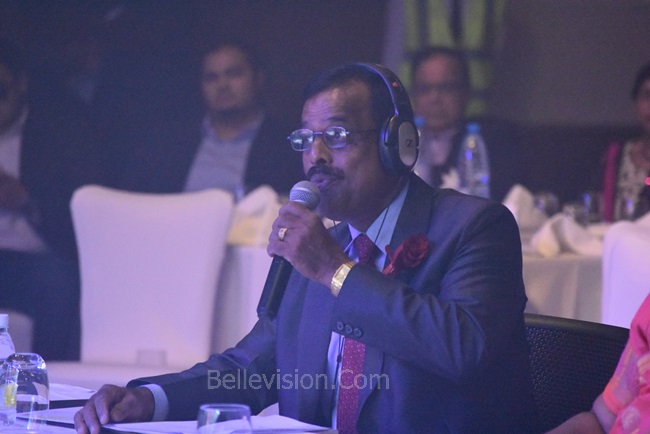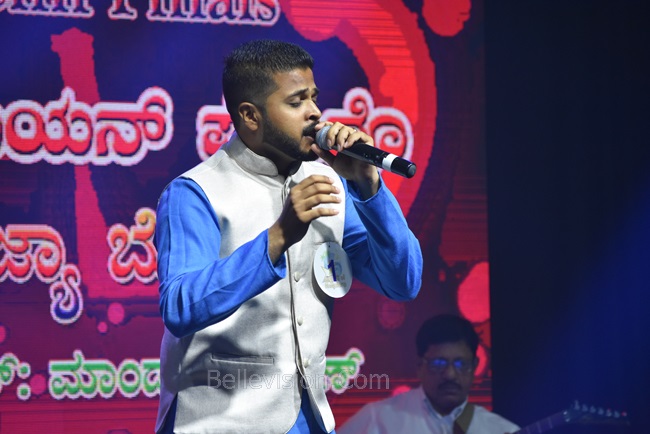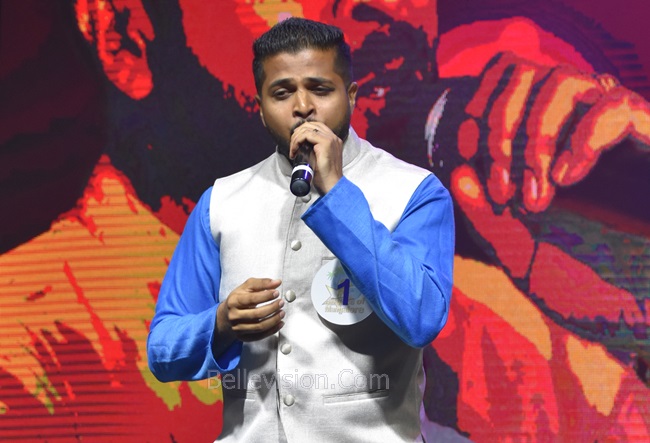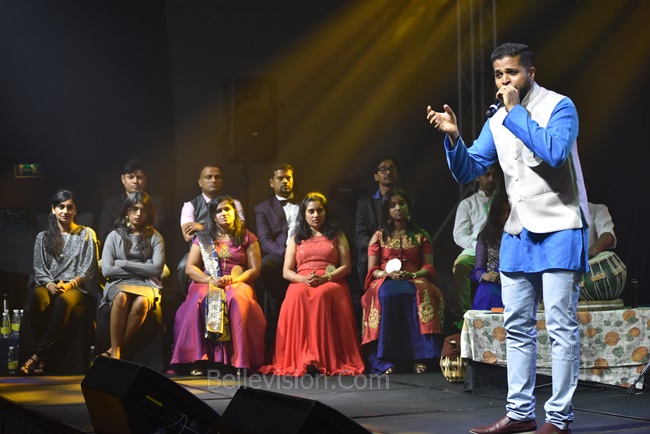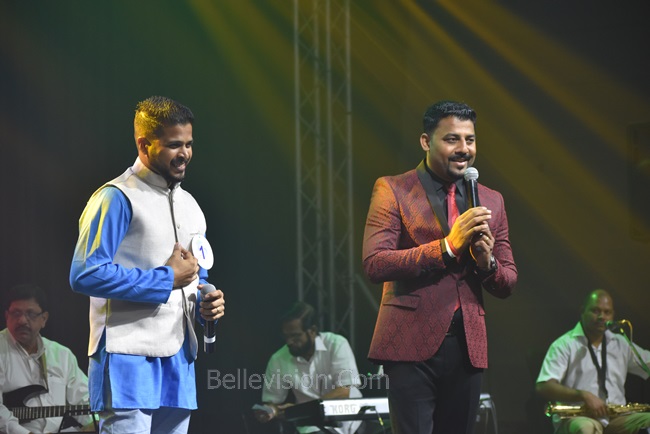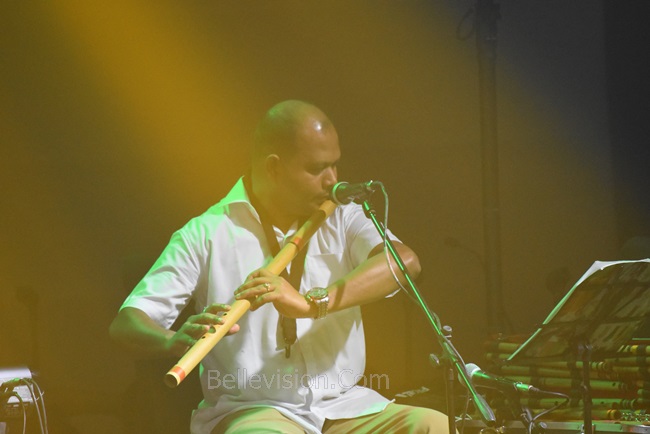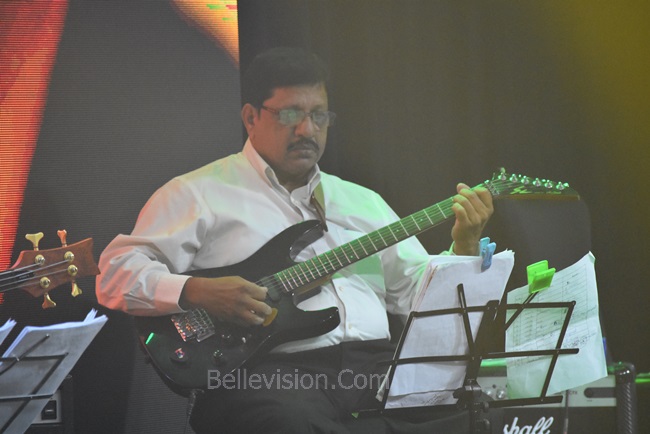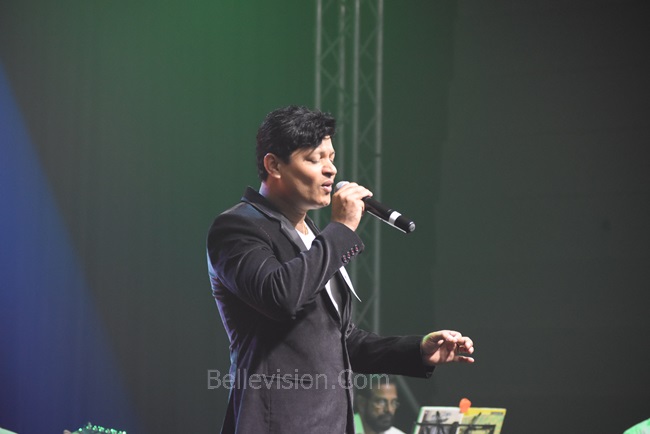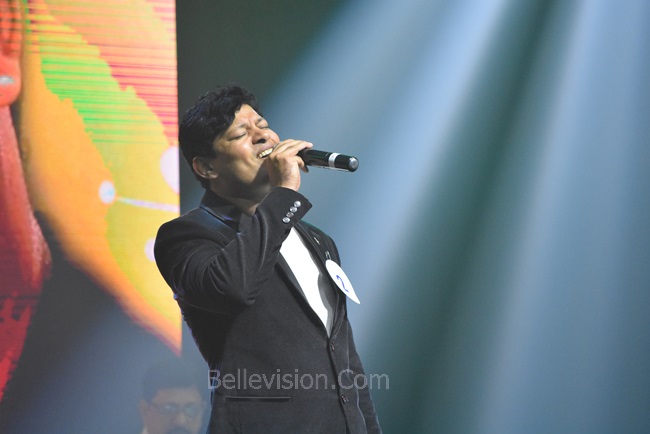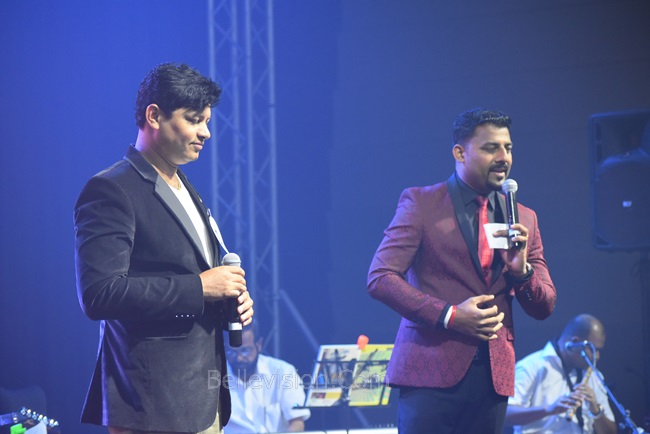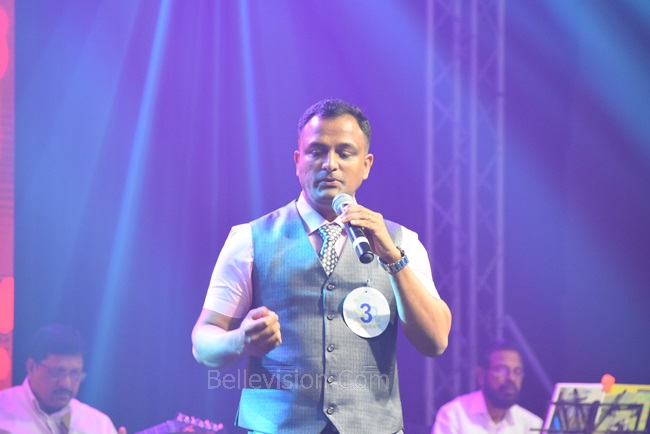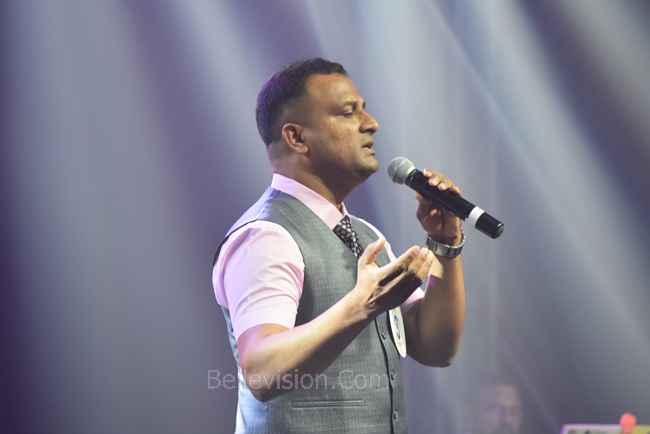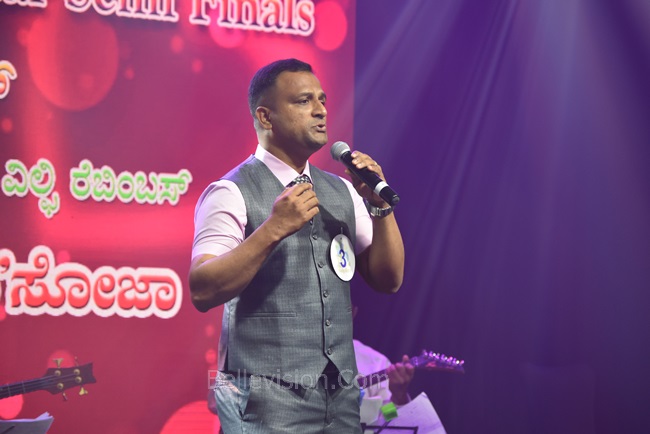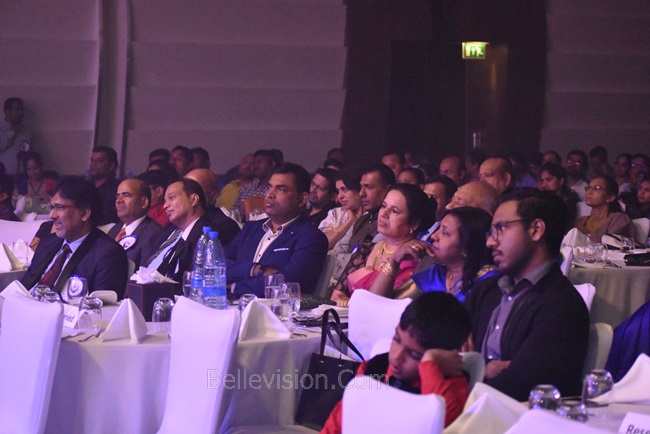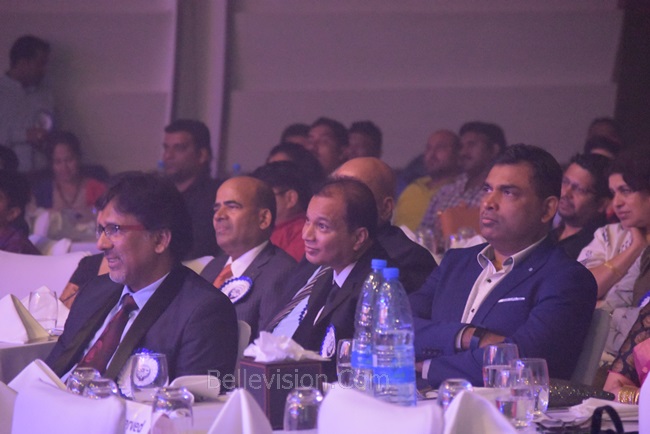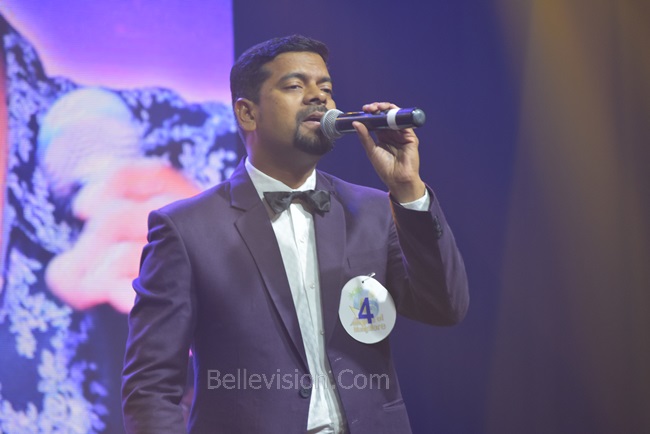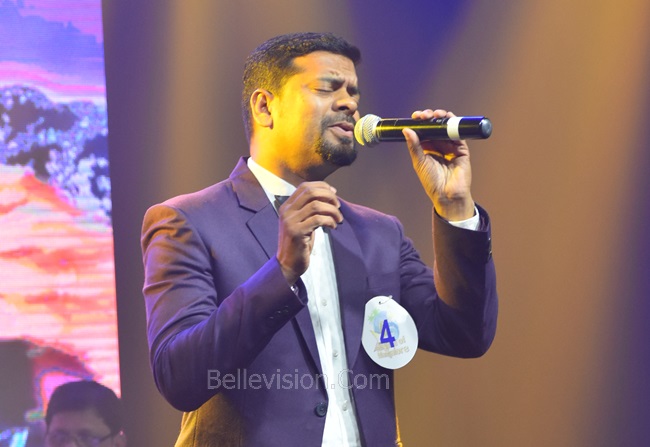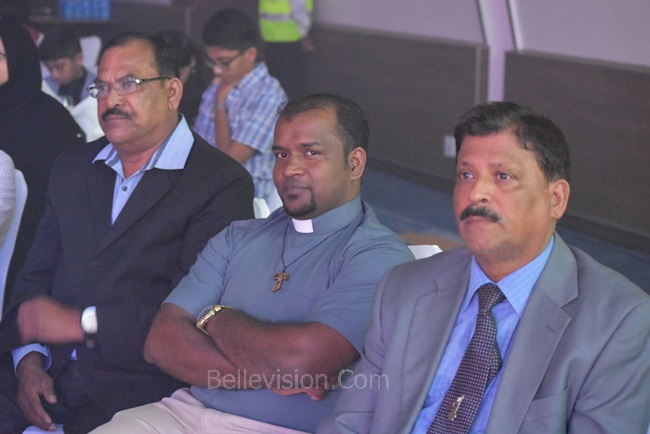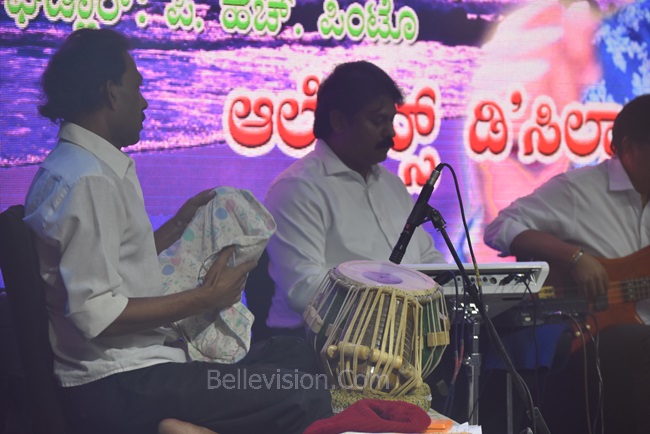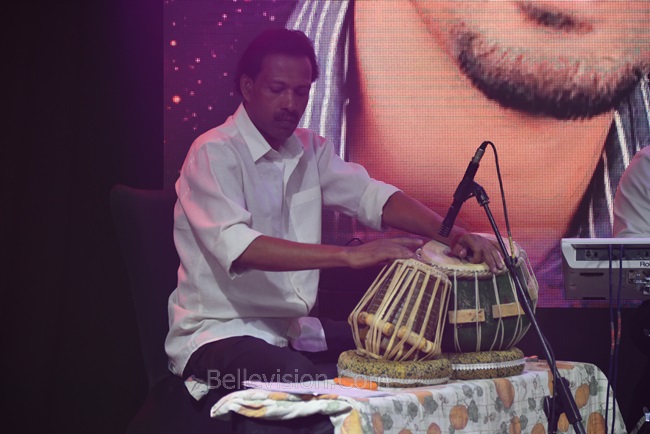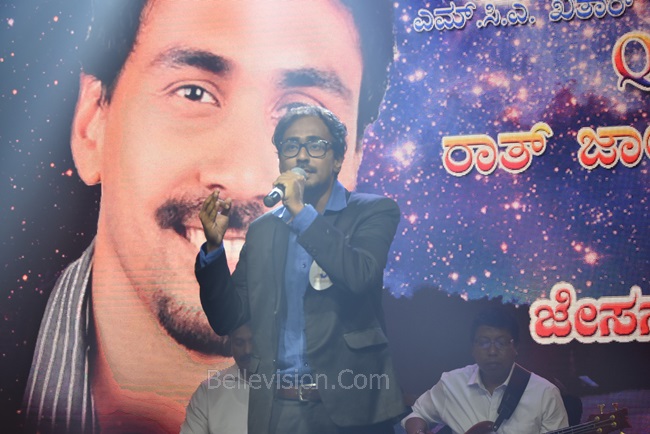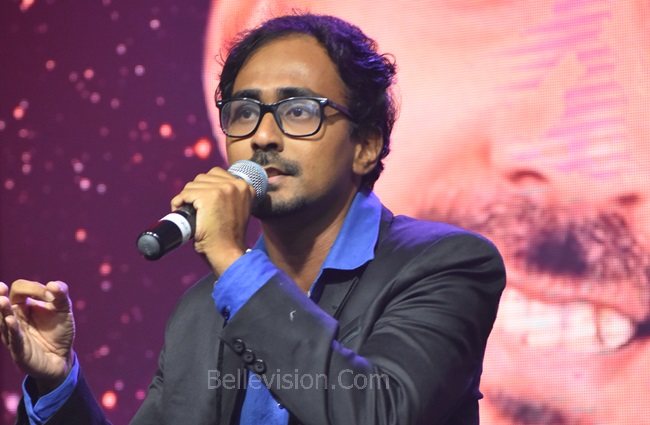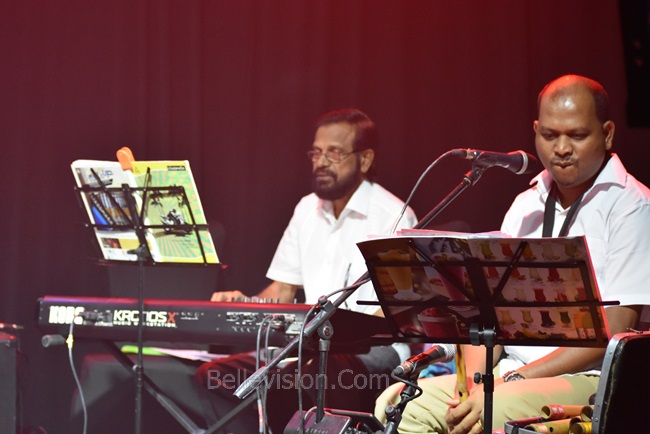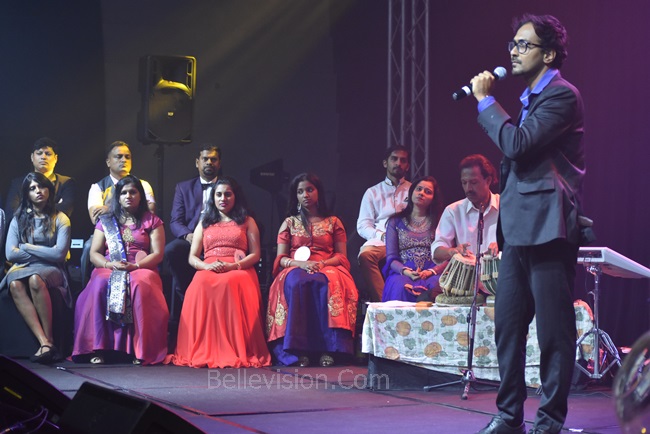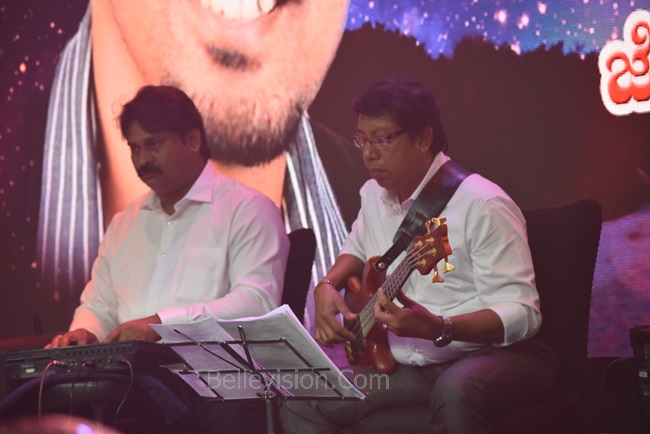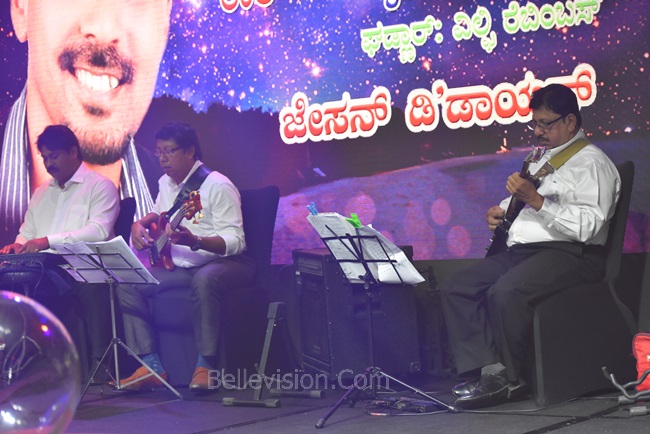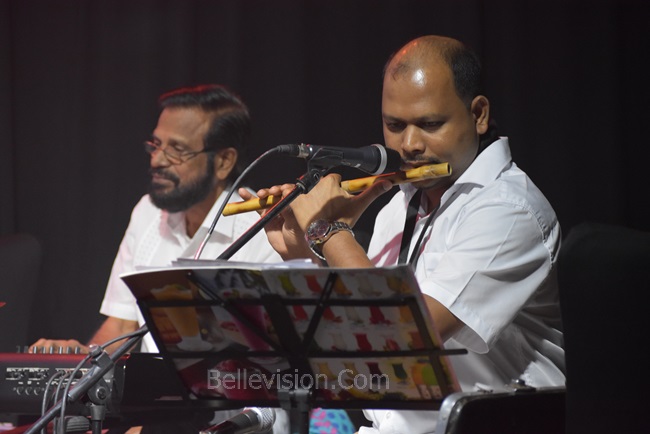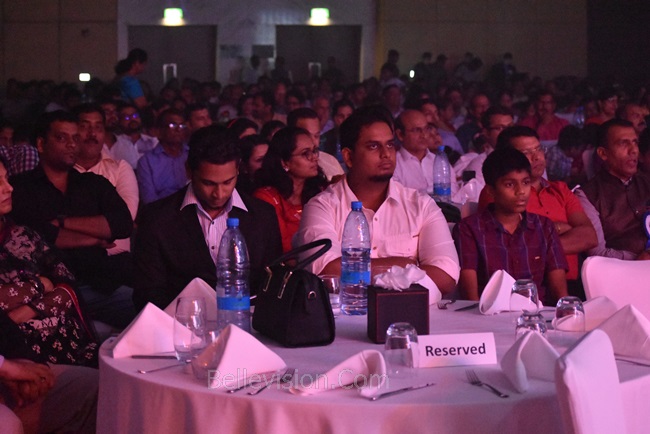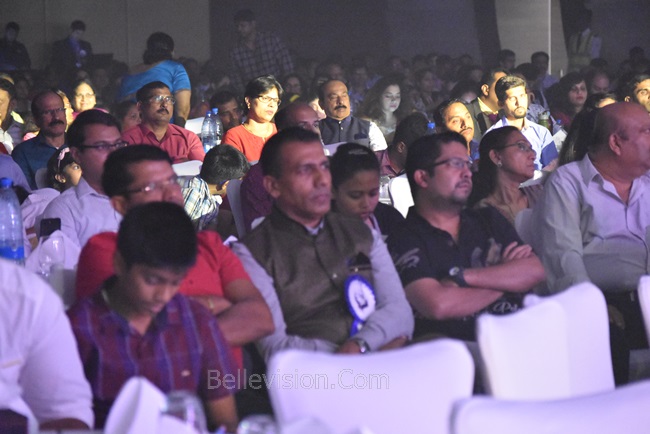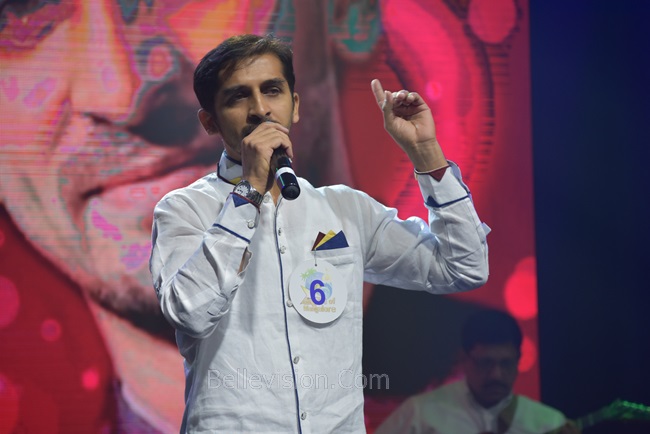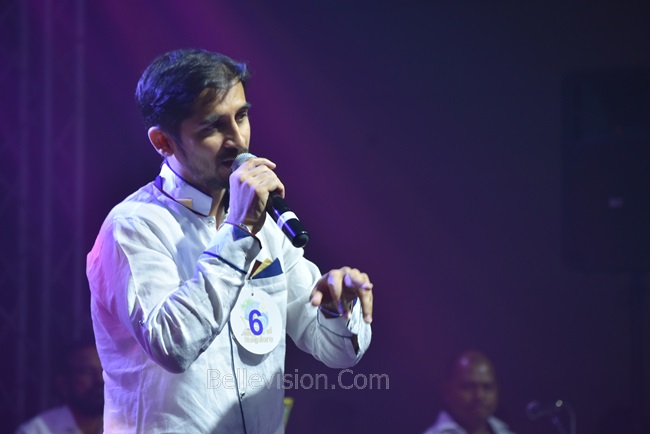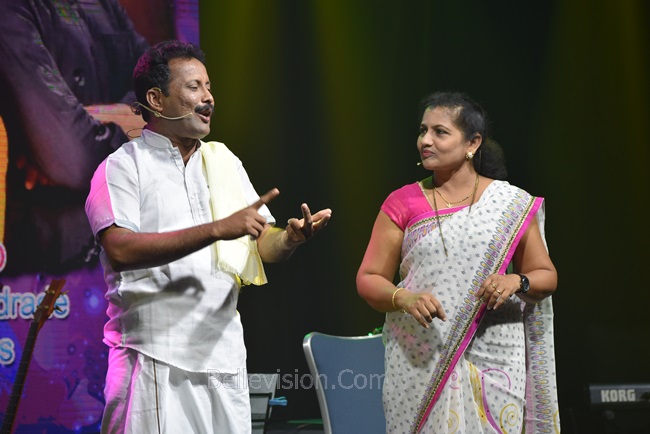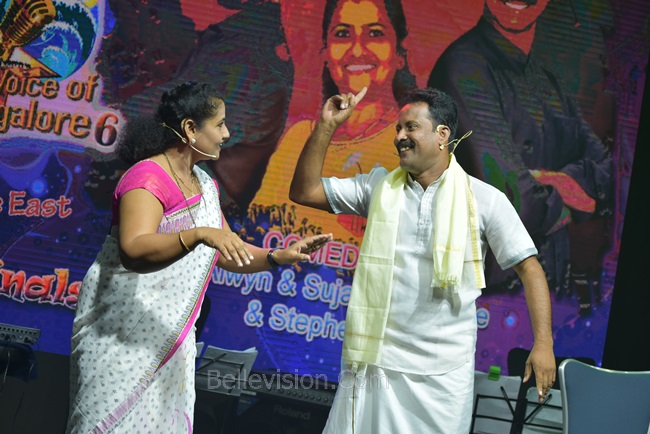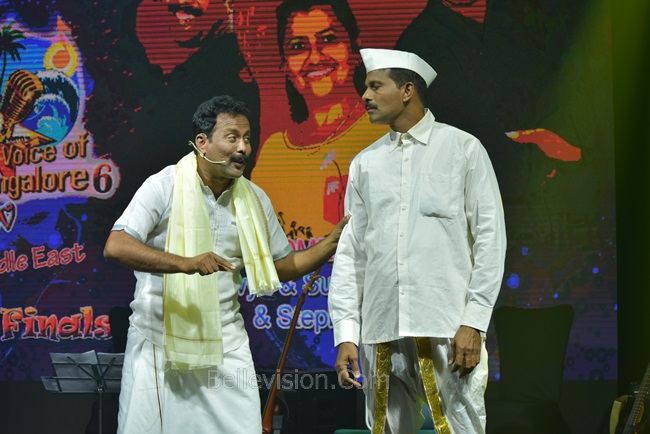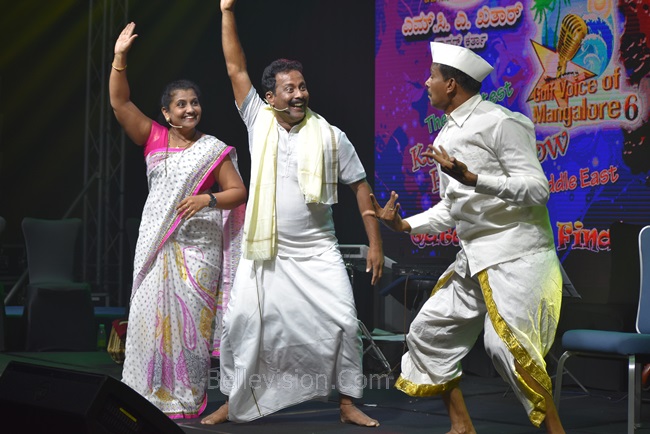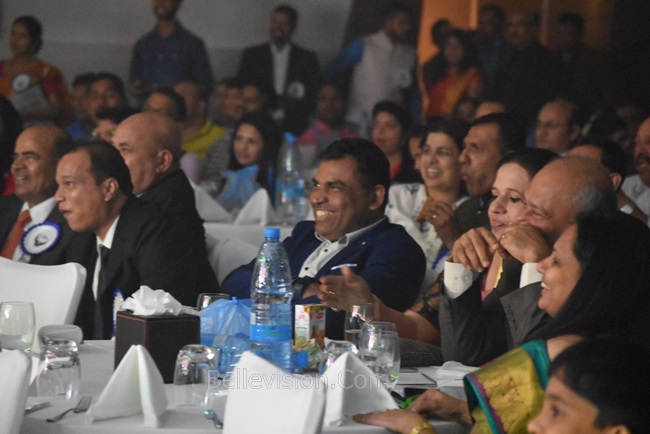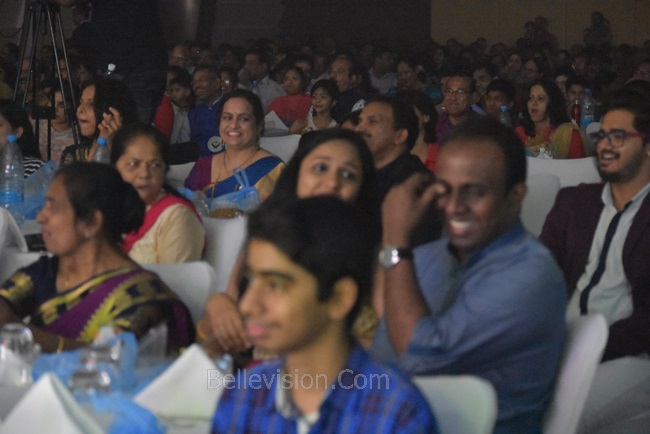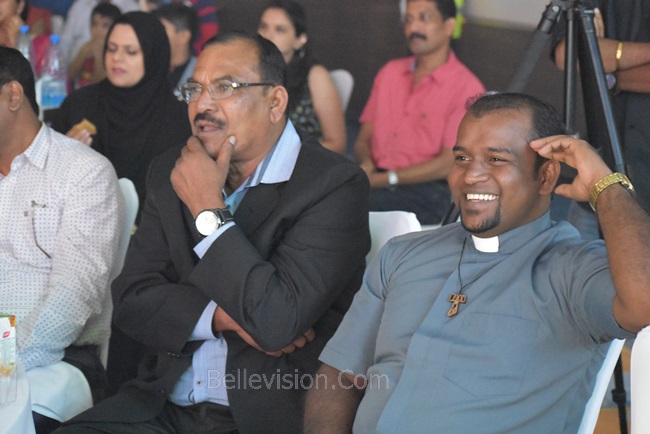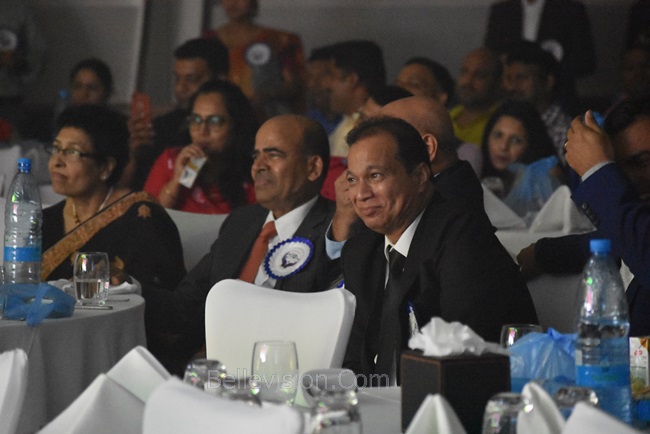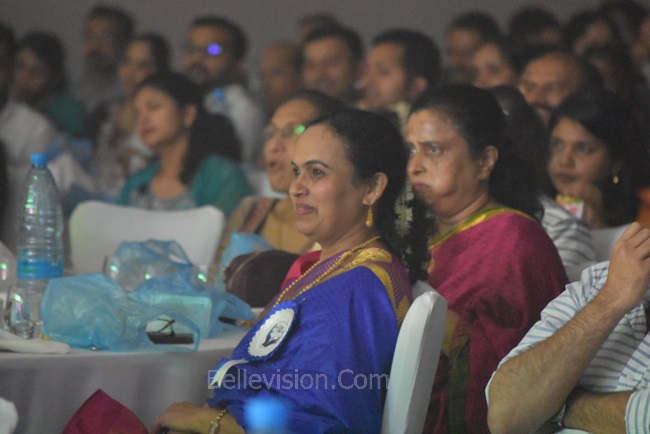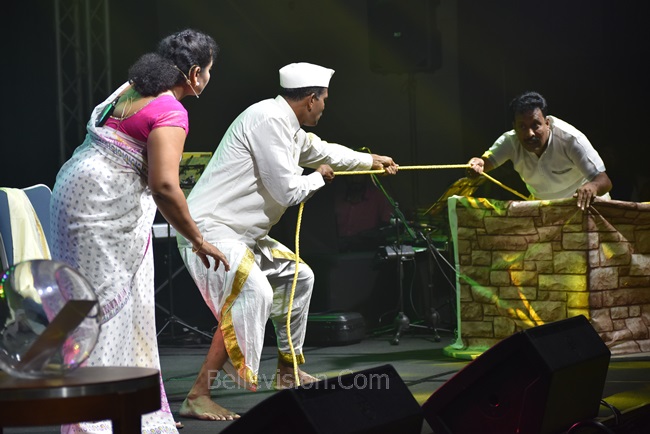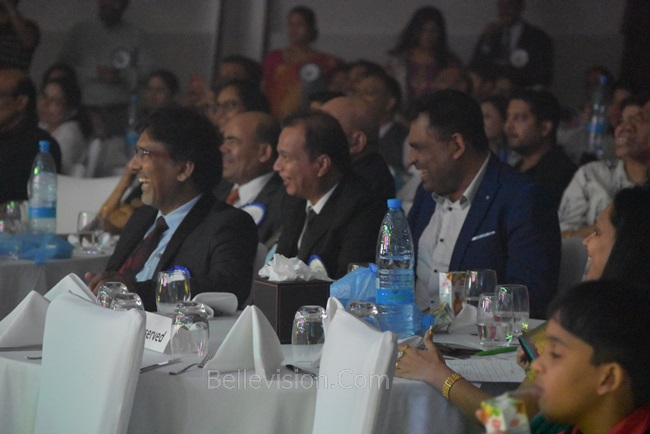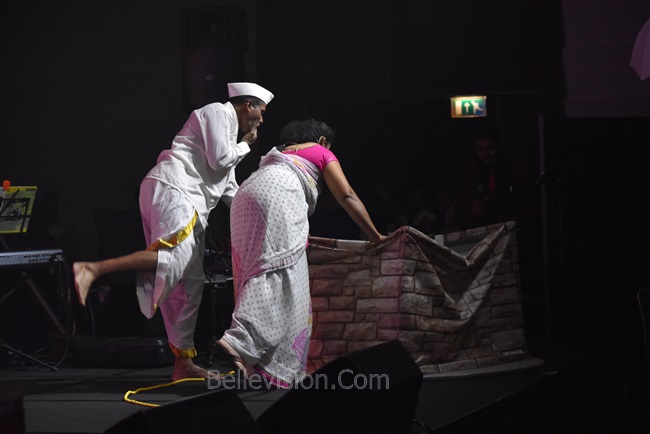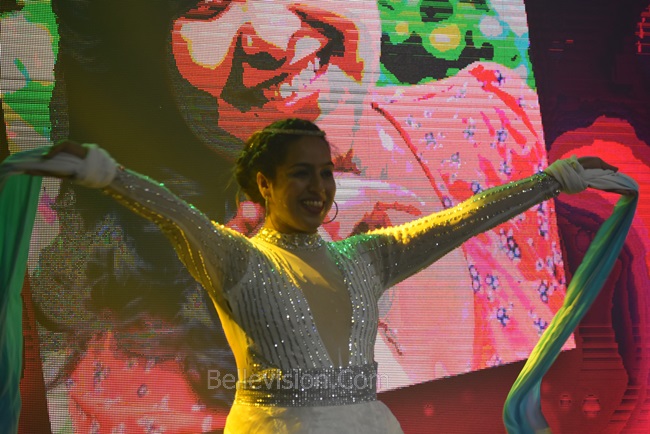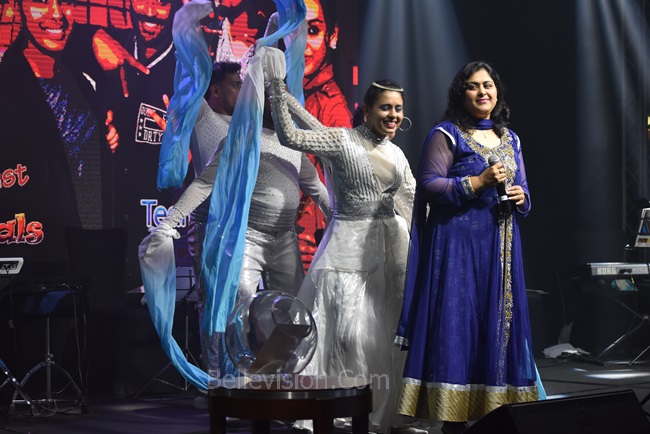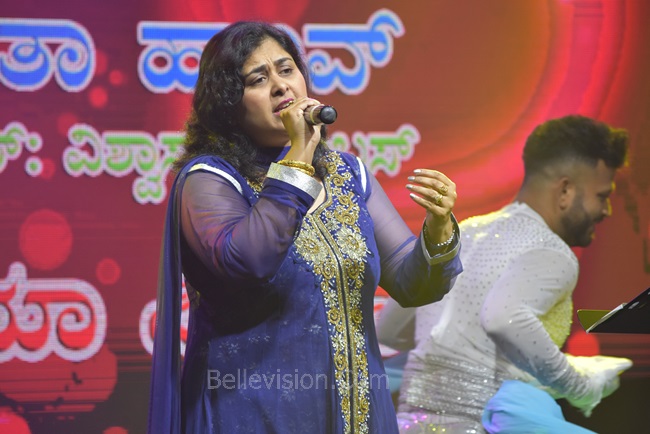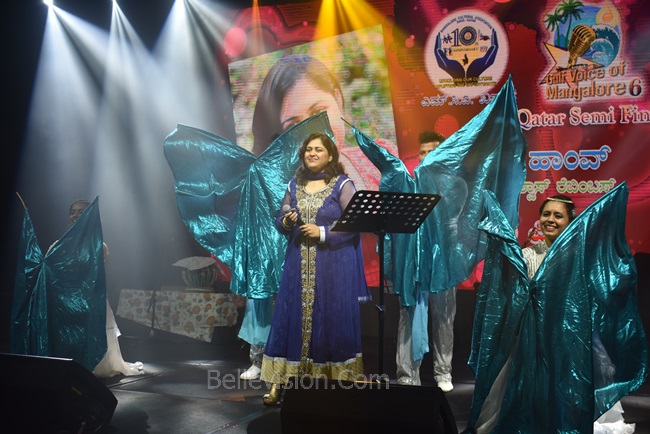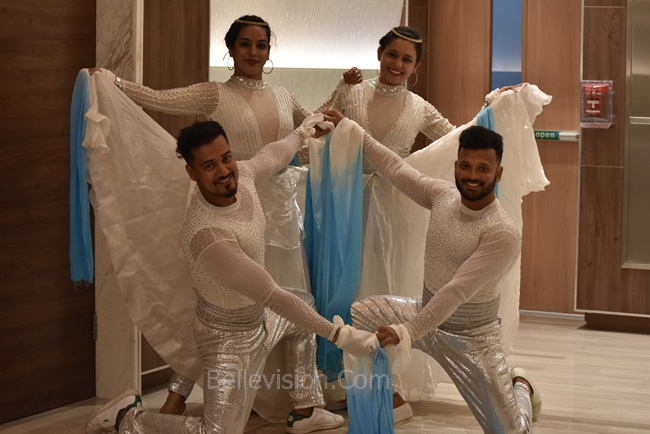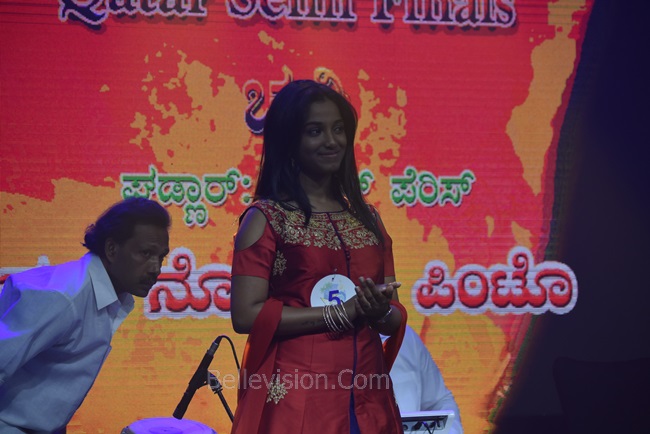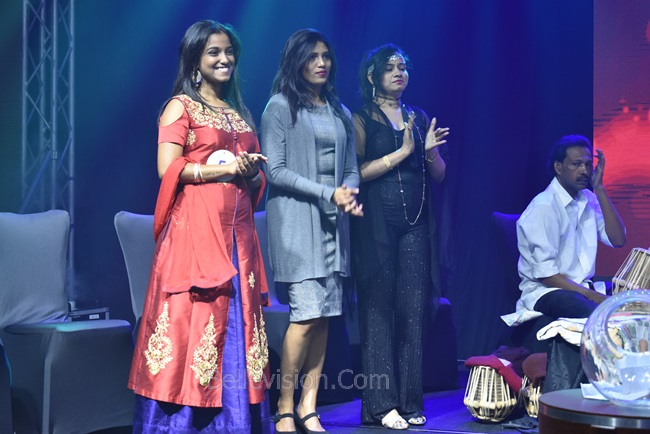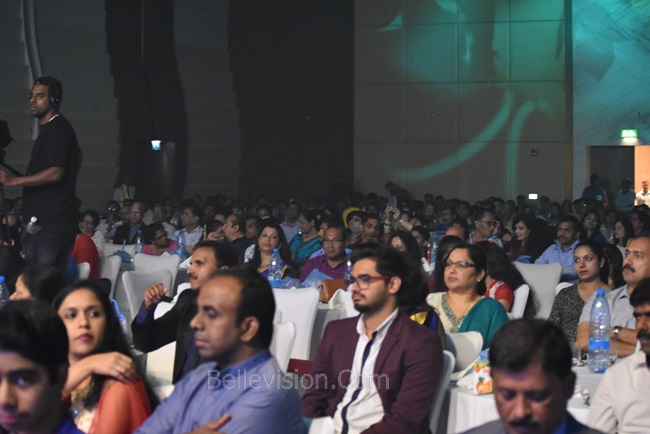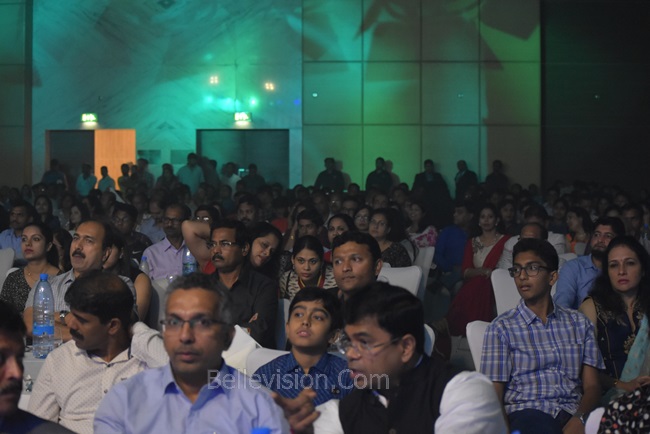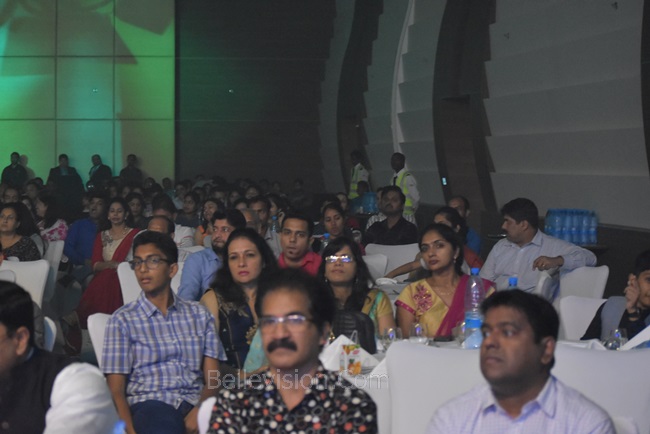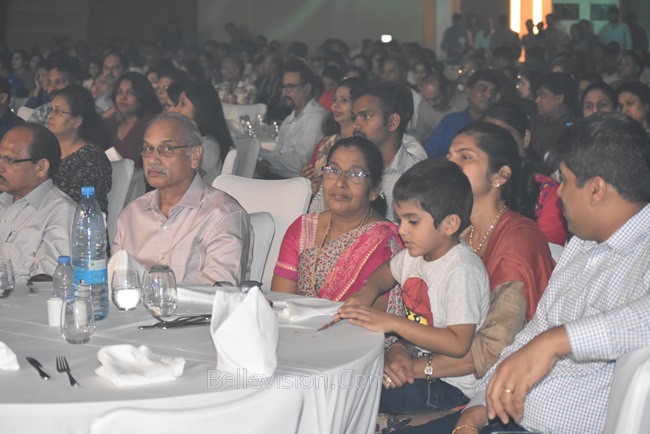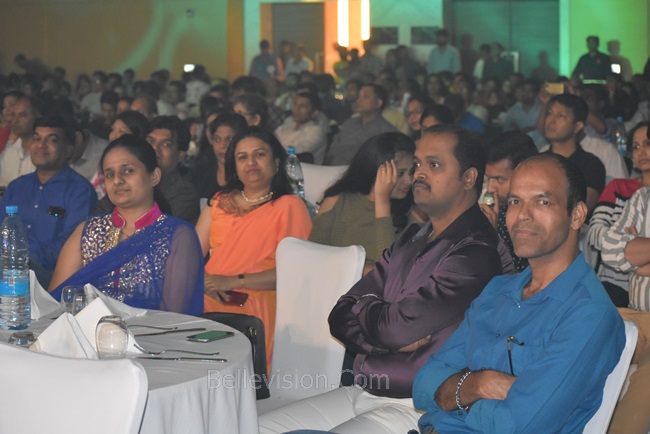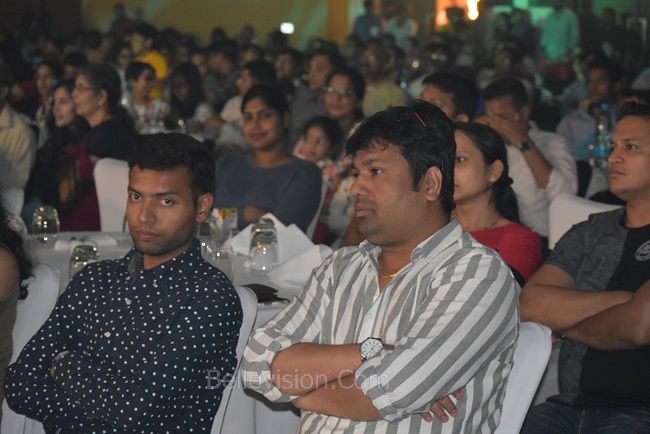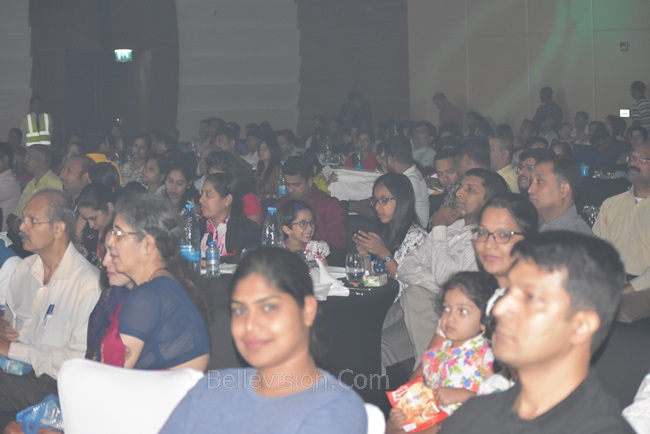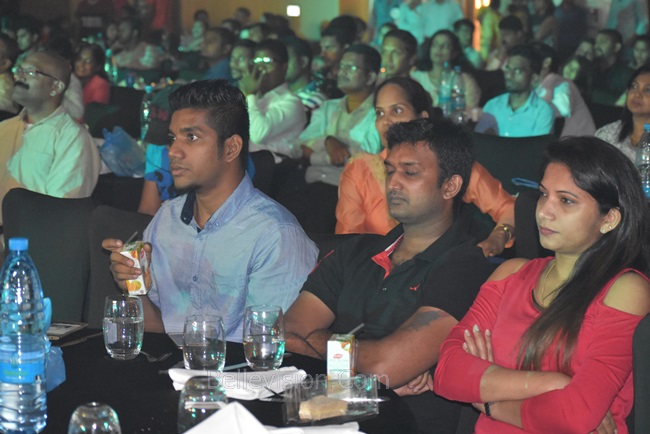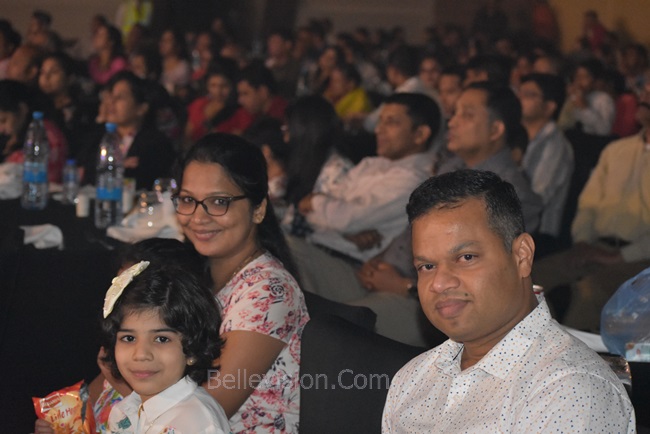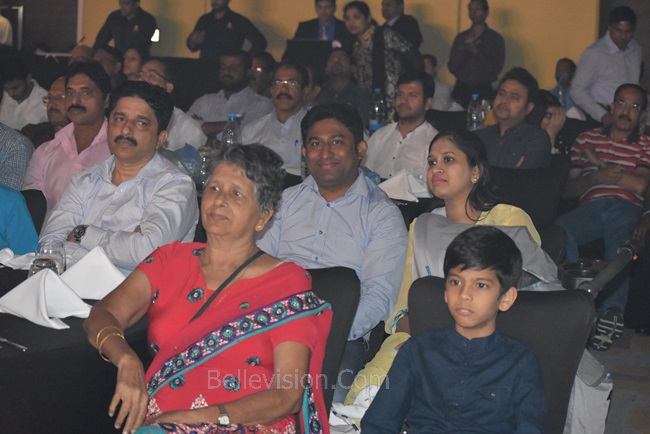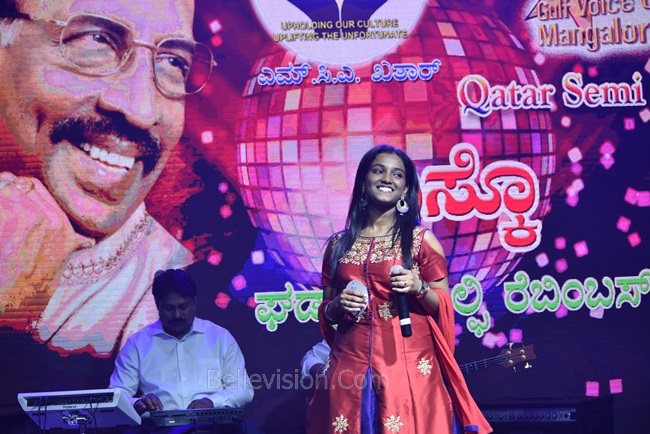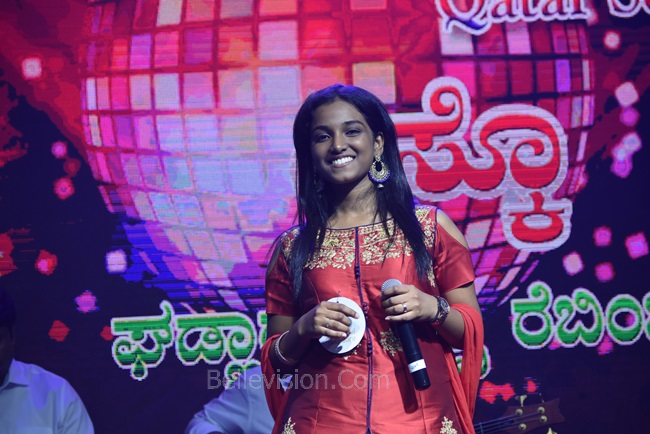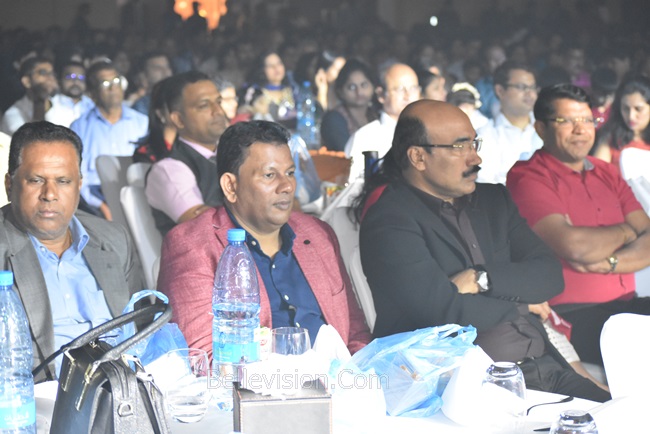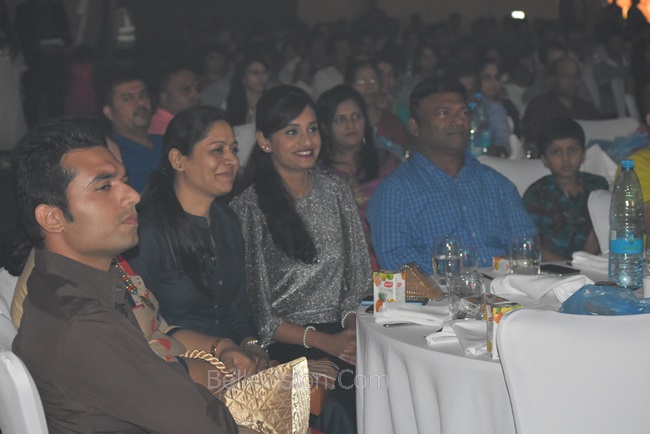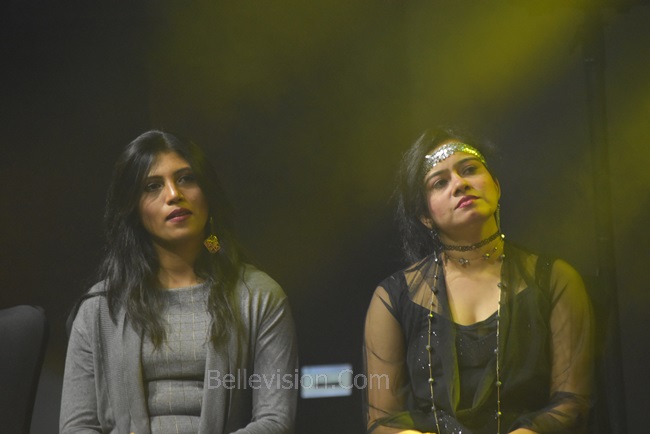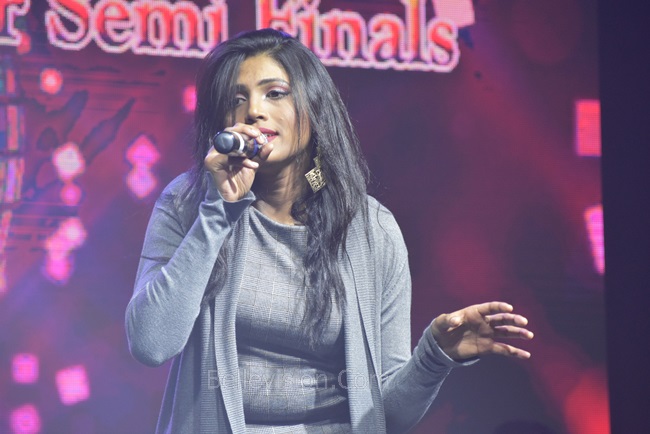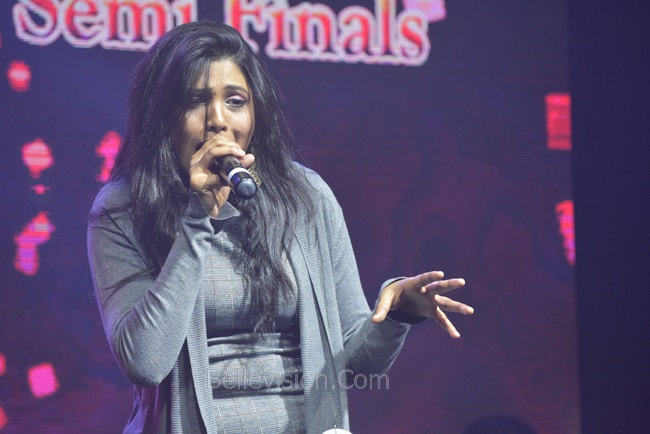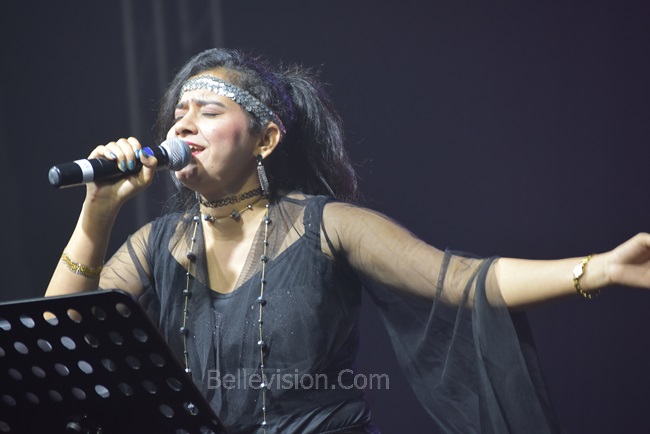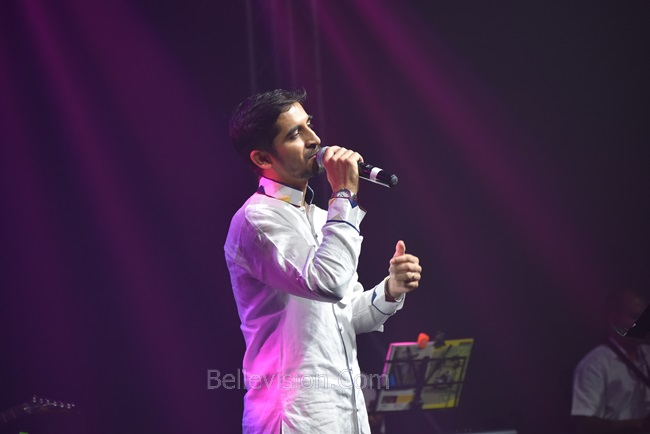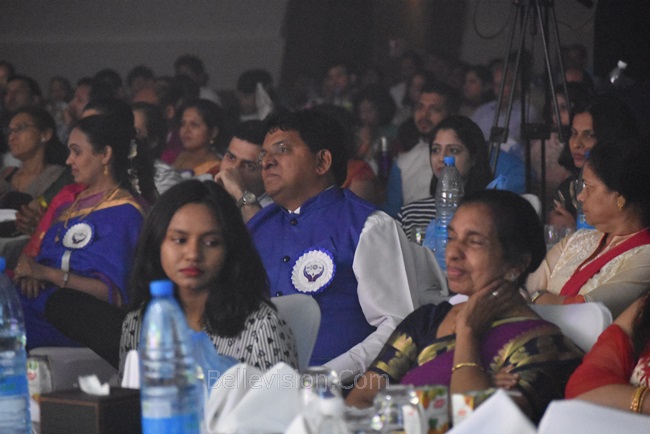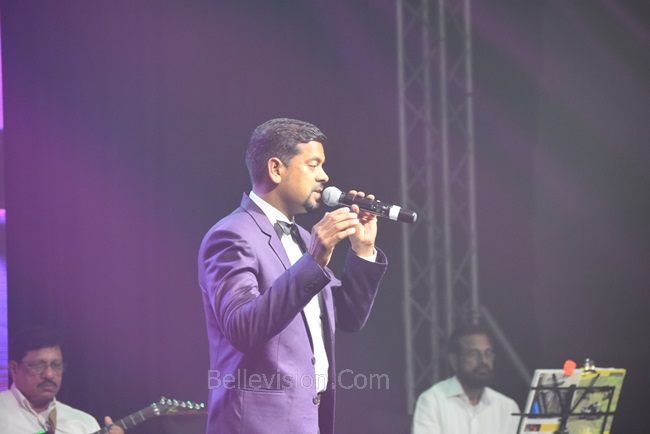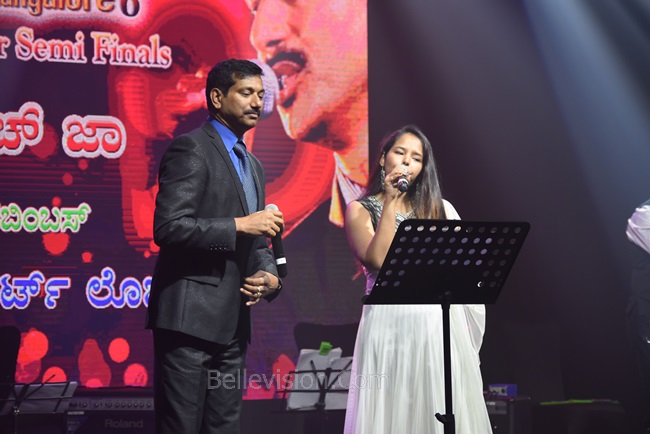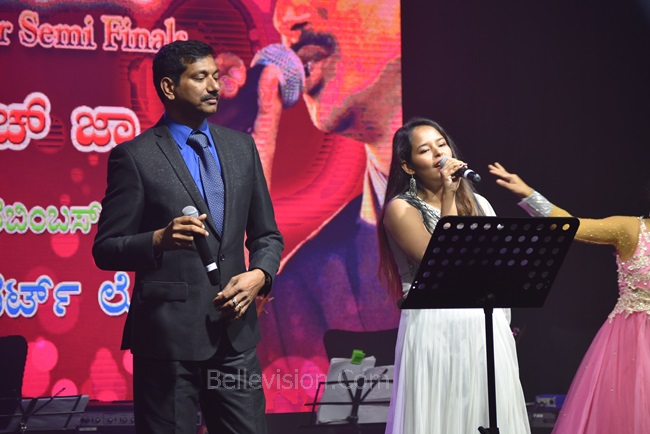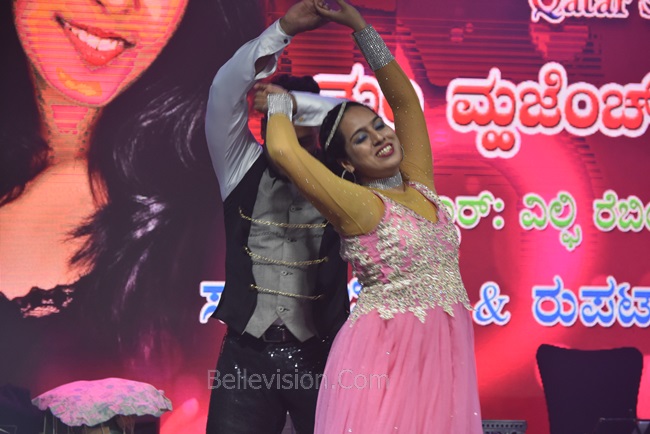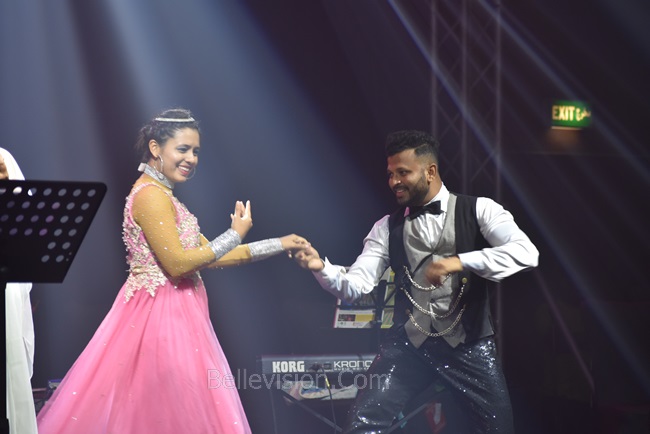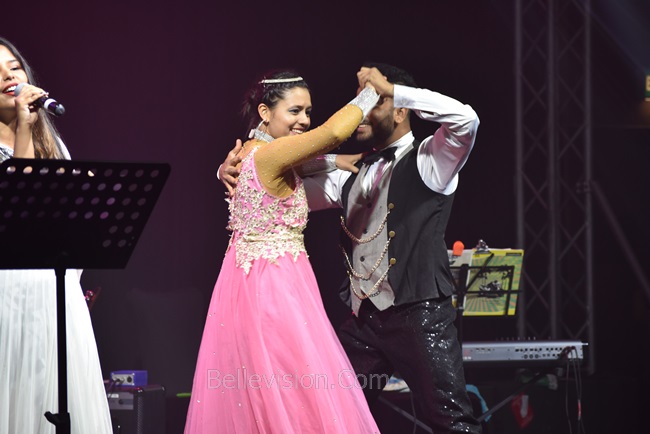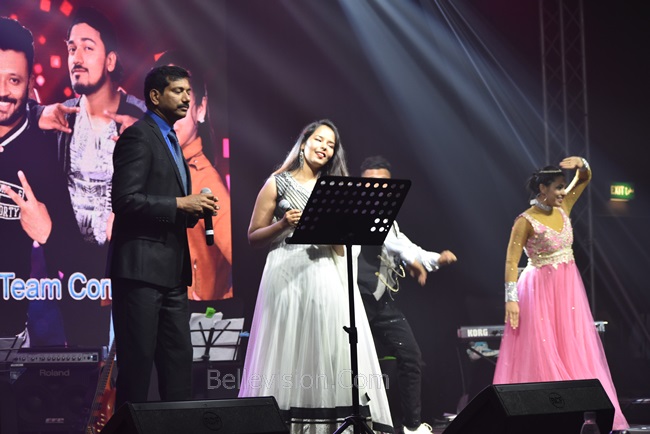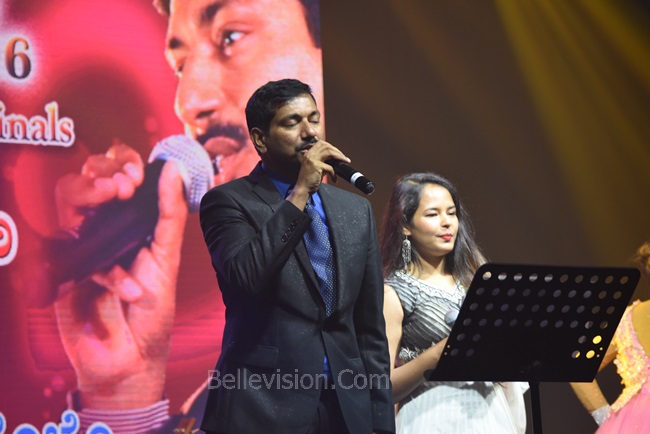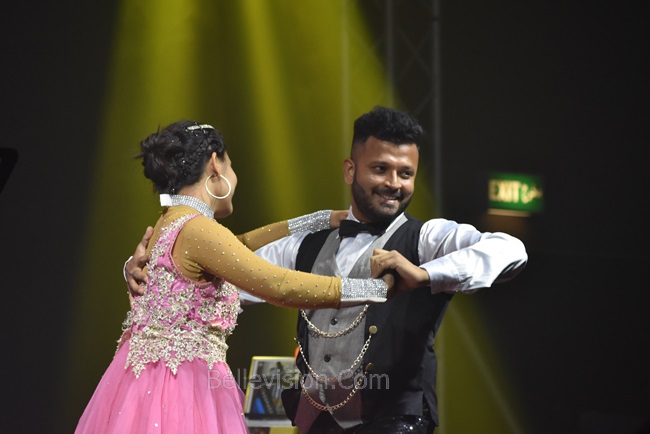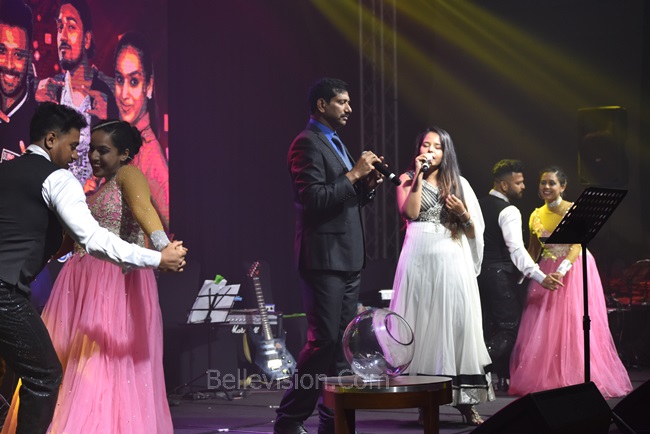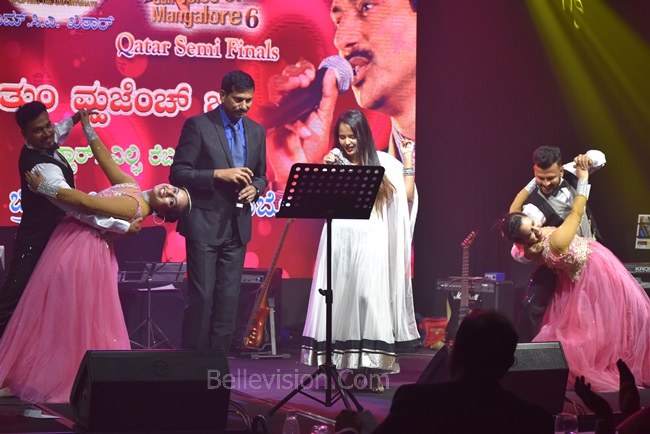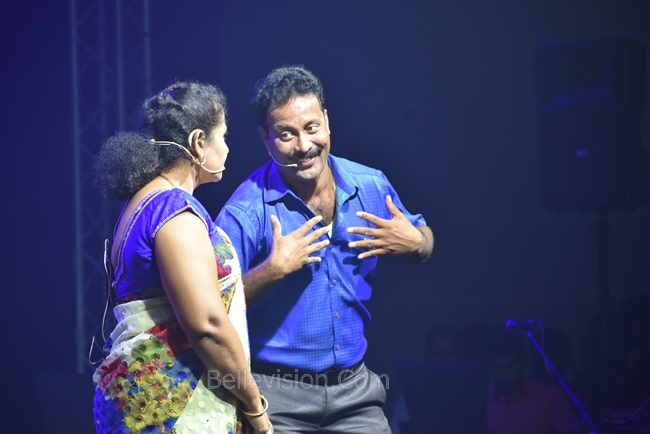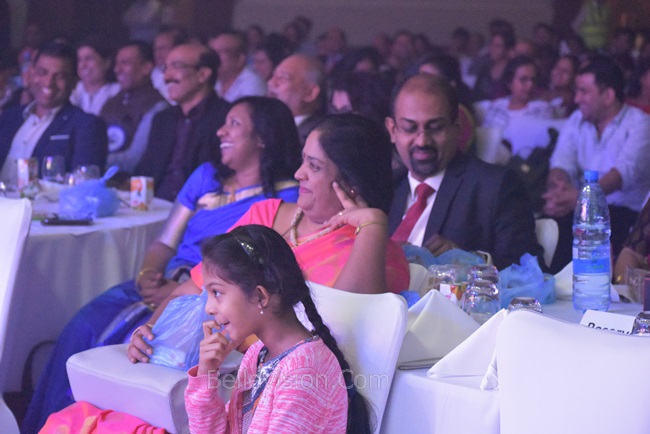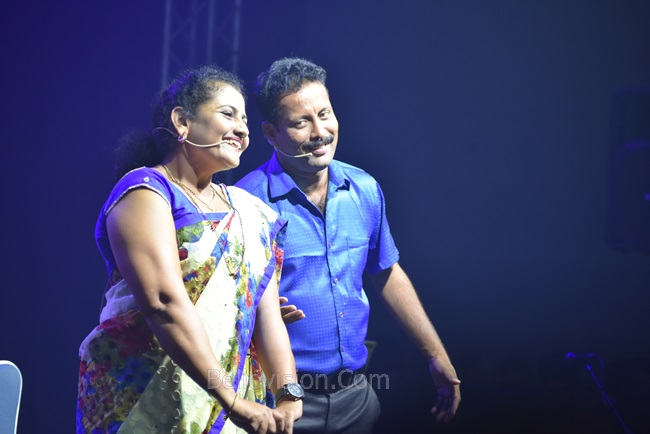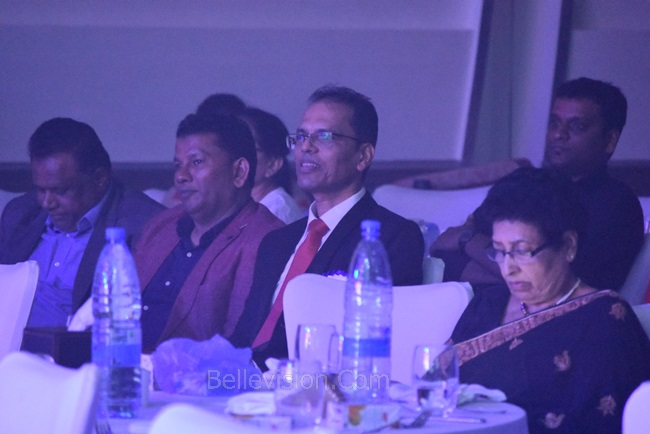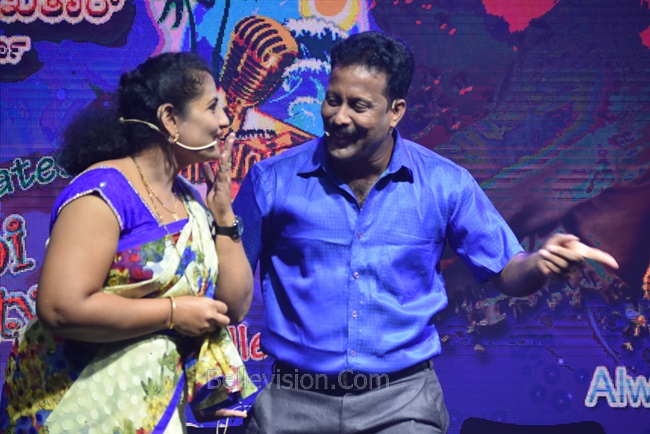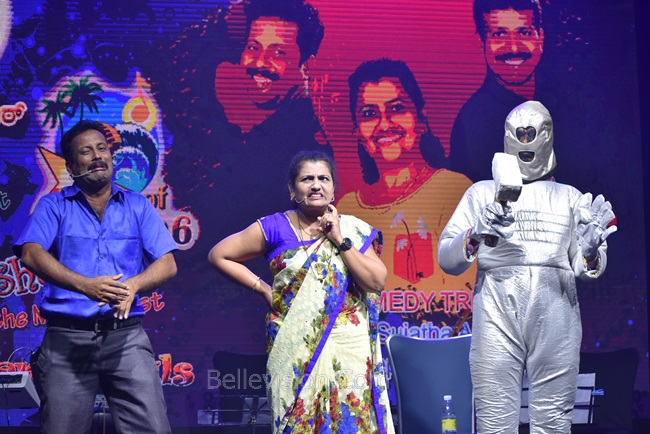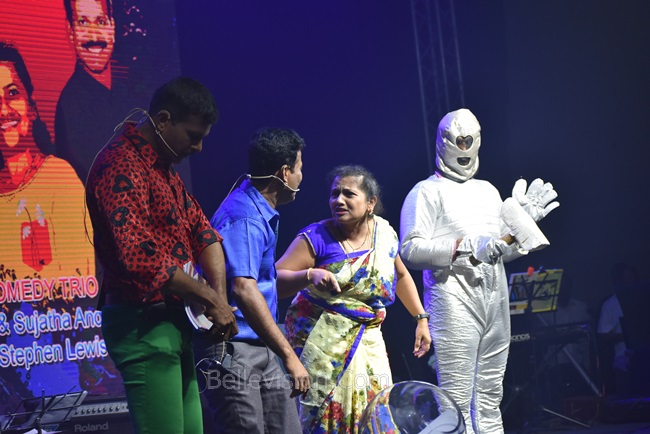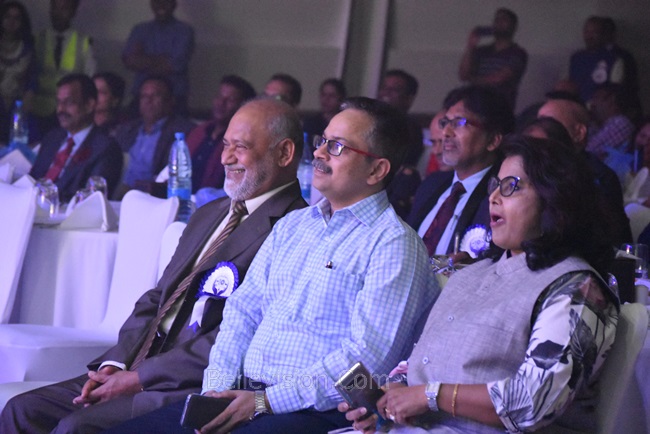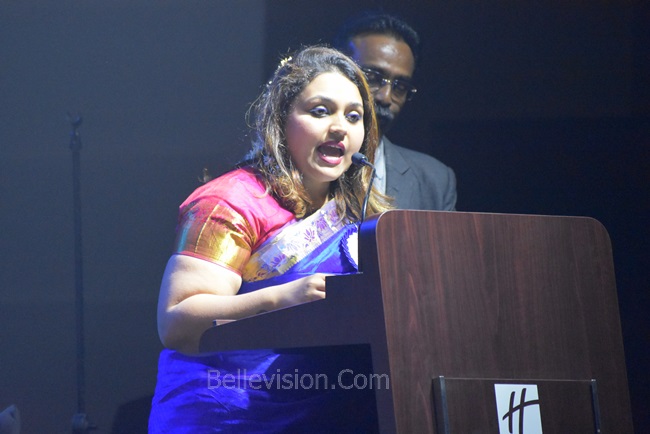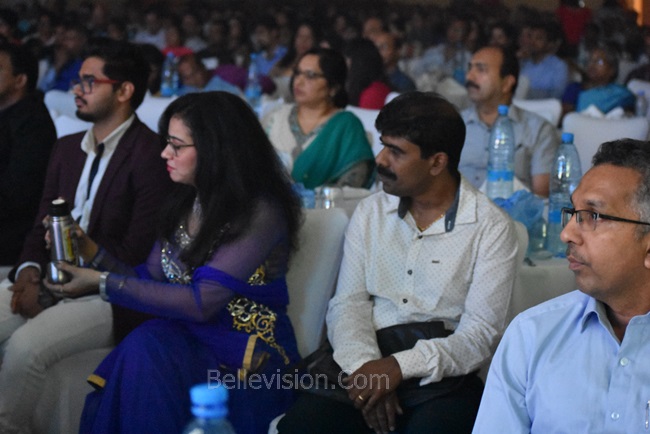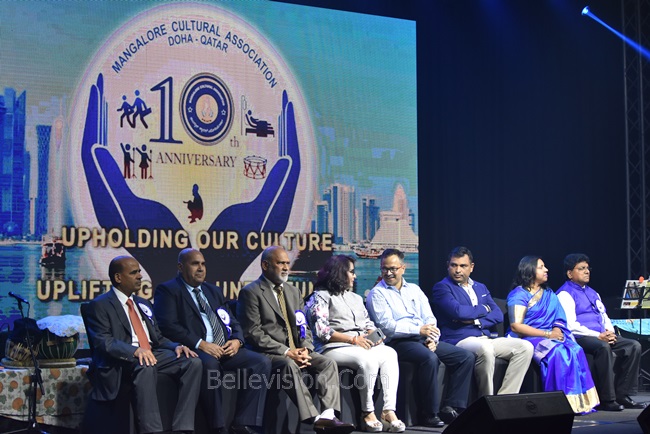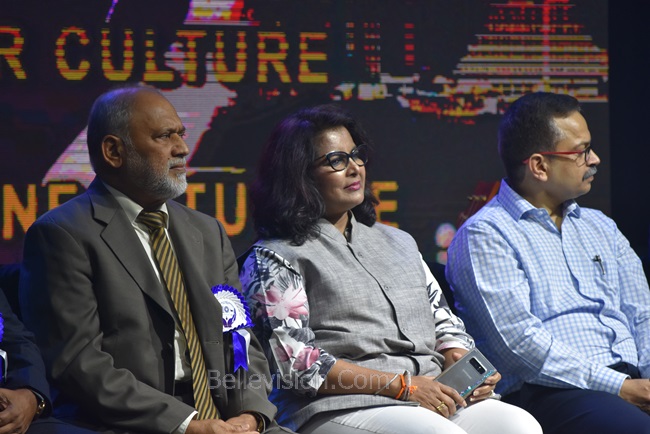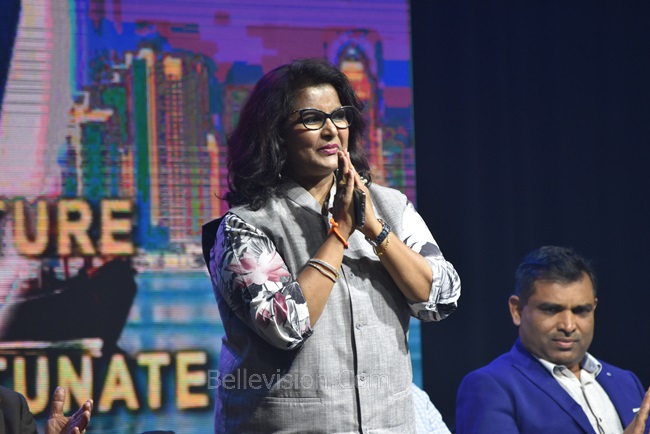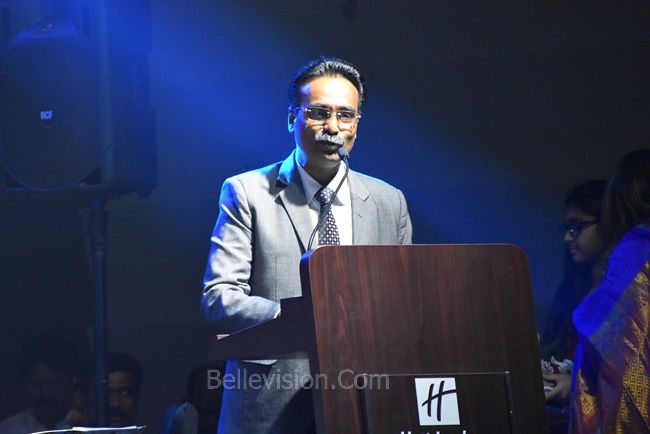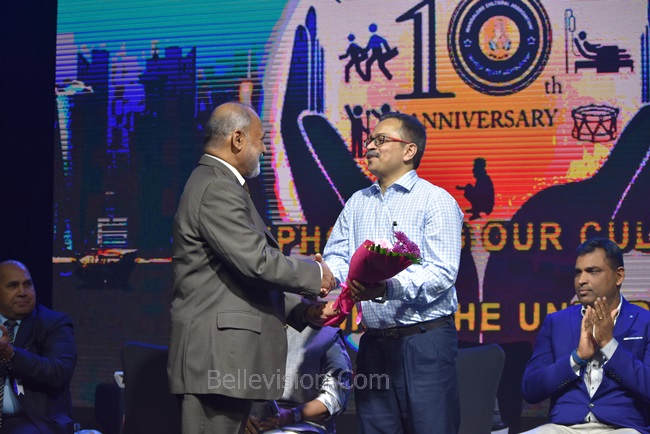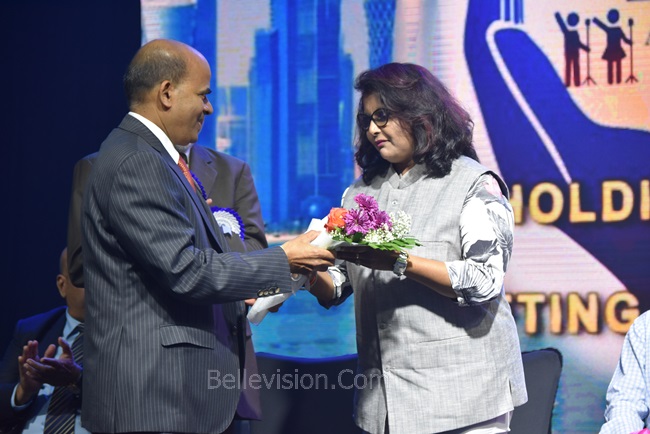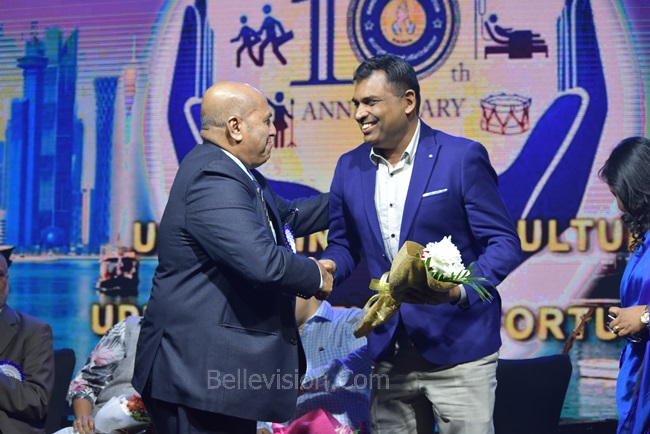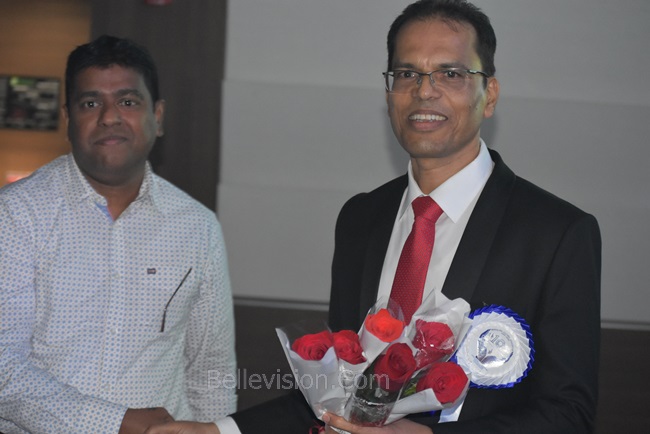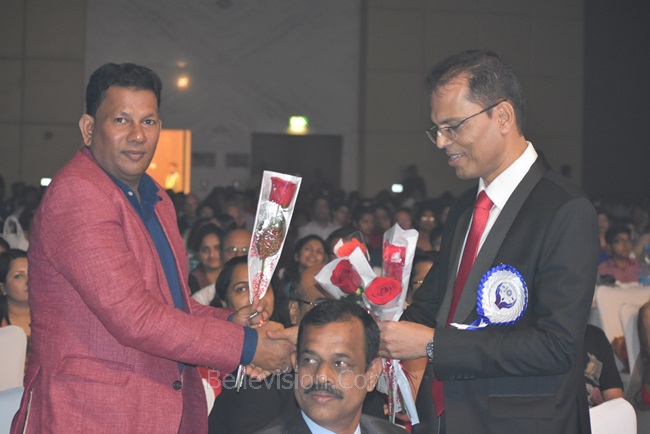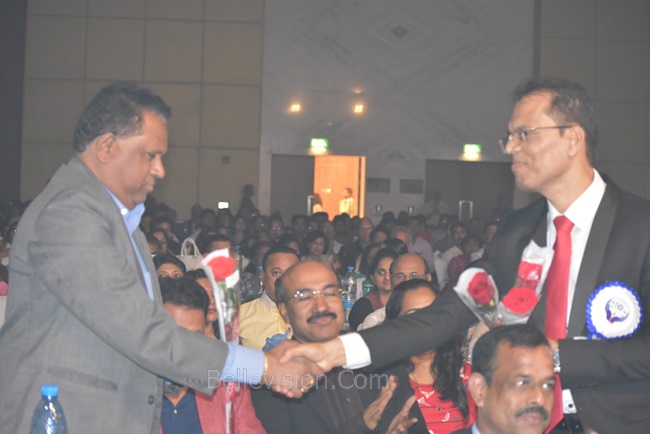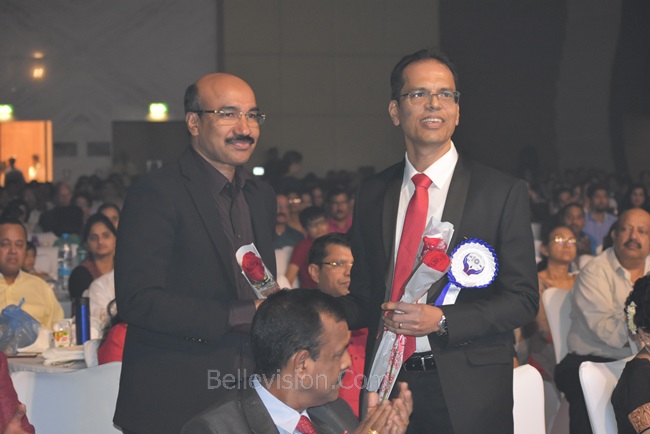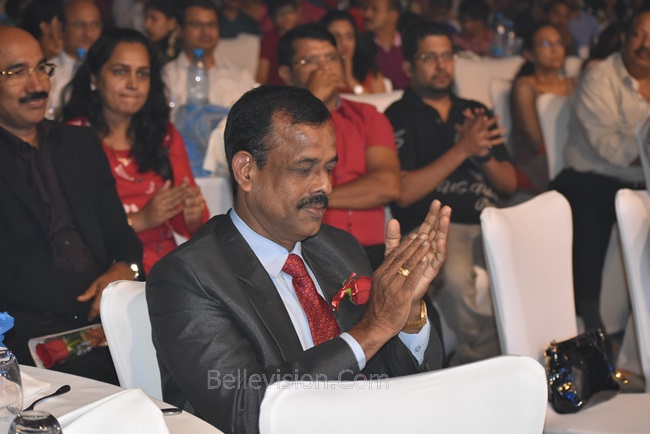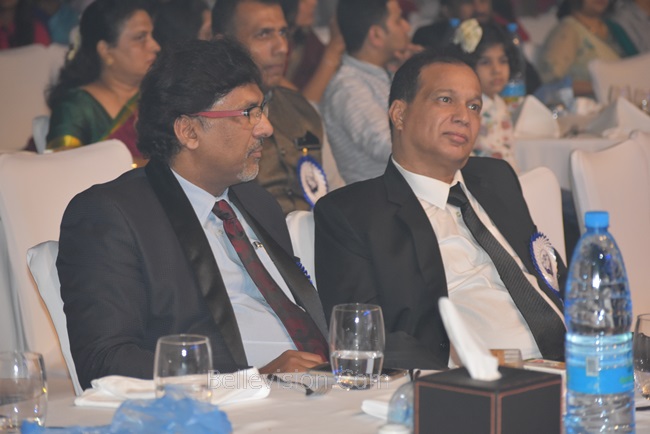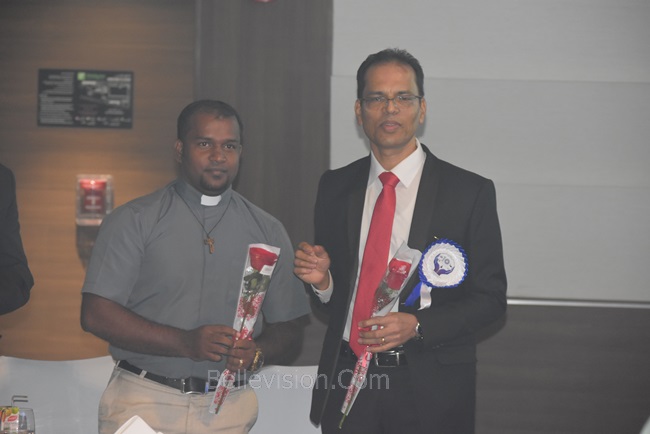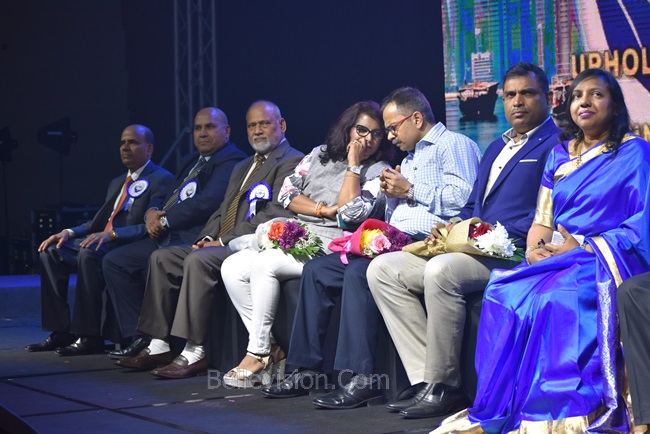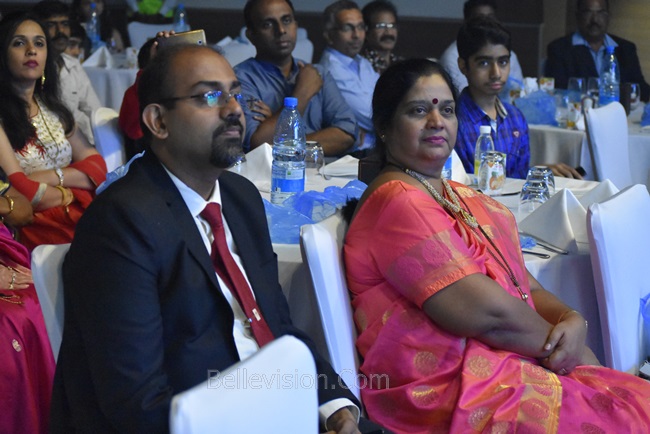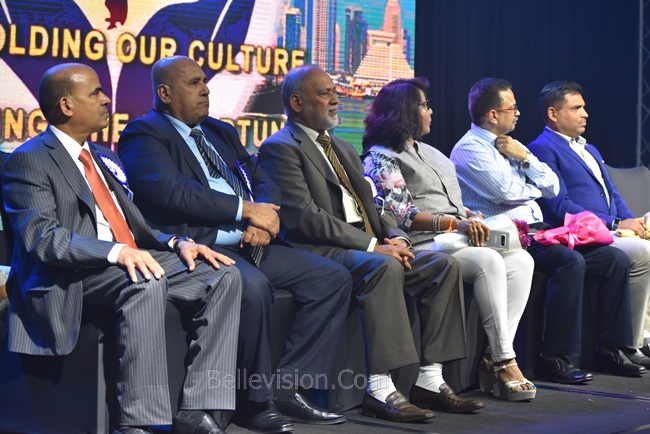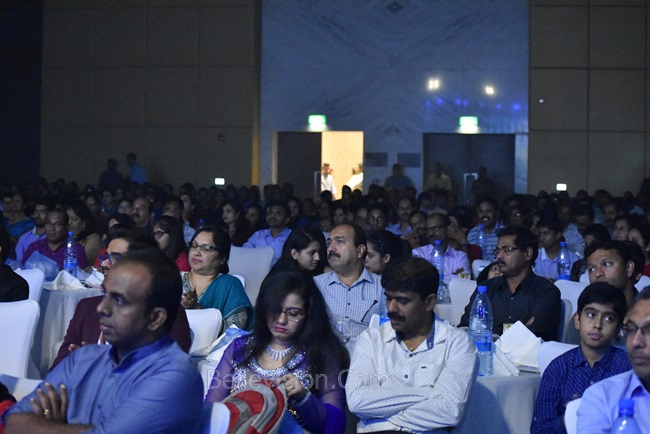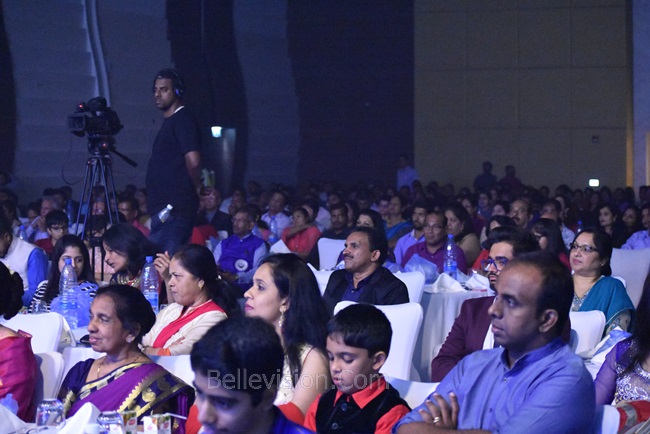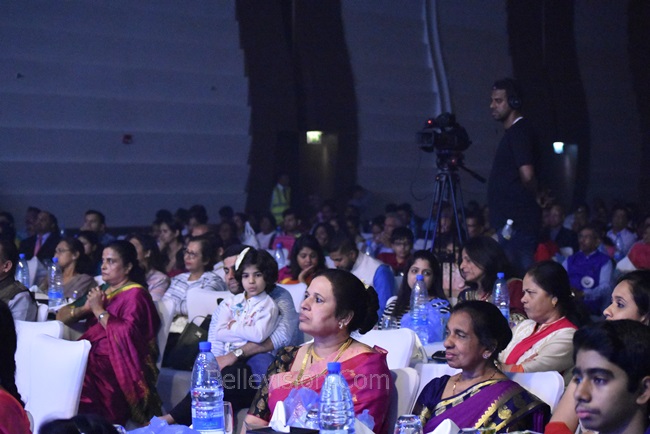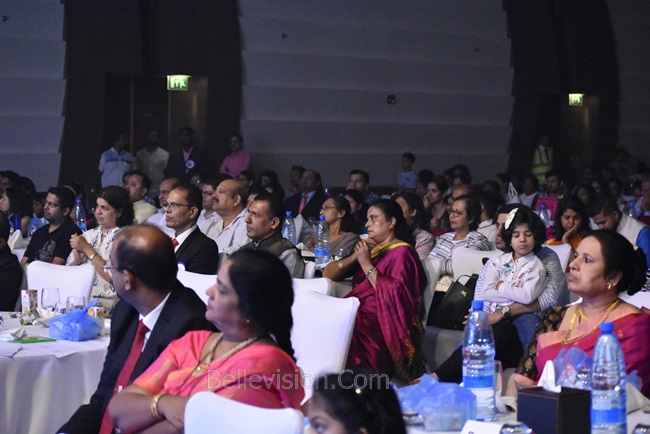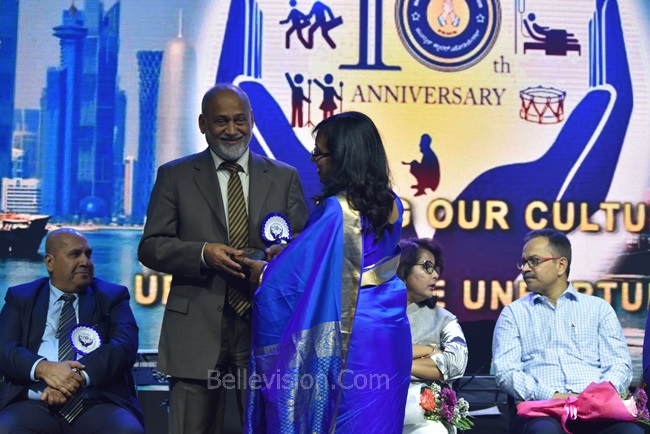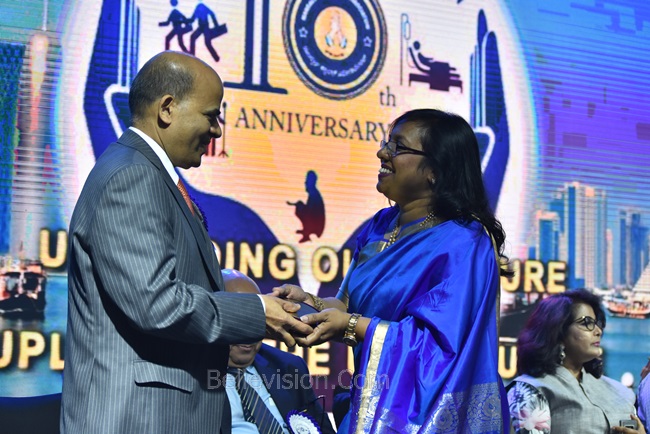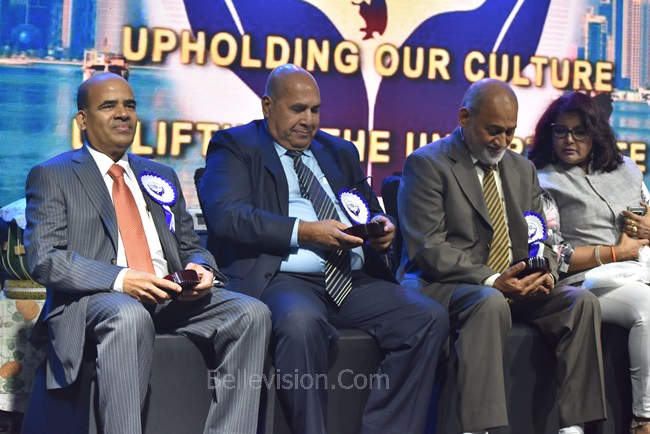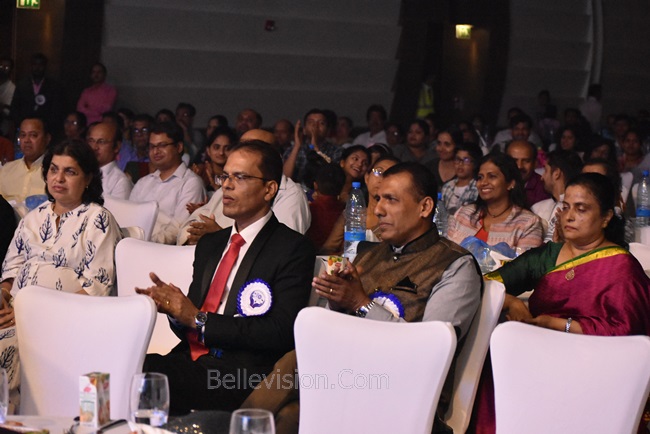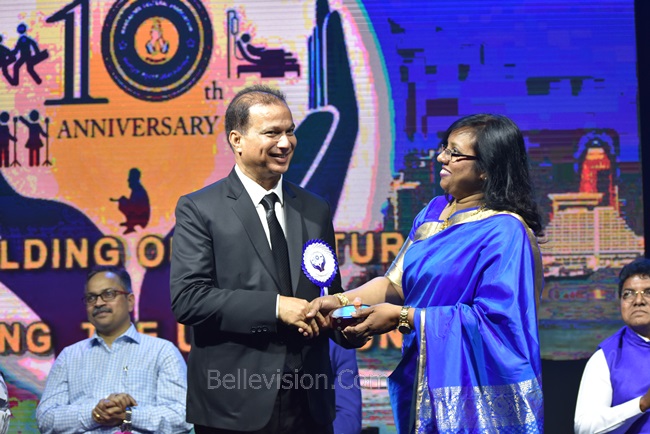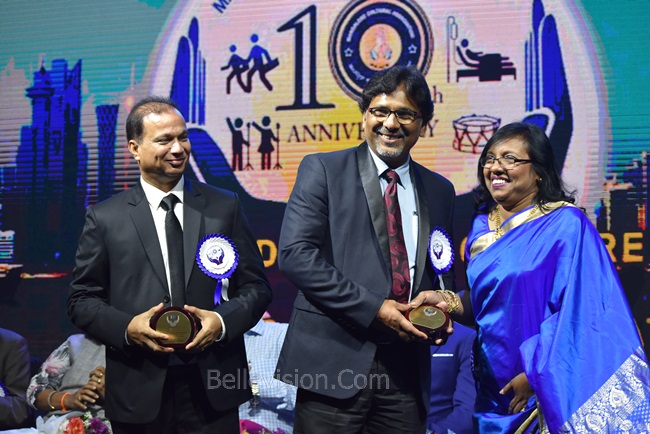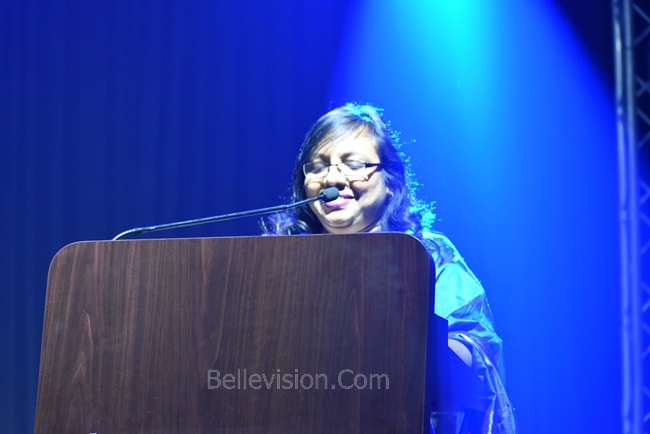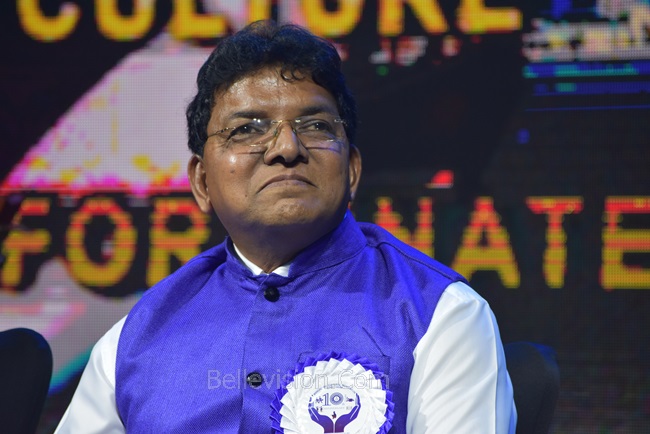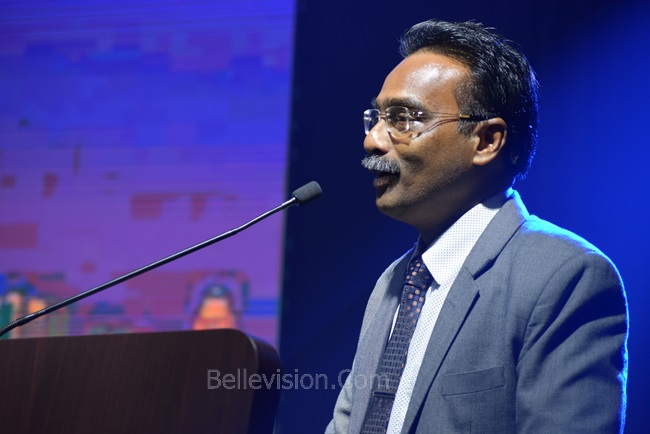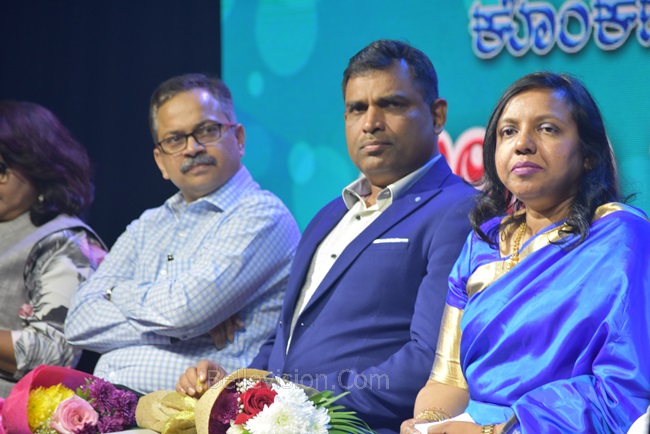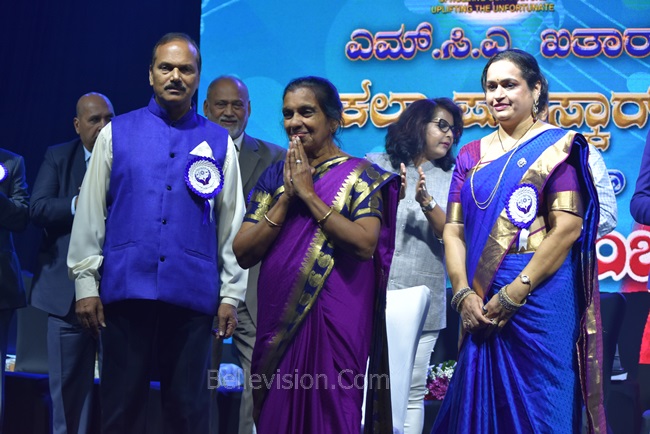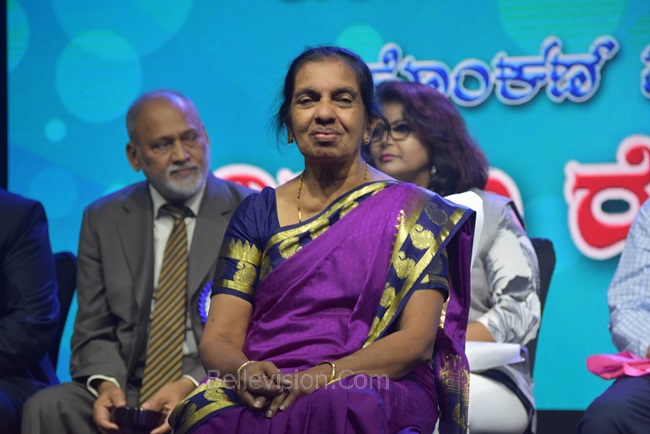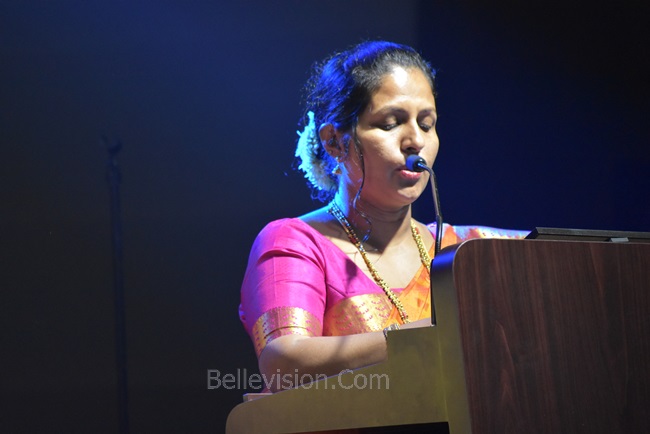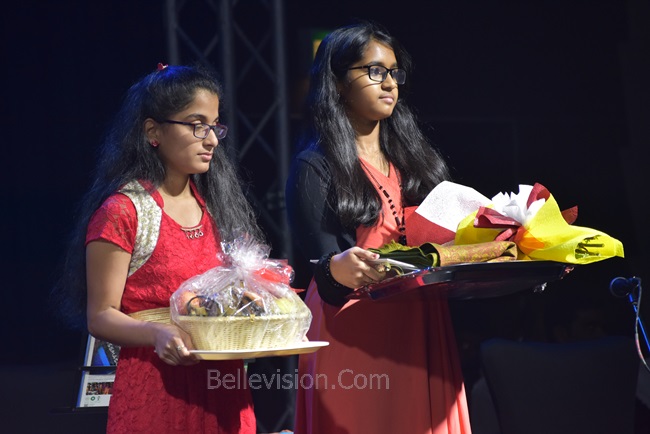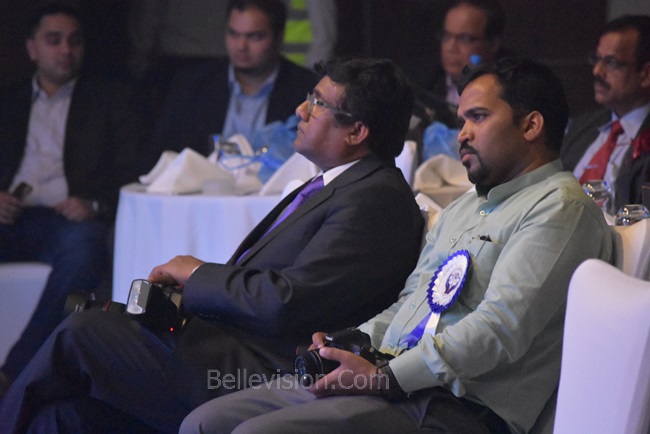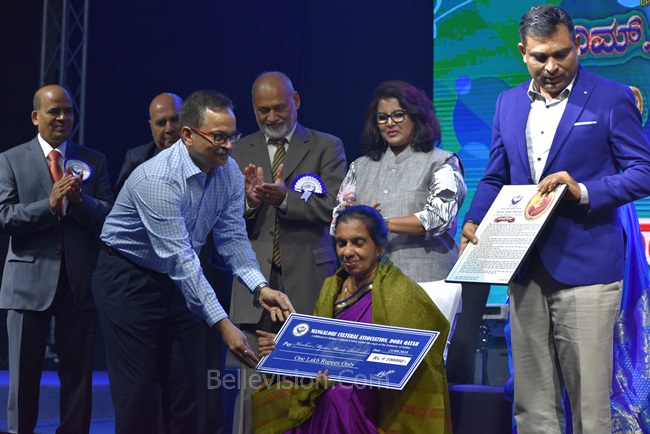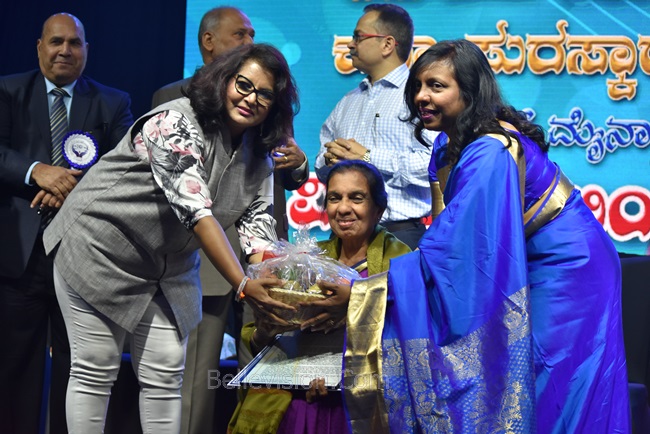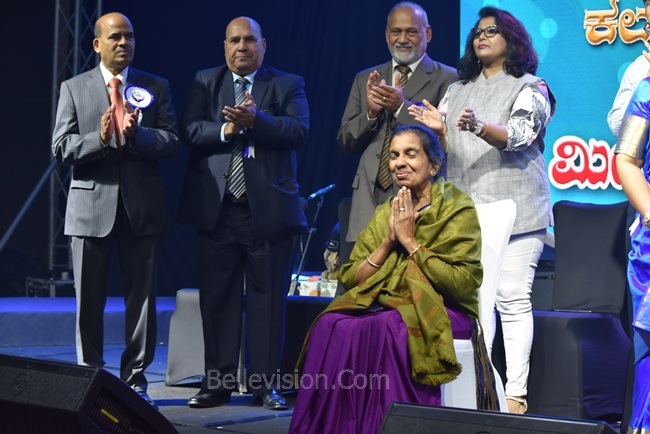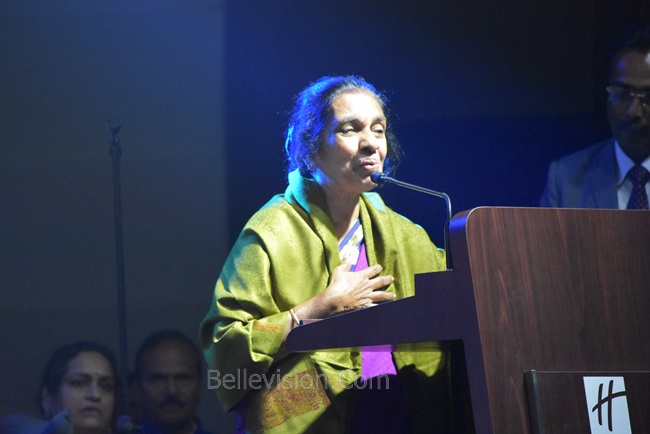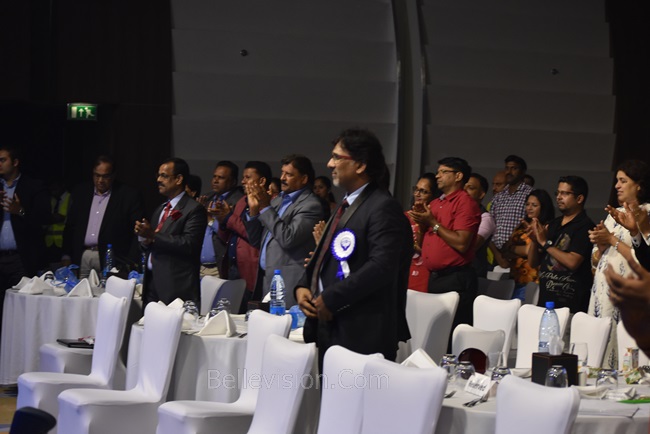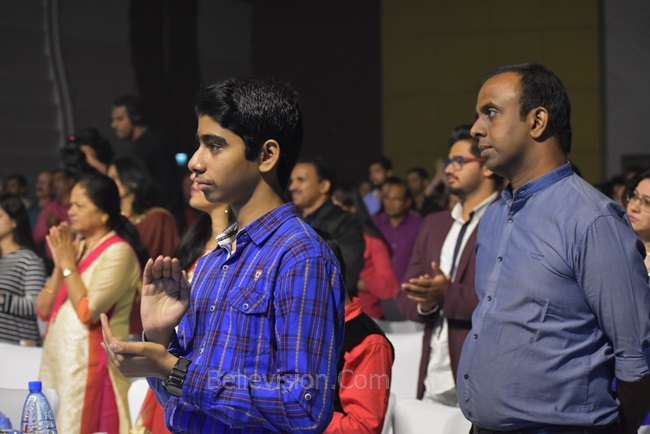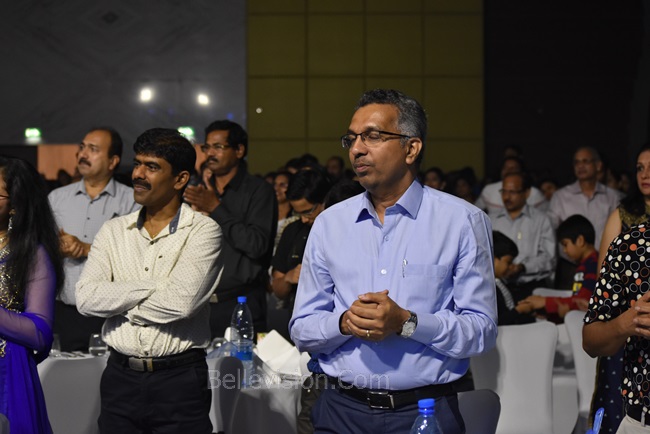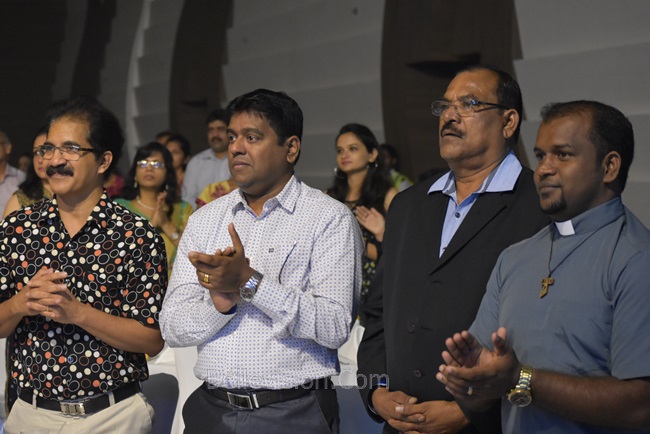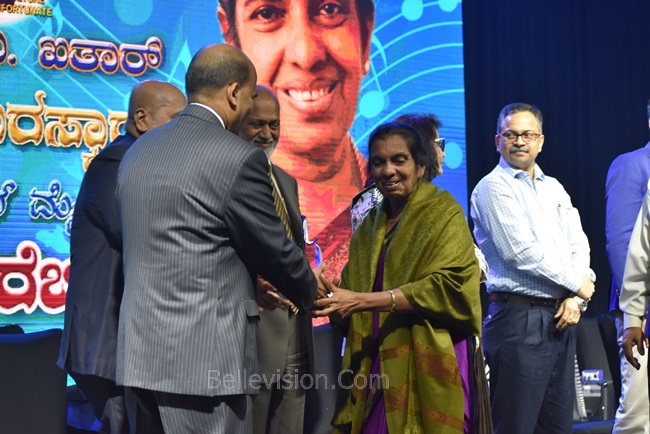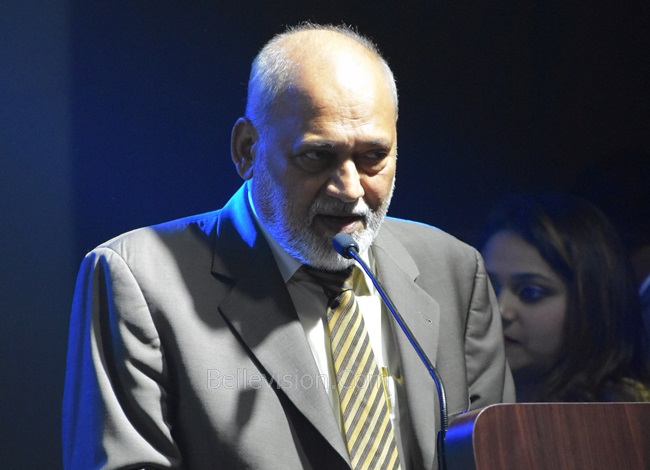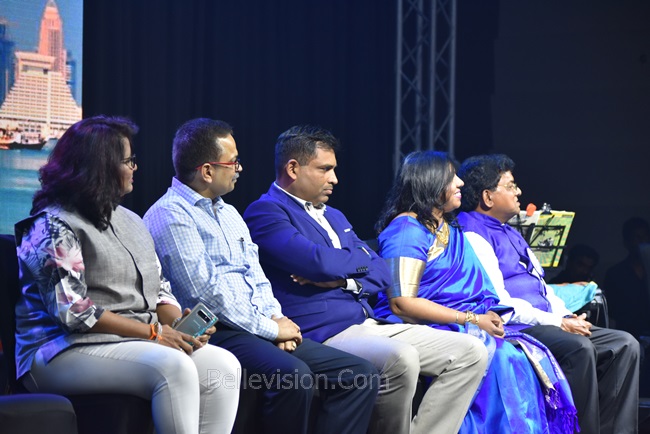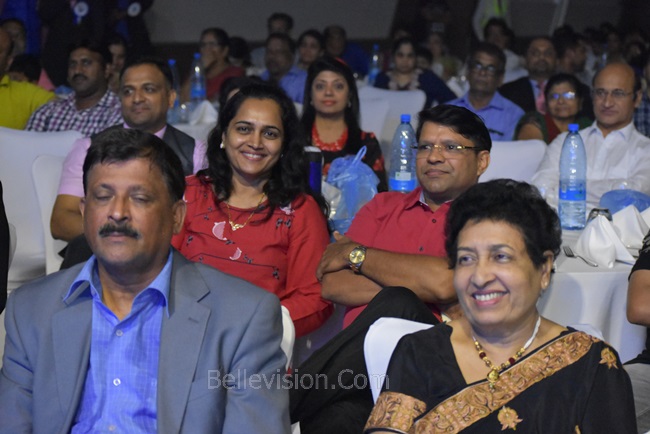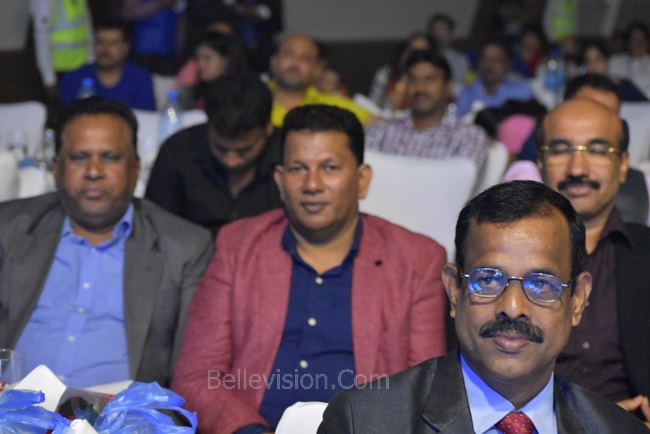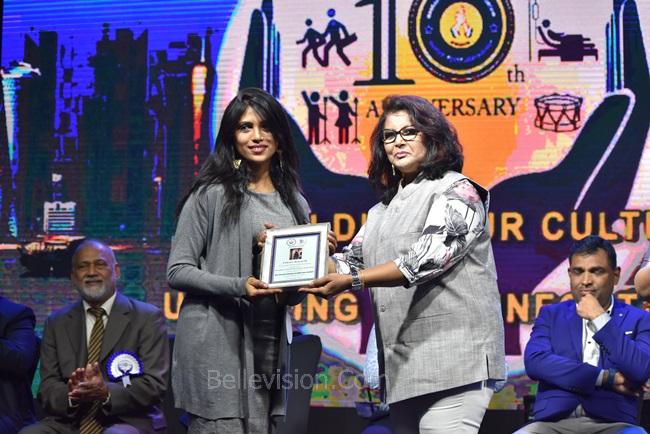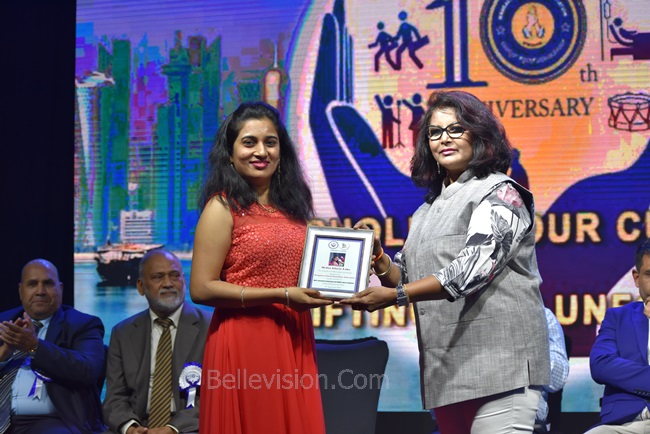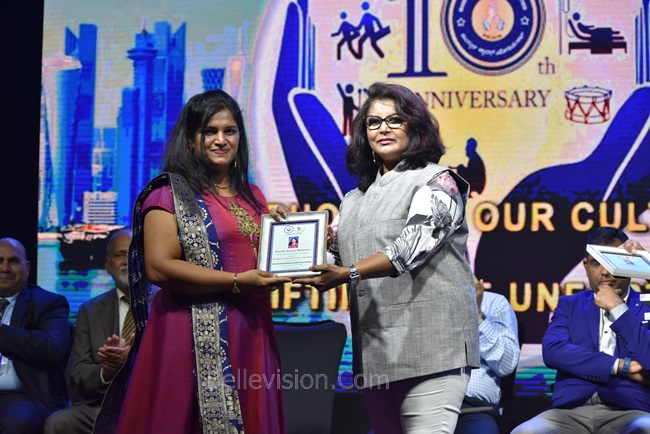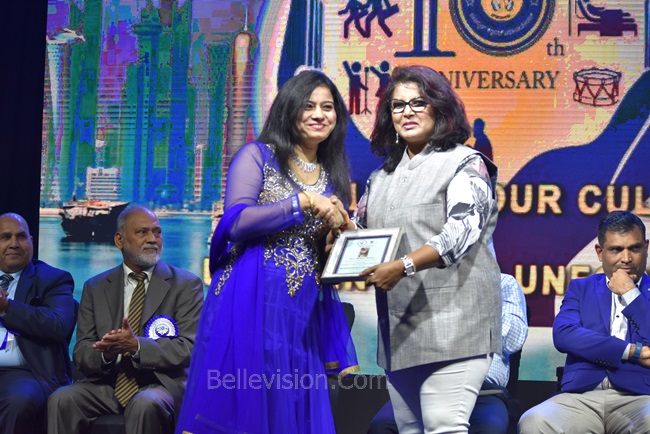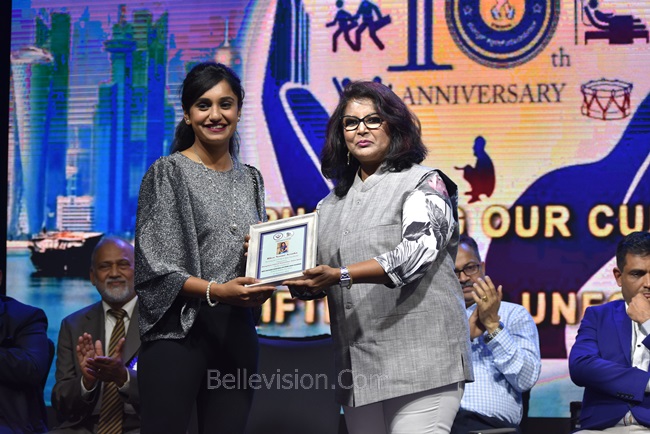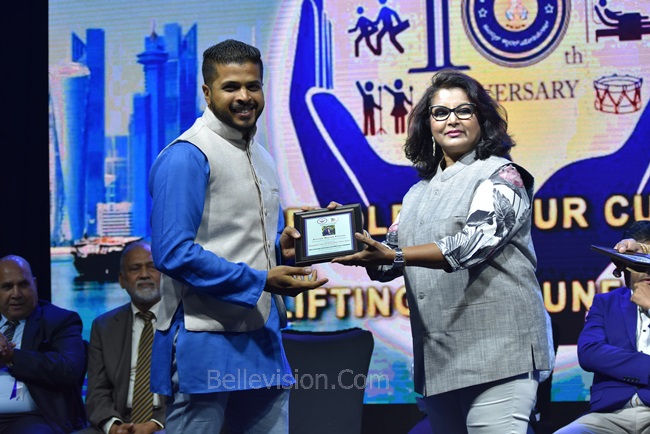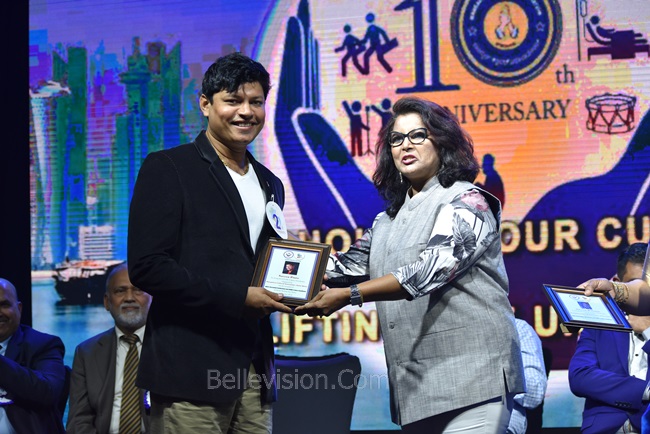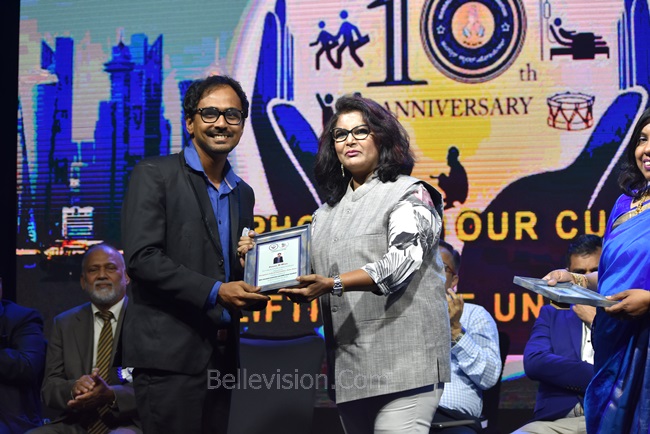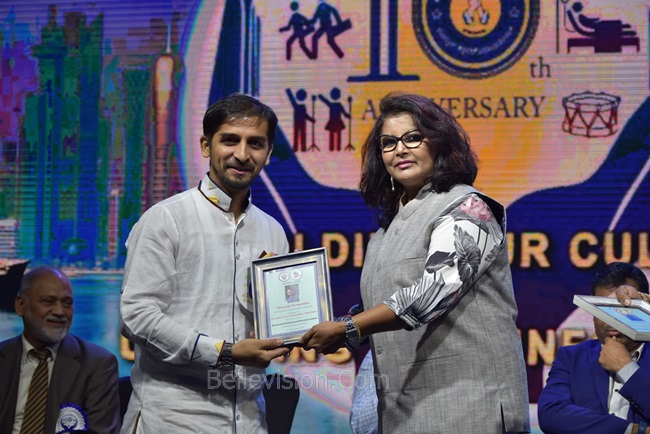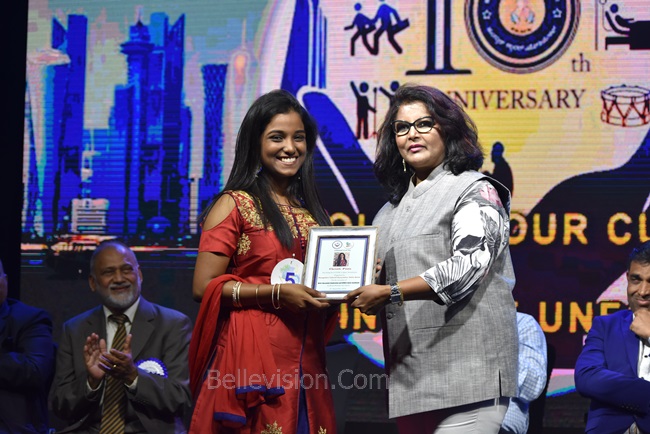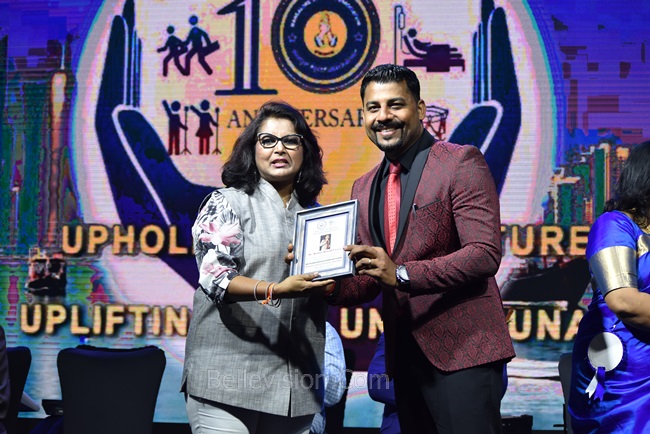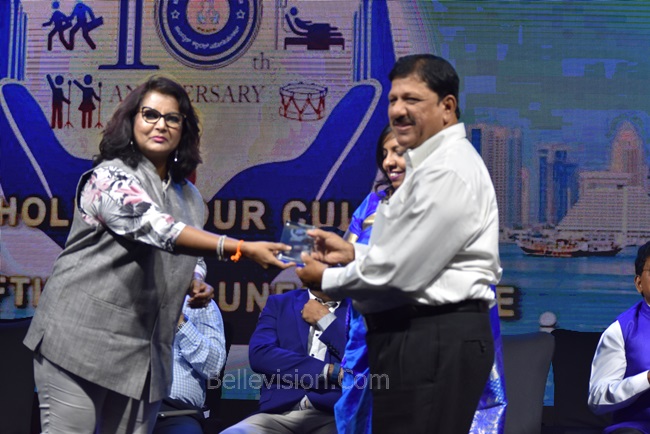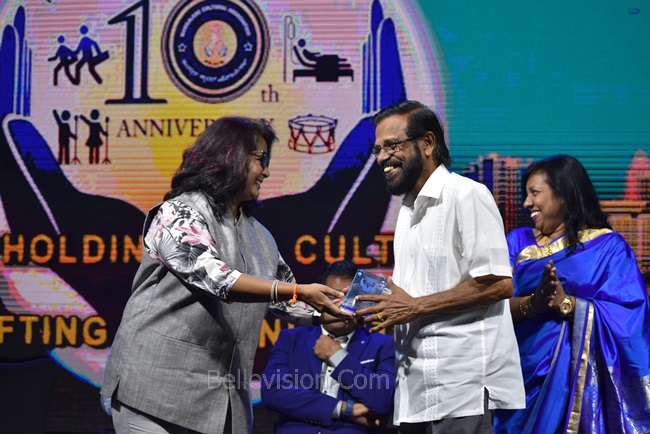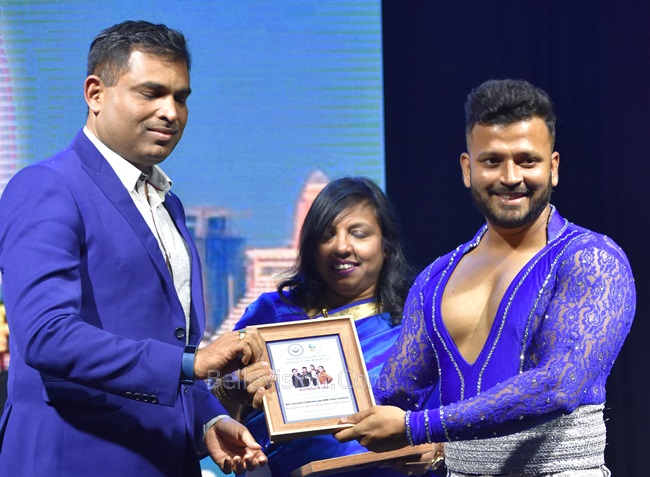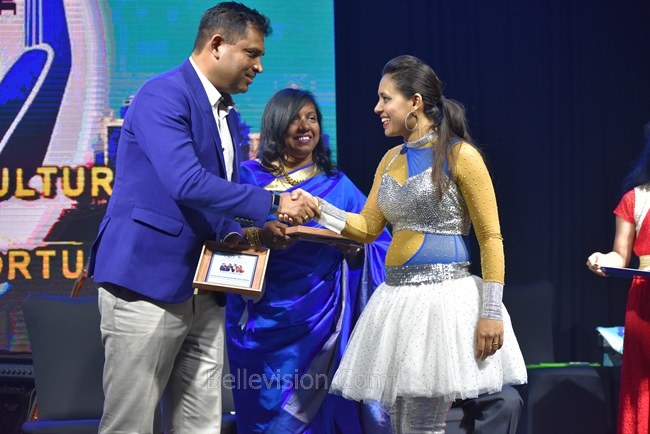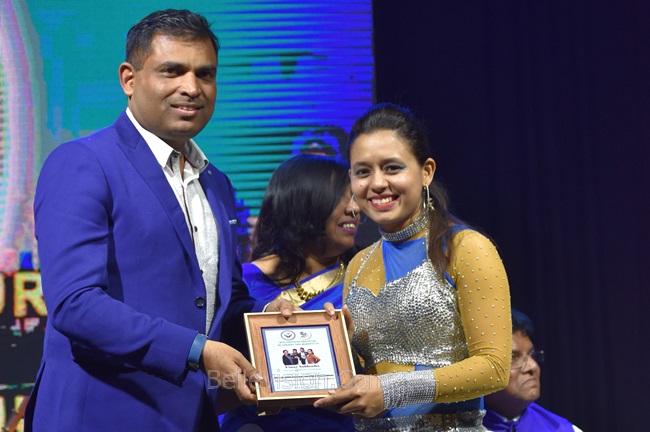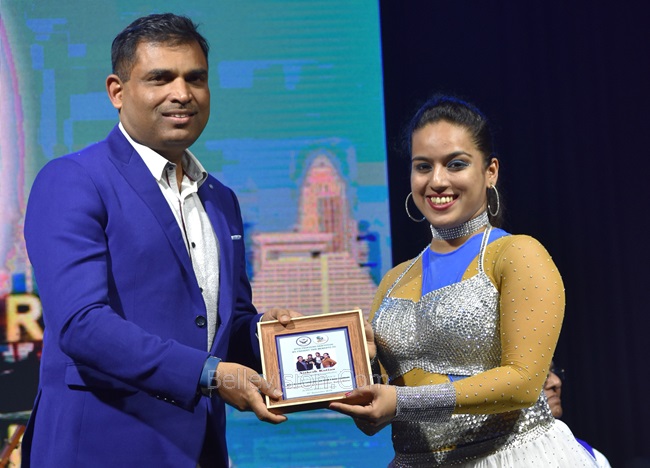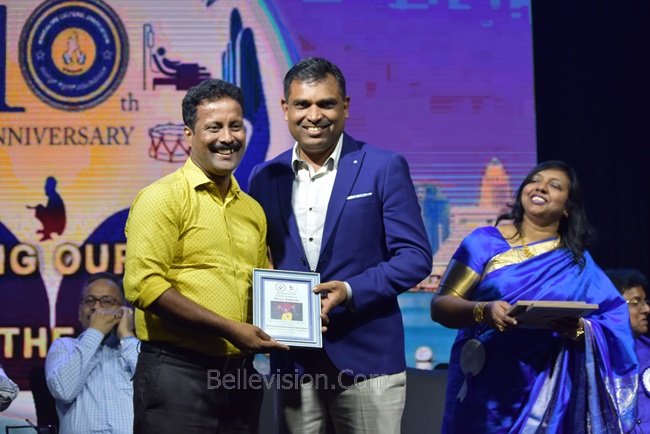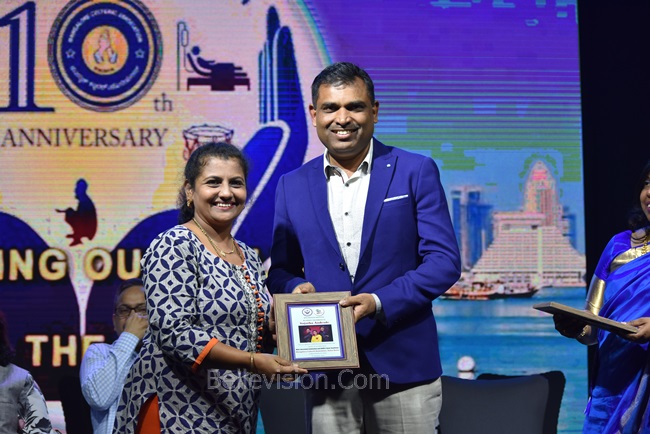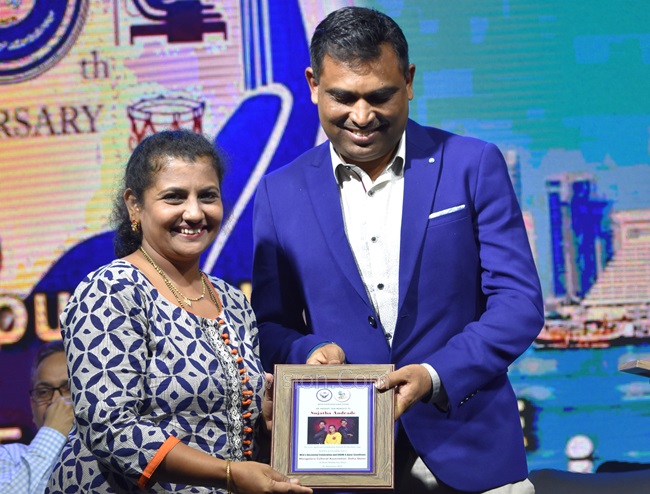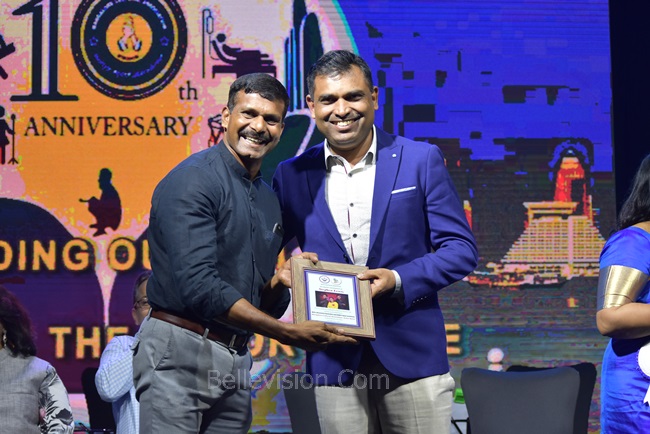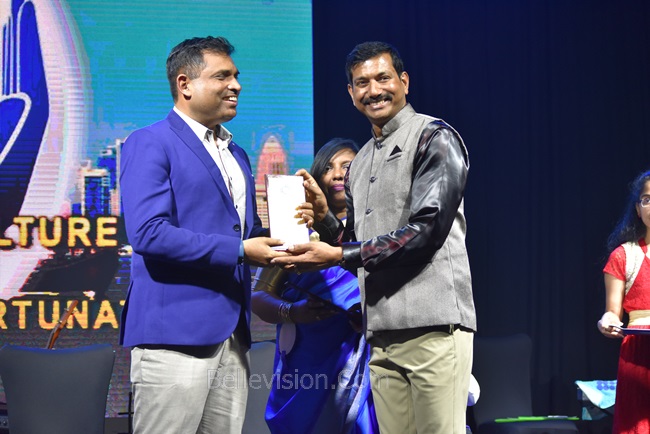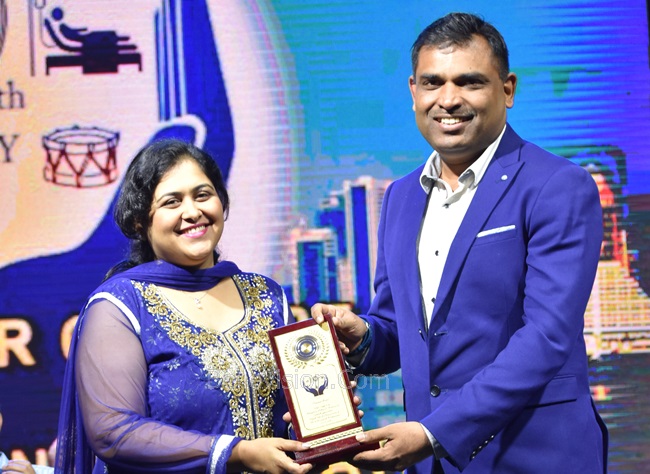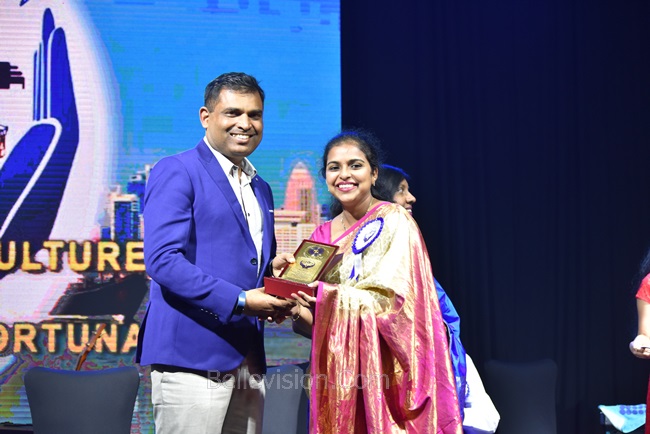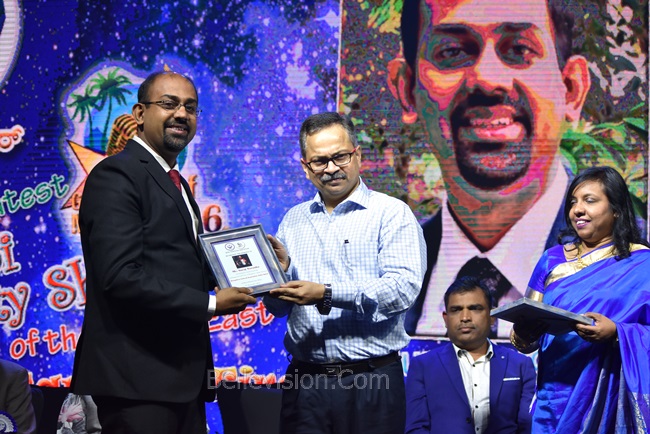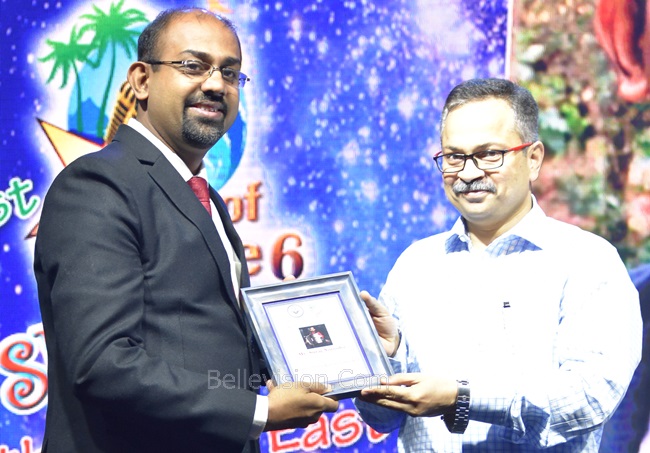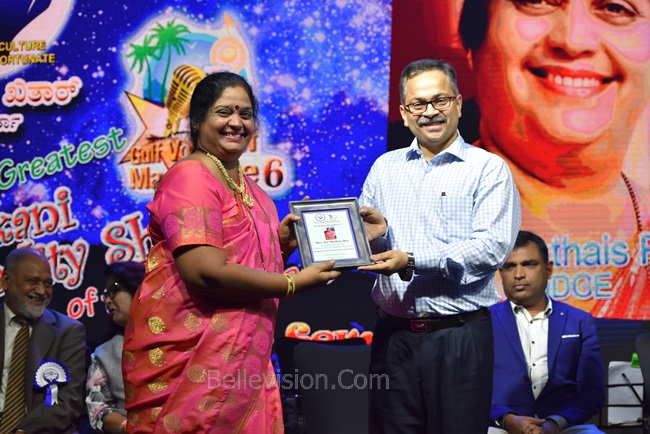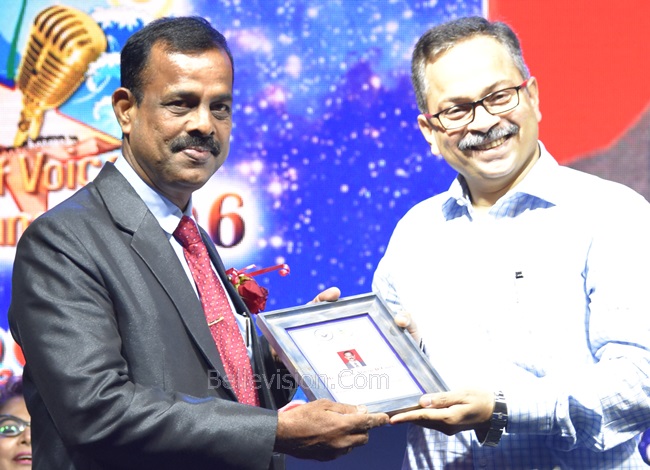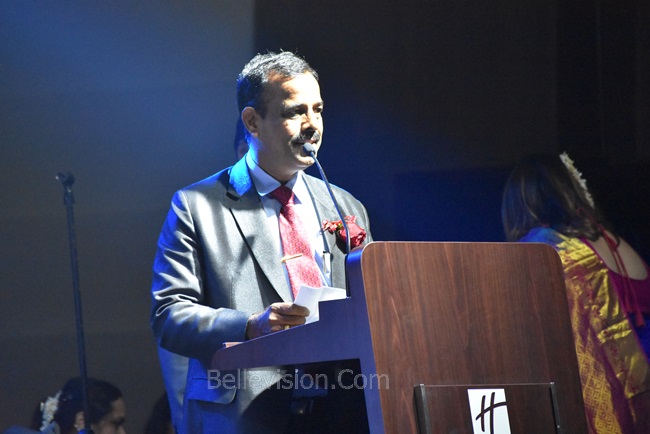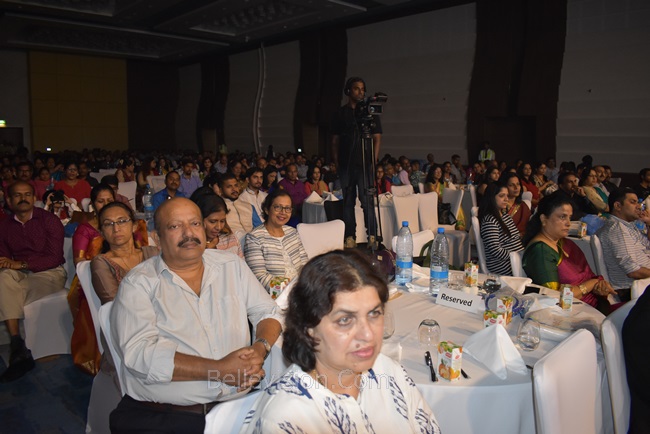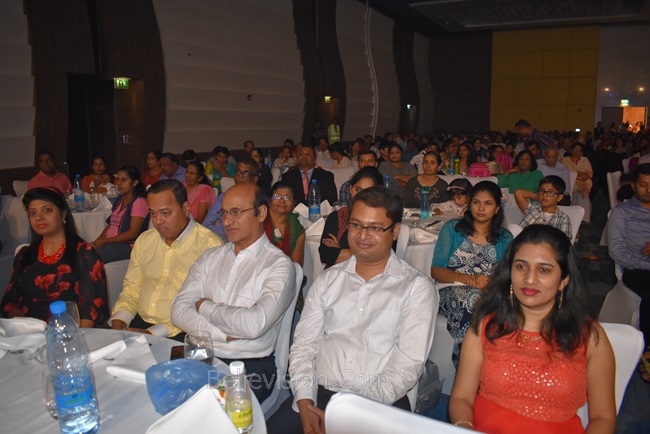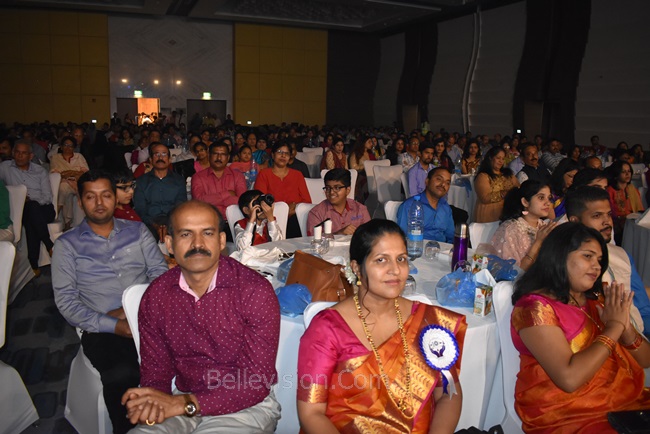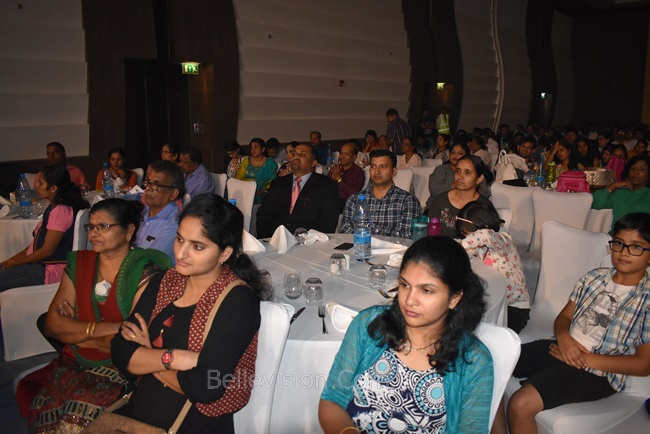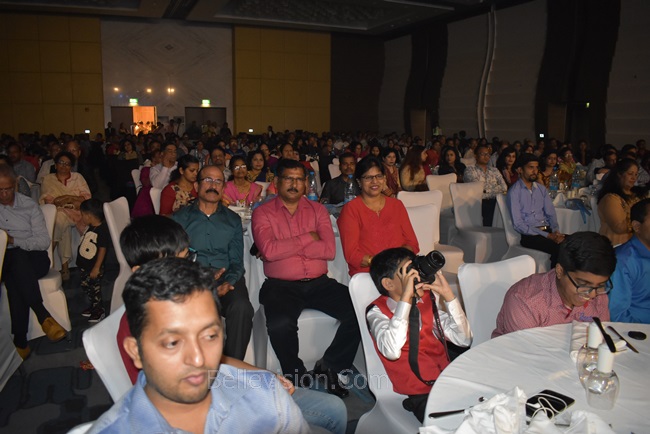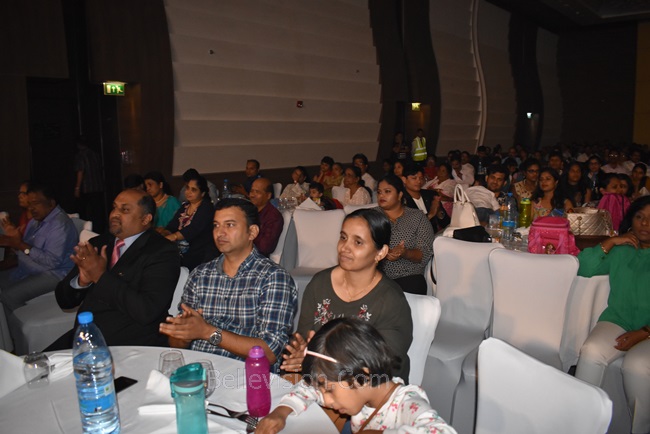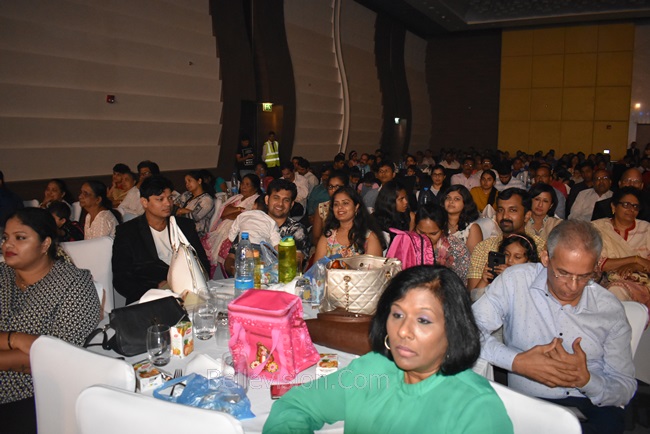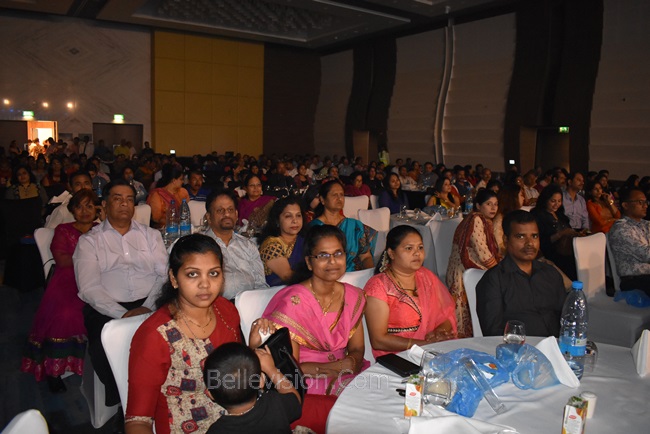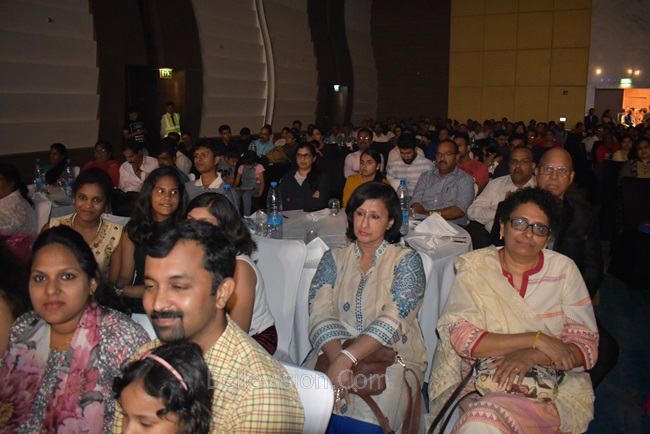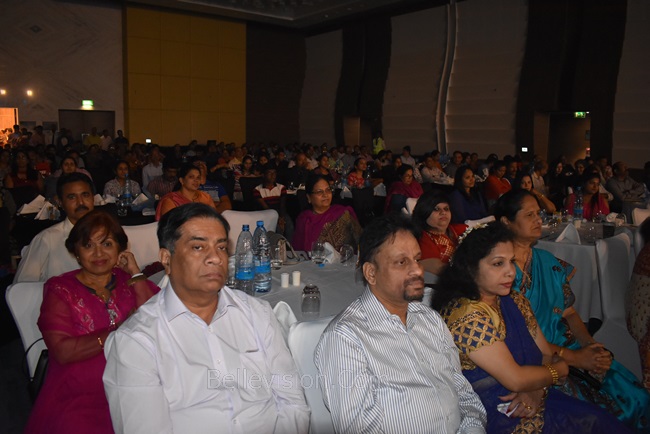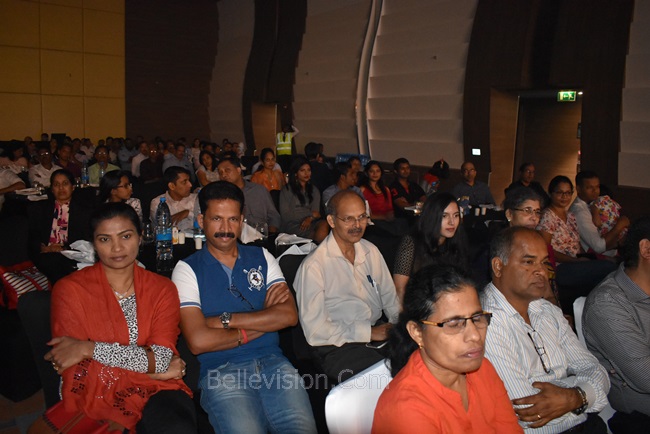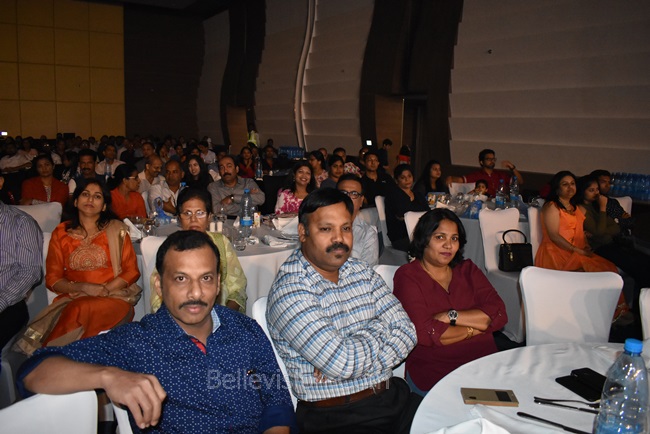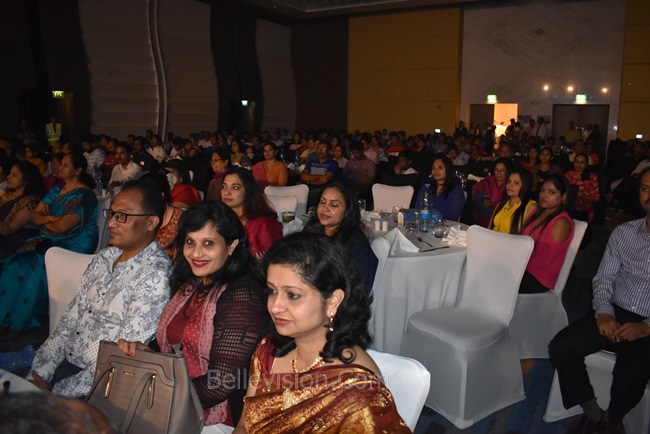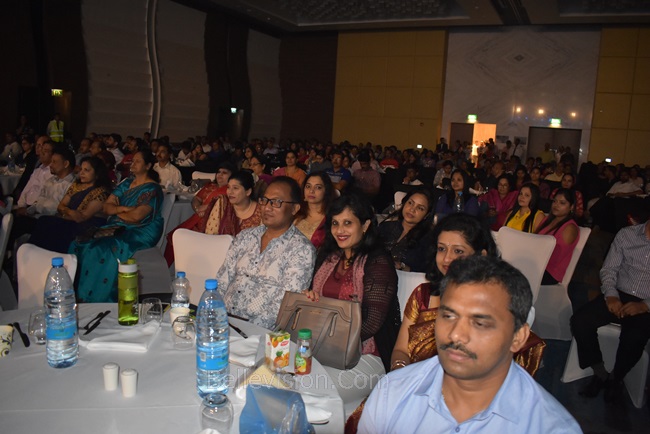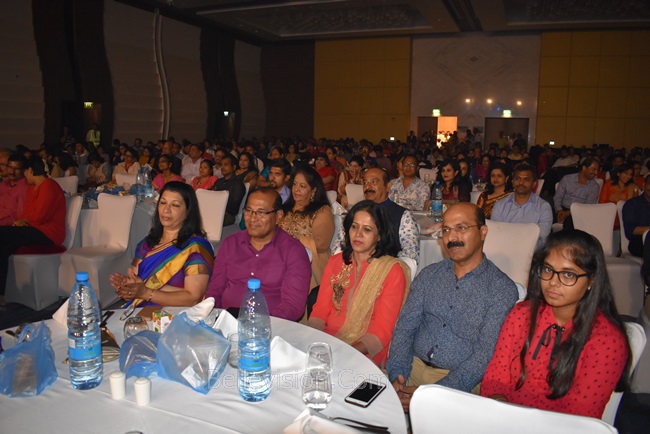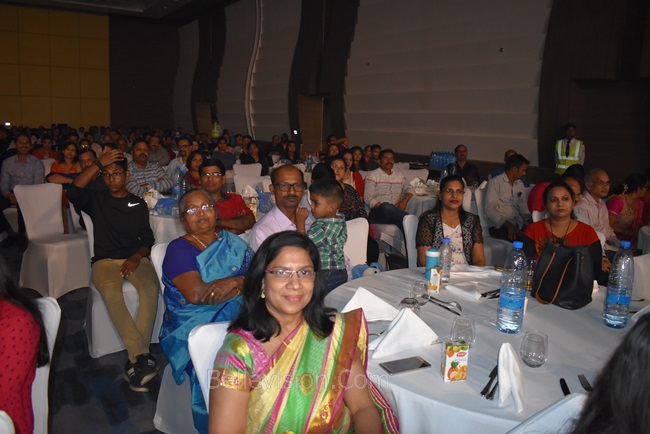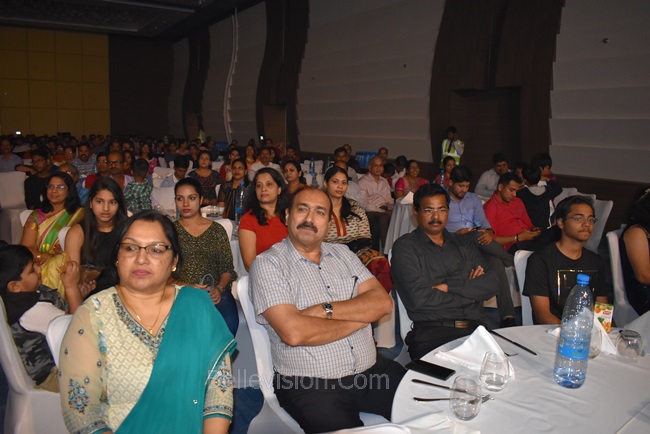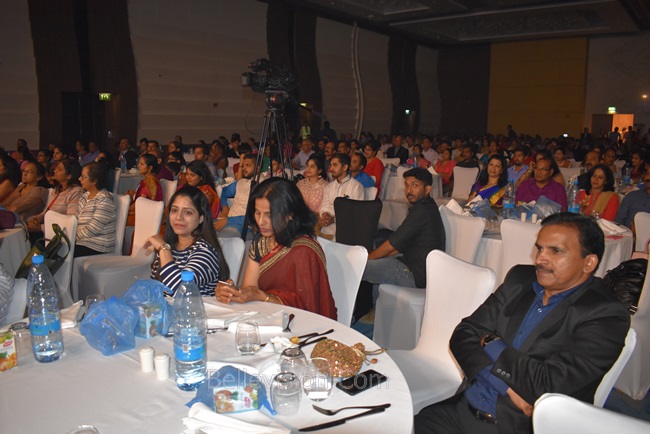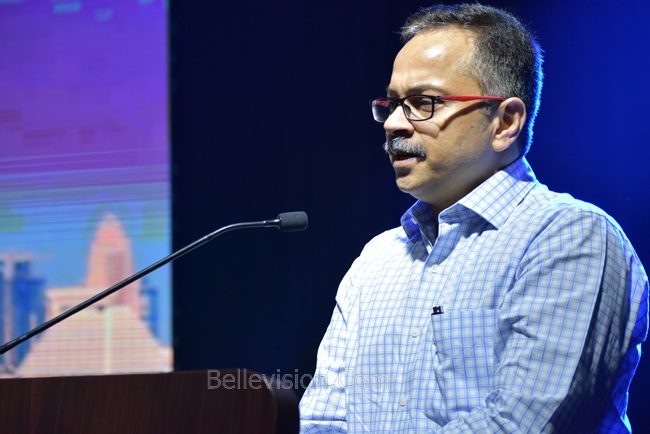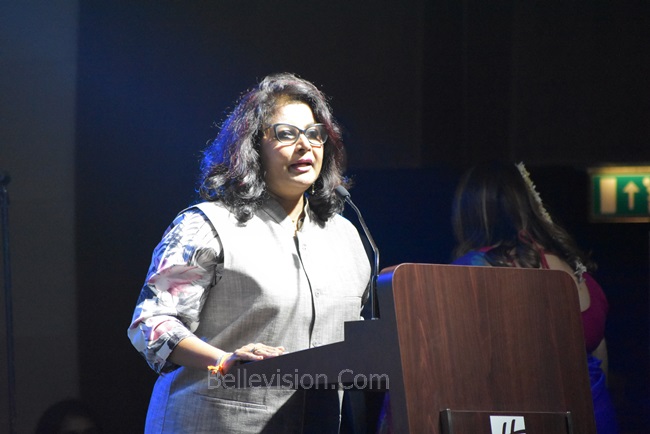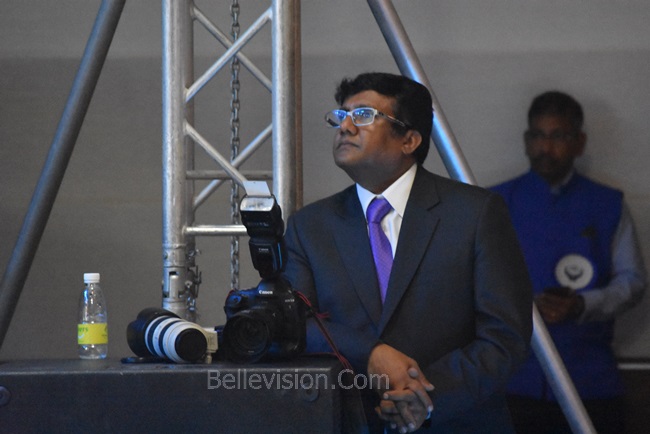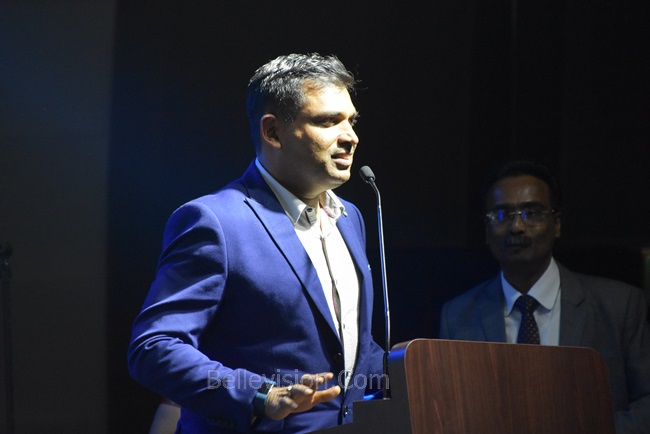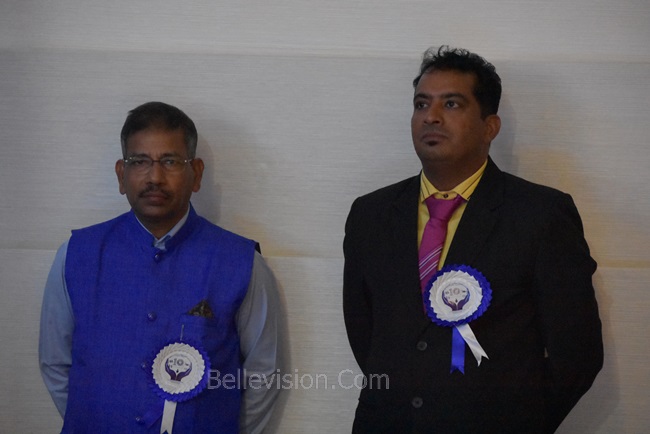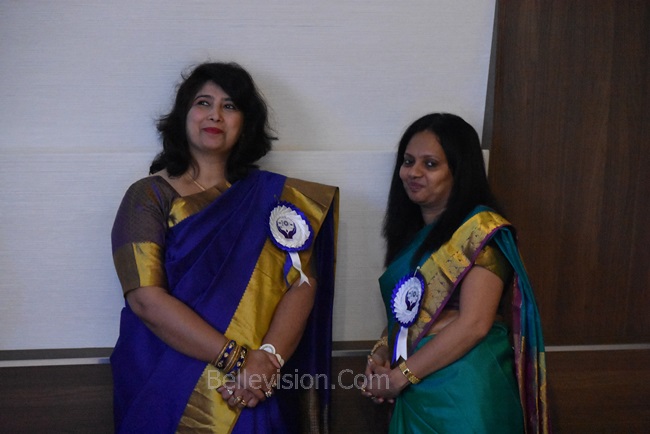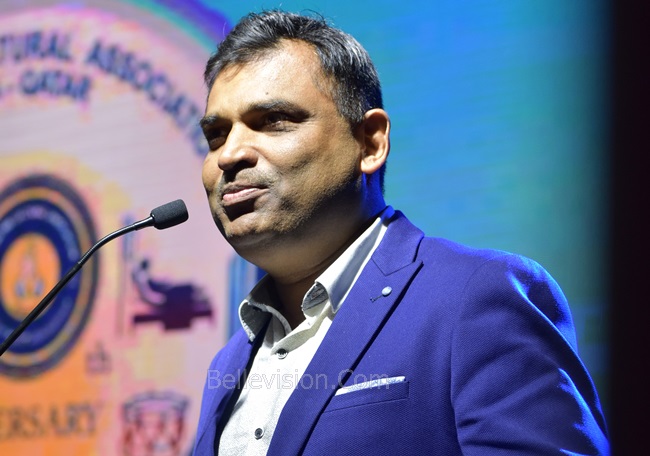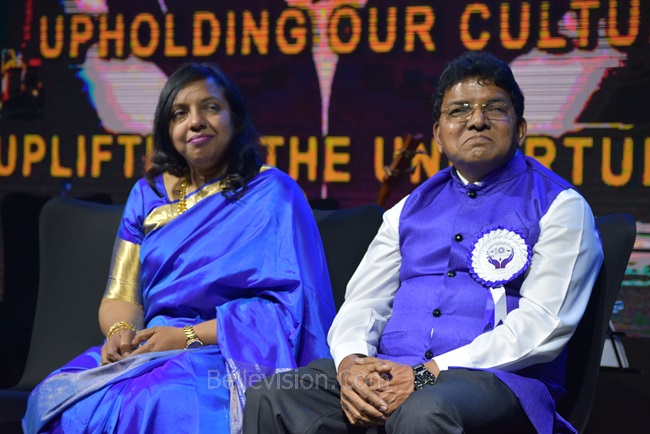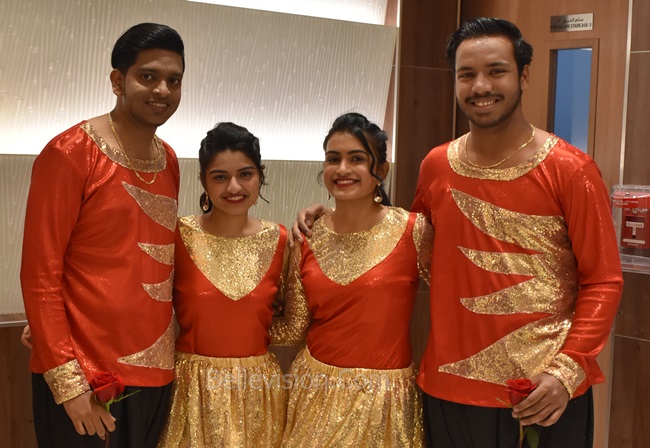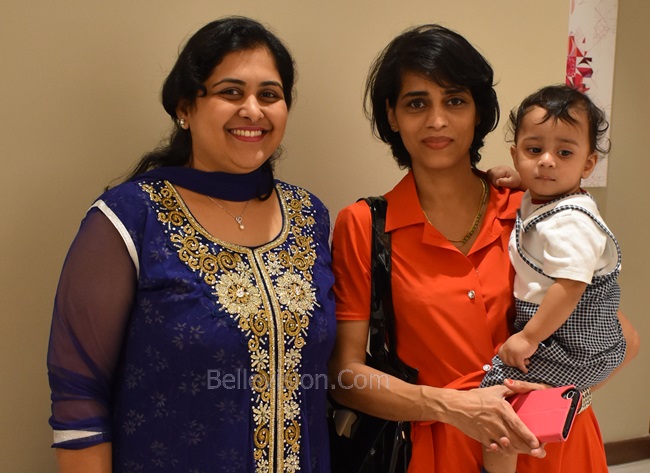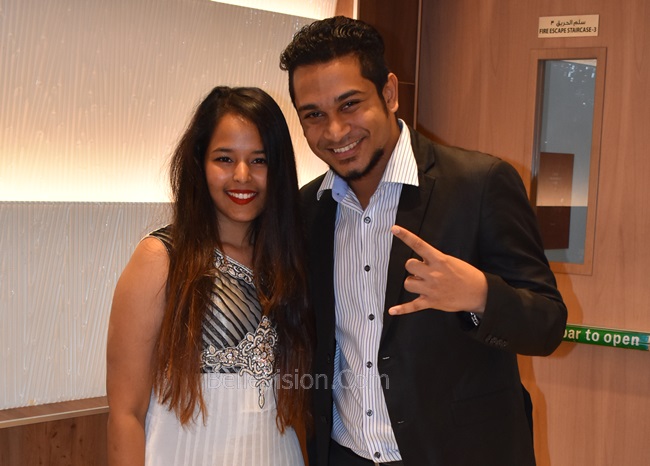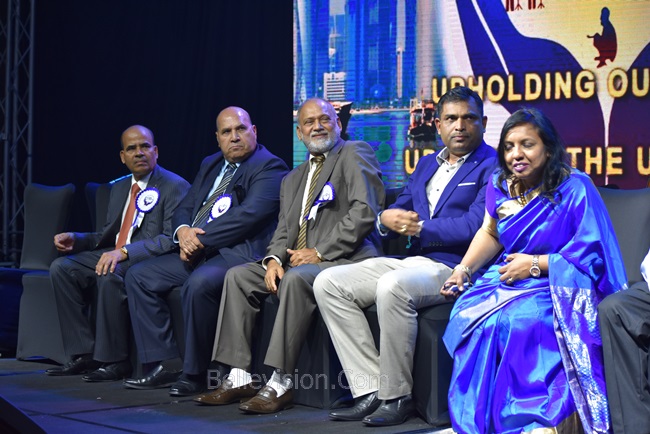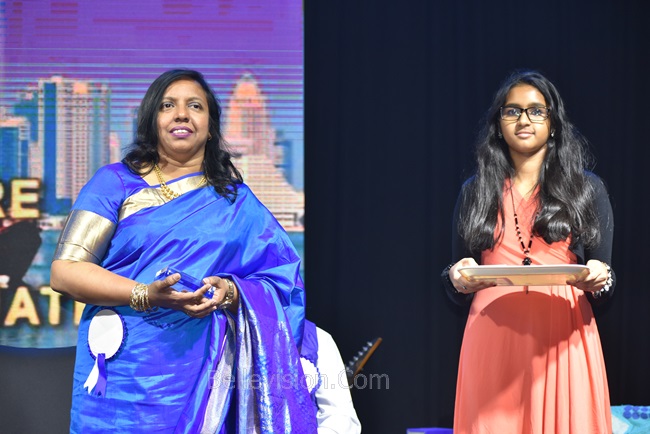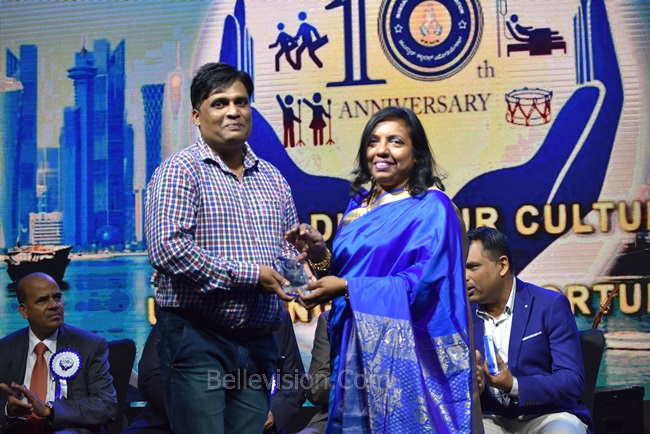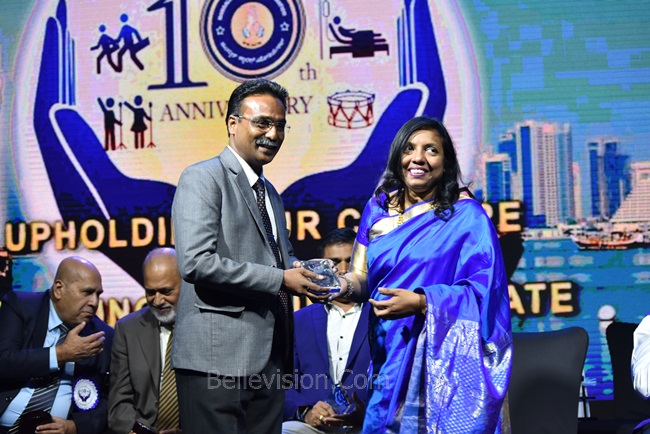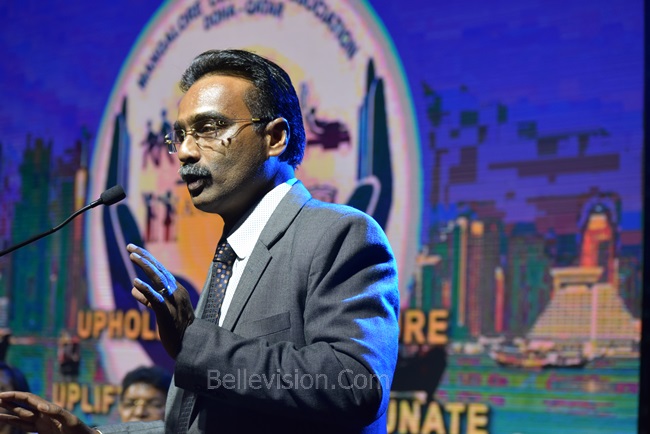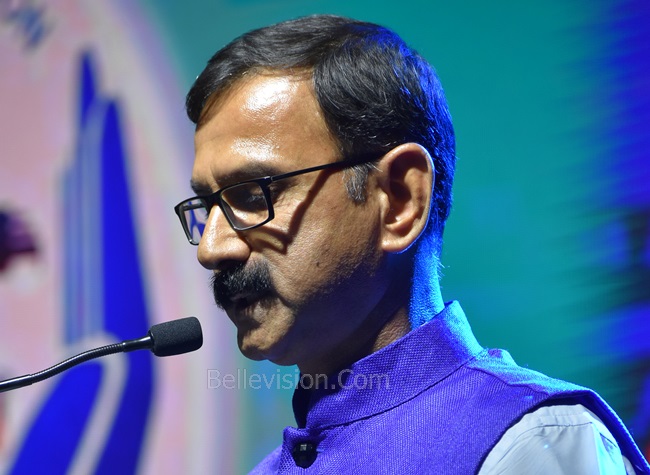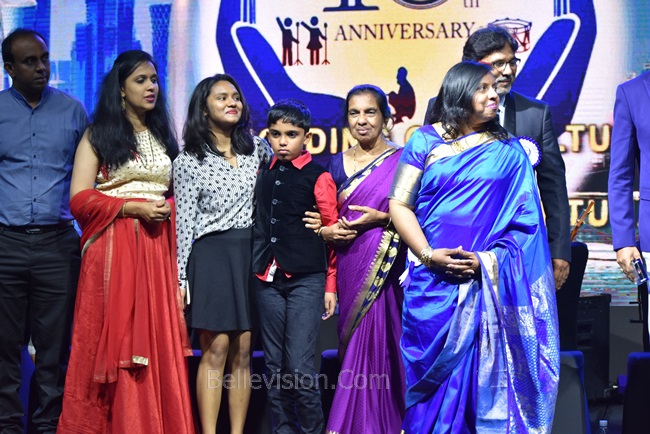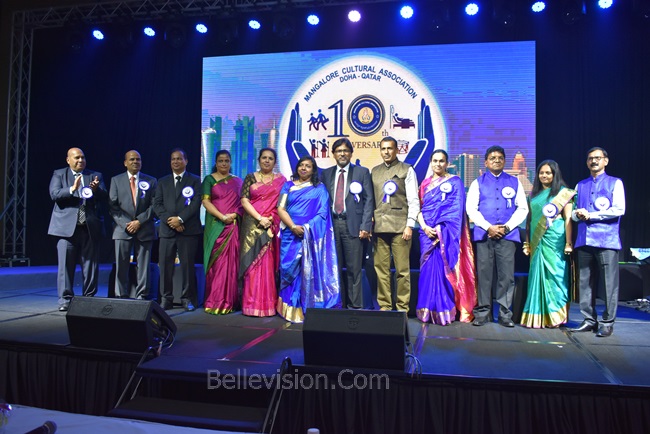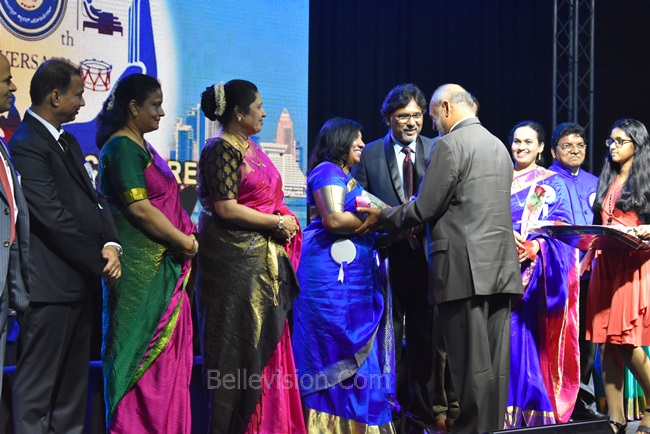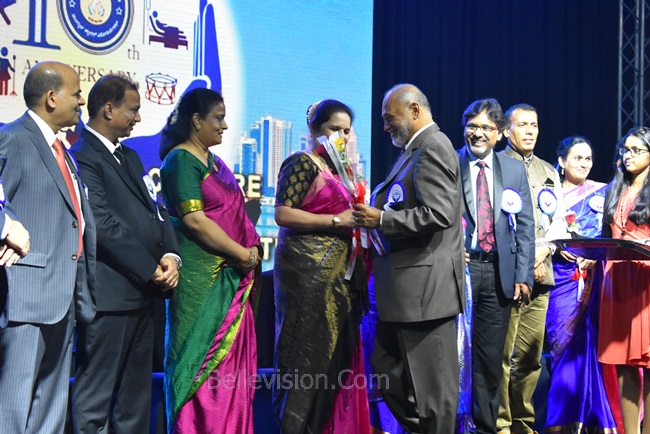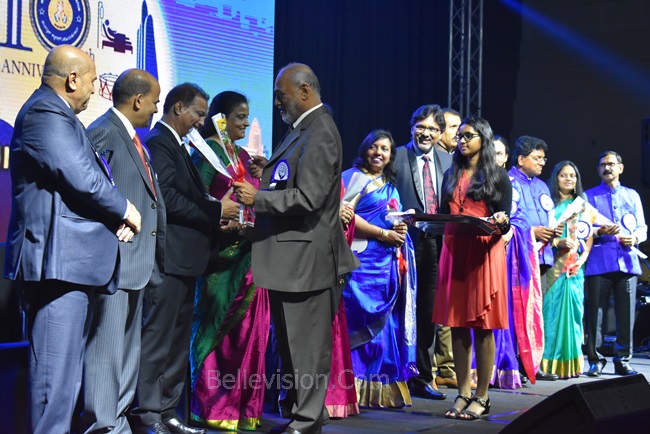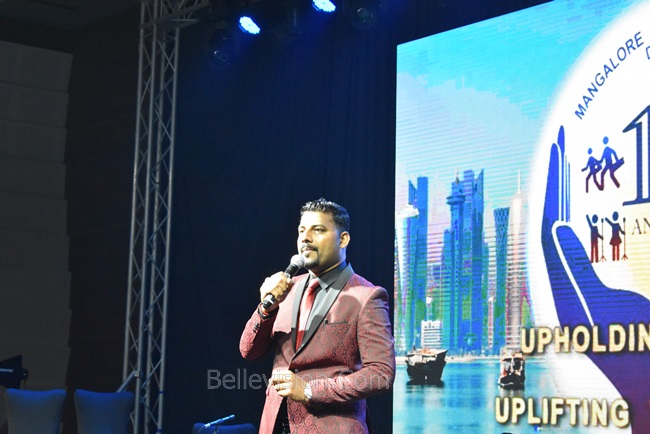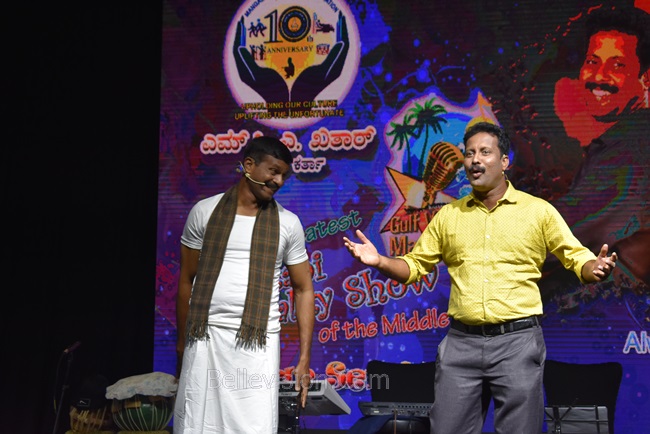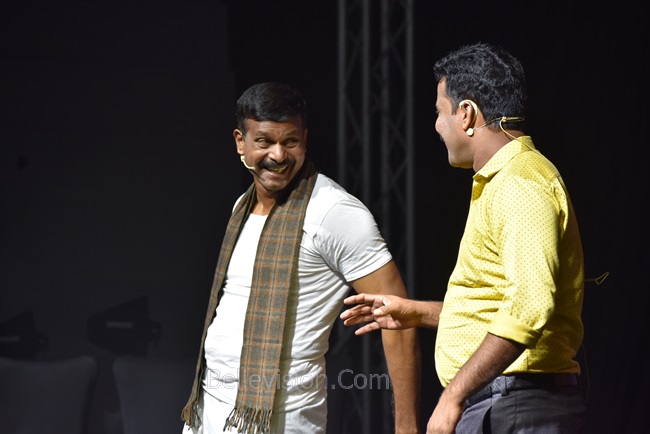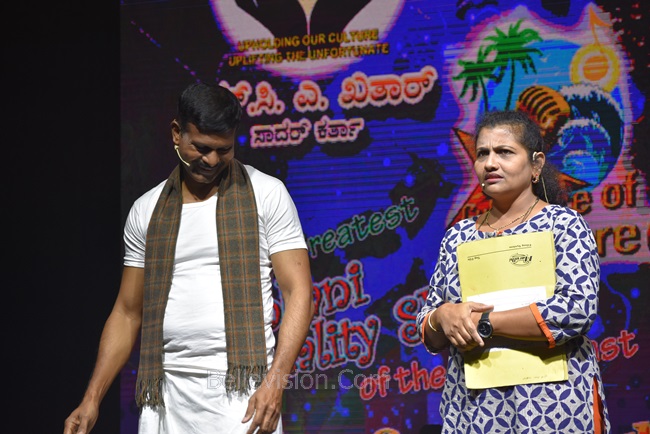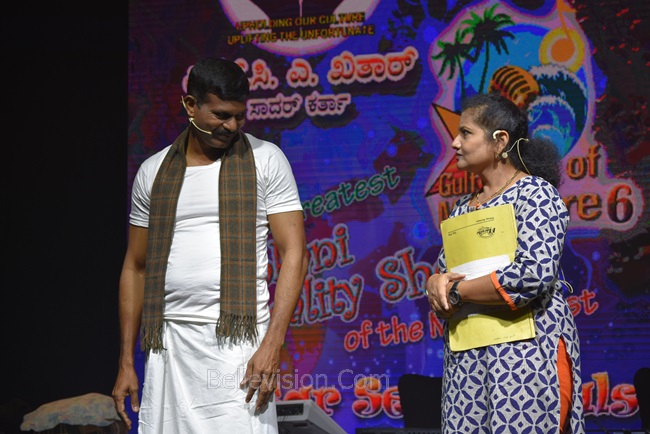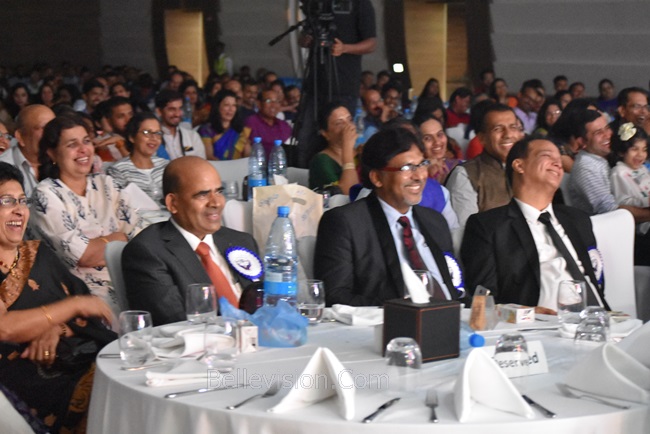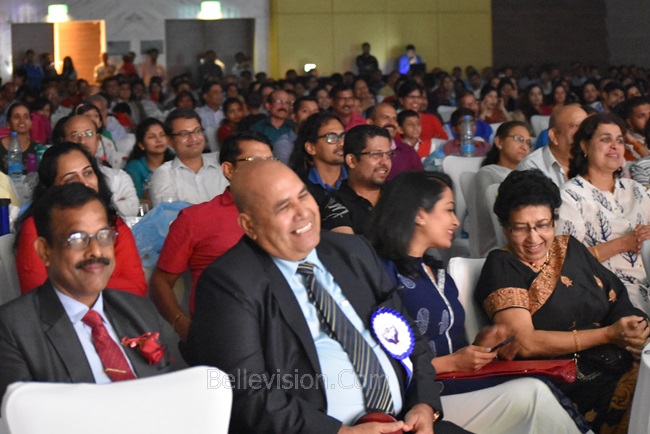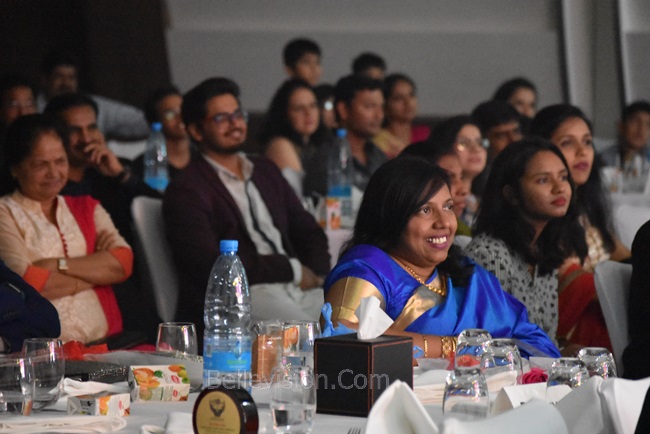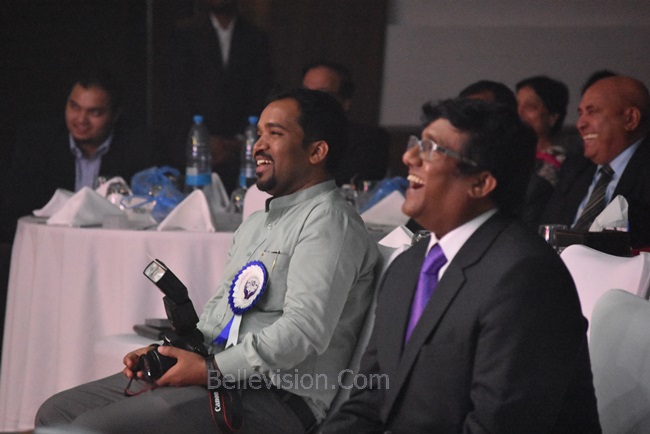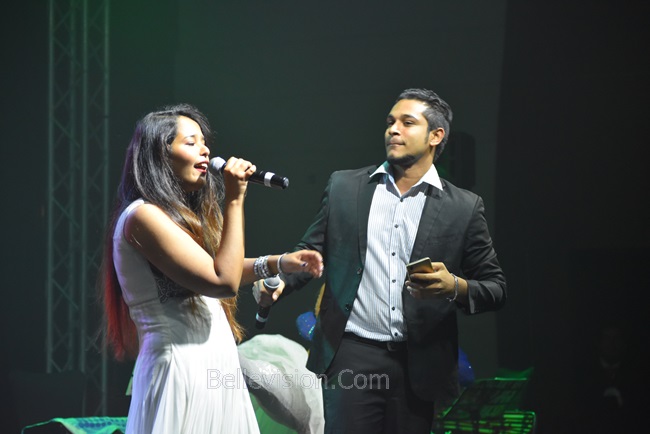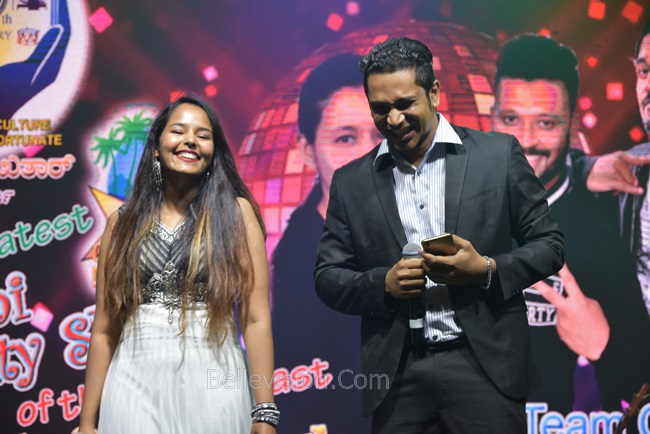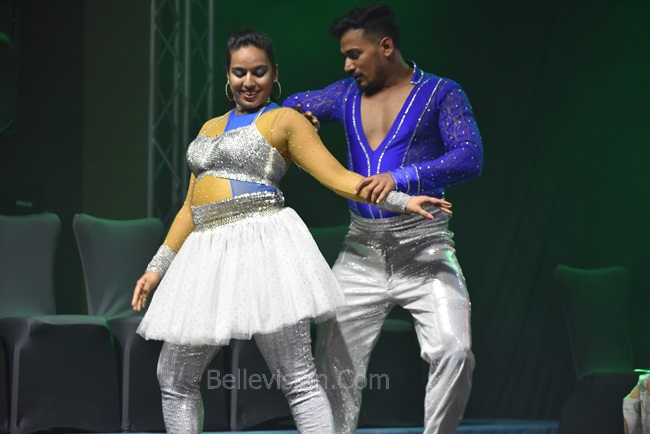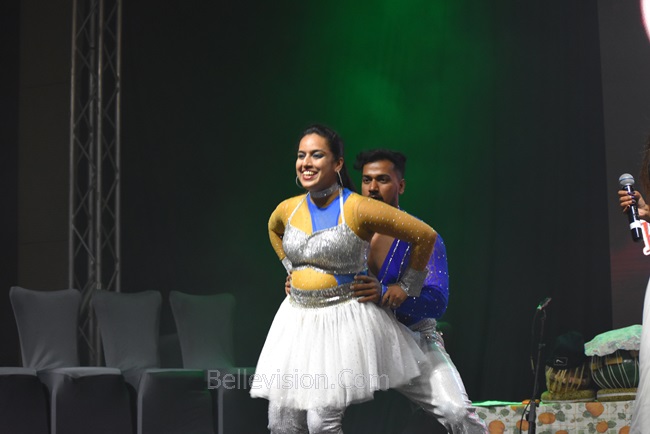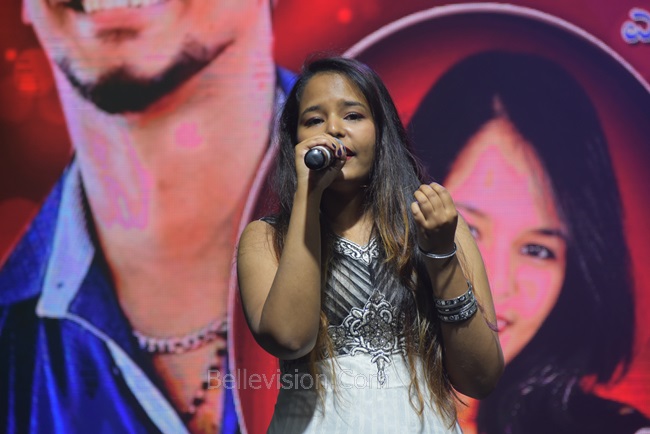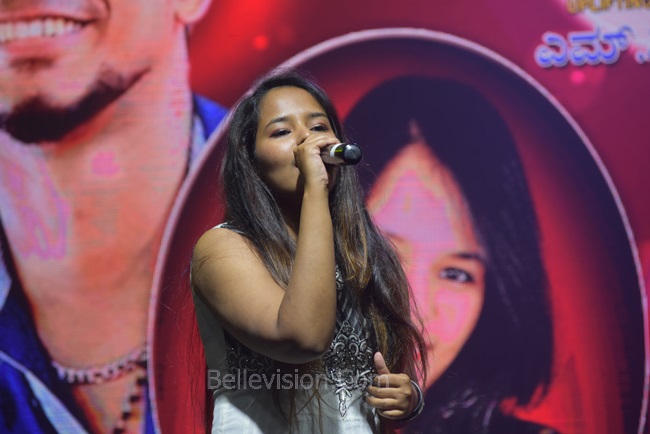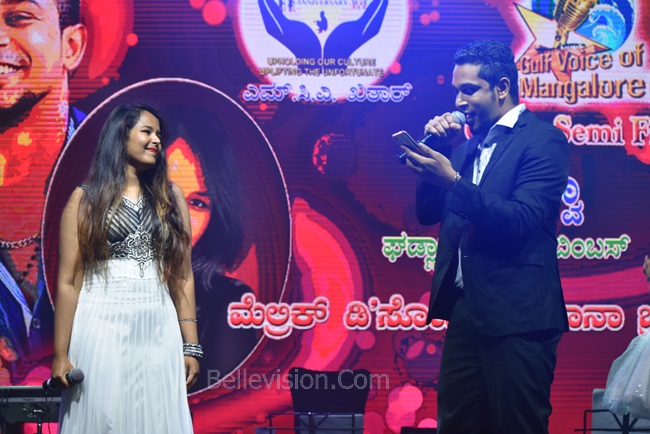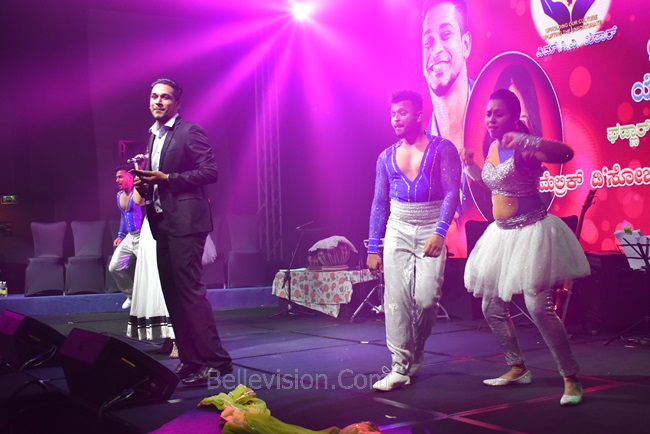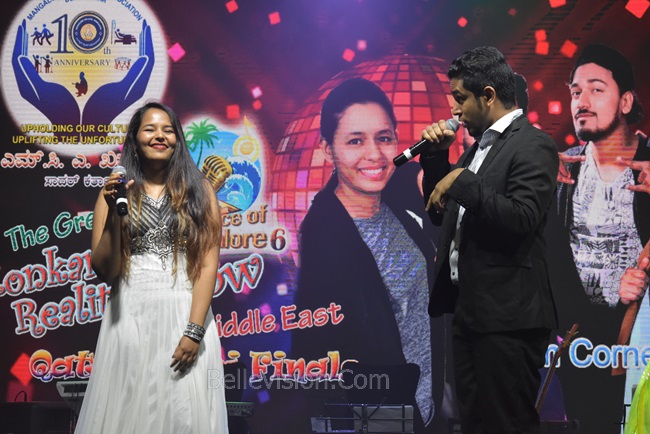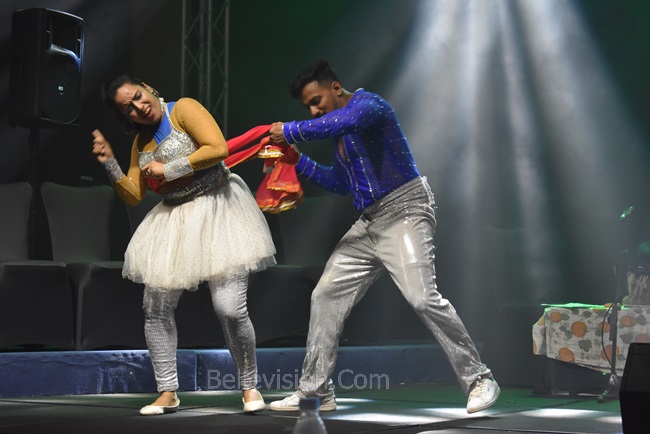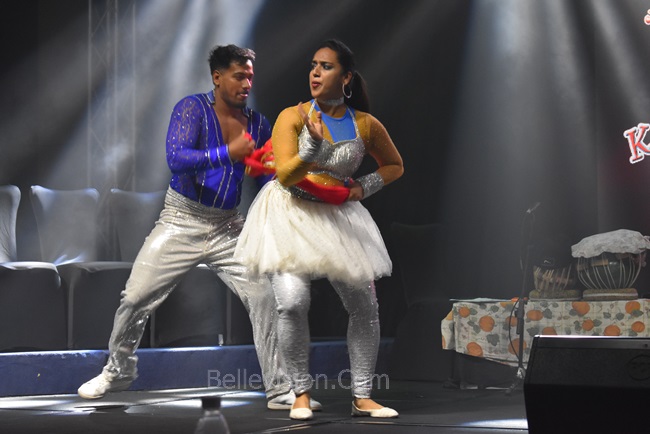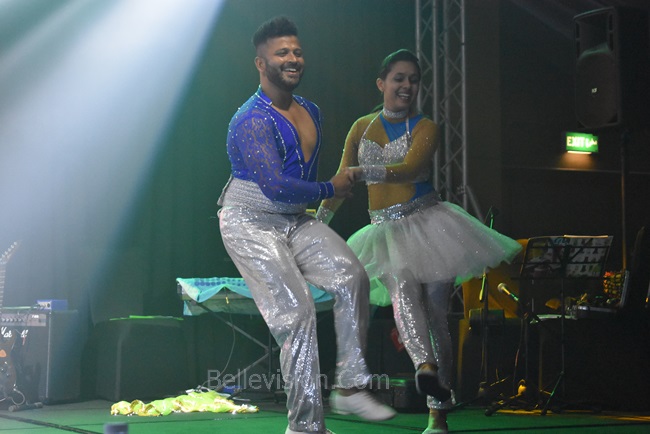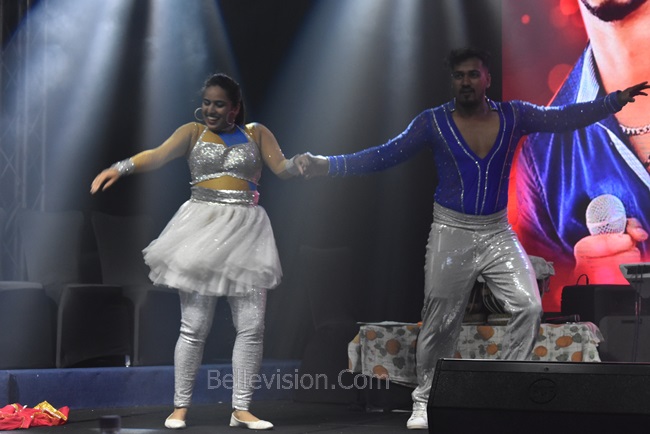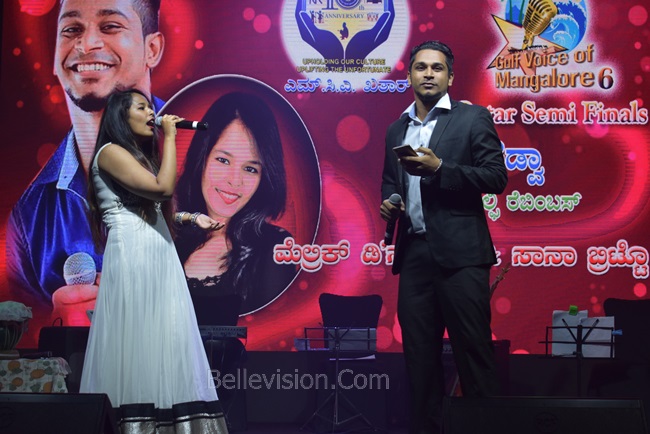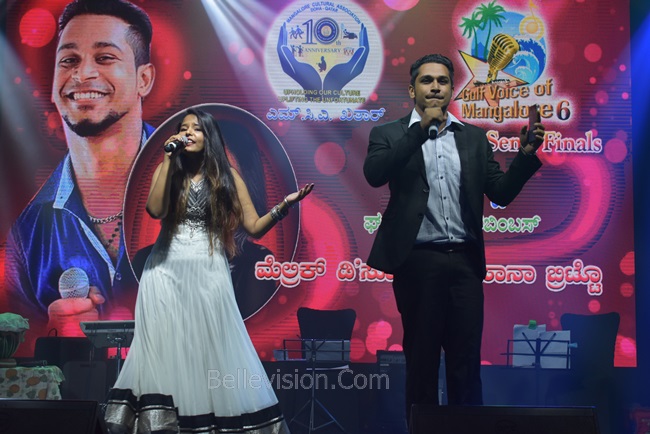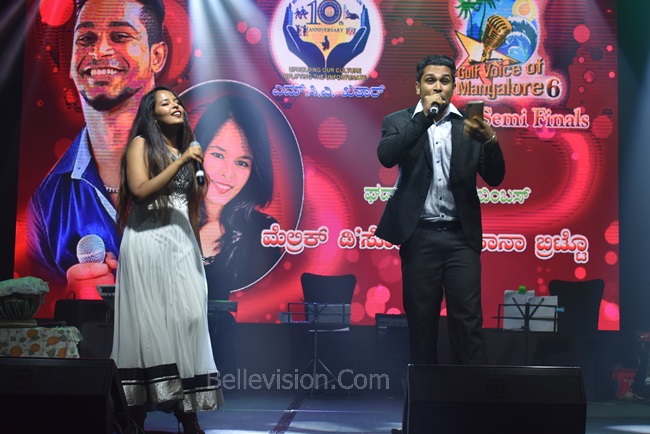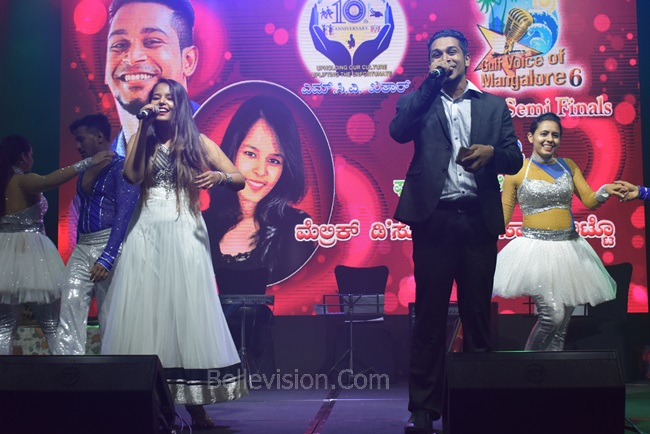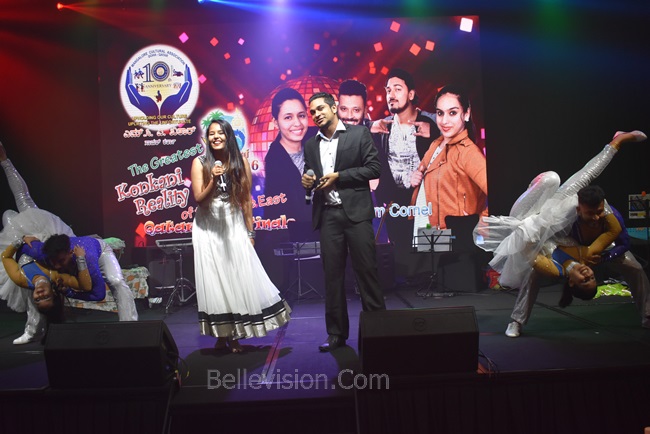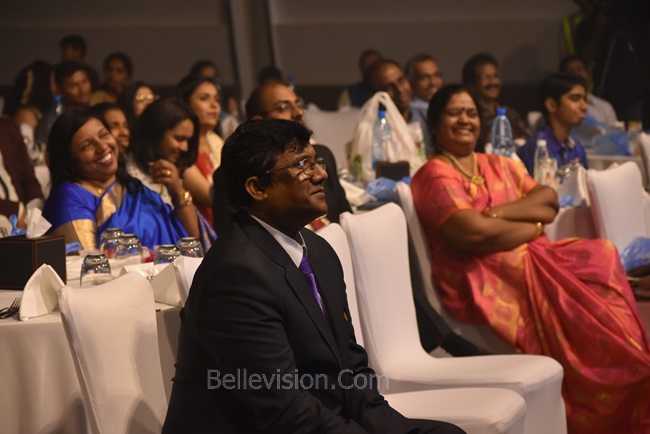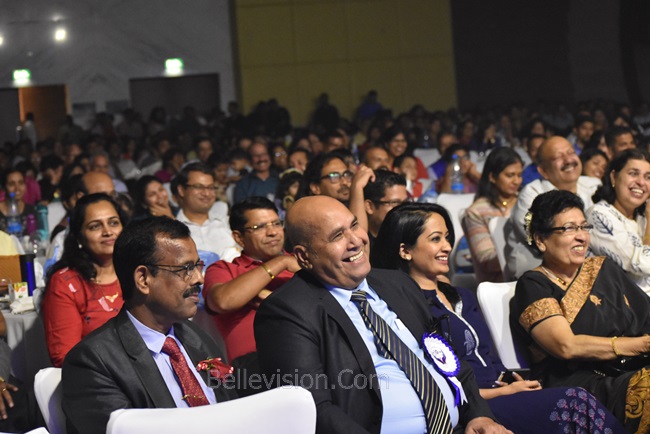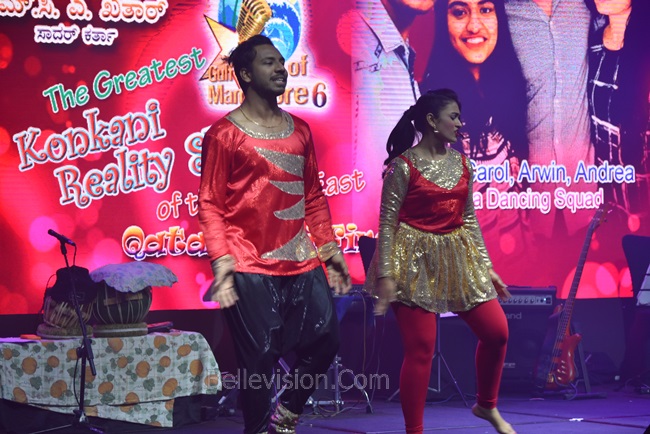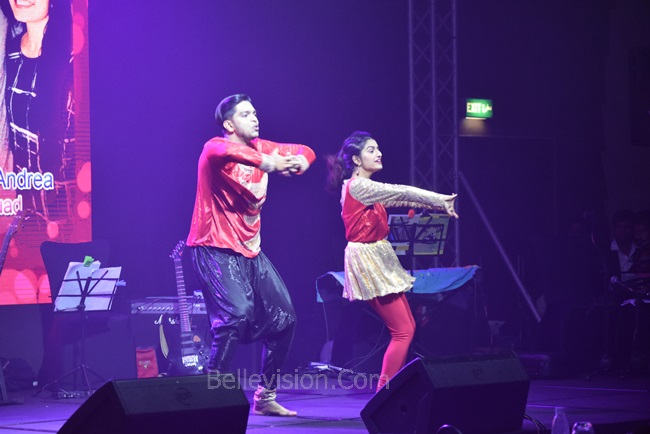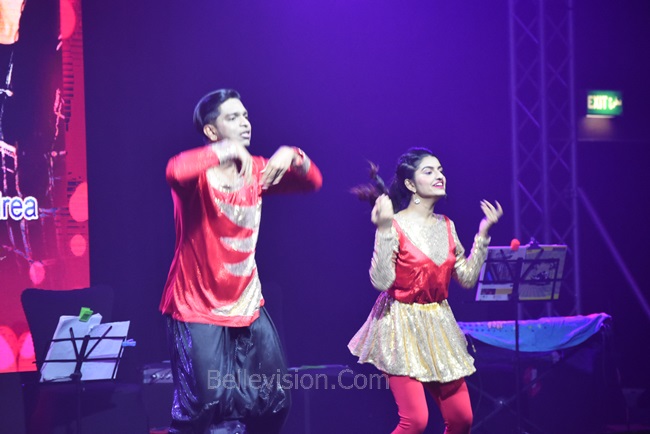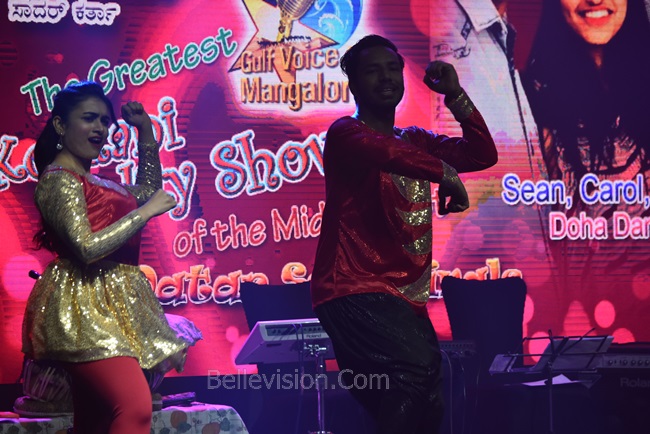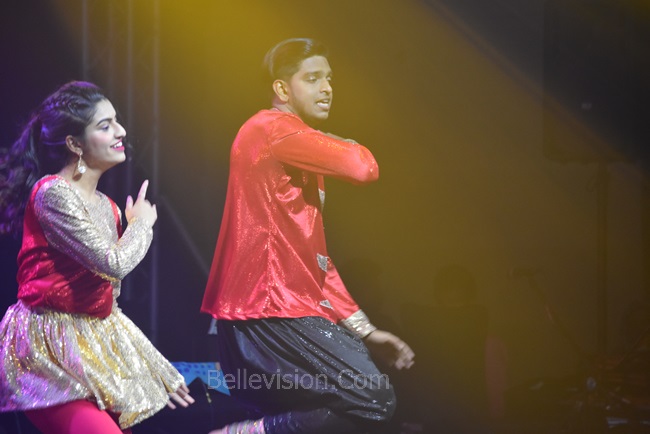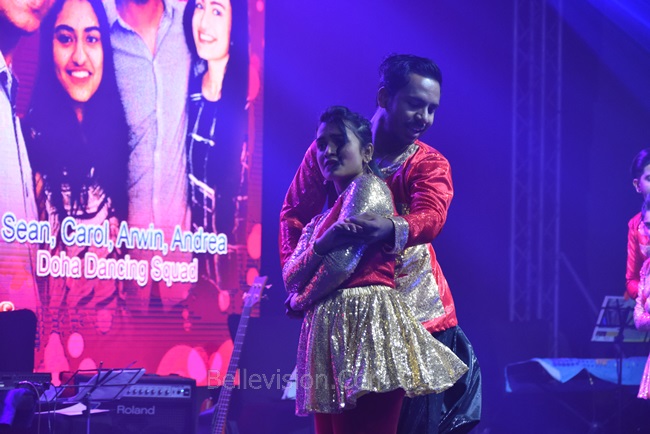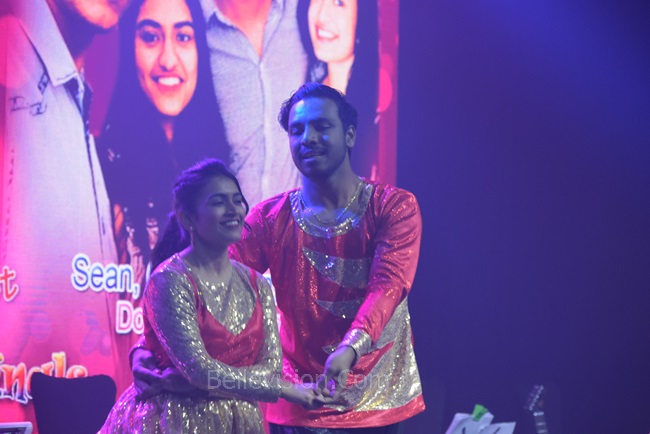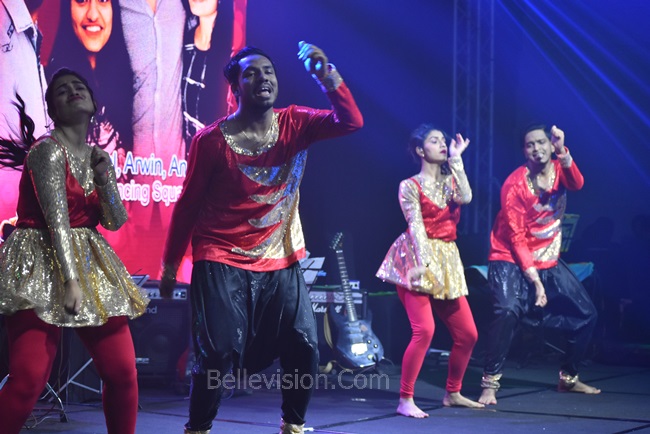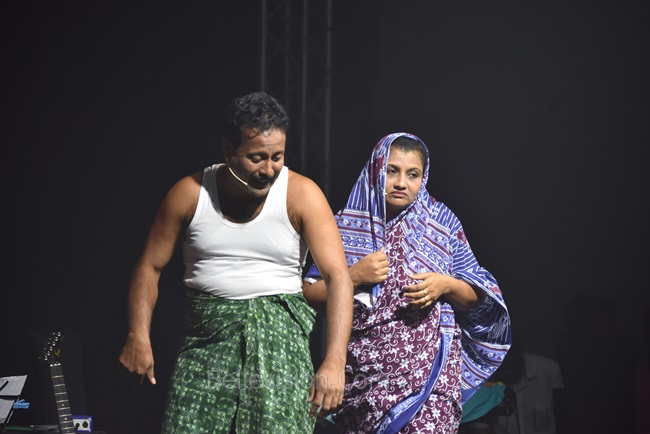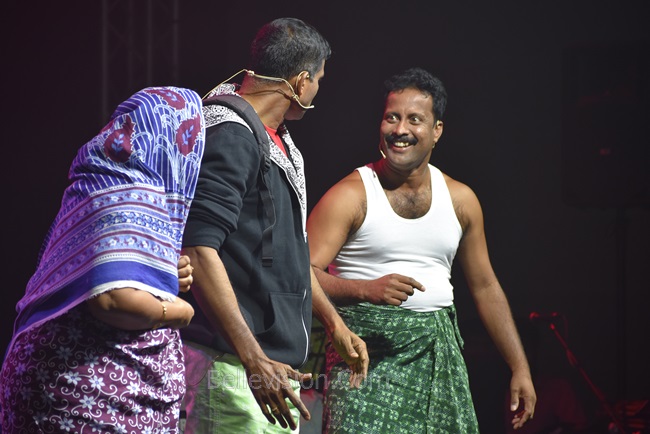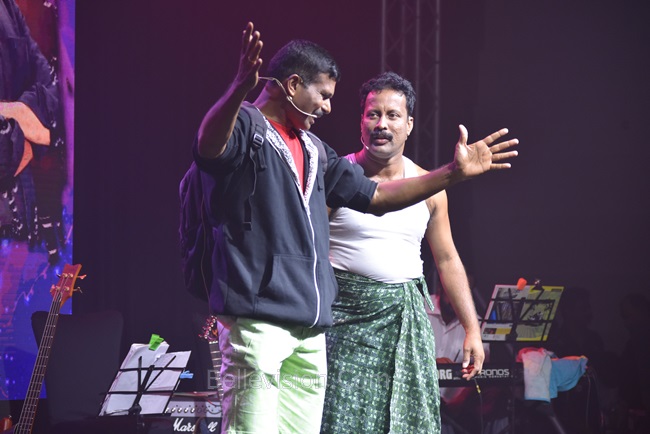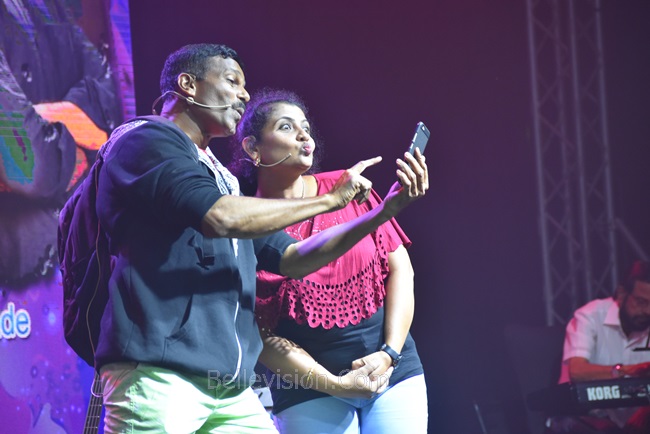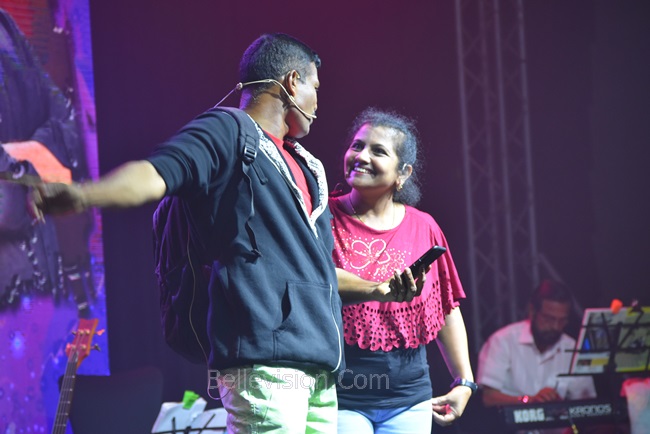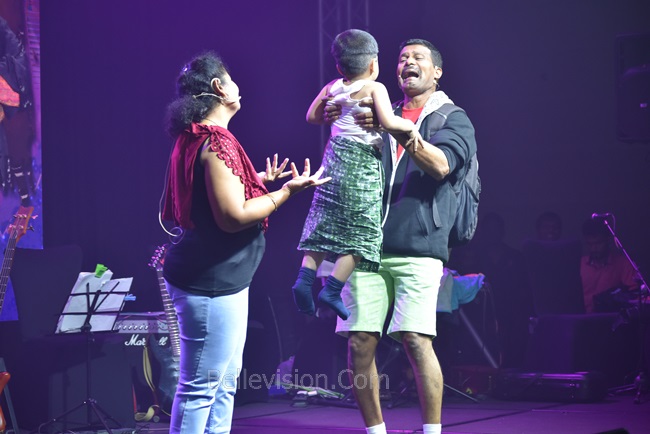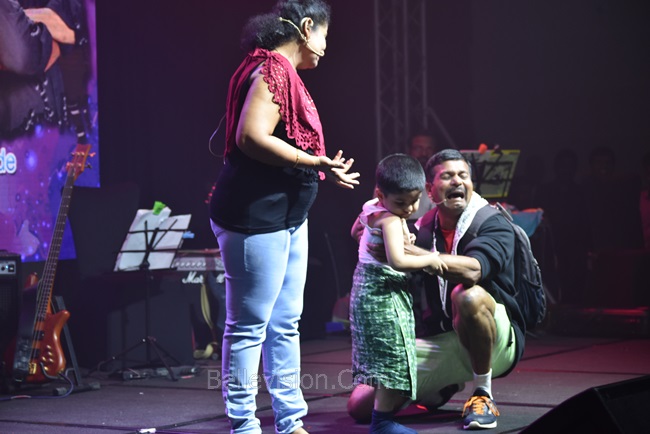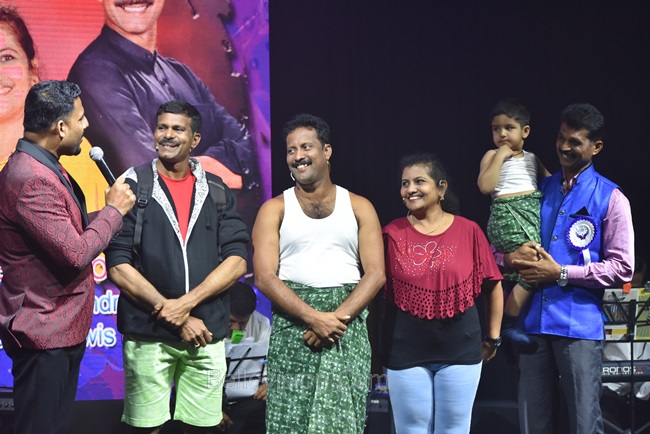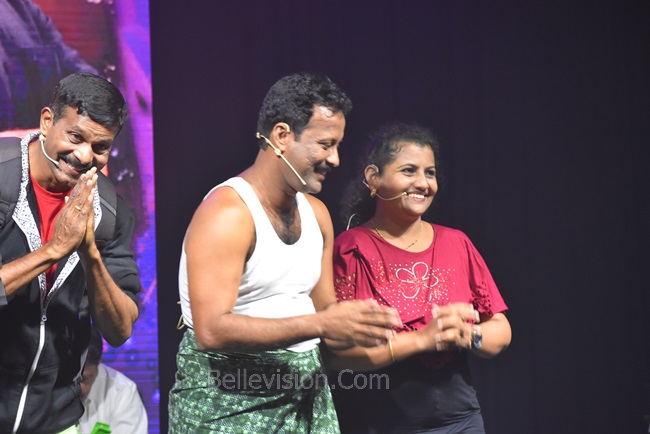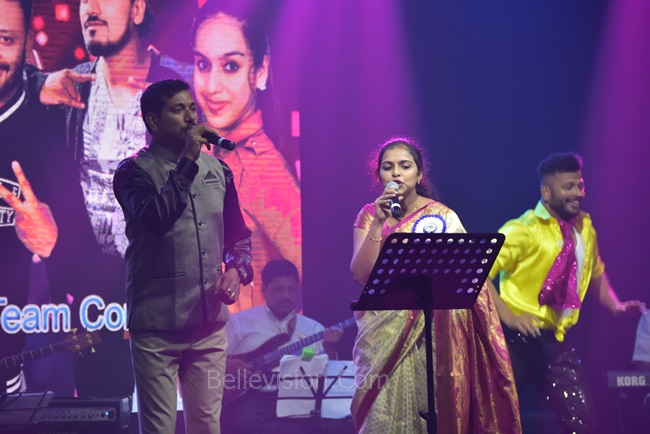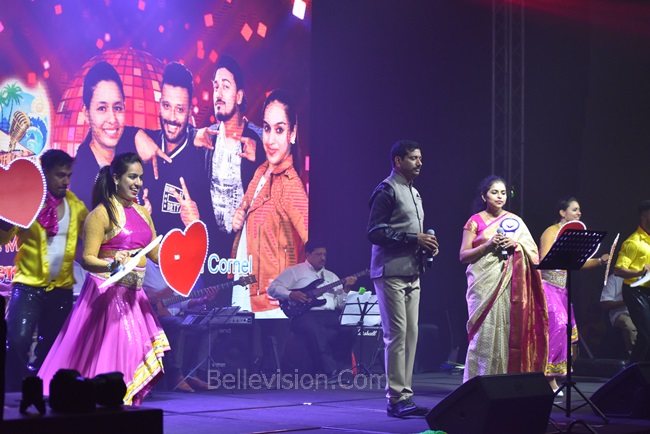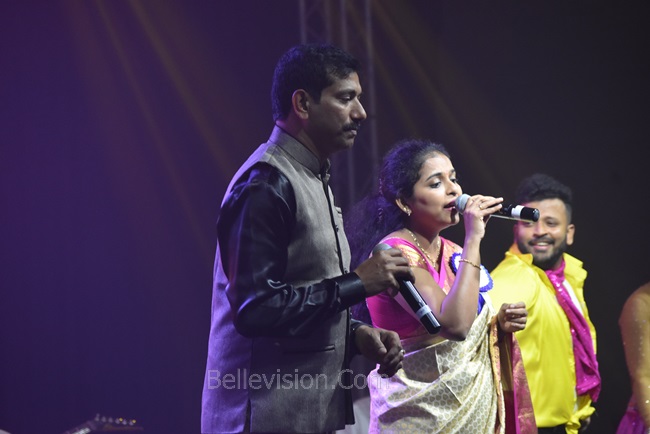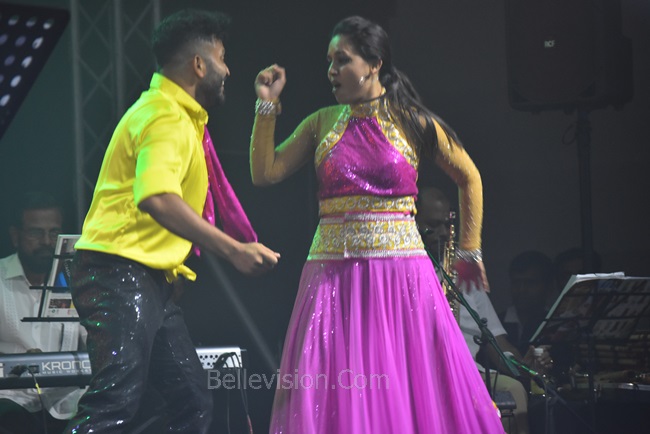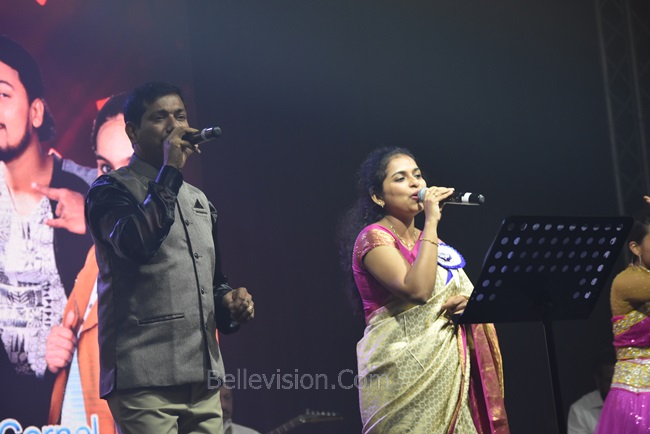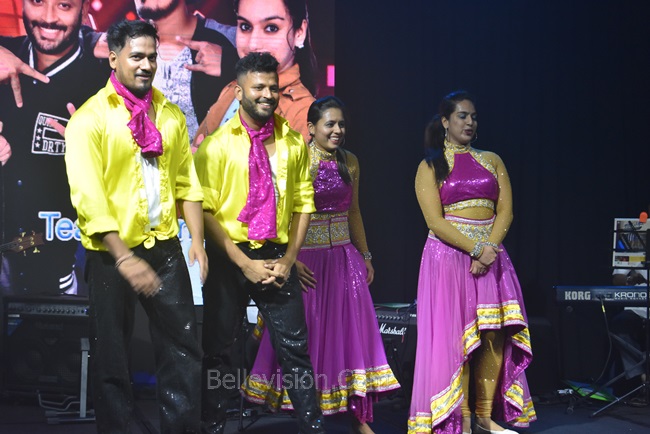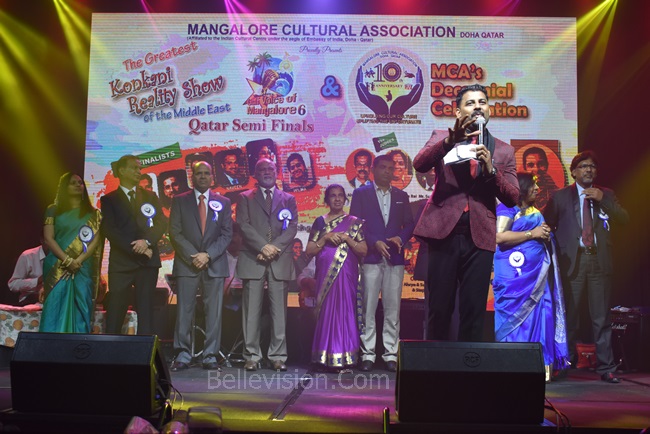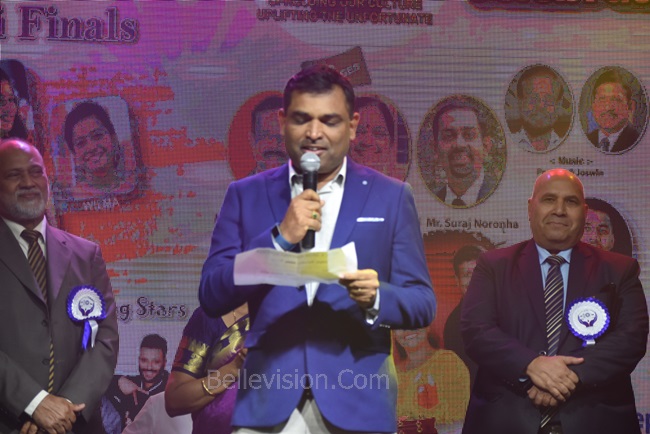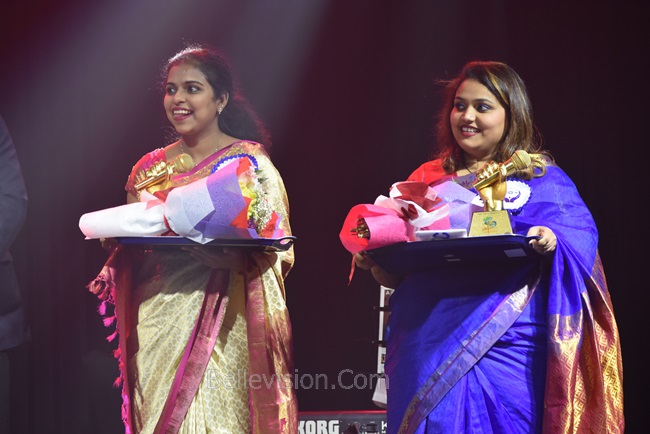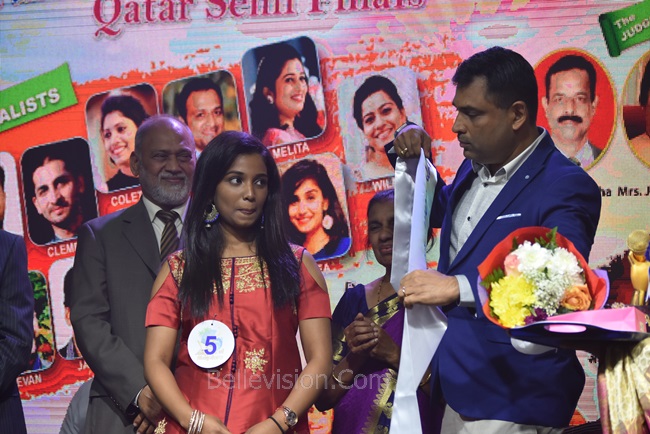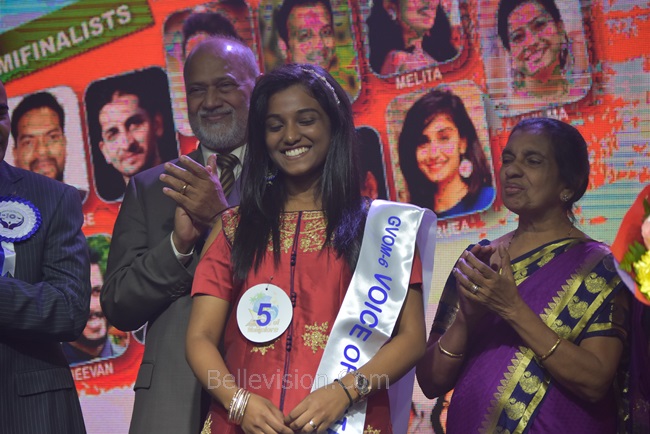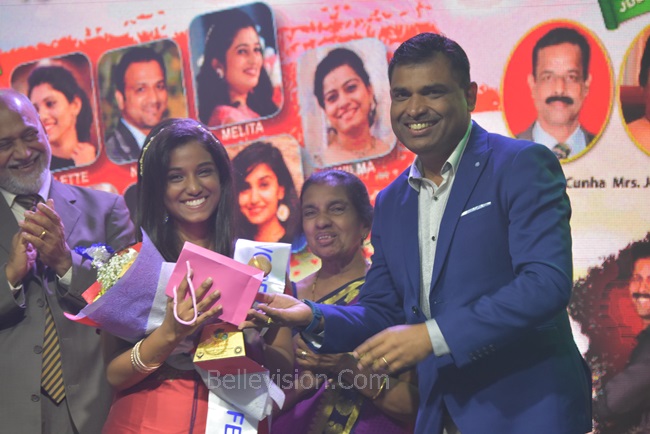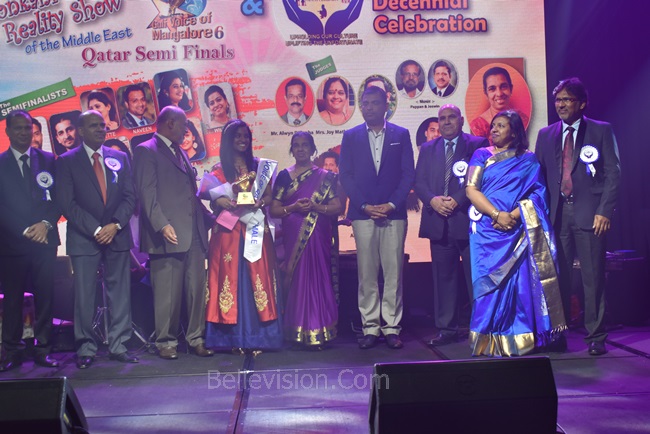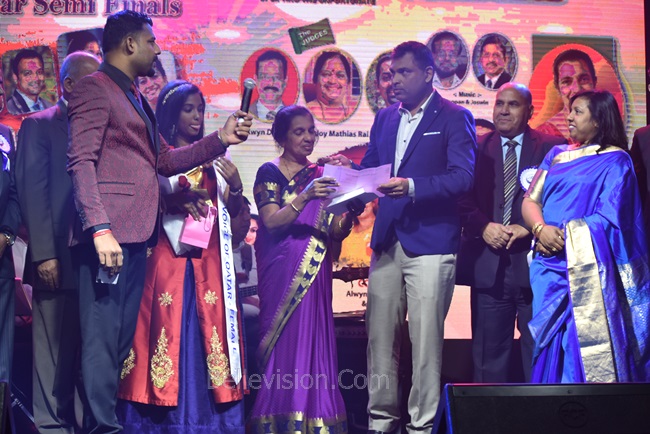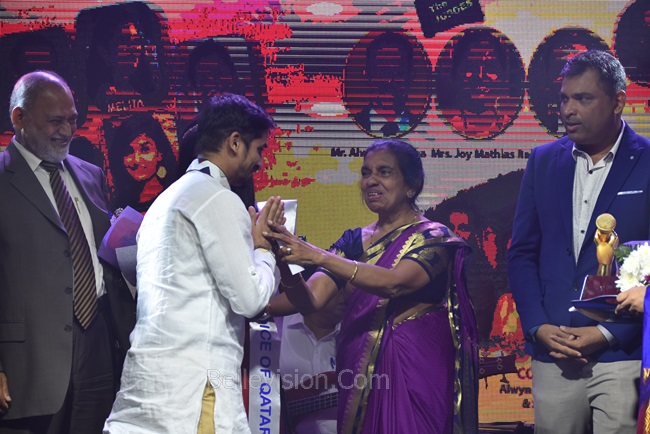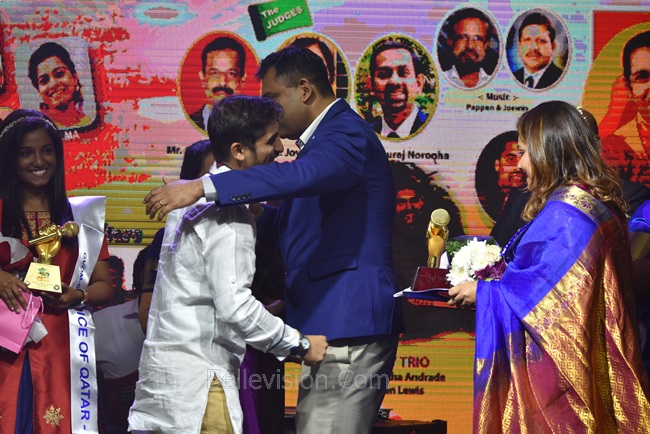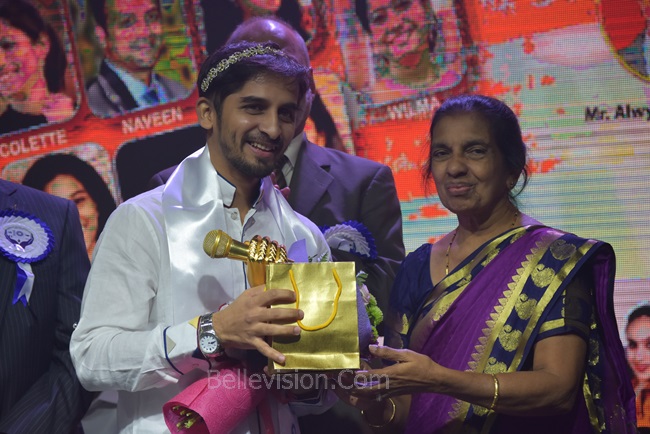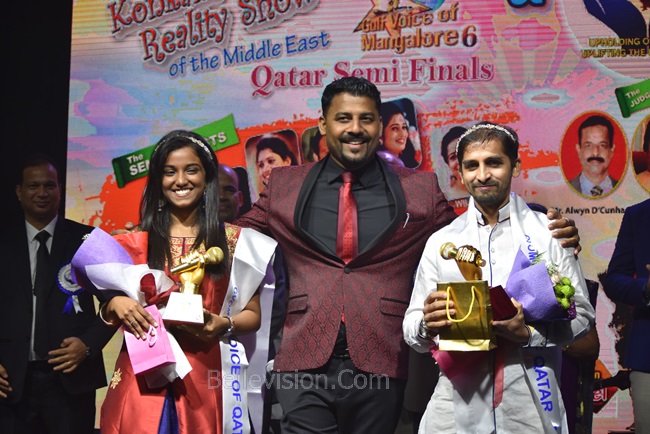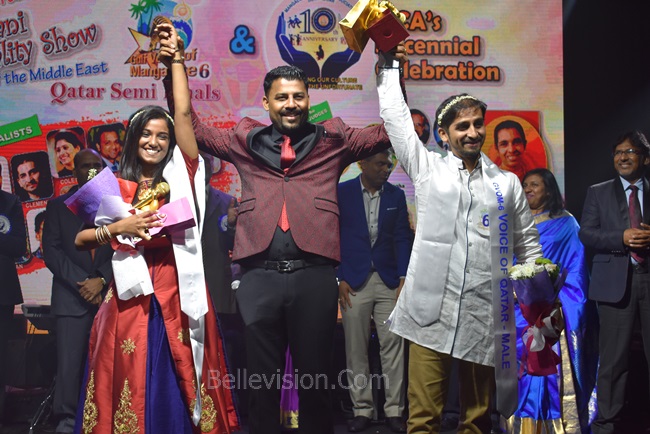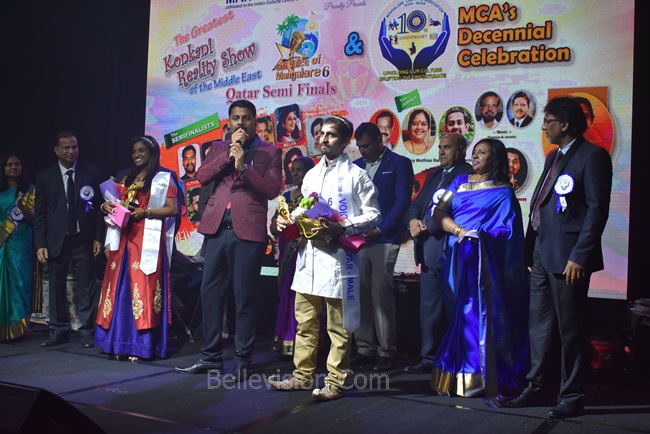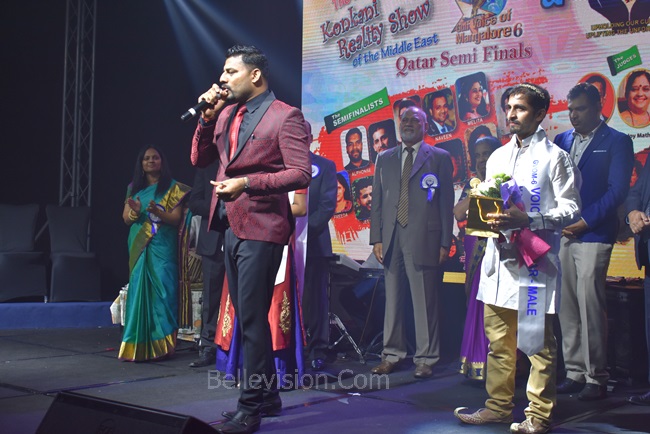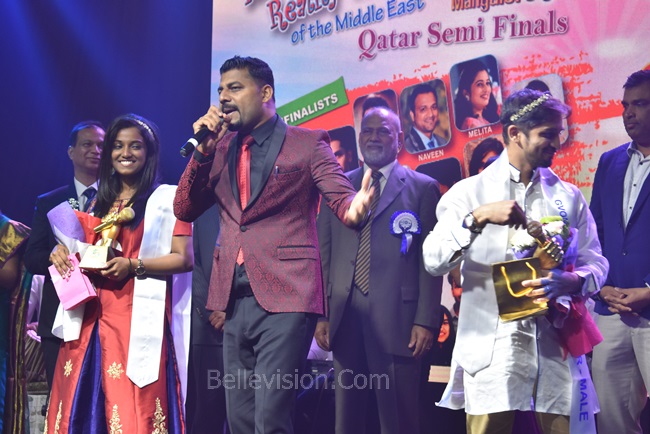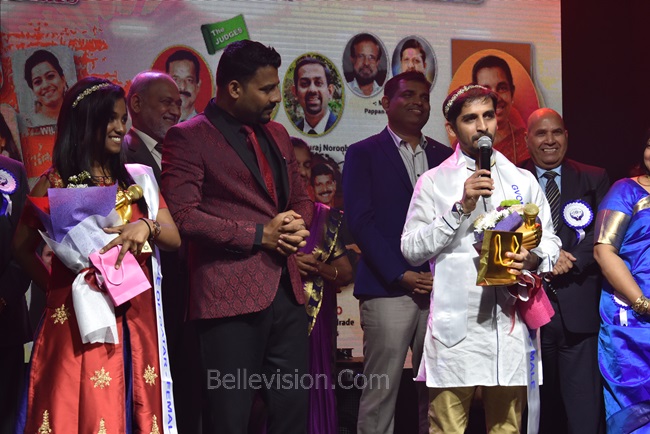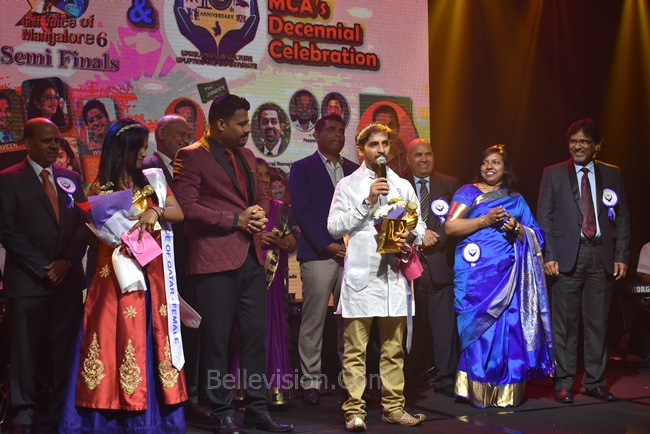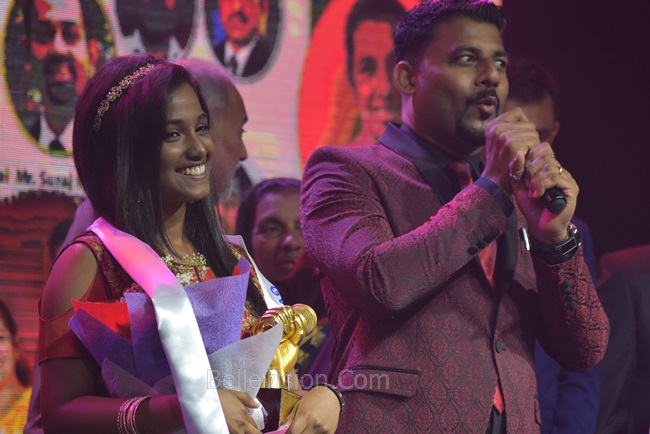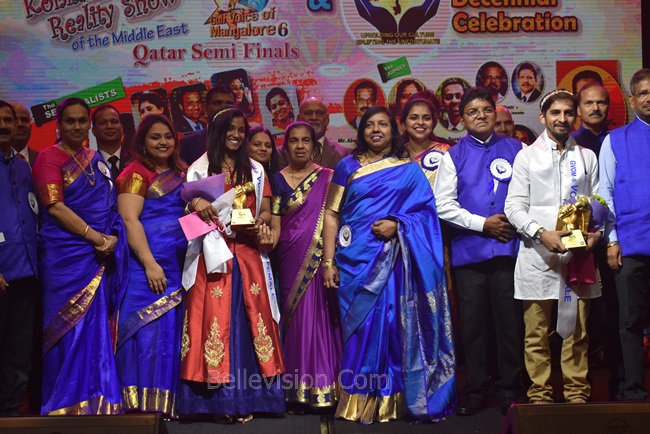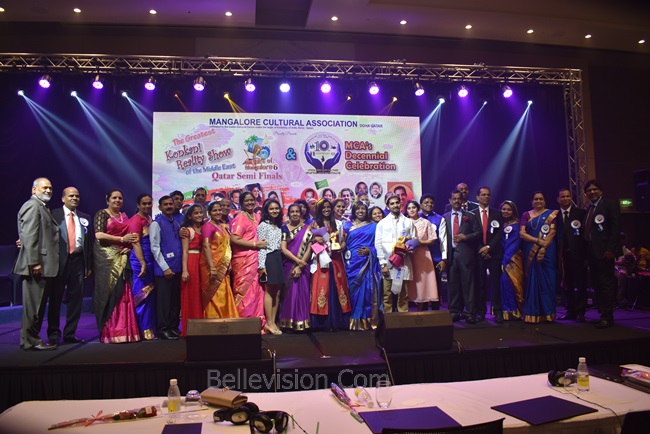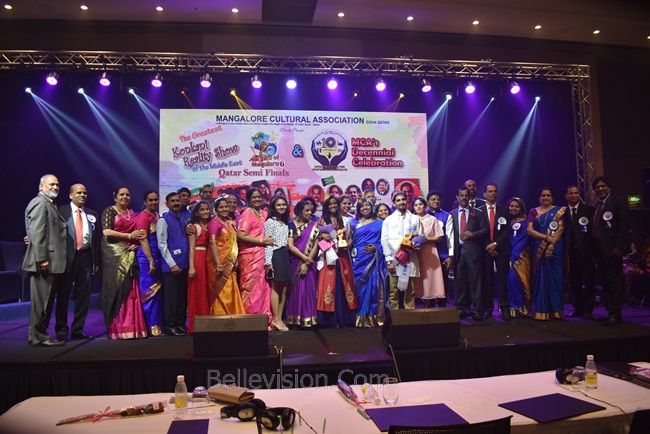 Then the much-awaited MCA Kala Puraskar 2017 that consists of citation, memento and a cash amount of Rs 1 lac was presented to Konkann Myna, for her outstanding and continuous service to Konkani Music world, first as a singer, then as singer and better half of the late Konkann Kogull Wilfy Rebimbus and now as the leader of Wilfy's troupe continuing Wilfy's legacy ever since he joined the heavenly choir. She has sung more than 2000 Konkani songs and hymns in Konkani and has also lent her voice to all 47 musical albums as well as 5 devotional albums of Wily Rebimbus and more than 250 Wilfy Nites in India, Canada, US, Qatar, UAE, Oman, Kuwait, Bahrain etc. Chief Guest of the evening Hemant Kumar Dwivedi, guests of honour Milan Arun and Walter Nandalike presented her with the prestigious award after Hema Fernandes read out the citation. In her acknowledgement speech, Meena Rebimbus thanked MCA for conferring her with the prestigious award. She said just 3 sentences and then chose to express in her best style, that is, by singing a song of gratitude. Her voice has entertained the Konkani world for 55 years and she has become a household name as the head and heart of Konkani's First Family. As she ended her song of gratitude, entire audience in the hall rose on their feet and gave a raucous applause in respect to the lving legend for her achievements.
Chief Guest Hemant Kumar Dwivedi, in his address, congratulated Kala Puraskar awardee Meena Rebimbus and MCA on completing 10 successful years in the service of the needy and the less fortunate ones back home in India. Milan Arun expressed her gratitude for extending invitation to her to the decennial celebrations of MCA and recalled her close bond with Konkani and Mangaloreans. Walter Nandalike recalled the beginnings of MCA and its efforts in reaching out to the needy and organizing well-organized programmes year after year in order to preserve, nurture and promote Konkani in Qatar. Felix Lobo, founding member of MCA and a current advisory board member recalled the circumstances and reasons that gave birth to MCA 10 years ago.
All the 12 semi-finalists, background musicians, dancers from Team Cornel who had been flown from India for the special occasion, comedy trio of Alwyn Andrade, Sujatha Andrade and Stephen Lewis of 'The Expressions' troupe, compere Dony Correa, MCA former presidents Harry Lobo and Arthur Pais, MCA advisors Felix Lobo, Wilfred Fernandes and Jerry Pinto were presented with mementoes on the occasion of the decennial celebrations of the MCA.
Walter Nandalike, Gladson Almeida and Alfred Cyril Crasta too were presented special mementoes for their support to MCA in the last 10 years.
Wilson Mendonca proposed the vote of thanks and Qatar's very best, eloquent and suave Alfred Cyril Crasta and Jovita Pereira compered for the stage programme.
As audience awaited the final result of GVOM semis Qatar's very own local singers Preema Pinto, a two-time Voice of Qatar and GVOM first-runners up, Qatar's most loved voice Rupert Lobo, GVOM 2014 First Runner's up Sana Britto, marvelous Melrick D'Souza and voice of Qatar and First Runner's-up GVOM 2016 Carrol D'Souza entertained the gathering with their solo and duet numbers. They were joined by the scintillating dancers of Team Cornel on stage. The elegant dancers presented electrifying dances, entertaining the audience. Qatar very best Team Sean too presented a scintillating dance to the tunes of Yore Pavsa. The dance was choreographed by Sean Fernandes.
Comedy Trio of Alwyn, Sujatha and Stephen (The Expressions) sent the audience into peals of laughter with their rib-tickling and crisp comedy. They were flown in especially from Udupi for the show and they justified their presence by presenting heavy doses of humour to the gathering.
The programme was compered by Dony Correa. His power-packed compering made even delightful with his excellent control over the language and the audience played great role in the success of the valedictory of Decennial Celebration of MCA. He is known as one of the best comperes that we have today and he again proved that his brand of compering is second to none.
The gala evening came to an end with a sumptuous dinner hosted by Mangalore Cultural Association on the occasion of its decennial celebrations.