Claud Nite Team Arrives in Mumbai
By Ancy DSouza Paladka

Bellevision Media Network


Mumbai, 10 Nov 2015: Claud Nite Team that is set to hold 6 shows during diwali festival just arrived in Mumbai along with its 35 member team including all the artists, musicians, technicians, sound and lighting engineers.
Claud DSouza who also celebrated his birthday here said that his team will give enthrall the audiance with the best performance of his team. The programme will contain live songs, hilarious jokes and fascinating dances.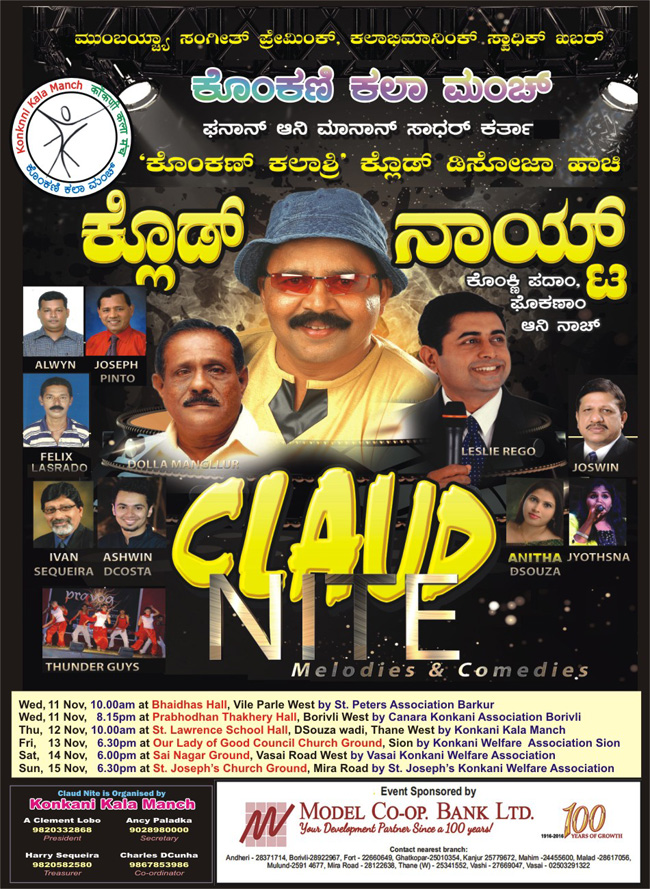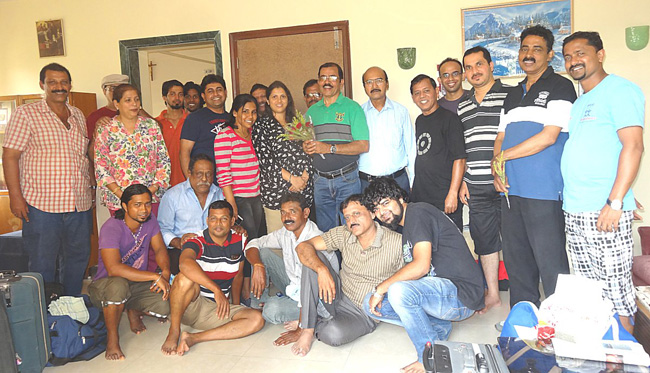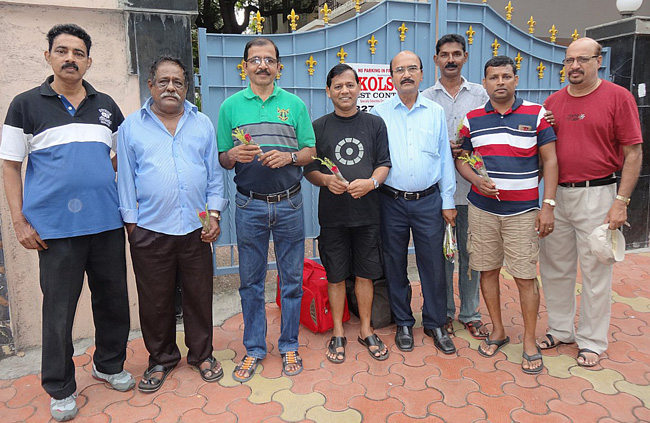 Leslie Rego will anchor the programme. Dolla Mangalore, Juze (Joseph Pinto) and Allwyn will entertain the audiance with their hilarious acts.
Claud DSouza Bendur along with Anita DSouza, Jyothsna, Ivan Sequeira, Ashwin DCosta will entertain with their melodious voices. Thunder Guys will give their stunning dance performances.
This show is brought to the financial capital of India by Konkani Kala Manch. The President Clement Lobo, Secretary Ancy Paldka and Treasurer Harry Sequeira were present to welcome the entire team.
Here are the dates and timings of the shows.
Wed, 11 Nov, 10.00am at Bhaidhas Hall, Vile Parle West by St. Peters Association Barkur
Wed, 11 Nov, 8.15pm at Prabhodhan Thakhery Hall, Borivli West by Canara Konkani Association Borivli
Thu,12 Nov, 10.00am at St. Lawrence School Hall, DSouza wadi, Thane West by Konkani Kala Manch
Fri,13 Nov, 6.30pm at Our Lady of Good Council Church Ground, Sion by Konkani Welfare Association Sion
Sat,14 Nov, 6.00pm at Sai Nagar Ground, Vasai Road West by Vasai Konkani Welfare Association
Sun,15 Nov, 6.30pm at St. Joseph's Church Ground, Mira Road by St. Joseph's Konkani Welfare Association
Model Bank is an event sponsor for all the shows (where entry is free) except the show in Sion.
For more information please contact the office bearers of Konkani Kala Manch
A Clement Lobo, president - 9820332868
Ancy DSouza Paladka, secretary - 9028980000
Harry Sequeira, treasurer - 9820582580
Charles D'Cunha, co-ordinator - 9867853986