M'luru: Super Marmaye, Tulu movie premiered simultaneously in 11 theaters in DK & Udupi
Bellevision Media Network


Mangaluru, 16 Aug 2015: Tulu movies contributed significantly in promoting Tulu and its distinct culture, said Sports Promoters chairman A Sadanand Shetty.

Sadanand was speaking after inaugurating the release of Tulu movie, Super Marmaye, directed by Ram Shetty produced by Adyar Madhav Naik under the banner Anand Films at Jyothi Talkies here on Friday August 14.

The movie director Ram Shetty is a bollywood celebrity movie producer, who has already produced 4 Tulu movies, said the former state minister K Amaranat Shetty.

The veteran journalist Manohar Prasad said that the Tulu movie buffs well accepted all the movies produced by bollywood celebrity producer Ram Shetty. The successful screening of Tulu movie, Chalipolilu to reach 300 days is the testimony of professionalism displayed by Ram Shetty, said Manohar Prasad.

Karnataka Tulu Sahitya Academy former president Umanat A Kotian, movie producer Prakash Pandeshwar, Kishore D Shetty, Megina Malady Balakrishna Shetty, entrepreneur Siraj Ahmed, Laxmisha Bhandary, Jayaram Sheka, Karnoor Mohan Rai, DK district journalists Association president Jagannat Shetty Bala, producer Adyar Madhav Naik, Ram Shetty, actors Shivadwaj, Naveen D Padil, Arvind Bolar, Bhojaraj Vamanjoor, Gopinat Bhat, Raghavendra Rai and Divyasri were present.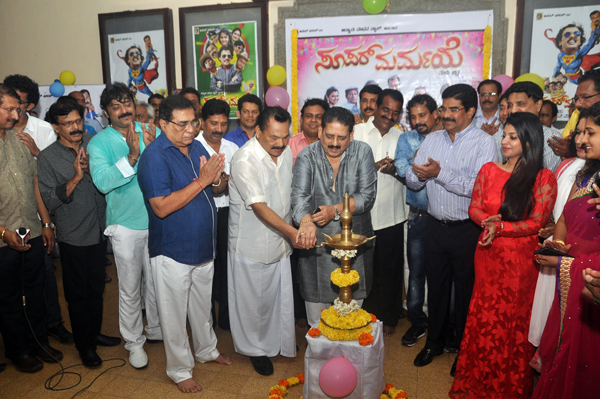 Purushottam Bhandary proposed vote of thanks. Kadri Navaneet Shetty compered the programme.

Super Marmaye, Tulu movie was simultaneously released in 11 theaters of coastal district:
Jyothi, Big Cinemas, Cinepolis and PVR in Mangaluru, Kalpana theater in Udupi, Amarashree theater in Moodbidri, Radhika theater in Karkal, Aruna theater in Puttur, Bharat theater in Beltangady, Nakshatra theater in Bantwal town and Krishna theater in Kasargod.

Super Marmaye is the comedy movie and ideal for family entertainment.