Udupi/M'Belle: Palm Sunday observed with reverence and devotion
By Eugene DSouza, Moodubelle

Bellevision Media Network


Udupi/M'Belle, 29 March 2015: Palm Sunday that marks the beginning of the Holy Week was observed with reverence and devotion by the Christians throughout the world on 29 March 2015. On Sunday, Christians all over the world carry palms and other branches. According to the Christian faith Palm Sunday is the celebration of the day Jesus entered Jerusalem before he was crucified and then resurrected.
The Palm Sunday service was conducted in St. Lawrence Church, Moodubelle at 8 am. Prior to the service, volunteers were seen distributing coconut palm leaves to the parishioners. At 8 am, altar servers along with priests and parishioners proceeded to the Cross Hill where the palms were blessed by Rev. Fr. Joswey Fernandes, parish priest who also conducted prayer service, read the Gospel relevant to the occasion and also gave a brief homily on the triumphant entry of Jesus into Jerusalem.
Following the service on the Cross Hill, the congregation went back in procession through the main road and entering through the main gate re-assembled in the church.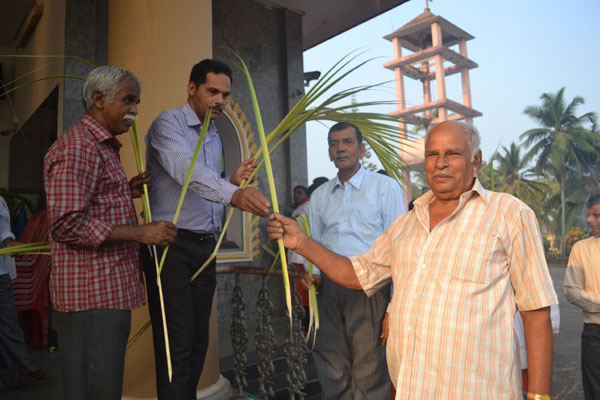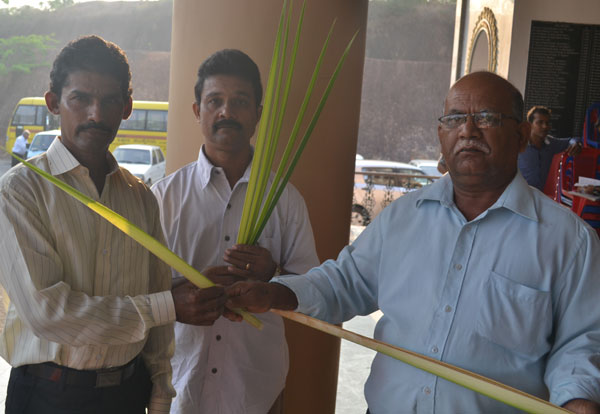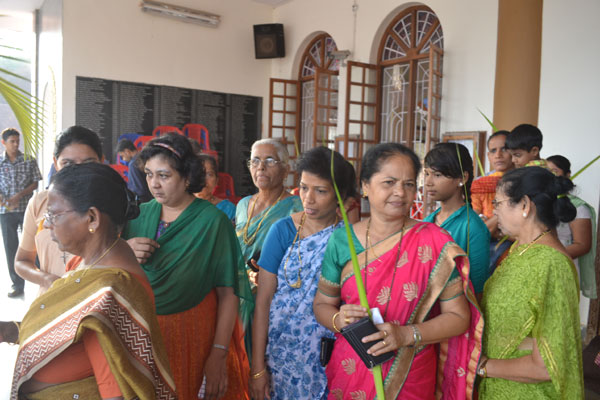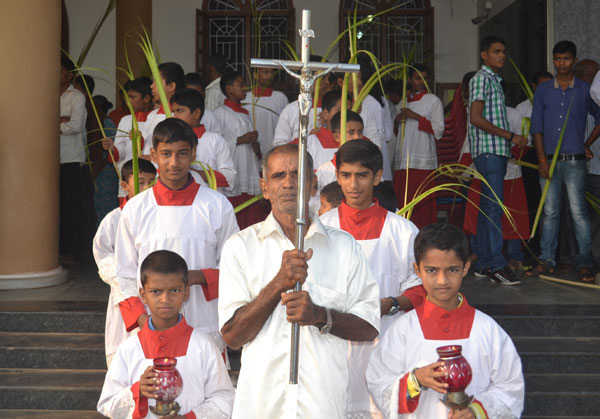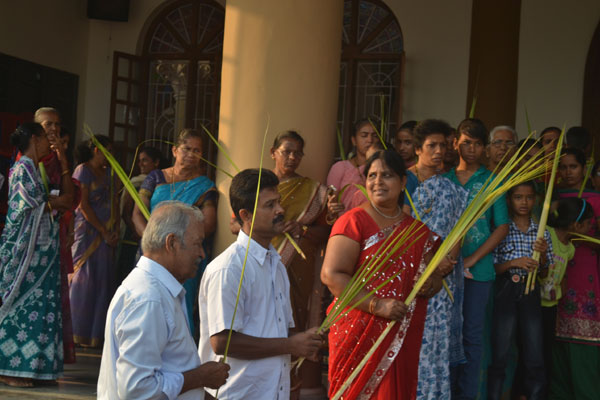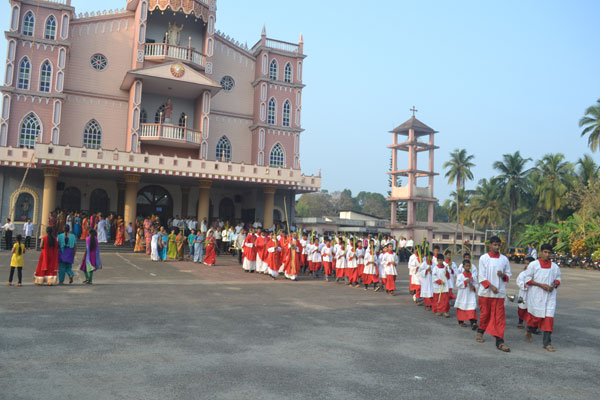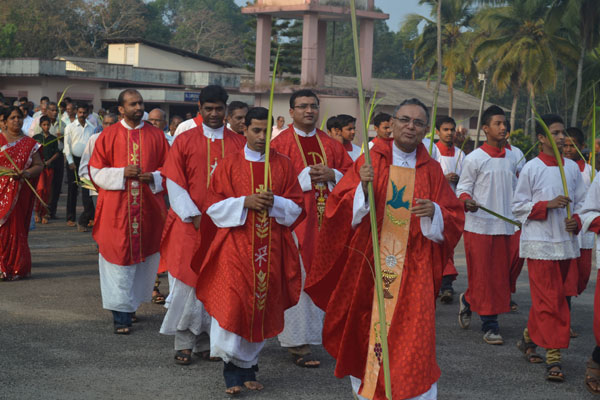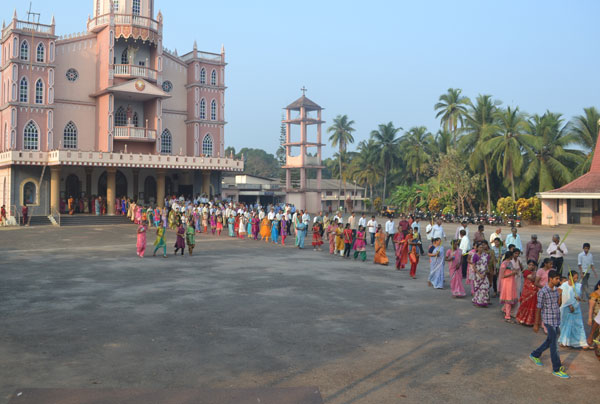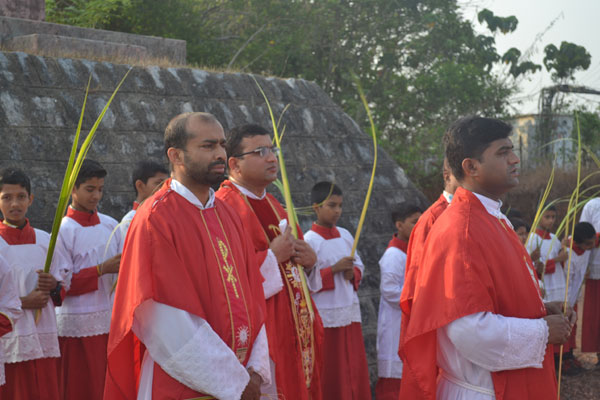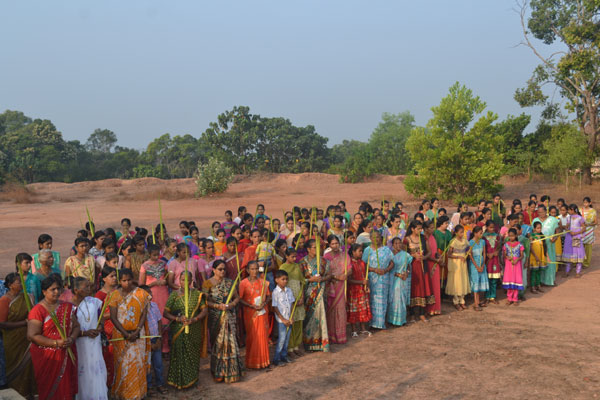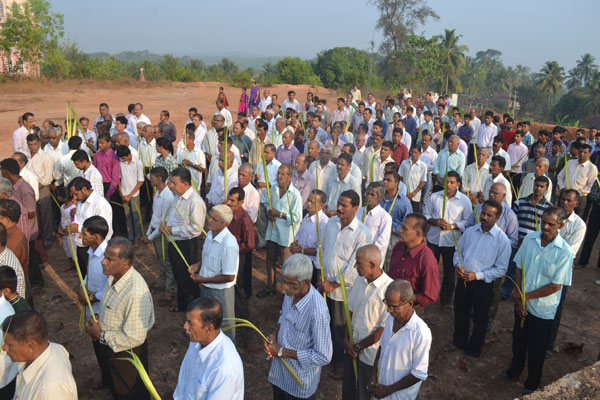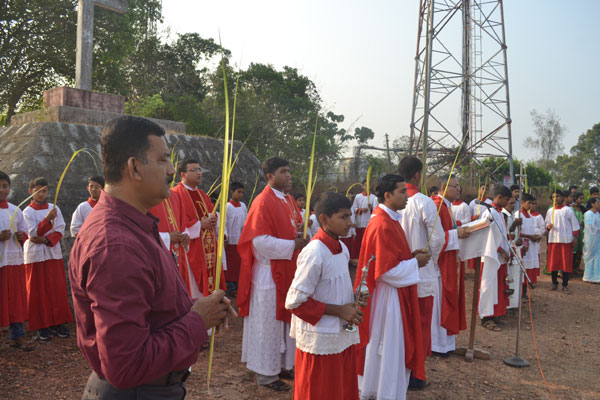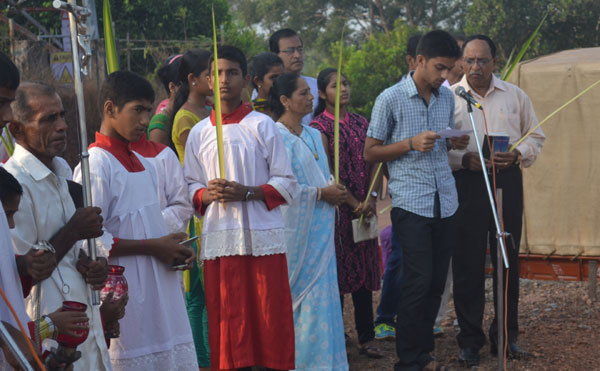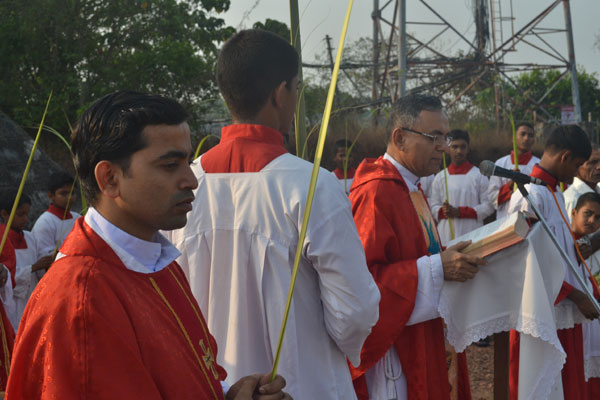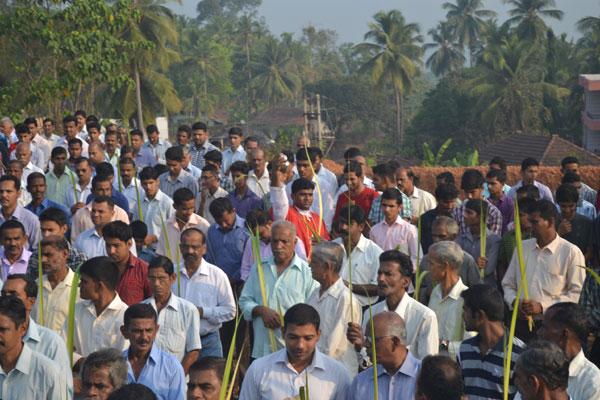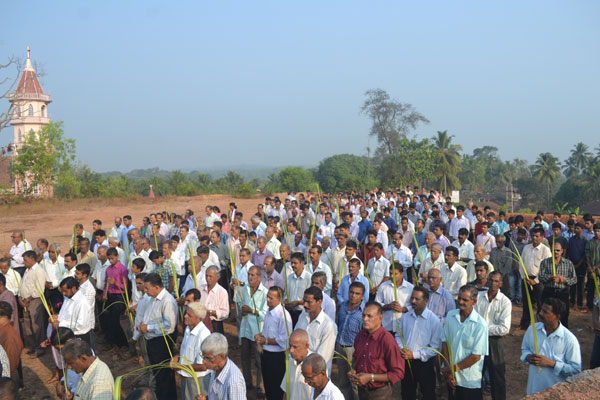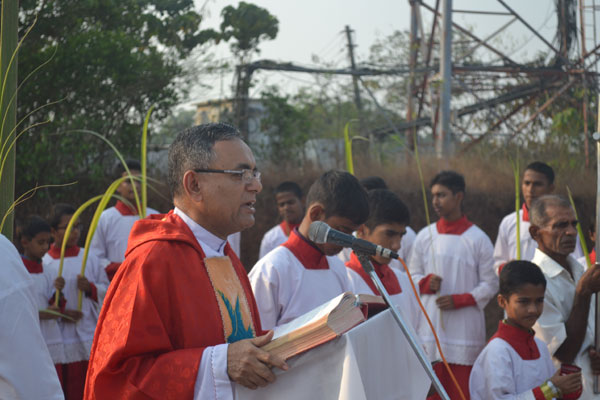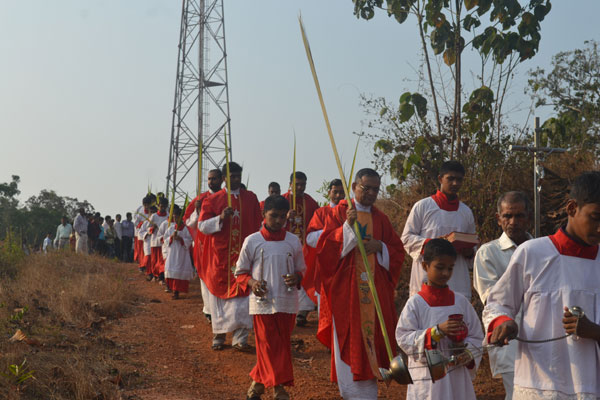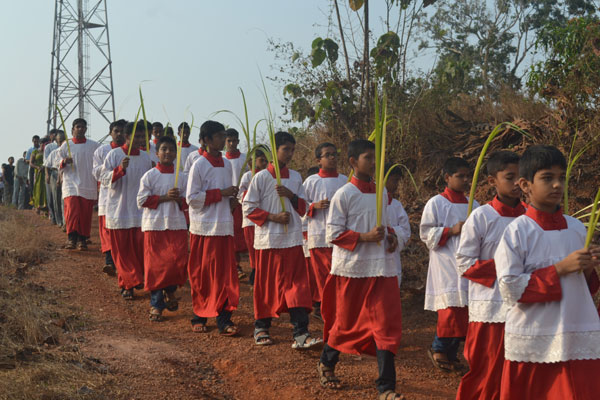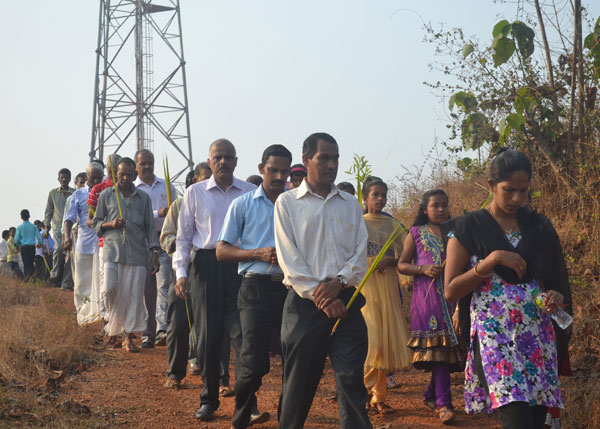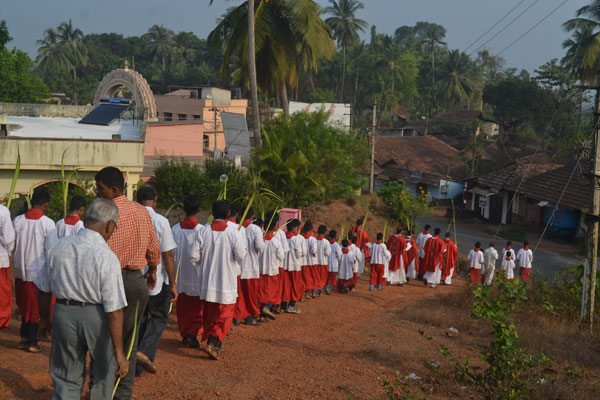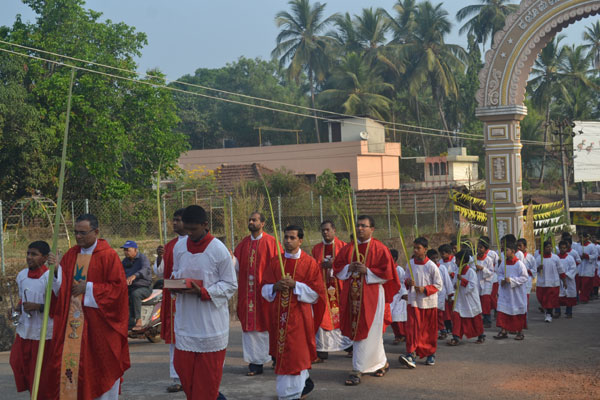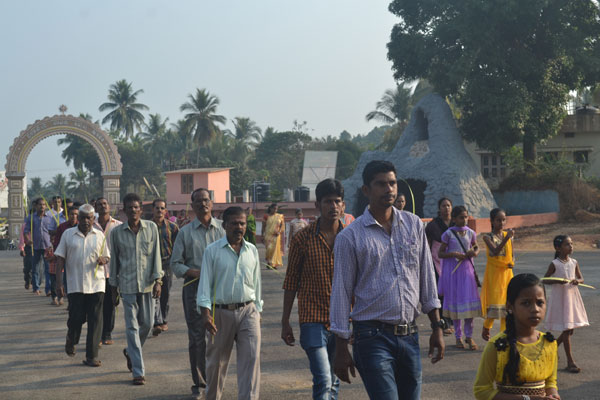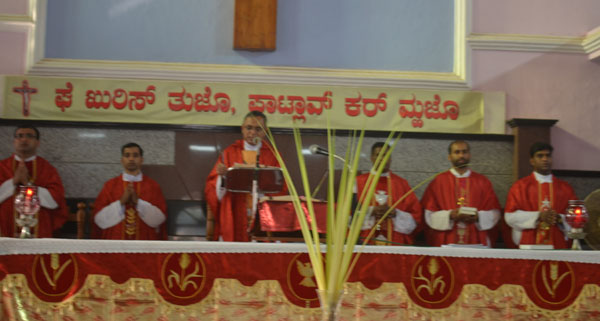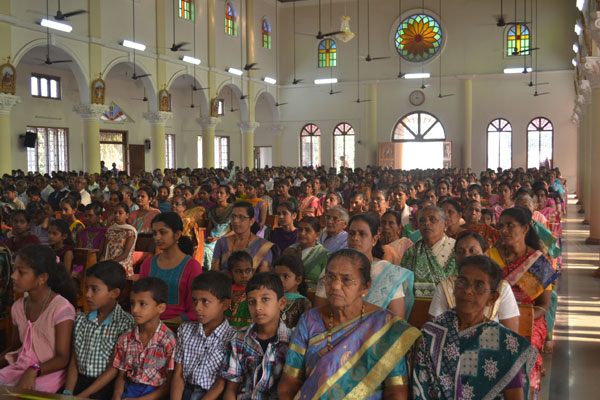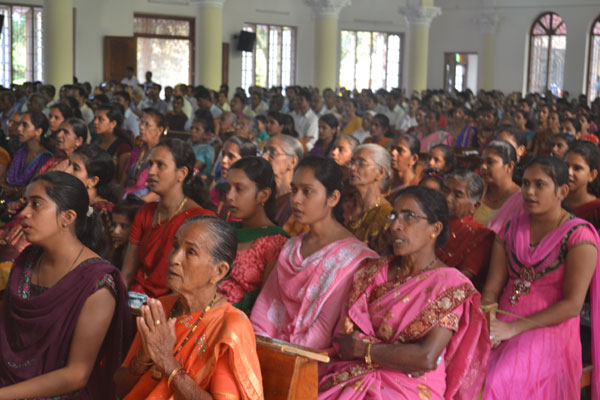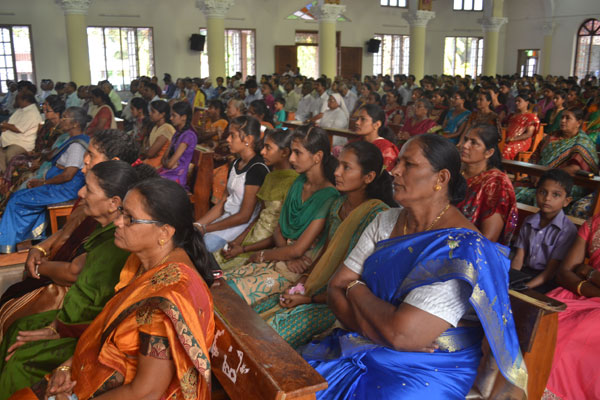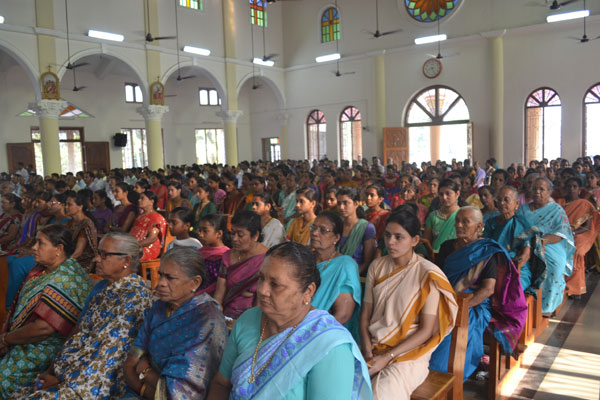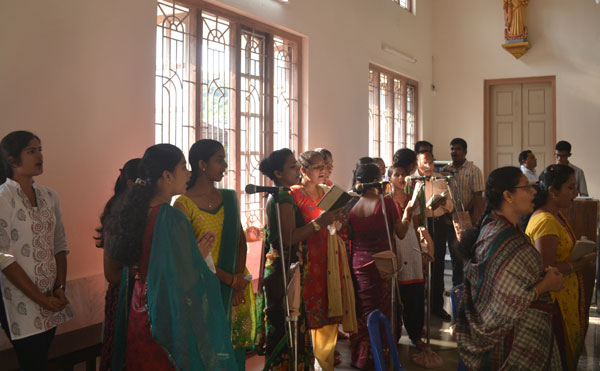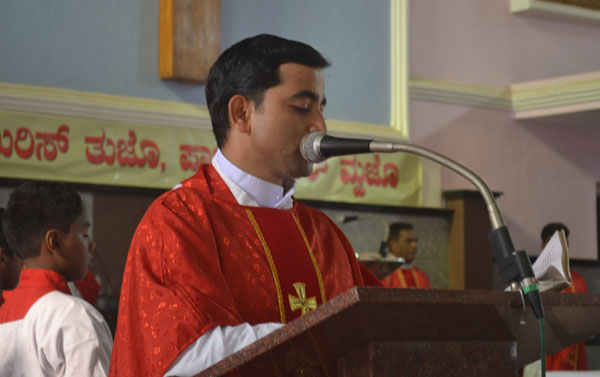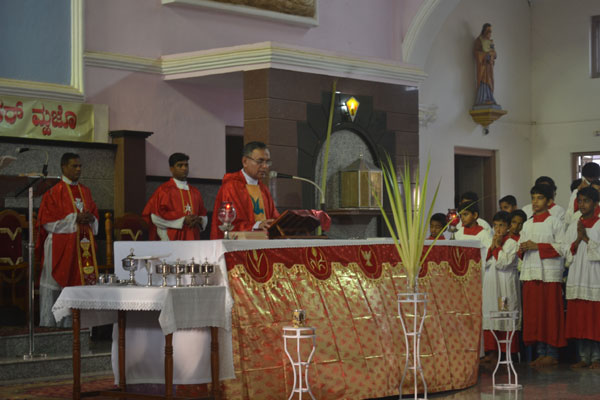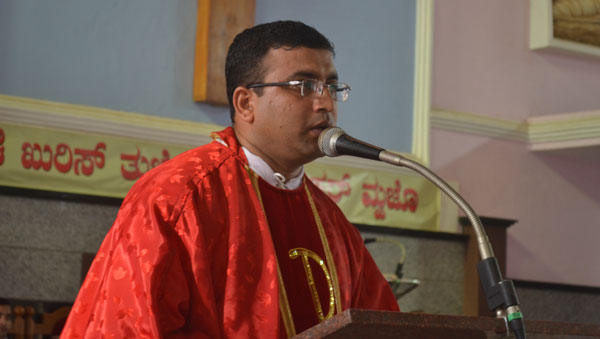 The Palm Sunday mass was concelebrated by Rev. Fr. Joswey Fernandes along with other priests. The Gospel of the day was animated by Rev. Fr. Joswey Fernandes, Rev. Fr. Roshan D'Souza and Rev, Fr. Victor Fernandes (OFM Cap).
In his homily, Rev. Fr. Anil Sunil (OFM Cap) highlighted the significance of the Palm Sunday and also narrated the passion and death of Jesus on the Cross.
Christians carry palms on Palm Sunday because according to the Gospels, Jesus' followers covered his path in palm fronds on the day he entered Jerusalem, after the custom of placing palms in the path of a high-ranking person. The palm branch also signified victory in Greco-Roman times, so the waving palms would have resembled a triumphal procession.
In many churches, congregants twist palms into the shape of a cross to commemorate the day, or use other branches if palms are not easily accessible.
Jesus also arrived in Jerusalem on a donkey, which was considered highly symbolic. At the time, a king riding a donkey symbolized peace, while a king on a horse symbolized war. Though Jesus was not technically a king, his followers considered him to be King of Israel. Palm Sunday is depicted in all four Gospels.
In some congregations, the palms are burned at the end of Palm Sunday and the ashes are saved to use on Ash Wednesday of the following year. But most of all, Palm Sunday signifies the beginning of the last week of Lent and the beginning of Holy Week.