Recipe: Beef cutlet (Kerala style )
By Oleena Mendonca

Ingrediants: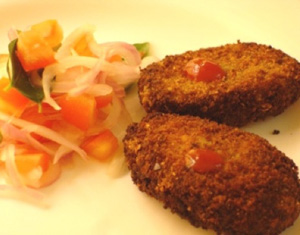 Beef – ½ kg
Ginger-garlic paste – 2 tsp
Potato – ¾ kg
Turmeric powder – A pinch
Onions(big) – 3 nos
(chopped)
Green chillies – 6 nos
(chopped)
Ginger - 2 big pieces
(chopped)
Coriander leaves(chopped) – 1 cup
Pepper powder – 1 tsp
Lemon – 1 no
Egg – 1 no
Breadcrumbs
Salt – As reqd
Oil for frying
Description:
Cook potatoes with little salt, turmeric powder and enough water. Mash them well. Cook beef with ginger-garlic paste and salt, till done. Heat some oil in a pan.
Fry onions, till brownish.
Add green chillies, ginger and coriander leaves and fry for some time.
Add the cooked beef and little pepper and saute for some time.
Remove from heat and let it cool.
Grind it dry in a grinder.
Mix together the above ground beef mix and mashed potatoes.
Add juice of a lemon to it and mix well.
Make cutlets off the mixture.
Dip them in beaten egg and roll in bread crumbs.
Deep fry Beef Cutlet in oil.
Beef Cutlet is ready. Server Beef Cutlet hot.
Conclusion: