Deacon Mahesh DSouza: Privileged to be the first ordained priest of Udupi Diocese
By Dr Eugene DSouza, Moodubelle

Bellevision Media Network


Moodubelle, 13 April 2013: One of the young parishioners of St. Lawrence Church, Moodubelle would be stepping into the realm of being designated as the first ordained priest of the Diocese of Udupi when the history of the diocese will be written in the future. This young man is Deacon Mahesh D'Souza who will be ordained as a priest by the Bishop of Udupi, Most Rev. Dr. Gerald Isaac Lobo in St. Lawrence Church, Moodubelle on Monday, April 15, 2013.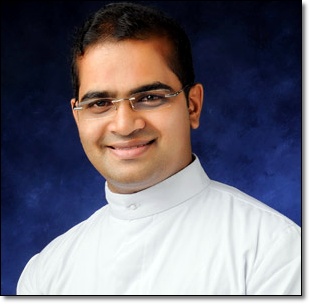 Dn Mahesh D'Souza's journey from a young and promising student to the altar of priesthood has been quite exciting. Born on March 30, 1983 as the second among three sons of Frederick and Matilda D'Souza of Kinnigudde, Moodubelle, Mahesh had his primary and high school education in Moodubelle. His both parents being bank employees, Mahesh as well as his two brothers- Manoj and Movin were well looked after by their grandmother Lucy D'Souza.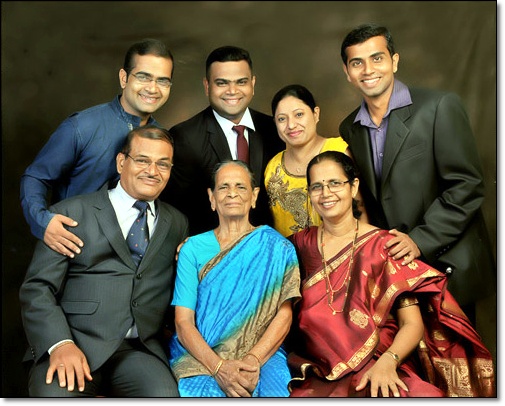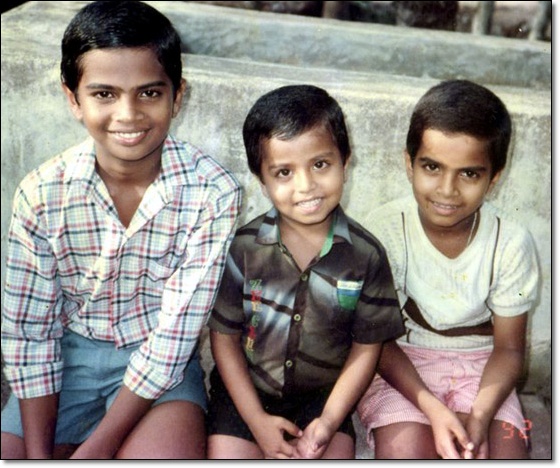 After completing SSLC in 1998, Mahesh continued PUC education in Pompeii College Aikala in the subject of Commerce. As he was keen to pursue higher education, Mahesh sought admission St. Mary's College, Shirva from where he graduated in Arts in 2003.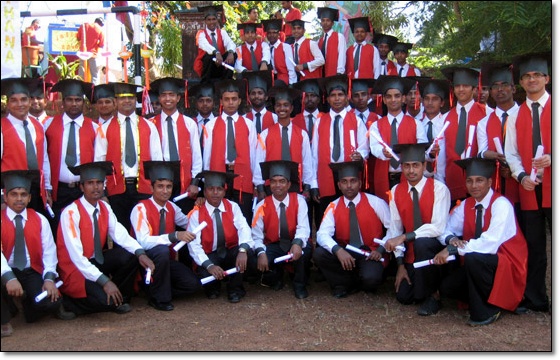 As a student, Mahesh was interested in creativity in various activities especially in performing arts such as stage plays, singing and music. He had participated in intercollegiate competitions especially in elocution, debate, music, singing and group discussions. As an organizer of events right from the college days, Mahesh had developed an art of innovations as well as perfection in whatever he as well as his teammates did.
When asked what made him to join the seminary soon after his graduation, Dn Mahesh gave a peculiar answer. He said that right from his childhood he has been considered as a 'naughty' boy. However, he had been regularly involved in church activities such as altar service. Most of the days in a week after the school as well as on holidays, Mahesh used to spend his time in and around the church premises and enjoyed the company of the priests of the church.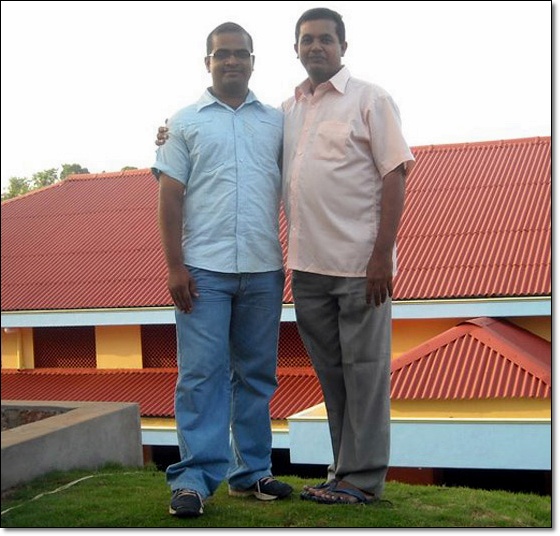 Dn. Mahesh recalled his association with the assistant parish priests with whom he could easily establish a rapport. He especially mentioned about the influence of the then assistant parish priest, Fr. Lawrence Mascarenhas, who is presently the parish priest of the Sacred Heart Church, Madanthyar. Dn. Mahesh said that he could relate with Fr. Lawrence and found him to be an ideal priest through his prayerfulness, pastoral activities, way of communication, empathy with those in pain and sorrow and as a guide to the youth. Speaking further, Dn Mahesh said that Fr. Lawrence was in a way responsible in kindling the flame of priestly vocation in his heart.
Recalling the role of family in his vocation, Dn Mahesh said that his grandmother initiated him to prayers when he was child. The prayerful atmosphere in the family that was created by his parents was also a driving force in nurturing his priestly vocation.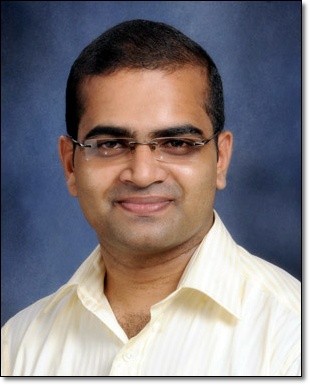 Besides the role of the family and inspiration from Fr. Lawrence, Dn Mahesh said that having closely watched the dedicated service of priests, he decided to join priesthood and entered St. Joseph's Seminary at Jeppu, Mangalore in July 2003.
When quizzed about his life in seminary, Dn Mahesh said that seminary life was quite different than the impression that he had in his mind before entering the seminary. At the beginning he had very tough time adjusting to the daily routine activities in the seminary. However, the zeal to become a priest instilled in him the confidence and vigour to face any situation in life. He says that these things were possible by the grace of God and also because of the constant prayers and remaining firm in his decision.
For ten years Dn Mahesh underwent training for priesthood in St. Joseph's Seminary studying Philosophy, doing regency for one year at Naravi, B.Ed., at TMA Pai Educational Institution, Manipal and Theology. He was ordained as a Deacon on June 14, 2012 in Jeppu Seminary.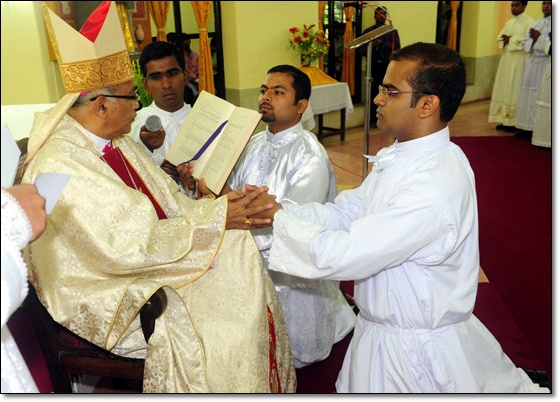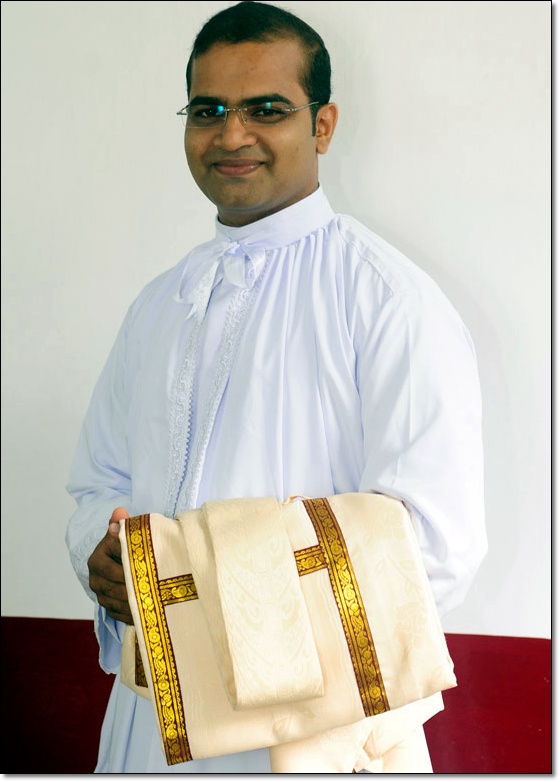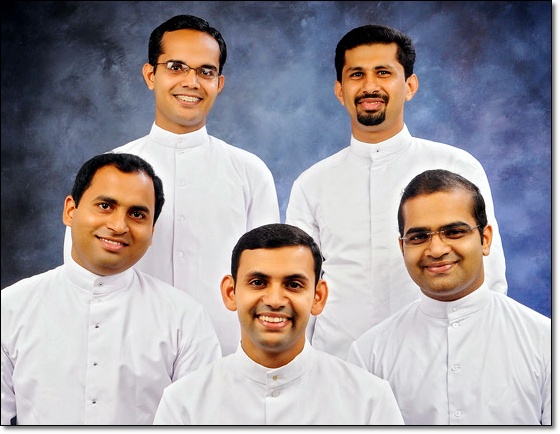 Dn Mahesh said that it was in Jeppu Seminary that all his inner talents were properly channelized. He had ample opportunities to manifest his talents in various ways. He said that he developed self confidence, oratory and organizing capacity while participating in various activities in the seminary. He nurtured his talent of music and learned quite a lot from music maestros especially Fr. Walter Albuquerque. He never shirked from any responsibility that was conferred on him. He was given organizing responsibilities of some of the important events in the seminary as the superiors had faith in his ability to fulfil the responsibilities given to him. It was in the seminary that he developed an aptitude to play football. On one of the community day celebrations he acted as Jesus in a skit titled 'Heavenly Abode'. He has been regularly attending Kite Festivals at Mangalore.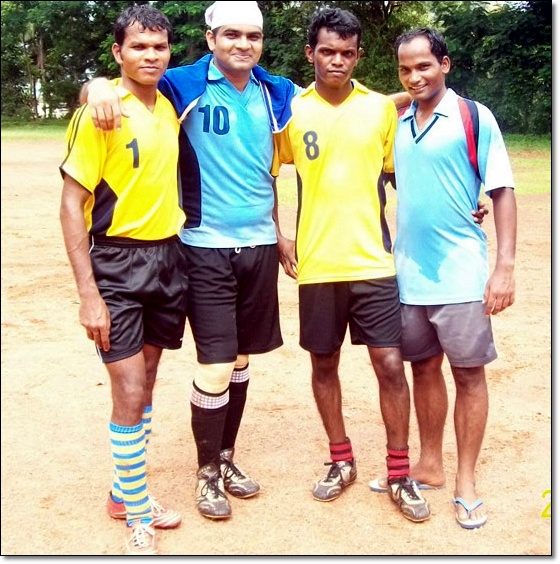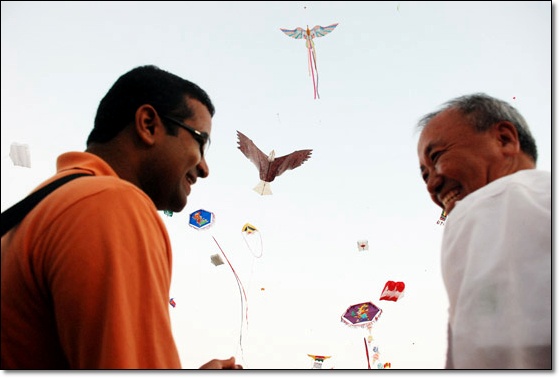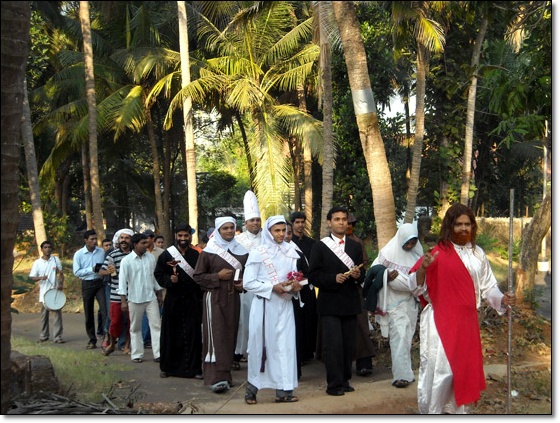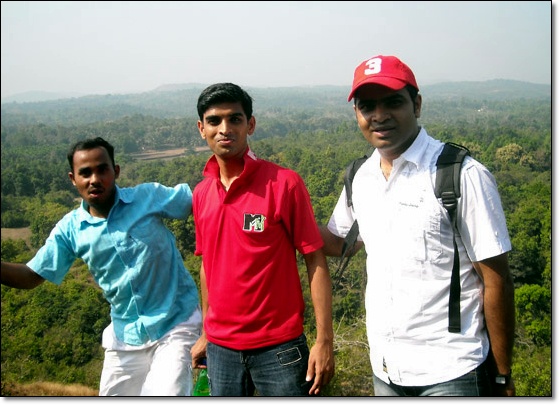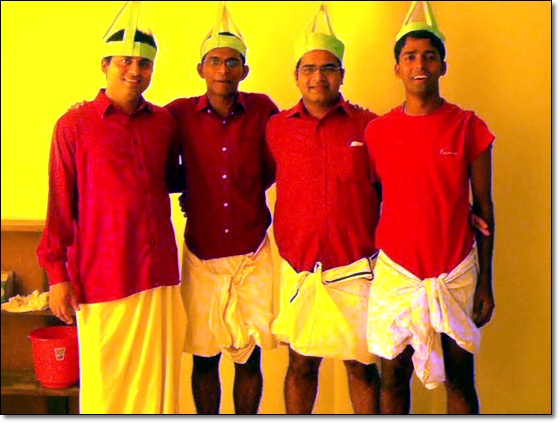 After being made a Deacon, Mahesh underwent four months formation training in Diaconate Ministry in Ajekar Parish. Besides assisting the parish priest in church activities, Dn Mahesh got himself initiated in pastoral ministry by visiting houses of the parishioners, interacting with people belonging to different communities, visiting sick people and blessing houses. Interaction with youth has been one of the inborn gifts of Dn Mahesh. He says that automatically the youth gravitate towards him and find themselves free to interact and communicate with him without any inhibitions.
As the day of ordination is fast approaching, Dn Mahesh is overwhelmed by the fact that he would be destined to be counted as the first priest to be ordained in the newly constituted Udupi Diocese. He said that he had never thought that he would be ordained in his own parish. However, with the constitution of the new diocese of Udupi, he being the only Deacon out of the five belonging to one of the parishes of the Udupi Diocese will be administered the Sacrament of Ordination by the Bishop of Udupi, Most Rev. Dr. Gerald Isaac Lobo on Monday, April 15, 2013 in St. Lawrence Church, Moodubelle. Among the other four Deacons belonging Mangalore Diocese, three have been already ordained on April 9, 2013 at the Rosario Cathedral and the fourth will be ordained on May 4, 2013 at Farla parish. Hence, Dn Mahesh will go down in history of the Udupi Diocese as the first ordained priest of the new Diocese of Udupi.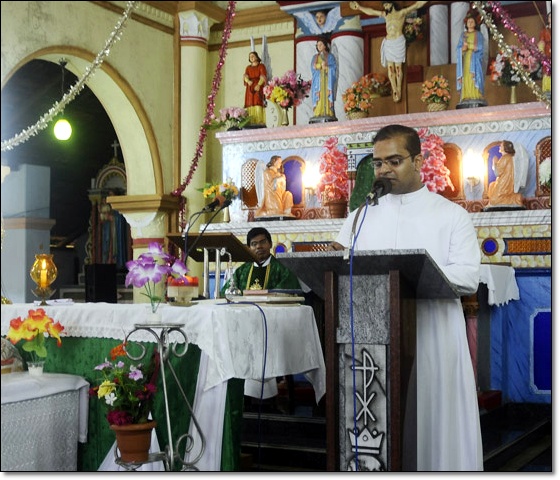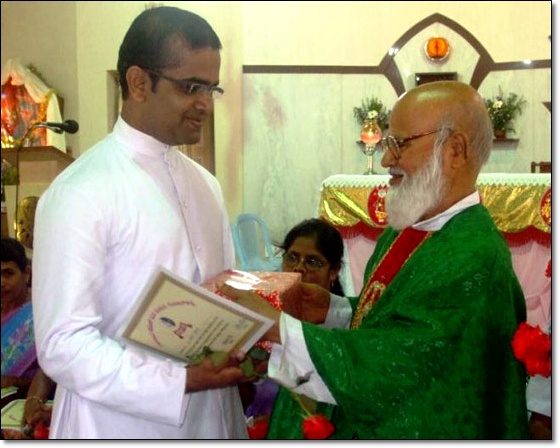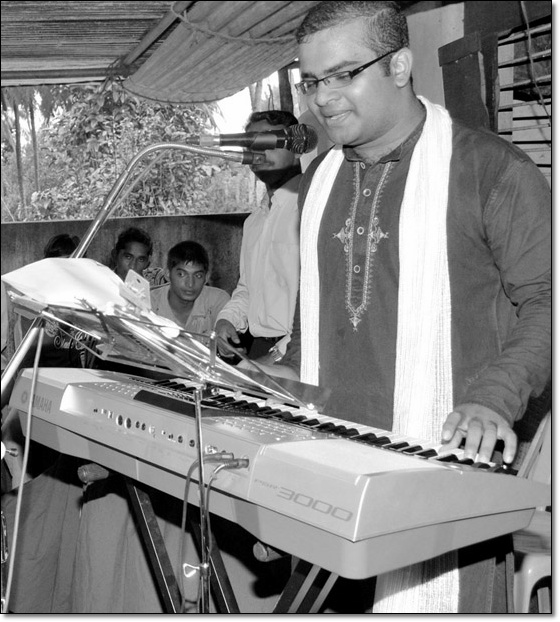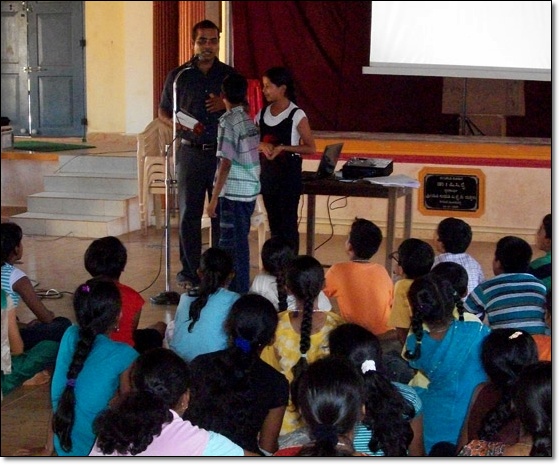 Elaborate preparations are underway for the solemn ceremony of ordination of Dn Mahesh in St. Lawrence Church, Moodubelle on Monday, April 15, 2013. A large number of priests, religious and people are expected to participate in this unique event, the first in the Udupi Diocese in the ordination ceremony. A felicitation function will be held soon after the ordination mass.
When asked about his future priestly ministry in the Udupi Diocese as the first ordained priest, Dn Mahesh said that he would be looking forward serving the diocese under the directions of the Bishop of Udupi, Most Rev. Dr. Gerald Isaac Lobo who is a man with integrated approach and proper vision. Being down to earth, he understands the problems of people and is sensitive to their needs and aspirations. Being sensitive himself to the needs of the people, Dn Mahesh feels that he can do justice to his priestly ministry whichever responsibility is entrusted to him by the Bishop. Being the first ordained priest of the diocese, Dn Mahesh feels that he has greater responsibility in being an effective and exemplary priest.
Bellevision congratulated Dn Mahesh on his ordination and wishes him all the best in his priestly ministry.