Govt mulling 'Shadi Bhagya' for all in BPL community: CM
Bangalore, Nov 12, 2013, (PTI): Under fire from Opposition over a scheme to dole out Rs 50,000 to poor Muslim girls at the time of marriage, Karnataka Chief Minister Siddaramaiah today said his government was considering extending it to all sections living below the poverty line.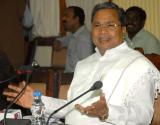 "The scheme will not be limited only to the Muslim community, the government is planning to extend it to all sections of the society living below poverty line," he told reporters during 'Janata Darshan' at his official residence here.
The "Shadi Bhagya" scheme launched recently by the Congress government to fulfil the ruling party's election promise has been dubbed as "vote bank politics" by BJP, while Karnataka Janatha Paksha leader and former chief minister B S Yeddyurappa is on an indefinite dharna seeking its extension to all communities.
Some Muslim leaders within the Congress have also not been enthusiastic about the scheme, saying it was not in consonance with the tenets of Islam and that it would unnecessarily draw "negative attention" of other communities.
Launching a tirade against Yeddyurappa, Siddaramaiah said the indefinite dharna by him was "politically motivated".
On the proposed controversial legislation on anti- superstition and black magic, he said a decision on it will be taken only after discussing its pros and cons.
"The issue will be discussed in Congress circle before taking any decision on it. I will also discuss it with Karnataka Pradesh Congress Committee President G Parameshwara," he said.
The BJP has challenged the government to include superstitions practised by non-Hindu communities in the proposed legislation before it was tabled in assembly.
Under the proposed Karnataka Prevention and Eradication of Human Sacrifice and Other Inhuman Evil and Gory Practices and Blackmagic Bill, 2013, promoters of various such practices exploiting people would be brought to book.
The bill also proposes the setting up of Karnataka Anti- Superstition Authority at the state-level and vigilance committees on superstitious practices at district levels for prevention and control of such practices and protection of those exposed to their ill-effects.